FORMER St Kilda coach Alan Richardson expects star midfielder Jack Steven to again ask to be traded to Geelong, a year after he blocked the four-time club champion's request.
Richardson spoke candidly on a number of topics on Tuesday morning, including Steven, Brad Scott, not wanting to be a senior coach again, and his "ongoing" conversations about being a senior assistant somewhere else.
Steven has spent time away from football this year to focus on his mental health but is back playing at VFL level, with AFL.com.au reporting in July that the Cats were still interested in him.
Jack Steven makes it look easy on his non-preferred! #AFLSaintsCrows pic.twitter.com/5Og5aihRNW

— AFL (@AFL) April 27, 2019
"It's been well-documented (that it's) been a tough year for Jack … Jack just needs to make sure he gets himself right, and my understanding is he's tracking the right way," Richardson told SEN radio.
"He's just a terrific person, has a great family and he loves Lorne (near Geelong). There's always been, the last couple of years, a pull down there (for him).

MENTAL HEALTH A PRIORITY AFL announces two specialist appointments
"The Saints will certainly want something for him – he's been an outstanding player."
Richardson said Steven's desire to move to Geelong last year was "shut down really quick", although he was unaware of the extent of his conversations with football boss Simon Lethlean.
"He was really good about it, too, in his conversations with me," Richardson said.
"There's a fair chance those conversations went a bit deeper with people like Simon Lethlean, but certainly with me, from a coach's perspective, (it was), 'No, Jack, we need you, we can't have you go'.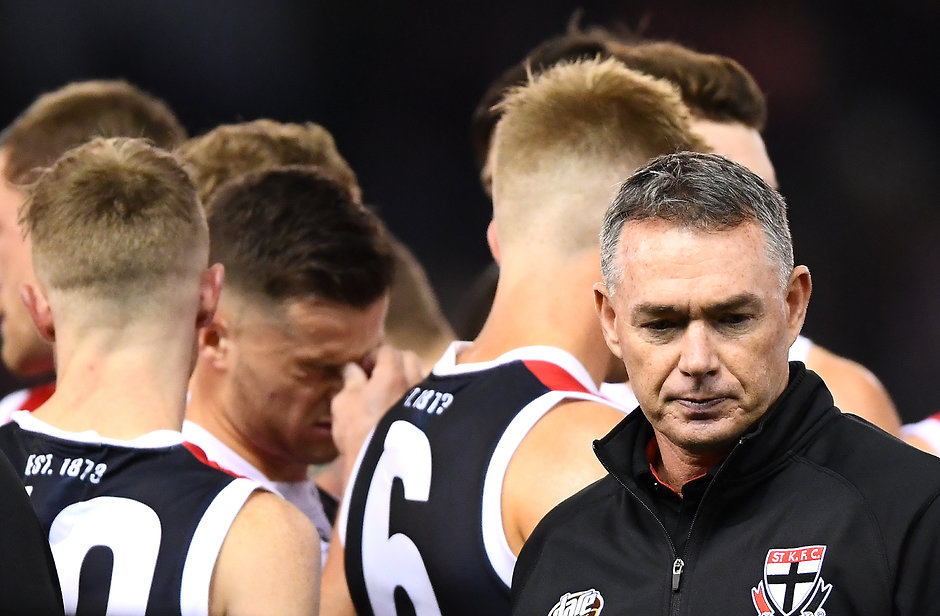 "That will be interesting to see where that goes. I think what the footy club will do is they'll do what they think, a balance.
"They'll do the right thing by Jack and his circumstance, with his mental health, and the right thing by the footy club. It's a delicate one."
Richardson holidayed in Bali in the immediate aftermath of his resignation at St Kilda, a period that enabled him to reflect on his 36 years in the game.
The 54-year-old said he questioned whether it was "a copout" for him to want to remain in football and whether there was something else that would deliver him "a sense of purpose".
BARRETT Rance still hell-bent on finals return
However, by the time Richardson arrived back in Melbourne he knew he wanted to continue his coaching career – just not as the main man.
"That's my strength and that's still my want, to be involved from a coaching perspective, (but not senior coaching)," he said.
"In my mind I have (moved on). There'd have to be some significant change for me to shift on that.
"Perhaps it's an age bracket. There are some younger coaches being mentioned now, say 'Vossy' (Michael Voss) for example, as wanting a second crack as a younger man.
"That makes a bit of sense. It's time for me to, perhaps, be involved in supporting a coach."
New North Melbourne coach Rhyce Shaw, who started as a caretaker after Scott's exit, is keen to have an experienced mentor alongside him when he sets out for his first full season next year.
Richardson has been linked to the Kangaroos and Melbourne so far.
"I've certainly had some conversations, which have been flattering," he said.
"I'm quite excited potentially about some opportunities, but those conversations are ongoing.
"That's the sort of role I'm suited to, given my experiences, but there's still a fair bit to play out there."
NINE THINGS WE LEARNED Dons' stop-gap spearhead doesn't work
The possible move to Scott's old club is a fascinating one, given the strong speculation linking Scott to Richardson's job for much of this season.
It became such a regular occurrence in the media that Richardson on Tuesday admitted he approached Saints president Andrew Bassett and chief executive Matt Finnis to address the Scott 'noise'.
Richardson's main concern, he said, was how it was impacting on the players.
"I certainly heard all that, and I reckon all of that adds up to the 'fog' I was alluding to that, I reckon, eventually was having an influence, an impact – not so much on me," he said.
Richardson said he noticed a positive change in the playing group's "energy" and "spirit" after his decision to step aside, once the pressure was somewhat lifted.

A lot has changed since round 10 when Richardson and Brendon Bolton stood arm in arm. Picture: AFL Photos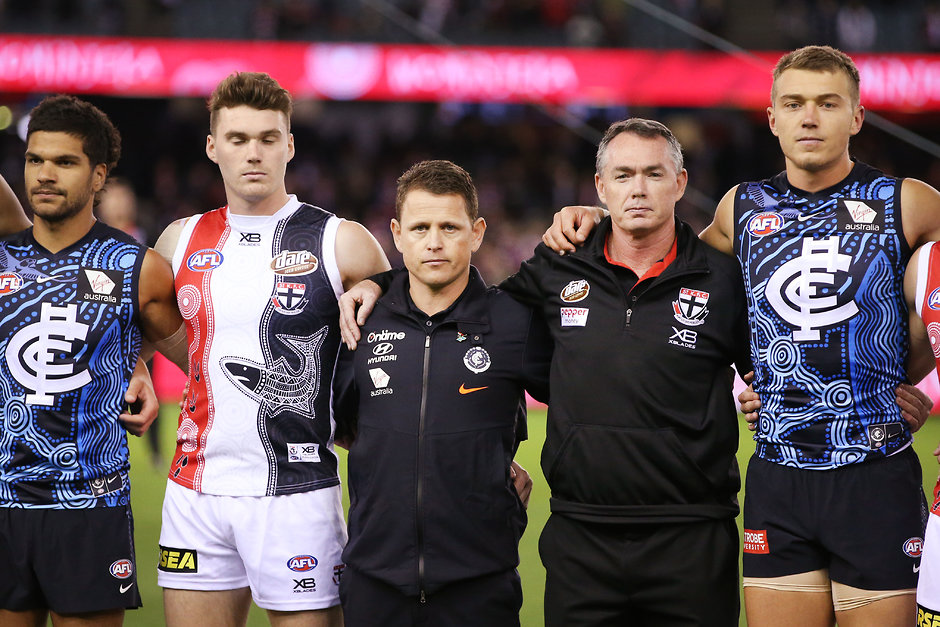 He finished with an unflattering 81 losses, against 43 wins and two draws, in his almost six seasons at St Kilda's helm.
It was the 2018 season that proved most regretful, according to Richardson, when the Saints had a 4-1-17 record after starting the year among the sides in finals contention.
"Last year was a disappointing year, in terms of results, and I've been quite open about this," he said.
"I didn't handle that as a leader the way I would have liked to. What's so important now is you keep your boys – your players – and your staff really connected, particularly in hard times.
"I did (internalise too much). You just work harder and keep working on solutions.
"You probably become a little bit more controlling, or I did – 'Right, this is the way we have to do it', as opposed to what is generally my natural style of leadership, which is to empower and trust.
"You probably learn more from your mistakes and your errors and your losses than your victories, and that was a really good example."