JEREMY Cameron is already an All Australian and Tom Boyd has arrived as the next superstar-in-waiting, but there's another Greater Western Sydney key forward who has no intention of fading into the background.
Jonathon Patton has endured two tough years since he was heralded as the AFL's next dominant spearhead following the 2011 NAB AFL Draft.
Carrying a knee injury into the draft that meant he was unable to train and required off-season surgery in Sweden, Patton managed seven games in the back half of 2012 and showed flashes of his undoubted potential.
The former No.1 pick then threw himself into his first AFL pre-season and looked in terrific shape early in 2013, kicking three goals in round one against the Sydney Swans.
Two games later his year was over, when he ruptured his ACL against St Kilda.
Since then, Cameron – a 17-year-old access selection who had few of the bells and whistles that accompanied Patton's arrival – has earned All Australian honours, a club best and fairest and a second leading goalkicker award with the Giants.
Patton also now has Boyd to contend with, a fellow Eastern Ranges product being lauded as a certain AFL star.
Aiming for a return in round one of the upcoming season, Patton is fiercely determined to show he's no third-string option at the Giants.
"Definitely. There's a lot of that," Patton told AFL.com.au.
"You don't want anyone to think you're second or third best.
"But I know once I get my body right I'll be fine. It's all about getting my body right and having a bit of luck."
With Cameron flying and Boyd set to come on board, there were even rumours during last month's trade period that Patton could be surplus to requirements.
The Western Bulldogs were mooted as a possible destination, with one whisper stating Patton had been sighted at Whitten Oval.
The 20-year-old flashes a wry smile when asked about that possibility.
"I think there are a few rumours that go around at that time of year," he said.
"But I certainly never wanted to leave this club and I know the club didn't want to get rid of me."
Following successful surgery, Patton dedicated himself to his recovery.
He didn't travel for away games during the year, remaining in Sydney to work on his rehab and ensure there were no complications.
The grind from Monday to Friday was tolerable, but Patton admits game days were the hardest part, unable to help his teammates as they struggled through a season featuring just one win.
Did he also find it difficult watching Cameron, and not himself, emerge as the young side's goalkicking star?
"People often ask me that question, but there was nothing but excitement watching him," Patton said.
"The stuff he was doing on the ground was unbelievable.
"There was a little bit of wanting to be out there and kicking goals with him, but to look back every week and see the stuff he was doing was pretty cool.
"Hopefully when I start to train in the pre-season and next year, we can form a good bond."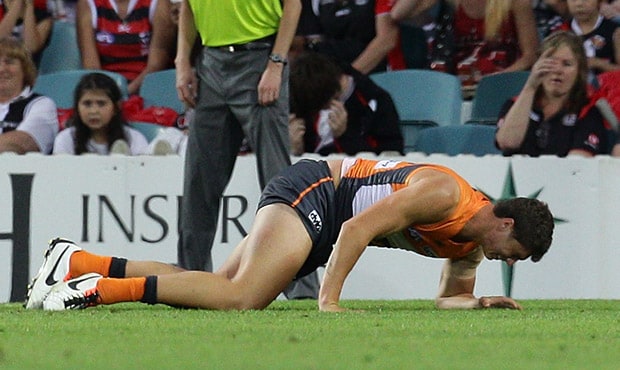 Jonathon Patton's season-ending knee injury came against the Saints in round three. Picture: AFL Media
He also can't wait to play with Boyd again. The pair played together briefly at the Ranges.
"It's going to be exciting, myself, 'Boydy' and 'Jezza' up forward," Patton said.
"It'll take a few games and maybe even a few years to learn how each other plays and get that synergy, but it's exciting having three key position talls up forward."
Patton acknowledges he needs to regain confidence in his body, which will only come by stringing games together.
But the 197cm, 102kg forward still has unbridled faith in his ability, proving to himself in his 10 games to date he has what it takes.
"I remember I had (Adelaide veteran) Ben Rutten play on me in my fourth or fifth game and he just manhandled me," Patton said.
"It took a bit to get used to that.
"This year in the NAB Cup and the early rounds I felt a lot more comfortable out there and could see the game better."
His recovery process included sessions of walking and running on the recovering knee, before the running intensified and he built up towards changing direction, jumping, landing and goalkicking.
He has been doing some contested marking drills with former teammate Chad Cornes and says the key now is to remain patient and not get too excited about a return to action.
If Patton doesn't achieve his goal of playing in round one next year, he's not going to let it bother him, and will get back on the field of battle only when he feels totally comfortable.
And he is more motivated than ever to get his AFL career heading in the right direction.
"You take it for granted how much playing and training really means to you," he said.
"When I watch the boys train, it makes me appreciate it that much more.
"I know when I can start training and playing, I'll be training harder and playing harder than I ever have and with something to prove.
"I can't wait."