BRAD Scott has officially resigned as North Melbourne's senior coach, confirming on Sunday the decision that was mutually agreed upon at Arden Street two days earlier.
Scott ended his almost decade-long tenure at the Kangaroos with 106 wins from 211 games, including eight finals and steering the club to consecutive preliminary finals in 2014 and 2015.
EVERY INDIGENOUS GUERNSEY Vote on your favourite
Only Denis Pagan (240) and Wally Carter (219) coached more matches in charge of North Melbourne.
The club rallied to win Scott's emotion-charged final contest as coach on Saturday, defeating the Western Bulldogs by 25 points despite the duress involved.
YOUR CLUB'S TARGETS Our experts analyse the Mid-Season Rookie Draft
Rhyce Shaw, a two-time winner of the AFL Coaches' Association Assistant of the Year award, will be the caretaker coach for the rest of the 2019 campaign.
"Often in these situations, clubs are left in turmoil (but) right at the moment North Melbourne's future is anything but tumultuous," Scott said.
MID-SEASON ROOKIE DRAFT Former players, brothers of star on the list
"We have removed all the (financial) impediments that existed 10 years ago and there's nothing but blue sky for North Melbourne.
"I'm extremely grateful those impediments were there, because they have helped guide me and the team around me, and even more so than ever I feel I know how to overcome them."

However, Scott felt the necessary "strategic shift" required to take the Kangaroos into the future needed "fresh air" – in short, a different coach.
He led a football department presentation to the board "several weeks" ago that included general manager of football operations Cameron Joyce, where he offered to step down as coach.
Find Trends on Apple Podcasts, Google Podcasts and Spotify
North president Ben Buckley said North's board members met this past Friday and "agreed with Brad that the time was right for him to step aside".
A meeting between Scott and chief executive Carl Dilena on Friday afternoon sealed the decision, with Buckley declining to reveal whether the Roos would continue to pay his contract into next season.
"Brad's offer to step aside is nothing short of selfless and honourable, terms befitting his character," Buckley said.
"Since he walked into the club at age 33, Brad has poured his heart and soul into this footy club…
"Brad leaves North Melbourne a true Shinboner and will always be part of our family. We're indebted to him for his service, his loyalty and of course his passion."
It came less than three years after North effectively announced it was starting afresh, with Brent Harvey, Nick Dal Santo, Michael Firrito, Drew Petrie and Daniel Wells departing.
Experienced quartet Andrew Swallow, Lindsay Thomas, Sam Gibson and Lachlan Hansen followed at the end of the 2017 season.
Yet Saturday's victory over the Bulldogs improved the Kangaroos' win-loss record this year to just 3-7, and despite there still being a heavy reliance on a veteran core.
Scott said on Sunday in reflection of the period following those list decisions: "I don't think it's gone wrong necessarily."
Buckley was more revealing with his summation of the subsequent seasons and the current predicament.
"We still, to some extent, are in that rebuilding phase, which we set out from 2017 onwards," Buckley said.
"Clearly, at times it takes longer than you would expect.
"I think when we sat down and had that discussion with the footy department and Brad recently, the time horizon may have shifted further out than we had originally planned.
"That was probably part of the discussions and the decisions we came to."
Roos players watch on as Brad Scott faced the media. Picture: AFL Photos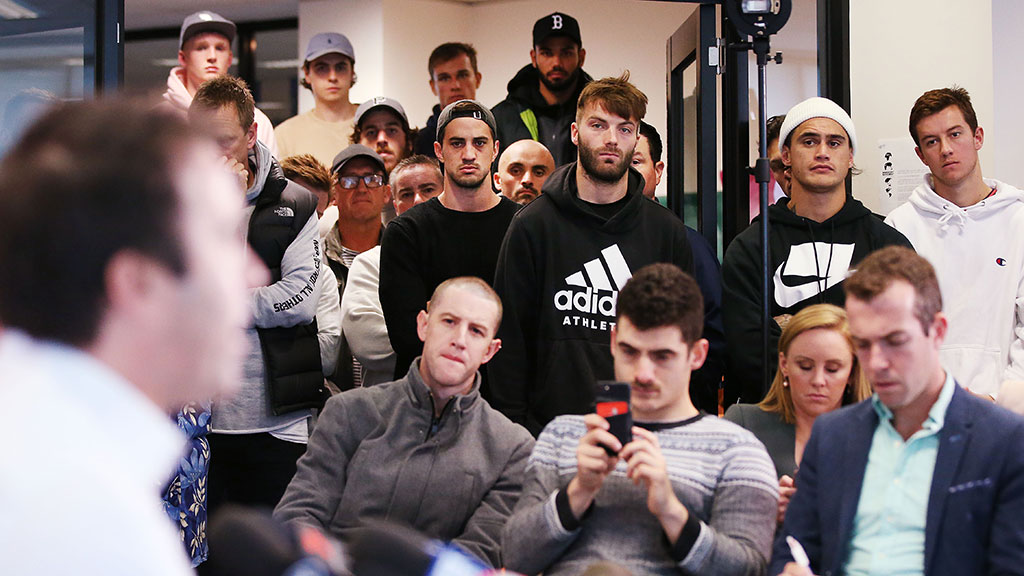 Speculation has raged that Scott would have negotiated a different opportunity for himself before agreeing to resign, but he "categorically" denied speaking to any other clubs about coaching elsewhere.
"Again, the reason, as much as I love him, the reason I didn't talk to my manager (Craig Kelly) about this is because I didn't want him having those discussions either," he said.
An internal club review will also take place, headed by former KPMG chairman Peter Walsh, retired champion and ex-football director Glenn Archer and current board member Brian Walsh.
Former North Melbourne players – and current senior coaches at rival clubs – John Longmire, Adam Simpson and Alastair Clarkson have all been raised externally as coaching options in the post-Scott era.
Buckley would not be drawn on who club officials would approach or whether there was a preference for proven or unproven talent, but said there would be no financial impost.
"We're in a very, very strong financial position. In fact, I don't think the club's ever been in as strong a financial position as it is right now," he said.
"We've got the resources to go out and look for the best and … we'll do that and leave no stone unturned in doing that.
"We have all the resources we need to be competitive and we've worked very hard over the last 10 years to put all those building blocks in place – the facilities, the staffing levels, the ability to spend right up to both the soft cap and the salary cap.
"We want for nothing in that regard."