THIS year's NAB AFL Under-18 Championships wrapped up on Wednesday, and as always there's plenty to discuss from a draft perspective.
Here's our take on some of the biggest questions out of the carnival.
What was the upshot?
It came down to the last kick of Western Australia's tussle with Vic Country before it claimed the title, with Regan Clarke booting the matchwinner at the final siren of the clash at Marvel Stadium on Wednesday.
EPIC FINISH ALERT

Regan Clarke was the hero as @WAFLOfficial claimed its first NAB AFL U18 Championship in 10 years.

Enjoy the thrilling last three minutes against Vic Country. pic.twitter.com/PweHrk9saC

— AFL (@AFL) July 3, 2019
It capped a strong carnival for WA, which grabbed its first title since 2009 with three wins. Vic Country also won three games in a very good month of footy, while South Australia claimed two victories.
The Allies won one game for their carnival, against a disappointing Vic Metro, which also only claimed the one win despite heading into the championships with plenty of hype.
Who boosted their stocks?
Brodie Kemp's final two games of the championships will see his stocks soar. Playing as a tall midfielder in Country's third game, he gathered 27 disposals and five clearances. The next game, he booted two goals after floating forward as a tall midfielder and highlighted his versatility. Package what he showed in both games and it's exactly what scouts were hoping to see.

Brodie Kemp had a good carnival and almost got Vic Country over the line against WA. Picture: AFL Photos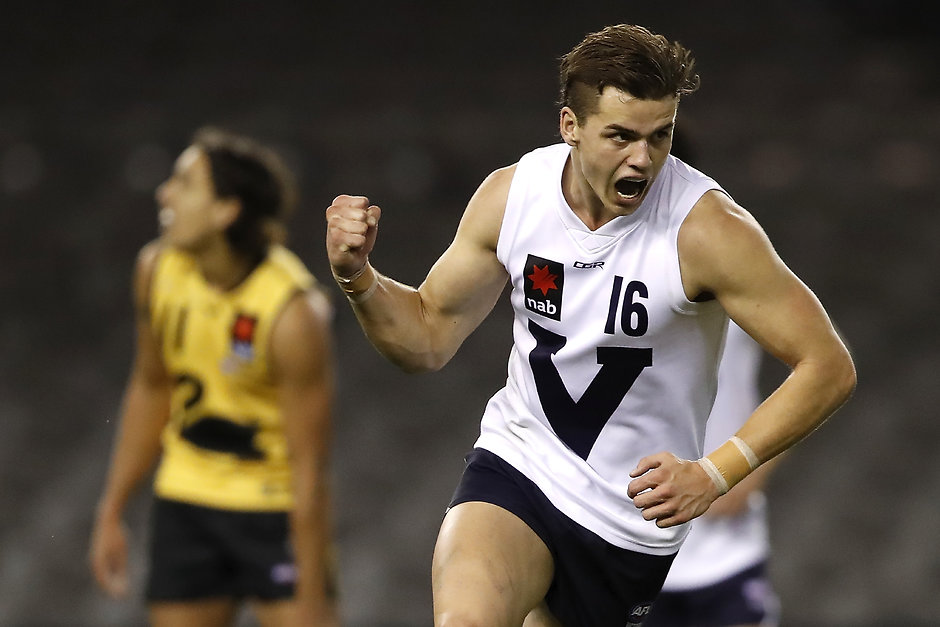 Cody Weightman was another. The electric small forward is exciting in the air and at ground level – he kicked nine goals for Vic Country at the carnival – and proved himself as one of the leading small forwards available.
Others to impress for Country included Jay Rantall, who showed he can accumulate the ball in the midfield, Thomson Dow had his moments in there too, while ruckman/forward Charlie Comben didn't have huge numbers but caught the eye. Recruiters will be tracking his progress closely.

Big man Charlie Comben did enough to get noticed. Picture: AFL Photos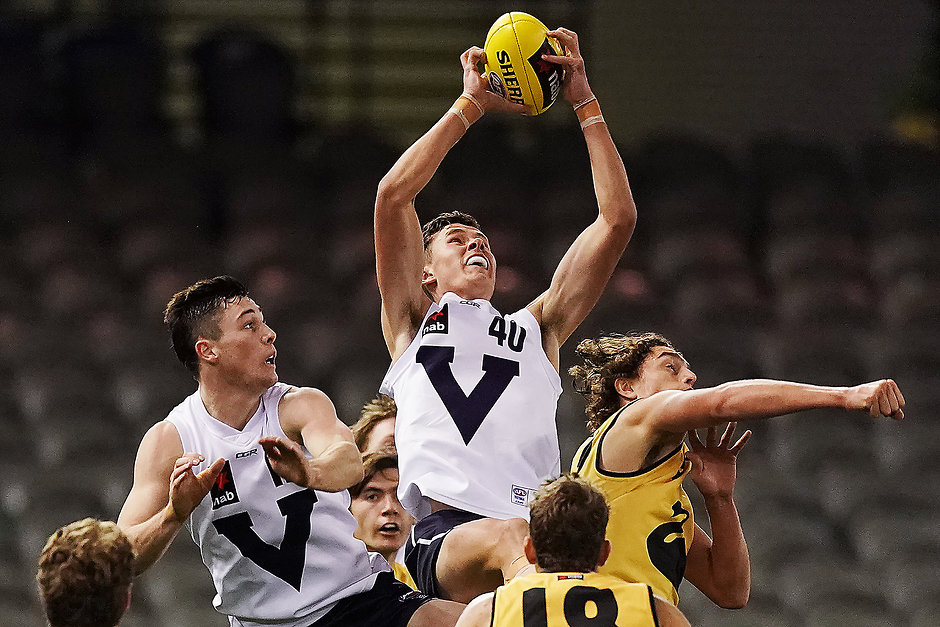 Key defender Fischer McAsey was exceptional for Vic Metro. His marking, awareness and control in the air made him a standout. Trent Bianco enjoyed a good carnival off half-back with his ball use, while Miles Bergman was also impressive.
The wingman/forward lifted himself into top-25 contention with a promising round of games that showed his class and creativity. Tall forward Harrison Jones could also be around that mark. He showed flashes of his ability and is an athletic, smart option with upside.
Western Australia's captain Deven Robertson was consistent, averaging 30 disposals, while Luke Jackson stood out as the leading ruckman in the carnival. Elijah Taylor's raw talent, and Trent Rivers' size as a midfielder, were also highlights for WA.

Elijah Taylor proved hard to catch. Picture: AFL Photos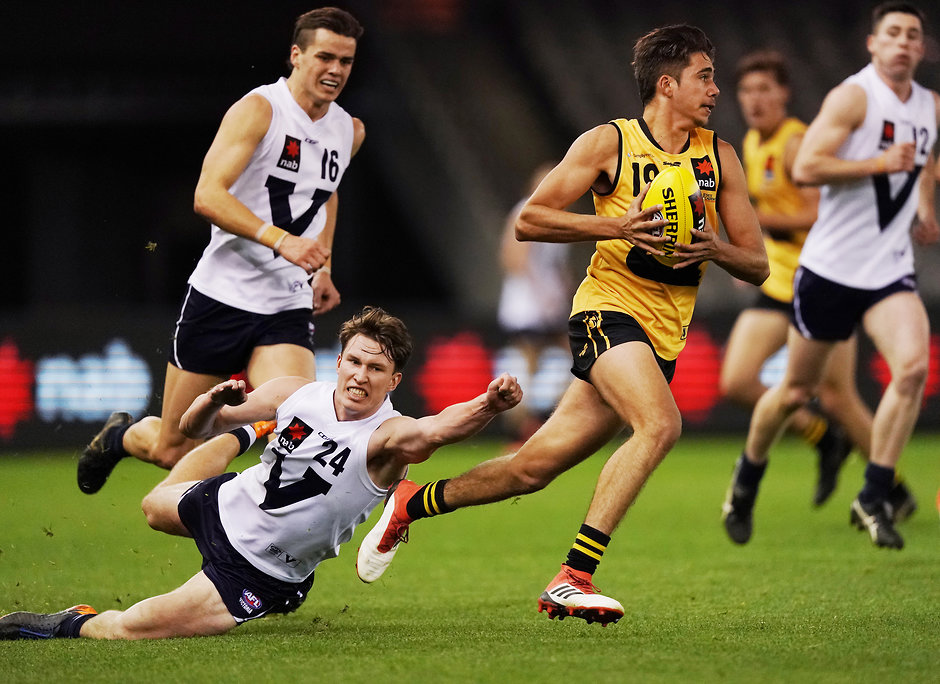 Midfielders Tom Green and Mitch O'Neill were best for the Allies, while it was Harry Schoenberg who was the big riser for South Australia.
Having started the year relatively off the radar, Schoenberg has lifted with every week and shone at the championships in SA's midfield. Will Day, a versatile and athletic prospect, could be a top-20 player, while defender Karl Finlay also did some solid stopping jobs.

Harry Schoenberg's stocks rose even higher at the championships. Picture: AFL Photos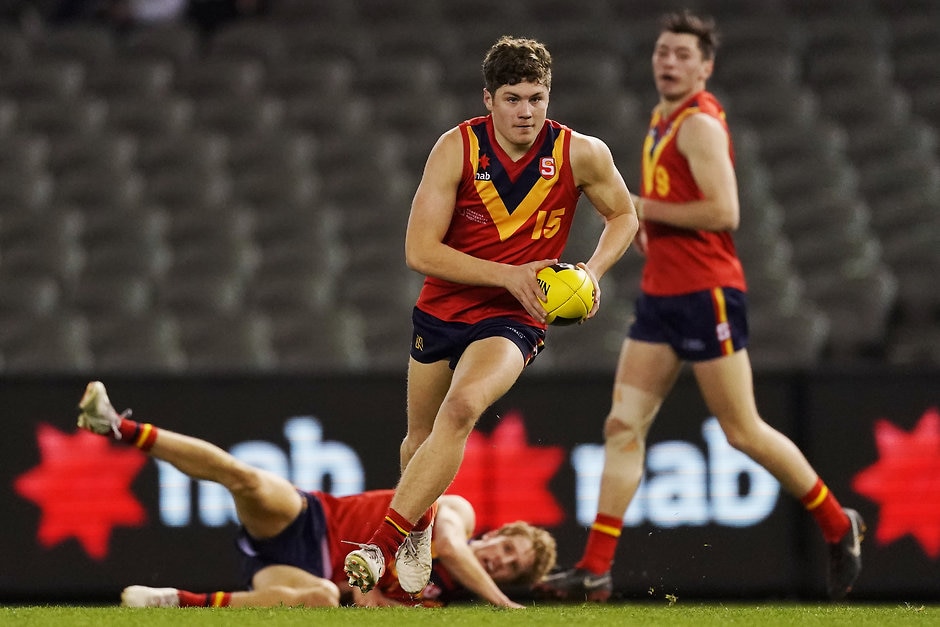 Is it still a two-horse race for the No.1 pick?
Yes, and some recruiters would say it's narrowed even further to already be a done deal. Matt Rowell is the overwhelming favourite to be the first player selected, particularly if it stays in the hands of Gold Coast.
The midfielder is robust, powerful, consistent and ready to play. He averaged 25 disposals in the carnival, and five clearances. If Rowell has played a bad game, we haven't seen it.
His best mate, school mate and Oakleigh and Vic Metro teammate Noah Anderson is his biggest challenger for the spot.

Noah Anderson (L) and Matt Rowell (R) are hot favourites to be the first two taken at the draft. Picture: AFL Photos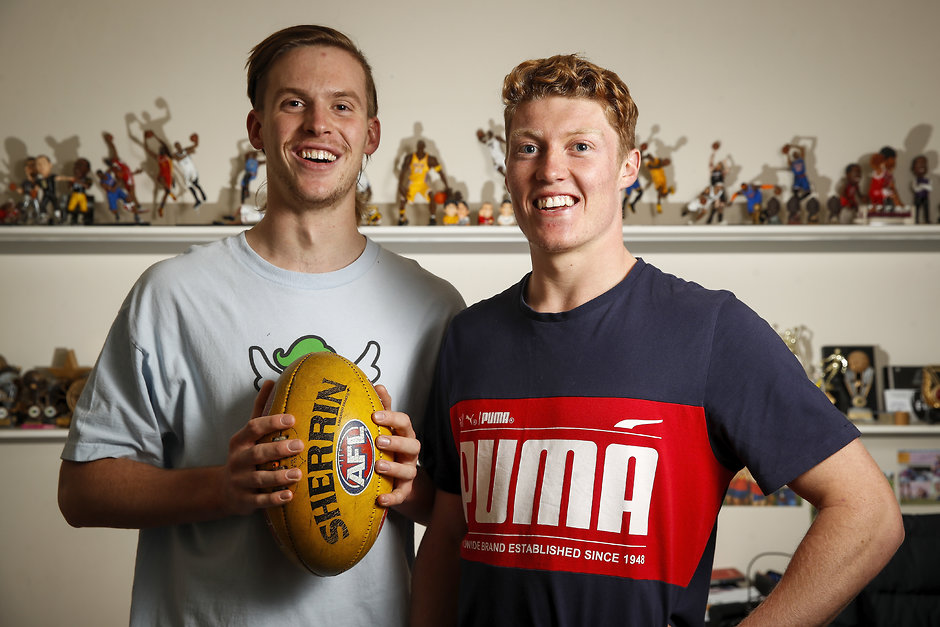 Anderson, who captained Vic Metro, is also a special talent through the midfield, but he's more dangerous forward, as seen with his 27 disposal and two-goal game against South Australia. He's taller and also has a great engine, and is dangerous as a forward too.
Most scouts have Rowell edging Anderson and then a gap between the next group, which is as open as recruiters can recall.
That's despite the excellent showings of half-back Hayden Young, midfielder/forward Caleb Serong and running defender Lachie Ash, who are all considered possible top-five picks. Kemp, Sam Flanders and Green are also tipped as possible top-10 selections.

Caleb Serong has been fancied as an early pick for a long time. Picture: AFL Photos

McAsey, who was Metro's MVP, and the versatile Josh Worrell are the standout talls of the draft, while Will Gould's strength across half-back means he's readymade.
How about the Academy and father-son prospects?
We'll start with the Academy prospects, because that's where the bids will begin. Green's performances mean it appears likely a club will place a bid for him inside the top-10 picks for Greater Western Sydney to match.
Liam Henry won't be far behind. The Fremantle Next Generation Academy prospect had a strong few weeks for Western Australia, and is a first-round pick. The small forward is brilliantly quick and exquisitely skilled.
Suns Academy product Connor Budarick played as a small rebounder and midfielder for the Allies and fits around the top-30 mark, while Will Martyn (Brisbane), Liam Delahunty (GWS), Harry Pepper (Hawthorn) and Daniel Sladojevic (Adelaide) are other possible later Academy pick-ups who featured in the championships.

Daniel Sladojevic gets low against Vic Metro at the championships. Picture: AFL Photos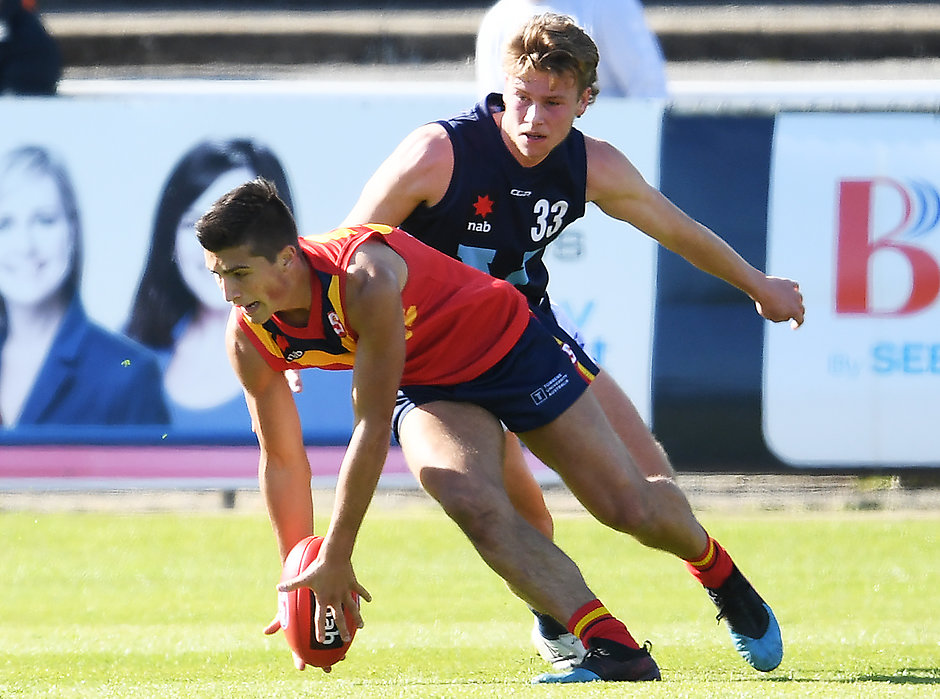 The carnival showed it is a lean year for father-sons. Hawthorn has first call on midfielder Finn Maginness, who grew into the carnival and finished with 27 disposals (18 contested), nine tackles, seven clearances and seven inside-50s for Vic Metro last week.
He's a tall and strong midfielder who could attract a bid in the first 25 picks on draft night, while some clubs have Port Adelaide father-son prospect Jackson Mead pegged around the same mark.
Mead had 22 disposals and two goals against Vic Country last week and has shown he can hit the scoreboard from the midfield.
Who didn't we see?
Cooper Stephens hasn't played since April after breaking his leg at NAB League level, but the inside midfielder is hoping for a return at the back-end of the season. He would have added to an impressive on-ball unit for Vic Country and started the year in first-round discussions.
Find Road to the Draft on Apple Podcasts, Google Podcasts and Spotify.
They were also without Darcy Chirgwin until the last game of the carnival, after he made a return from a leg injury, while Bendigo Pioneers talent Flynn Perez has sat out all season after injuring his knee before Christmas. It will be interesting if a club grabs him after the talent he showed last year.
Western Australia was without forward Mitch Georgiades, the son of former Bulldog John, because of a quad injury that will see him sidelined until the latter stages of the season, while Brisbane Academy prospect Kobe Tozer missed playing for the Allies due to foot issues.
Injury limited the appearances and output of Vic Metro forward pair Emerson Jeka and Dylan Williams, who both played only two games, as well as South Australian goalkicker Cameron Taheny, who was restricted by a leg problem at stages.