A GASTRO-LIKE bug has swept through St Kilda, with Jack Newnes and Ben Paton withdrawn from the round 20 team to take on Adelaide.
Dan Hannebery, who's also on the comeback from a hamstring injury, was also ruled out on Tuesday with the illness and still isn't 100 per cent well.
Dan McKenzie and Matt Parker have come into the 22 to replace the duo.
Dan Hannebery was ruled out earlier in the week with illness. Picture: AFL Photos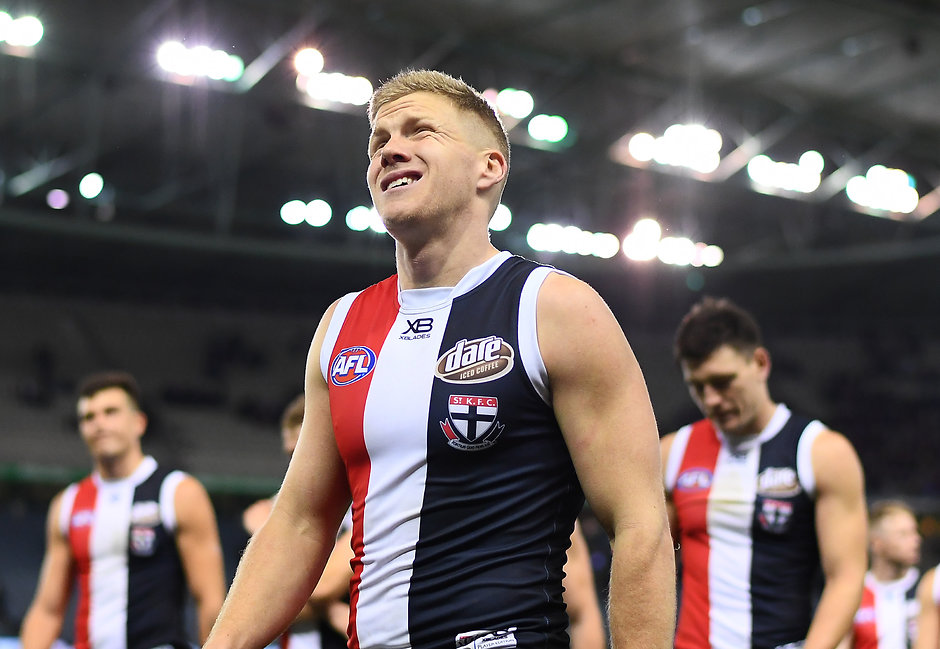 "It seems like a bit like the China game for us, where we're getting blokes [sick] – touch wood, no more fall down," caretaker coach Brett Ratten told reporters on Friday.
"Dan (Hannebery) would have been in the team, but he didn't get to train. We've tried to look after him as well, to make sure he gets a good session on the weekend, get through and hopefully prepare for next week.
"[The bug] is a bit of everything. There's a couple of different symptoms. 'Newnesy' is (number) 16, Dan's number 10 and 'Patto' is on the other side of the room, so I'm not sure how they've crossed paths, but they've all got a bit of everything.
"The doc's ruled them out, said they're vomiting and got shivers and sweating and stuff like that. So we'll leave them out and go with a fit crew."

Despite finals being an outside chance given the club's percentage of 85, Ratten said the injury-prone Hannebery wouldn't be wrapped in cotton wool for the rest of the season.
"We want to get him to come back and play, that'd be great, because it'd be good for him to just finish off the season and hopefully have a good game and end on a positive note."
In better news for the club, star midfielder Jack Steven is edging closer to an AFL comeback, continuing his return to football after taking a break for his mental health.
Steven, who is attracting interest from Geelong, has gradually been increasing his game time since returning to the VFL field two weeks ago.
"He's getting close. Last week he played high game time, and this week he'll try and play a full game. Whether he's right to go the following week or the week after, but he's getting very close to that AFL fitness. The GPS and the numbers tell us that," Ratten said.
"We just have to manage him a bit. He's a bit like a Blue Heeler, if you throw the ball out there, he'll just chase it and do it over and over again, so we just have to manage how hard he goes all the time.
"We've had a chat (about Geelong). The bit for us is probably what we can do right here, right now, for Jack, in regards to getting him back to play.
"What I do enjoy, though, is when you walk downstairs and there he is with a big smile on his face. That makes me happy, and to see him happy, so that's what we're just trying to make sure happens this year and hopefully he finishes the season off really well."
Jack Steven is nearing a return to senior football. Picture: AFL Photos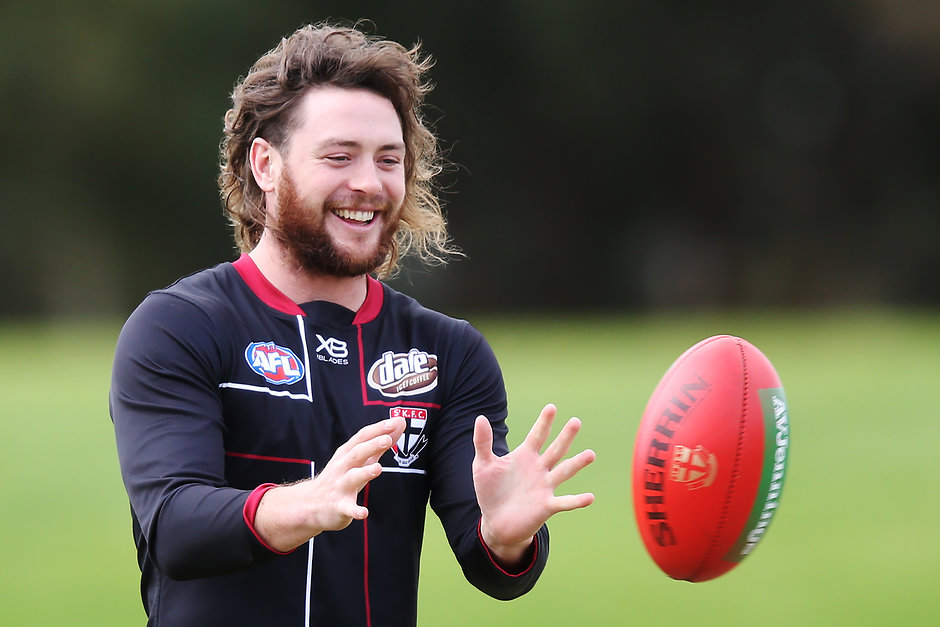 Fellow caretaker Rhyce Shaw was officially announced as North Melbourne's senior coach on Thursday, but Ratten said it wasn't any extra motivation for him to earn the Saints' top job.
He also said he wasn't interviewed for the Kangaroos role.
"I'm rapt for Rhyce, that's fantastic for him to come in as a young coach and do what he's done at North, that's outstanding. That doesn't really affect me here, every case and every club is different, so that will just take care of itself."
Find In the Game on Apple Podcasts, Google Podcasts or Spotify
Ratten's media conference kicked off with a question about St Kilda's poor record at Adelaide Oval, but his attention was quickly diverted to raucous shouts coming from the club's changerooms.
Highly rated draftee Max King had just run on the oval for the first time since surgery on a right syndesmosis ankle injury in June, and his teammates were thrilled.
"That'd be nice to get rid of that (record). They've been a powerhouse in the competition for a long time, so for us … who's that?" Ratten said, trailing off and squinting at the direction of the noise.
"King? Very good. They've just hijacked the press conference, jeepers, they're pretty excited that big Maxy King's back on the track.
"But back to this, we'd love to beat Adelaide in Adelaide, that'd be great."