FORMER Collingwood defender Jonathon Marsh says he is desperate for a return to the AFL, two years after quitting the game as he battled mental health issues.
The athletic and quick backman retired at the end of 2016 when his trade request to a West Australian club fell through. He had a year to run on his contract with the Pies.
However, after two seasons back with East Fremantle in the WAFL, the 23-year-old is searching for a second chance and will nominate for next month's NAB AFL Draft.
"I'm 110 per cent in. I'm fully committed. That's why I've been doing the work when nobody's watching because I'm so desperate for that second chance. I'm that keen for it that it's quite remarkable," Marsh said. 
Marsh far from regrets his call to leave Collingwood and depart the AFL scene. He says it was a call he had been contemplating for months before he pulled the pin on a promising career in the black and white that had seen him play 15 games as a raw but powerful tall backman.
NAB AFL DRAFT HUB Latest news, video and more
"It wore me down and caught me off guard because I wasn't prepared for it and I didn't really manage it well. By the time [the mental health issue] really clicked into gear I was thinking 'I can't be here'," he said.
"Not because of Melbourne or playing at Collingwood, because I was enjoying my time there, but I was actually quite scared about my wellbeing. I knew my support systems were back in Perth and that to get better I probably needed to be surrounded by family and friends.
"It wasn't a negative decision, I'm actually quite proud of it to be honest. I wouldn't change it."
Marsh first visited a sports psychologist in the middle of his second AFL season, 2015, before then meeting a clinical psychologist. He realised he wasn't unhappy about his football but felt himself "shutting down" behind the scenes.
In his third season, despite playing 10 games that year, he started to withdraw from teammates.
"I was living by myself in Melbourne. I felt extremely lonely and I knew that I needed to get out and be social with my friends and my teammates. I was surrounded by them but I just couldn't do that,' he said.
PHANTOM FORM GUIDE Cal Twomey's latest update
"I knew I had to but I just didn't want to. That was quite upsetting for me because the boys would be saying to come around and watch TV or come for lunch or for a barbeque, and I couldn't think of anything worse. I'd lock myself in my one-bedroom apartment and seek some solitude. Everyone knows that you do that and it's not going to help."
Jonathon Marsh said he felt himself 'shutting down' behind the scenes. Picture: AFL Photos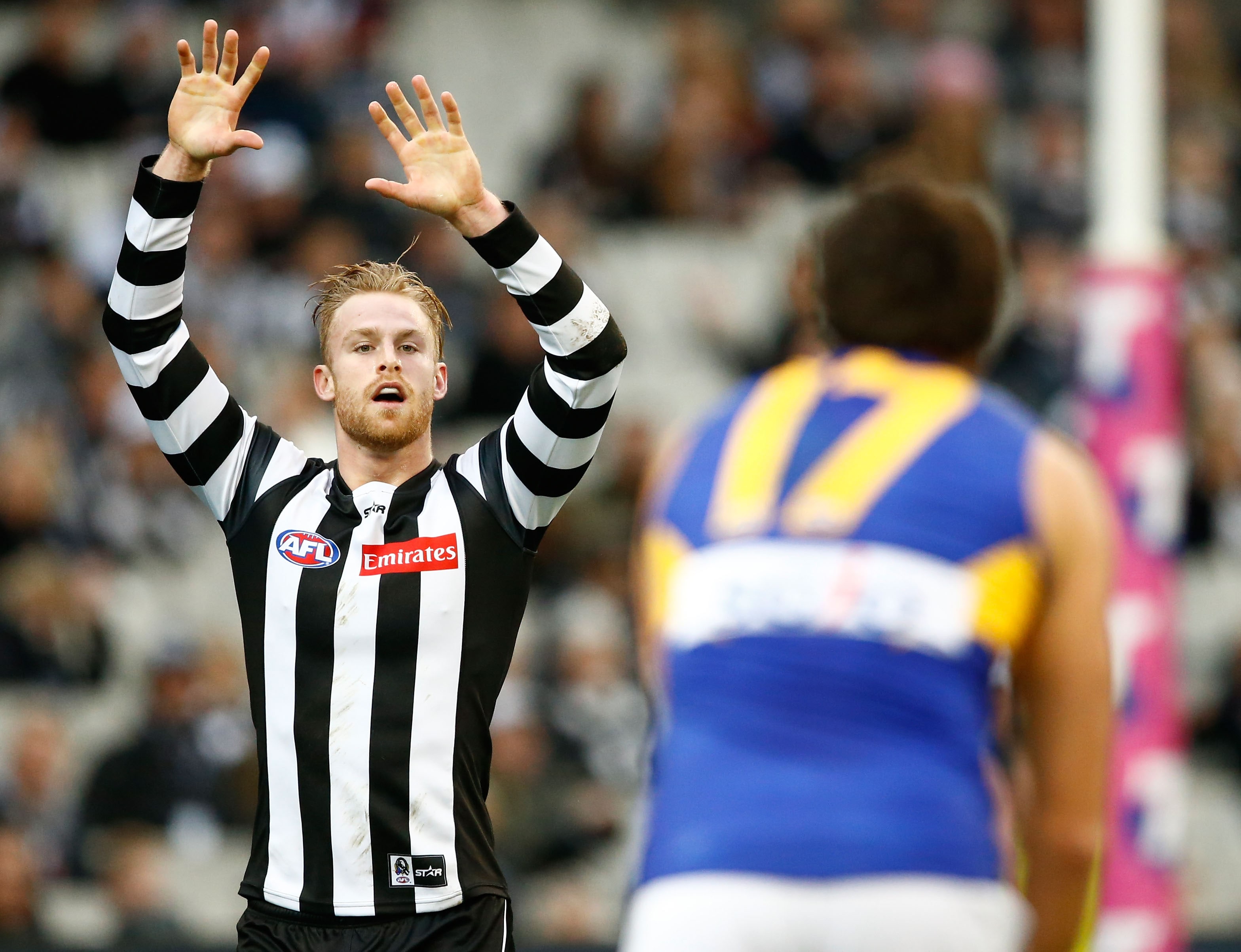 Even during the trade period, when he was waiting to see if the Pies could facilitate his request to get back to Perth, he doubted whether he even wanted to continue his career. He told Collingwood and his family of his intention to end his career and took up a course in primary school teaching.
Marsh, whose older brother Harry was recently delisted by Sydney, went back to East Fremantle, the club he was drafted from, and spent his first season back there playing in the midfield. Marsh gradually felt a little brighter each day, and he visited his psychologist weekly, and then fortnightly.
INDICATIVE DRAFT ORDER Your club's latest picks
About halfway through 2017, his psychologist said she thought it was time Marsh ended the sessions as she thought he had worked through his issues. This year he settled back into his role deep in defence and relished it. 
"That second half of last year I didn't think the love for the game would come back as quickly as it did. It multiplied this year to be even stronger than before I got drafted. It caught me a bit by surprise, it's been fantastic," he said.
"I'm absolutely keen for another shot. The work that I've done personally in the two years I've been out of the system has been very valuable for me."
WHO'S LEAVING YOUR CLUB? Marsh said he is going to move to Melbourne with his girlfriend at the end of the year as she completes her master's degree at university, so quashed any concerns clubs could have about his ability to move. 
"It's not like that fear of homesickness and the lure of WA is going to keep me away from an AFL lifeline if it's thrown my way because I'm already prepared to move," he said.