AS DEVON Smith watched Greater Western Sydney slowly slip away from Richmond in last year's preliminary final, the then Giant also began to realise he wouldn't play again for the club that he had called home for six years, grown up at, debuted for and been a key plank of its start-up years.
Smith was shattered to have missed out on selection for the Giants but understood the thinking behind Leon Cameron and his match committee leaving him out.
The 24-year-old forward hadn't played for five weeks due to a knee injury, but felt ready to get back in the senior team and perform.
Debate raged about whether the Giants were better served picking veteran Steve Johnson for the finals or going with Smith, and it didn't fall his way. He had remained out of contract for the season despite GWS offering a new deal, but it was only during September did he decide to move.
"I did so much work to get up for that game [against Richmond] and unfortunately didn't get picked, and I understand why. It was the right thing, I hadn't played for five weeks," Smith told AFL.com.au this week.
"But I did everything right to play and didn't get picked. After we lost that I knew in my heart I was ready to come home."
Ready to come back to Victoria, but where? That was the question coming thick and fast at Smith from his parents, brothers, partner and friends as he requested a trade out of the Giants. And after interest from several clubs, he chose Essendon as his preferred destination.
It is the Bombers who look set to benefit from Smith's disappointment at the end of last season.
"I'd never had that situation in my short career with a selection dilemma, so I was very disappointed. I've been really motivated again to come out and have a really good pre-season and put my best foot forward," he said.
So far, so good. Smith was already at Essendon's Tullamarine headquarters when he officially became a Bomber early in last year's trade period, walking up the stairs and into the facility to be greeted by list manager Adrian Dodoro, who told him the trade had gone through. Six months on, he's happy with his decision.
"I'm loving it. I'm very happy to be home. I enjoyed my time in Sydney, but I feel like I've got a better balance here between footy and life now. Playing golf here, going fishing, just catching up with family – it's something I didn't really think about but being down here I'm really enjoying that side," he said.
Devon Smith with fellow Essendon recruit Jake Stringer. Picture: AFL Photos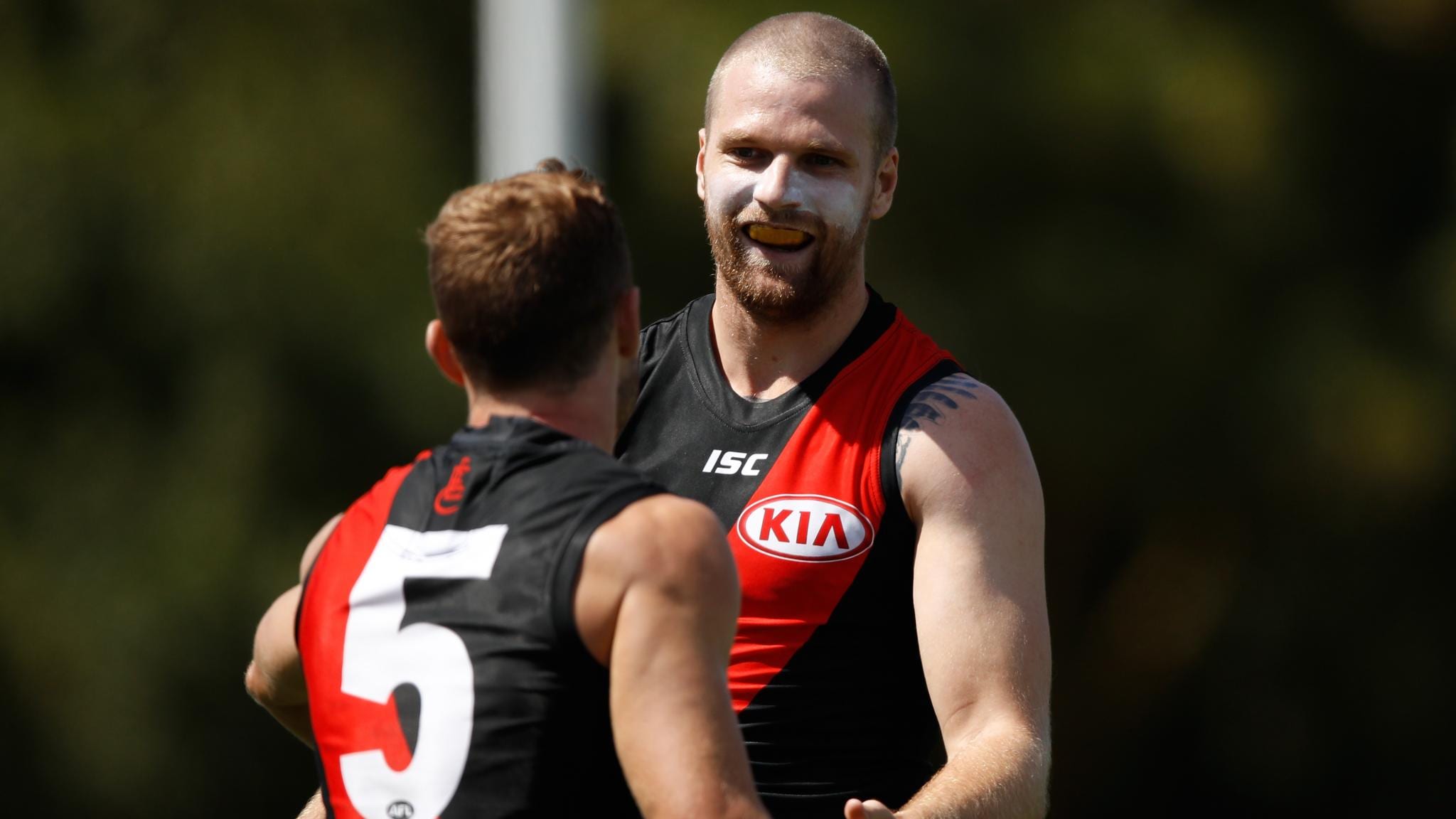 "I go home and I'm not always thinking about football now. It's very hard because in Sydney when you're hanging out you're always hanging out with the football boys, and it probably took me my six years to get some relationships outside the football club that weren't always AFL-related."
Part of Smith's interest in Essendon was its sell to him for more midfield time, something he struggled to get with a star-studded Greater Western Sydney onball unit.
He was impressive in the midfield during the Bombers' JLT Community Series games, and will be a key player there as they take on Adelaide at Etihad Stadium on Friday night in their season-opening clash. Smith says playing as a full-time midfielder has made for a different summer.
"I'm really enjoying the fact that it's different training, it's different things with your body and your craft is very different as well," he said.
"I see guys like (former GWS teammate) Toby Greene and why he's such a good forward now, because your stoppage craft is something you can take up forward. It's learning how to use your body, getting used to taking the hits, and the repeat stuff.
"You have to get your fitness back up to where it should be. I definitely believed I was a midfielder when I was drafted."
Smith doesn't think the knee injuries that have bugged him in recent years held him back from a midfield spot. Rather, it was the Giants' incredible depth in that area of the ground.
He has done "90 per cent" of the pre-season and has completed every session since Christmas and feels past any injury troubles.
"It's strange because lately I've actually forgotten about it, which is a good thing, because last year it was always on my mind," he said.
"But now when people ask I actually have to think, 'Was it my left or right knee?' It's a positive that I'm in such a good state of mind and my body's feeling great."
Smith, who was one of three big-name recruits the Bombers acquired last year alongside Jake Stringer and Adam Saad, has been quick to make an impact at Essendon.
He attacks training drills with the ferocity of a match, even if it means a teammate comes off second best or gets in the way. He's taken teammates on a fishing trip and, of course, picked up a nickname – 'Kev'.
"The Lara boys (where Smith grew up) would be pretty happy to hear that. It's a nickname I get called at home," he said.
"Tommy Bellchambers we call 'Tim', Cale Hooker gets 'Carl' and Jake Stringer gets called 'Jack'. Michael Hurley gets 'Rick'. There's plenty of names in the change rooms."