IF YOU had told Richmond fans before the season started they would be watching a team without Alex Rance, Jack Riewoldt and Trent Cotchin, they could have been excused for fearing the worst.
The injured trio have been incredibly durable up until this season in a team that has generally had a blessed run of luck with injuries the past two years.
Rance tore his ACL in round one, while Riewoldt fractured his wrist in round two before injuring his PCL upon his return last round. Skipper Cotchin has not been sighted since straining his hamstring in round three.
Throw in suspensions to Dustin Martin and Dylan Grimes, three weeks apiece on the sidelines for Josh Caddy (ankle) and Bachar Houli (hamstring), the badly-dislocated elbow of Jayden Short and a frustrating series of setbacks to "premiership ruckman" Shaun Grigg which has seen him fail to play a game, and Tiger fans might have been expecting a team languishing in the doldrums.
WHO MAKES FINALS? Do the 2019 Ladder Predictor
But besides two 40-plus point losses to Collingwood and Greater Western Sydney, Richmond has performed well, sitting at 4-2 in a hotly-contested season.
A quartet of youngsters have stepped up to play key roles, showcasing the Tigers' depth – and their strong VFL program headed by Craig McRae.
Teenager Noah Balta cuts an imposing figure for a first-year player. Picture: AFL Photos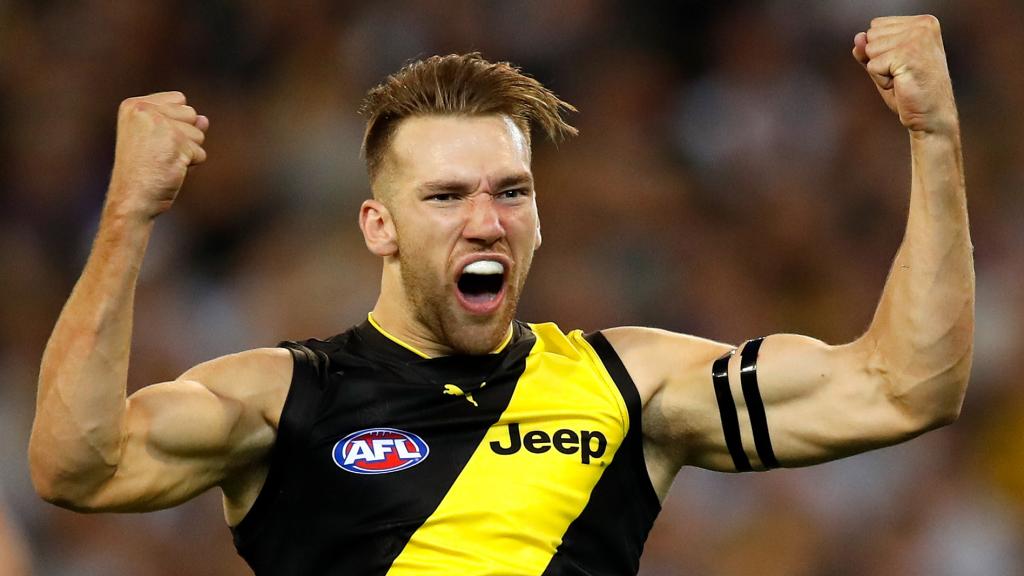 Midfielder Jack Ross (18 years old, three games), flanker Sydney Stack (19, four), utility Noah Balta (a 19-year-old who already weighs 100 kilograms and has played five games) and versatile forward-mid Liam Baker (21, six games) have all had influential moments in matches this year.
Ross is averaging 23 disposals and three clearances a match, while big man Balta's ability to read the play and cover the ground at speed has caught the eye.
Stack has dominated headlines recently for his attack on the footy (and an unsuspecting Jack Viney), but his overall performance in defence has also been strong, averaging 16 touches and five marks a game.
But it's the unheralded Baker who is the perfect example of this new Richmond, a team continuing to rack up wins without its entire leadership group.
It features many of the club's successful elements from its 2017 flag – manic tackling, a will to get the ball forward at all costs and strong intercept marking – with a dash of youthful exuberance and confidence, as well a little bit of attitude and a cheeky grin.
Baker has caught the eye in Richmond's current three-game winning streak. Picture: AFL Photos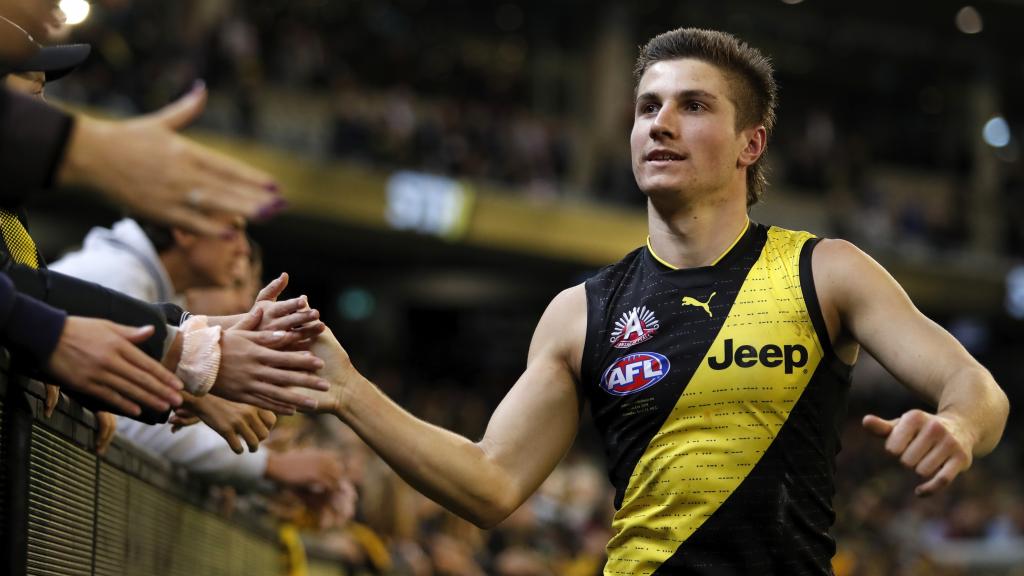 Standing at just 173cm, Baker was overlooked in the first draft he was eligible for at the end of 2016.
The Lake Grace product (Nat Fyfe territory in Western Australia; Baker's family own a wheat and cattle farm in the town with a population of around 600) continued to plug away in the WAFL with Subiaco, working on his disposal and ground-ball efficiency.
He was eventually selected by Richmond as a rookie at the end of 2017. The club had just won a flag, a daunting side for a rookie wearing the number 48 to be joining.
"I was thinking when I first got drafted, 'there's already all these small forwards and then me in a team that's just won a flag, how am I going to get a gig'?" Baker told afl.com.au.
"You can look at it that way, but you can also look at it as you're at the best team in the comp, who just won a flag and have very high professionalism. You just have to be excited by it, and it didn't disappoint when I got to the club."
Baker is averaging 19 disposals and has kicked four goals from his three matches this year, after breaking into the side in round four.
He's finding the confidence to move further up the ground, thriving on the responsibility of the occasional centre bounce while trying to avoid ending up in an aerial one-on-one against the key backs and resting rucks.
Baker's work-rate from contest to contest has boosted him to Richmond's number one in the player ratings for chasing and corralling.
"It was good to get a bit of a crack in the JLT (practice matches), but in the first three weeks of the season I was being told I was thereabouts, but with the small forwards and wingers in good form, it was hard to fit me in," Baker said.
"It was good to finally get my chance and actually play my role when I came in, not just going back out of the side straight away. Having played three weeks in a row, I'm getting more confident.
"It's good watching 'Stacky' and 'Rossy' play, they're just beasts. Noah, he can do stuff that not many blokes his size can do, which is exciting. We're all just happy to be out there.
"And it's not just us four, but the whole team is having a lot of fun out there. It's much more fun when you're winning and playing the Richmond way, which has been the case in the past few weeks."
And that unique, mullet-esque haircut? Baker cuts it himself.
"At school, I had to keep my hair short, so once I finished, I grew it out long just to see what it was like," he explained.
"I had a lot of recruiters telling me to cut it, because I kept flicking it (out of his eyes) when I was playing. So, I thought I needed to keep some length, so I just left the back and cut the sides.
"Every time I went to the hairdressers, I was coming out angry with the result, they'd cut it too short or they'd stuff it up. I was a bit younger back then and a bit immature, but if I stuff it up now, there's only me to blame. I've generally got the hang of it."
Find AFL Exchange on Apple Podcasts, Google Podcasts and Spotify.