THE NEWS shattered Sam Philp. But not for long.
Having enjoyed a strong start to the season, Philp was understandably disappointed when he was left out of Vic Metro's squad for this year's NAB AFL Under-18 Championships.
Part of him could understand why. Vic Metro had a deep midfield, which included Matt Rowell and Noah Anderson – the prospective top two picks in this year's NAB AFL Draft.
APP SURVEY Tap here to have your say on the AFL Live Official App
But part of him couldn't. His form with the Northern Knights was exemplary, while his rare mix of contested work and outside speed would have provided a valuable point of difference.
Having grown to around 187cm, Philp has the body to compete at stoppages. But his real asset is his breakaway pace, enabling him to rapidly move away from the contest and use his penetrating kicking abilities.
He and the Knights thought he had shown enough of that through the first half of the season to earn a spot in the squad.
But a quick chat with Knights talent manager Rhy Gieschen and coach Justin Wenke allowed him to refine his focus. Instead of seeing it as a setback, he used it as an opportunity.
Find Road to the Draft on Apple Podcasts, Google Podcasts and Spotify.
With five Knights players selected in the Vic Metro squad and subsequently out of action in the NAB League, Philp used the Championships as a chance to step up and lead in their absence.
"I was pretty disappointed, but you definitely use it as motivation," Philp told AFL.com.au. "I didn't feel like I was unlucky, but I did feel like I could have slipped into the side.
"I've just tried to play my best each week. Having some of our Metro boys out put the responsibility on us as a top-age group, so we all fed off that a bit."

Philp didn't receive any feedback from the Vic Metro program as to why he was left out of its squad.
While that left him seeking reassurances over his chances of getting drafted this November, his recent run of form with the Knights has since provided him with plenty of that.
Philp has averaged 22.7 disposals and 5.4 tackles per game in the NAB League this year, while he's also improved his ability to hit the scoreboard to kick nine goals from 14 matches.
It's put him firmly in contention for the NAB League best and fairest (formerly the Morrish Medal), which will be awarded this Sunday, while it has also earned him an invite to the upcoming NAB AFL Draft Combine.
Sam Philp takes a strong grab in front of Luke Stelling in a NAB League match. Picture: AFL Photos

That is in large part due to Philp being able to demonstrate his speed when he finds the footy on the outside, which has added a more damaging side to his game.
"That's why we've always rated him as a really likely type," Gieschen told AFL.com.au.
"I remember when we did our internal testing, he broke the three-second mark as a 16-year-old in the 20m sprints. We thought that could be a really big asset for him.
"He reminds me a bit of Callan Ward. He doesn't always show it, but he's got real breakaway speed when he gets the ball. That's who I've told him to watch and model himself on.
"He's got that real quality mix of being able to win the ball at the source, then be combative and aggressive. But when he's got the opportunity, he can take off and show them how dangerous he is when he gets the ball on the outside."
Speed is one of Sam Philp's biggest assets. Picture: AFL Photos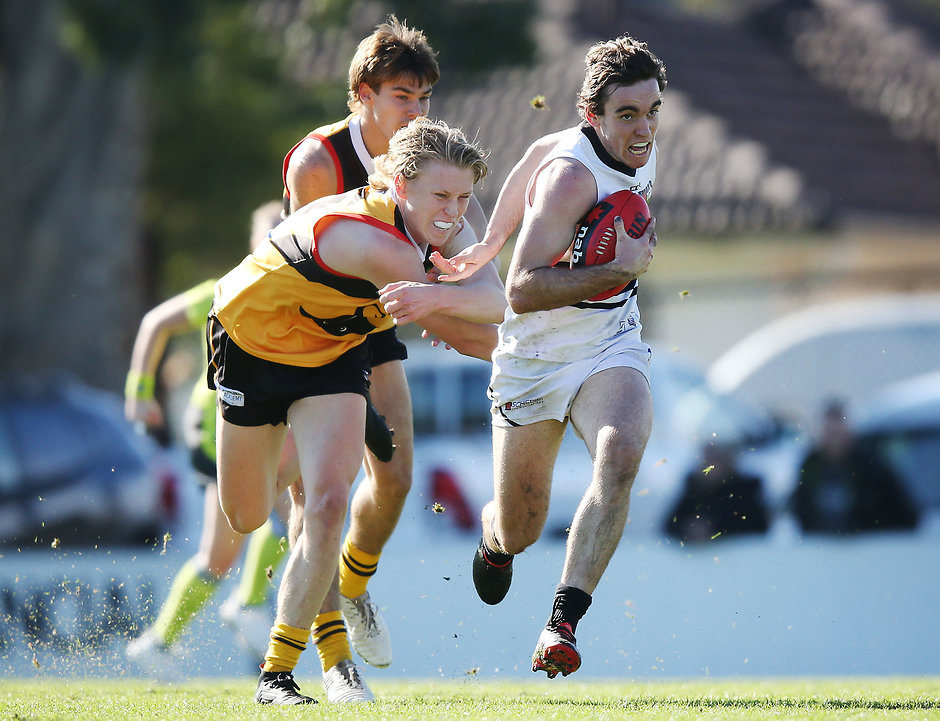 Philp's biggest asset was developed during his most frustrating time as a footballer.
Forced to spend a month on the sidelines early last year due to a broken hand, it gave the teenager the opportunity to work purely on building strength through his legs.
"It was probably one of the more influential experiences I've been through," Philp said.
"I missed about three or four games and (Knights high performance manager) Anthony Pierobon and Rhy tried to build up my legs and get a bit of power through them. I spent every session running, doing leg weights and those kinds of things, so that was huge for me.
"I came back and straight away I felt a big difference. I felt I could adapt to the game a bit better as a bottom-ager. It was definitely a really big experience for me."
A month on the sidelines forced Sam Philp into the gym - and it has paid dividends. Picture: AFL Photos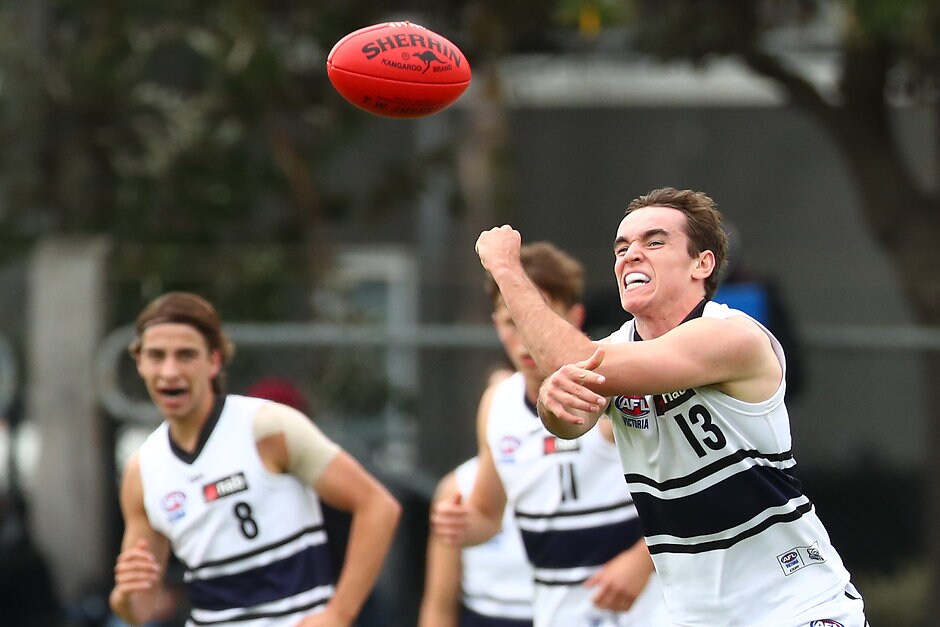 All of that resulted in an invite to the Combine in early October.
Testing in front of recruiters from every club, Philp will use it as an opportunity to demonstrate his natural athleticism and prove he is ready for an AFL chance.
"Finding out was pure excitement," Philp said.
"I was pretty surprised, to be honest, but I was over the moon. It was another step towards the ultimate goal. It gave me that reassurance that I'm on the right track so far."