JARRYD Roughead will captain Hawthorn in 2017, taking over from three-time premiership skipper Luke Hodge
Roughead, 29, will return to football this season after missing 2016 as he battled cancer.
"I'm honoured to be captaining the Hawks this year," Roughead said.
"It's an enormous responsibility but I'm ready for the challenge and can't wait to lead this group of players.
COMMENT: Roughy an inspired choice
He said he doesn't expect things to change now that he has "a letter next to my name.
"What you see is that you get with me. I think I'm liked and respected by the playing group and that's a good thing to start off with. To be backed by the players and the club, it's a really special feeling."
Roughead paid tribute to Hodge, who said was one of the best AFL captains in recent times. "I'll certainly take a lot of what he has taught me into the role," he said.
Roughead has been back in full training since receiving the medical all-clear last month, but his perspective on the game has clearly changed.
"I thought footy was everything until what happened. But now that I've gone through what I have, I know that footy is only going to be 15 or 16 years of my life in terms of playing. I want to live to potentially be a dad or a granddad and one of the things the doctor said when he cleared me was that he wanted me to become a granddad. That means more than 15 years of footy.
"Because we live in Melbourne in the fishbowl of footy, we get caought up in that so much rather then everyday life and what it feels like to be alive."
He said his time out of the game has given him a new perspective, but the competitive streak emerged when he noted that the Hawks were again being written off as contenders in 2017.
"It will come up again this year because of the players we've lost and who we've brought into the group, but we've said for years it's not 22 who win the premiership, it's a squad and we've a got a great group that's pretty healthy at the moment."
Hodge, who captained the club since 2010, believed the time was right for a fresh face to lead the Hawks.
"I think it's the perfect time for Rough to take the reins," he said.
"I've had the opportunity to see him grow and develop as a leader and there is no better person to lead our club in 2017.
"I've always thought I'd like to be around to help out and support my successor so I'm rapt that Rough's appointment means I'll have the opportunity to do that."
Jarryd Roughead at Waverley on Friday after being named Hawthorn's new captain. Picture: AFL Photos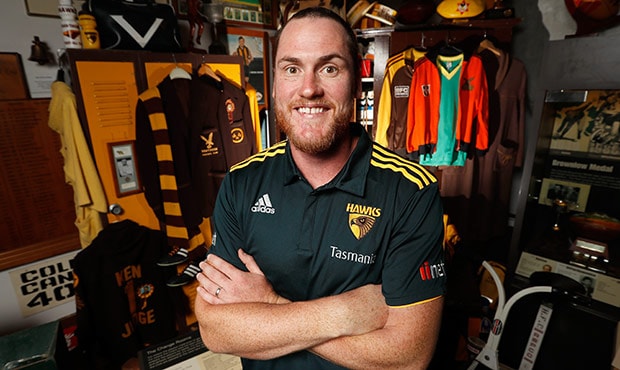 Hodge captained the side for 125 games, the fourth most of any Hawthorn captain, leading the Hawks in 17 finals, four Grand Finals and three premierships.
The former skipper also paid tribute to the Hawthorn fans with a social media post made on Instagram.
"I would like to thank every member of the brown and gold army for embracing me as your captain," he said.

"It's been a hell of a ride and although I won't have the title (as captain) this year, rest assured I'll be working as hard as ever to bring success to our footy club."
Liam Shiels, Ben Stratton and Jack Gunston have all been voted into the leadership group by their teammates.
Shiels and Isaac Smith will assume vice-captaincy duties, with Gunston, Stratton, Hodge and Josh Gibson set to round out the seven-man leadership team.
Since being drafted by Hawthorn with pick two in the 2004 National Draft, Roughead has built a stellar career that includes 231 games, four premierships, and a Coleman Medal.
His tally of 491 goals is the sixth most of any Hawthorn player in history and he has been named an All Australian twice.