GILLON McLachlan is a towering figure both literally and figuratively.
Standing a touch under 200cm, his height allowed him to play football at a decent level, good enough to be on Carlton's supplementary list for a time, and he played more than 200 games in the ruck, mainly for University Blues in the Victorian Amateur Football Association, including three years as captain.
He remains a key figure behind the scenes at Uni Blues, a team he would unashamedly call his first football love.
As he explained in his introductory media conference on Wednesday, he 'gets' football. He has had his fair share of cold showers and late night committee meetings. He has welcomed coaches and players into his football club and he has shown them the door.
"I understand football clubs and the pressures they face," he said.
But even though the VAFA is one of the largest and most influential business and sporting networks in Australia, McLachlan didn't rise to the most powerful job in Australian sport because he was an amateur version of Essendon champion Simon Madden.
A member of one of the South Australia's largest farming families (his uncle Ian is a former South Australian Sheffield Shield cricketer and Australian defence minister) he moved to Melbourne where he gained a law degree with honours and went to work with Andersen Consulting (now Accenture) where he worked across a number of industries in a number of countries.
One of those secondments was to the AFL, and as is often the case, he went from consultant to employee, joining the AFL in May 2000 as a strategic planner.
From there he moved up the organisation as head of commercial operations, with extra responsibilities for broadcasting and major projects, and later on fixturing and digital media.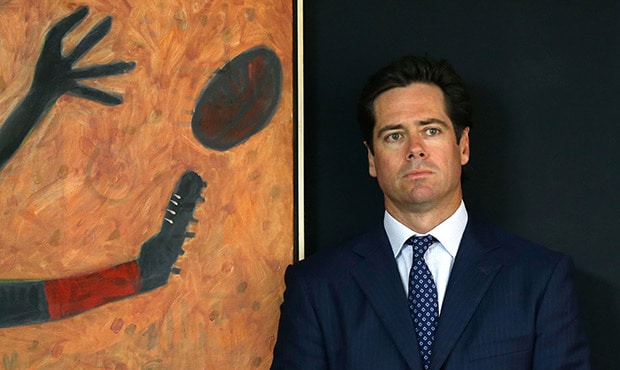 Gillon McLachlan looks on as Andrew Demetriou announces his departure as AFL CEO in March. Picture: AFL Media

He assumed pole position to eventually replace Andrew Demetriou as the main man at the AFL when he was named deputy CEO in late 2012.
If there was a NAB Rising Star Award for football administrators, he would have won one of those years ago. He might have won a Brownlow equivalent as well, for as long as he has been at the AFL, bosses have been happy to hand to McLachlan some of the more important and detail-oriented projects.
McLachlan has been across the past three media rights deals negotiated by the AFL going back to 2002 when, in a radical departure, the TV deal was given to the Nine and Ten networks and for the first time, a sizeable new-media component with Telstra was included as well.
McLachlan has always been media savvy – a smooth performer in front of the cameras, while away from them, he boasts an intuitive grasp of how that industry is rapidly changing before our very eyes and what it means for the consumption of football now and in the future.
He was a key driver behind the creation of AFL Media, based on the simple premise that the League should own and grow the intellectual property behind its publishing and new media interests rather than have them in the hand of outside businesses.
Given that equalisation is the last of Demetriou's to-do items before he finishes up on June 5, the next media rights deal will be the among the first big projects for McLachlan, and he is already on record as declaring he would like the next deal, which kicks in from 2017, to be largely finalised by the end of next year.
McLachlan's work with stadia has also been important for the AFL. His connections to South Australia (uncle Ian was South Australian Cricket Association president at the time) ensured he played a key part in ending the cold war between cricket and football that paved the way for the Adelaide Oval redevelopment.
When asked on Wednesday what was his greatest achievement at the AFL to date, he nominated the complicated deal with the Queensland Government to redevelop the old Cararra Stadium on the Gold Coast and turn it into Metricon Stadium. "There was a time when that deal was off," he said.
In McLachlan's time at the AFL, half of the MCG was rebuilt and the other half redeveloped, Spotless Stadium was opened, facilities in Sydney, Cairns, Launceston, Darwin and Alice Springs were improved and construction of the new stadium in Perth was commenced.
McLachlan sees the funny side as he faces the press as new AFL CEO. Picture: AFL Media

Those who have worked with McLachlan say he is a plain-speaking dealmaker.
"He's streetwise and there's mongrel in him when there needs to be. That's how he got ahead," said one football industry executive. "He's just very smart, he sees the big picture immediately and he's been groomed for this for a long time."
That's why the NRL Commission sought to make him its inaugural chief executive last year and there were also suggestions he was sounded out about a move to the UK to run the Liverpool Football Club.
But to have accepted either of those positions before an opportunity presented itself to run the AFL would have been a wrench. The game is in his blood and what was clear on Wednesday was the passion he feels for football and his kinship with those who play it and watch it.
He is an avowed fan of the game, which is a good starting point, because he has just stepped into one of the most demanding and high-profile jobs in Australia.
THE GILLON McLACHLAN FILE

- Has a Bachelor of Laws (Hons) from the University of Melbourne, Bachelor of Commerce from the University of Adelaide
- Worked in a strategic role at Andersen Consulting (now Accenture), which involved a variety of industries in different countries
- Joined the AFL in May 2000 as a strategic planner and was appointed general manager commercial operations in November 2003 before assuming additional responsibilities in the areas of broadcasting and major projects in 2006
- Promoted to the position of chief operating officer in 2008 with responsibility for AFL broadcasting and digital media, fixturing, venue agreements and stadia infrastructure
- Appointed deputy chief executive officer, December, 2012
Football background:
- Elected as a Life Member of University Blues Football Club in 2003
- Played for the University Blues Football Club in the VAFA competition
- Club captain for three years
- Represented Victoria and captained the state.
- On supplementary list at Carlton for about six months: October- March 1996-97
Family background
- Gill and his wife Laura have three children – daughters Edie, 6, and Cleo, 4, and son Sidney, 2