HUGH Goddard is used to people finding similarities between him and his cousin Brendon, and he can see why.
The 17-year-old, touted as one of the most impressive key position players in this year's NAB AFL Draft, wants to be good, and wants to know how to get there. He asks questions, wants feedback and gives it, and likes to do everything as well as possible.
"People have already started relating me and Brendon to each other in that manner – that we're pretty serious," he said. "I guess I am. When you're at training or around the club you've got to be professional. But right place, right time. I'm not an intense bloke all the time."
Hugh has found other similarities when asking Brendon, a former No.1 draft pick, for advice about how to handle his final year of under-18 football.
"His big thing for me is that the biggest pressure you'll get is what you put on yourself. Obviously we both put pretty high expectations on ourselves, through driving to be the best you can, and I don't think that's a bad thing," Goddard told AFL.com.au during this month's AIS-AFL Academy trip to Europe.
"He just sees that I've got to go out and have fun, and everything else will follow. He said don't get too caught up in the draft."
Through the Academy program, Goddard spent a week at Essendon in January, training with the team and living with Brendon, whose first season with the Bombers saw him win the club's best and fairest.
Hugh saw the training demands change from what he was used to – players making the most of every minute at the club, and the competitiveness of every drill.
"Obviously Brendon's going pretty well, but just how professional you have to be, not just on the field, but off it with your diet, and sleep and everything else," he said.
He looks up to Brendon, and always has. The pair keep in touch regularly through texts or phonecalls, and after initially finding it hard having his name attached to his cousin all the time, he's become used to it, even if he ultimately wants them separated.
"I don't want to live in his shadow throughout my career, I want to make my own name for myself. I think that's what's driving me at the moment," he said.
"It's kind of a good thing because you see what he can achieve, and some people say 'you're just his cousin', but you want to make your own name."
They are different type of players, for starters. Goddard, at 195cm and 91kg, will spend this year with the Geelong Falcons, Vic Country and Melbourne Grammar as a key position player, ready to be flicked between centre-half forward and centre-half back.
He spent all pre-season training as a forward with the Falcons, and that's where he feels most comfortable, but his strong marking, energy around the contest and left-foot kick makes him just as handy switching to the other end of the ground.
"Recruiters ask what position I enjoy more and what I think I'm better at, and I'm happy to play wherever. I want to make that point. I do enjoy playing forward, but I'm comfortable in going back and doing what I've got to do," he said.
That was the case for the Academy in its three recent games; the first against Collingwood's VFL team at the MCG, and two with and against the European Legion in London. In the second game, played at London's Harrow School, Goddard kicked four goals.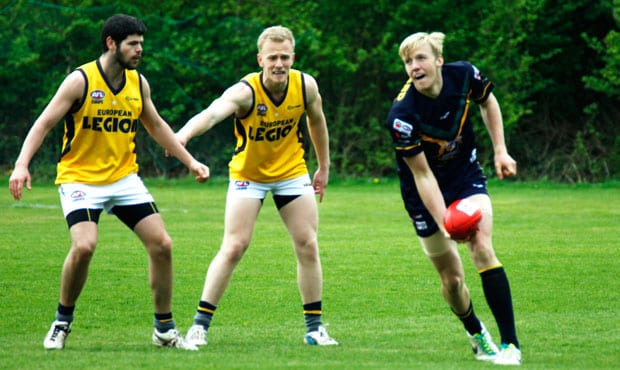 Hugh Goddard in action for the AIS-AFL Academy against the European Legion. Picture: Callum Twomey
"Playing both ends and switching around, you learn skills and know what the other person's going to do," he said.
Goddard spent a lot of time over summer heading down to the Falcons and will continue to commute once a week during the season to Geelong from the boarding house at Melbourne Grammar, getting a lift from his dad Craig there, and catching the train back late at night.
It's all in an effort to produce consistent training, and to get his body right so he can get through his biggest year of footy without any injury concerns after hip troubles and a shoulder problem last year.
"Injury held me back a bit but I've worked hard, not only at getting bigger and stronger, but making sure I'm not going to have an interrupted year," he said.
"I couldn't wait all pre-season just coming into this year to go out and enjoy my footy. I don't think that's something I did last year."