THE ONLY tall forward on Gold Coast's list yet to play a senior game in 2019 is Sam Day.
One of just six players left at the club from its inaugural 2011 season, Day has been stuck in the NEAFL, and has had to watch as player after player has been called up ahead of him.
But coach Stuart Dew says a line has not been put through Day's name.
EVERY INDIGENOUS GUERNSEY Vote on your favourite
Peter Wright, Chris Burgess and No.2 draft pick Jack Lukosius played in the opening round.
L-R: Sam Day, Tom Lynch, Dion Prestia, coach Guy McKenna, Josh Caddy, Harley Bennell and David Swallow. Picture: AFL Photos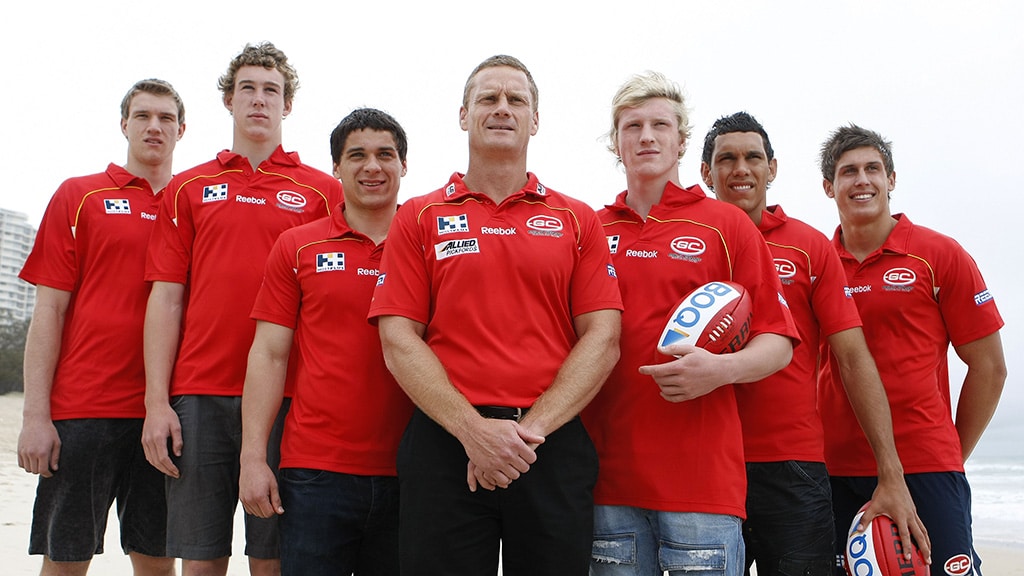 Josh Corbett has now played four games, while against Port Adelaide last Sunday, No.6 draft selection Ben King made his debut.
"Last week it was Sam and Ben, and we went with Ben," Dew said.
"We're in constant dialogue with Sam. He's aware he needs to push into the side, put some pressure on Ben, put some pressure on Peter.
"He's got to really dominate the NEAFL.
"We've seen patches. His form's been building."
Day has played 110 games and is out of contract at season's end.
He has played at both ends of the ground over his career, and spent time as a relief ruckman, but has been stationed forward the entire NEAFL season to date.
"We're talking every week around what his footy looks like and where he needs to get to, and he's invested and on-board with that," Dew said.
FULL INJURY LIST Who's ruled out and who's a test?
Gold Coast will play Geelong on Saturday night without vice-captain Touk Miller, who is suffering from a heel injury, for a second straight week.
"He's made some gains, but we don't want to put him back out there too early that it rears its head again," Dew said.
Find AFL Exchange on Apple Podcasts, Google Podcasts and Spotify.