THE AFL will revisit names on the back of guernseys for the realestate.com.au AFLX tournament at Marvel Stadium next Friday night.
Players from Team Deadly, Team Bolts, Team Flyers and Team Rampage will have the option of having their surname or a nickname embroidered on the back of their guernseys on the night.
AFLX TEAMS Check out all the teams
Geelong superstar and Team Bolts captain Patrick Dangerfield has chosen to have 'Danger' printed on the back of his guernsey, with other players still deciding on their preferred name designation.
Dangerfield told AFL.com.au nicknames on guernseys related nicely to the target audience of children aged five to 12 for AFLX.
AFLX RULES Get ready for 20-point supergoals
"Whenever kids see you in the street they don't very often yell out your full surname and it's usually your nickname, like 'Danger'," he said.
"The concept of AFLX is having a bit of fun and this speaks to that."
AFLX JUMPERS What's your favourite look?
Previously, the League instituted a one-round trial in round five, 2014, of having names on the back of guernseys. Despite positive reaction from fans, the AFL decided not to proceed further because of the lack of space on an AFL guernsey presenting "practical limitations".
The size of the lettering that could be used, the size of numbers, club acronyms and sponsor logos also proved problematic when it came to having names on the back of guernseys.
Swans players during the one-round trial in 2014. Picture: AFL Photos
However, Dangerfield said it was a no-brainer that the AFL should again look at whether names on the back of guernseys could work in the premiership season as well.
"We should have kept it when we first did that trial. I love it and I think especially if we want to continue to grow the game," Dangerfield said.
AFLX FIXTURES Bolts and Rampage kick it off
"For people just starting to watch the game it gives them a bit of a compass on who is who and who is playing where.
"Aesthetically it looks good. They do it in other codes and you don't have to copy everything that everyone else does but I think you've got to acknowledge when other codes do things well and I think that would be a nice touch for our game."
Nat Fyfe's 'Flyers' guernsey. Picture: Supplied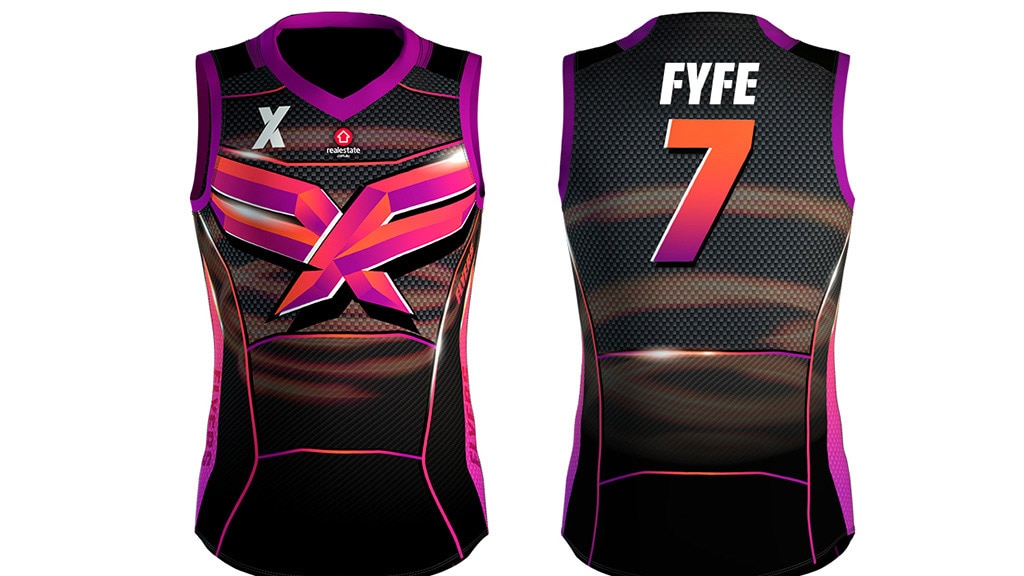 Names on the back of guernseys for AFLX follows the League giving players approval not to wear team apparel to the venue, and instead express their own personalities and flair with an open dress code for the night.
Much to Dangerfield's chagrin, Team Bolts have already suffered a few injuries within their squad with Robbie Gray (knee soreness) replaced by Tom Rockliff and Robbie Tarrant (shoulder) also ruled out, with teammate Jamie Macmillan expected to get the call-up.
Dangerfield said Team Bolts would have a 'Captain's run' (a light kick-to-kick session) on Thursday to get to know each other.
"We'll have a little run together the day before the game and get together and have a bit of dinner together as a team as well," Dangerfield said.
"We've got to make sure that it's a really enjoyable experience for those participating in it."
Information, fixtures and ticket sales via X.afl