GEELONG. Collingwood. West Coast. GWS. Richmond.

After nine rounds, the ladder has taken its rightful shape and the 2019 premiership is shaping as a race in five.

That quintet had impressive wins on the weekend, all for differing reasons.

The Cats, because they just know how to turn it on when required, don't have a glaring weakness in any facet of the ground, and in an era where there is a lot of ugly footy being played, present as the best team aesthetically.

They destroyed the Bulldogs late in the third quarter and throughout the last on Saturday night. And such is Mitch Duncan's rich form that he is now as crucial as Joel Selwood.
How good was this from the Cats?

Although Danger might have fended off a ghost here! #AFLCatsDogs pic.twitter.com/5POhPmJtP8

— AFL (@AFL) May 18, 2019

Collingwood, for virtually the same reasons. It hit 'go' in the fourth quarter and slaughtered St Kilda at the MCG.
West Coast, because it has coolly got to a 6-3 scoreline without really trying in a year in which it is defending the premiership. And Nic Nat is soon to return.

GWS, because it embarrassed Carlton, the perfect response to what AFL icon and Giants board member Jimmy Bartel described as the club's worst loss in its history against Hawthorn in round eight.

Richmond, because it then fully controlled its match against those Hawks, and continued its incredible response to injury adversity.
The Tigers get one to go through Josh Caddy! pic.twitter.com/nTRV8CJBFj

— AFL (@AFL) May 19, 2019
What about the other team at the top end of the ladder?
Yep, Brisbane deserves just as much kudos.

They have set up their season very nicely at 6-3, and between now and round 23, only play four top-eight sides.

Finals, here they come.
The steal and the roost from way inside the centre square.

Lovely play from Dan McStay!#AFLLionsCrows pic.twitter.com/H3XjpUoO7k

— AFL (@AFL) May 18, 2019
Find In the Game on Apple Podcasts, Google Podcasts or Spotify
More blues for Bolton
Have been saying for a long time now that while there shouldn't be, and isn't, a coaching death watch on Brendon Bolton, he won't be in the chair for round one, 2020.
Really feel for him personally, because it just isn't working. The latest match – a 93-point debacle of a loss against GWS on Sunday night – truly underlined how far his Blues, in his fourth season as coach, are apart from one of the premiership fancies.
FANTASY FORM WATCH Big boys come out to play
Bolton registered two wins in 2018, and has one after nine rounds of 2019.
The Blues will not move on their coach this season. Their administrators and board members can be taken at their word that he will be given the full season to prove his credentials.
Next Sunday afternoon, 3.20pm, Marvel Stadium. St Kilda awaits Carlton. The problem for Bolton in this game is that unlike Sunday's against GWS, he is actually expected to provide a fully competitive Blues outfit.
So it is a free kick or a suspension?
Eagle Lewis Jetta tackles Demon Tim Smith.
One AFL adjudication body, the umpiring department, feels it worthy of a free kick to Jetta, for holding the ball.
Another AFL body, the Match Review department, deems it sanctionable, placing a ban on him for next week's match against Adelaide, for "rough conduct".
It's a weekly occurrence, where the grey in the game is slowly suffocating it. Surely a tackle can't be both a free kick to the tackler, and punishable by a week's suspension. 
One of many areas which need fixing. 
While we're on the MRO… 
If Rhys Mathieson was Nat Fyfe or Gary Ablett, he might be a chance to escape the Match Review Officer's sanction for his elbow on Crow Jordan Gallucci on Saturday. 
But he's not, and he won't, and nor does he deserve to escape. Should get two weeks. 
Just on Match Review matters, I actually hope lenience is applied to Collingwood's Trav Varcoe, who made head-high contact with Saint Ed Phillips.
It would be unfortunate if he was to miss next weekend's Pies-Swans match, where clubs wear indigenous themed guernseys, for his sister-in-law has designed the Collingwood jumper for that occasion.
The guernsey design was influenced by the support Varcoe received after the tragic passing of his sister Maggie in a football match incident last year. 
Travis Varcoe was reported in the first quarter for this incident involving Ed Phillips.#AFLPiesSaints pic.twitter.com/ZllBPFd9Ho

— AFL (@AFL) May 18, 2019
Go your hardest, Luke, but leave Boyd out of it
Would prefer to not have to use part of this column to refer to Luke Beveridge's comments on Friday, as I addressed it twice on Triple M and once on Channel Nine over the weekend.
But I would get accused by some of weakly avoiding it if I didn't.
Beveridge's long-winded, personal-hijack reference to a journalist who would "never be forgiven by anyone at our football club" because of "how black that soul is" within an otherwise heartfelt addressing of Tom Boyd's retirement from football was a sad reflection on him, as well as being factually wrong and deeply insulting.
BEVERIDGE ON BOYD Dogs coach's emotion spills over
It was the second time in 12 months that Beveridge had used Tom Boyd to leverage his own hatred of me.
Beveridge's dislike of me began in September 2015 when he was riled about my reporting of his handling of the supposed elimination final information exchange between his player Michael Talia and his brother, Daniel Talia, of Adelaide.
Four days after that report, at the Brownlow Medal dinner, he made forceful physical contact with me. It may have been an accident. It may not have been. 
The Western Bulldogs lied to me early the following season, Boyd's second at the Bulldogs, when I directly asked about a bar stoush between Boyd and teammate Zaine Cordy. 
During that period, Beveridge had been economical with the truth about why Boyd was playing in the VFL.
The very next morning after my inquiries about this matter, and after lying about it, the club issued a media release, conceding it had disciplined Boyd and Cordy.
This was long before Boyd had publicly raised his mental health issues.
I have never questioned any aspect of that part of Boyd's life, and from the moment he kicked his third goal in the 2016 Grand Final, a game in which I felt he should have been rewarded with the Norm Smith Medal, I have regularly stated he had fully paid back the extraordinary money the club used to recruit him as a 19-year-old from GWS.
BARRETT How Boyd walks away from $1.5m and Dogs get cash to splash
Go your hardest with your words towards me, Luke, any time you like. That's your right. But stick to facts and leave Tom Boyd out of it.
Tom Boyd and Luke Beveridge speak at the final change of the 2016 Grand Final. Picture: AFL Photos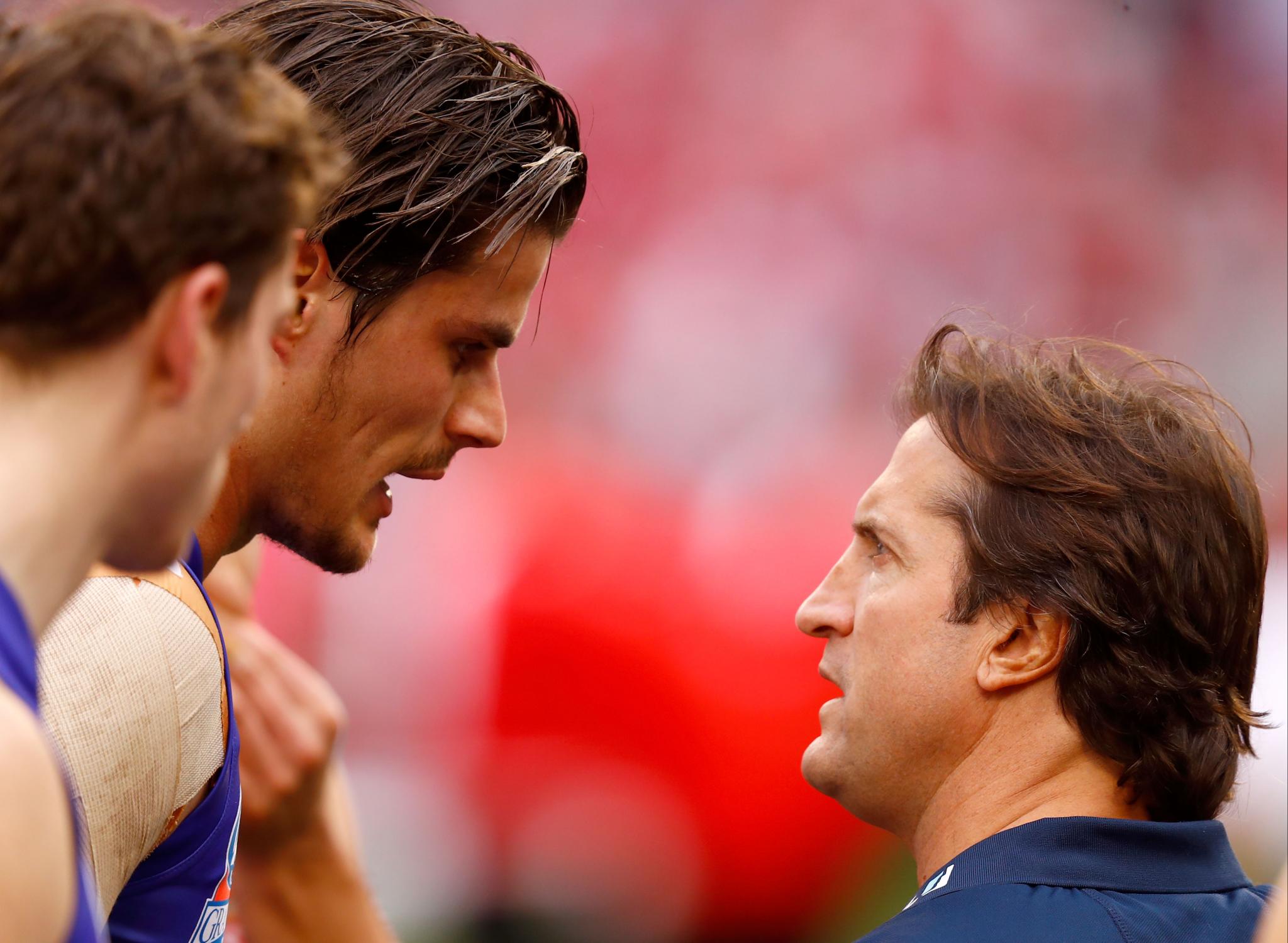 Don't give up on the Dees 
Not writing off the Demons just yet.
At 3-6, and with Jake Lever on the comeback trail, prepared to give them a couple more weeks, particularly after their impressive showing against West Coast on Friday night.
And there's zero worries about the Eagles. Have simply done what they had to do in their premiership defence. They've won three in a row, have beaten Collingwood and GWS, and are preparing for Nic Nat to explode in a comeback. 
FLYIN' RYAN!! #AFLEaglesDees pic.twitter.com/dcNF9yzUEz

— AFL (@AFL) May 17, 2019
Bloods' revival full of heart. North, not so much
Sydney fielded a team of babies against North, and won in Hobart on Saturday night.
Forget the belated comeback; the Swans fully deserved the victory, as they were missing 1819 games of total experience, with Josh Kennedy a late withdrawal.
AROUND THE STATE LEAGUES King's big day, Crow bags six
The loss left North in 17th place, and if it couldn't beat the Swans in this game, then this is going to be an even longer season than already feared.
Sydney has now won its past two matches by under a kick. It has genuine heart.
Papley is on fire!#AFLNorthSwans pic.twitter.com/OSZrOZQcfz

— AFL (@AFL) May 18, 2019
In an equally questionable performance as North, Fremantle lost to the under-siege Essendon at Marvel Stadium.
Dockers coach Ross Lyon either can't, or refuses, to delve deep into ways which would make it possible for his team to score freely.
They are going to be thereabouts for a finals berth, the Dockers, but when you have Fyfe, Walters, Hogan, Mundy, Wilson and Hill in your mix, you should focus on excitement and flair, not dour, difficult-to-watch football.
Jesse Hogan takes a beauty!#AFLDonsFreo pic.twitter.com/xi93EZCZxK

— AFL (@AFL) May 18, 2019
Essendon has had its many problems this season, and at 4-5 has left itself with a massive task.
But the Bombers are actually going OK. They have pushed Collingwood in a way that only Geelong has managed this season, and they should have beaten the Swans in round eight.
Their season is still alive.
Twitter: @barrettdamian