"JUST play". That's Damien Hardwick's message to his Richmond players after a season in which he admits he became too strict and rigid in his coaching.
Reflecting on his coaching style after a horror eight-win 2016, Hardwick came to the realisation that he wasn't allowing his team to play with freedom.
The Tigers had become experts in protecting themselves from damaging turnovers, mastering short kicks and uncontested marks in the back half of the ground but forgetting how to take the game on.
Hardwick said he would still have guidelines and frameworks for his players to work within, but he had learned from the mistakes of 2016 and wanted their talent to shine.
"Once the season ends and the dust settles, the first person you look at is yourself," Hardwick told AFL.com.au.
"What can you do better? That's what most leaders do, and there were some areas in my make-up that I had to get better.
"I had to go out and iron out [those things] that probably weren't allowing me to be the best coach I could be.
"I was probably a little bit too strict on them at stages last year and didn't allow them to play with that freedom."
Asked to summarise how he wanted the Tigers to play in 2017, Hardwick said: "Just play".
"You think about when you're a kid, funnily enough it's when you have the most fun … you just play," he said.
"We've brought players here who are incredibly talented kids and they're all filled with key strengths, so I just want them to play and play good footy.
"The fact of the matter is they've got to become more childlike to do it. Hopefully it works."
Hardwick travelled to Harvard University in the US over the off-season, completing leadership training that has helped shape his outlook for 2017.
For the first time he also took leave during an early phase of the pre-season, taking the chance to unwind and describing it as "the best thing I did last year".
He walked back into the club refreshed and with an appreciation for the different strengths his players had and a determination to embrace them.
Star forward Jack Riewoldt, who was drawn away from the forward 50 in 2016 and kicked 48 goals – his lowest return since 2009 – was a perfect example.
"Jack's going to try and jump on heads and sometimes it's going to drive me insane, but that's the reason he's made it to AFL footy," Hardwick said.
The Tigers coach believes he coached his players too rigidly in 2016. Picture: AFL Photos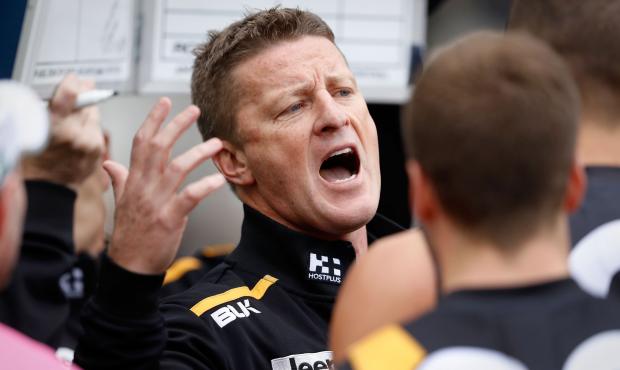 A return to finals is the coach's expectation in 2017, saying "we don't back down from that and we don't apologise for that".
As he enters his eighth season without a finals win, it is likely to be a minimum requirement for Hardwick to avoid significant pressure to retain his job.
Hardwick is out of contract at the end of 2018, after signing a two-year extension ahead of the 2016 season.
He is the only coach in VFL/AFL history to have coached more than 150 games without a finals win, and the only Richmond coach since Tom Hafey – who went on to coach four premierships – to reach 100 games without a finals win.
"We had a poor year last year and people say, 'You're under more pressure this year'. Well, not really," Hardwick said.
"People often throw my name out there as under pressure, but I was under pressure this time last year, I was the year before … I'm always going to be because of the nature of the role.
"Every year is a high-pressure year and my expectations are to make finals every year.
"That's the industry we're in. You don't complain, you don't blame and you just get on with it and do the best you can."
Hardwick's preparation for 2017 effectively began after round 15 last season when the club – then 12th with six wins – ruled out any prospect of playing finals.
The goalposts changed, but the pressure remained and Hardwick said he regretted not communicating the club's motives in those last two months of the season better.
Richmond's finals hopes for 2017 could hinge on the ability of its middle tier to improve.
The names that spring to mind for Hardwick are Reece Conca, Brandon Ellis and Nick Vlastuin, as well as their younger teammate Corey Ellis.
Nick Vlastuin is targeting more of a midfield role. Picture: AFL Photos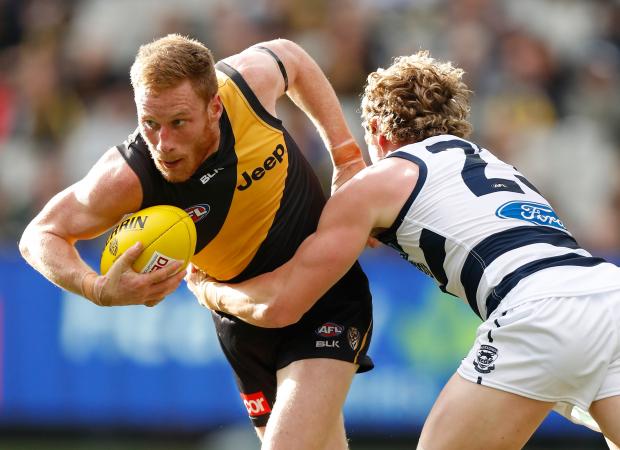 Conca is being settled in defence after hamstring injuries ruined his 2016, while Vlastuin has moved from the backline and into the inside midfield role for which he has always seemed destined.
Brandon Ellis has started the JLT Community Series as a half-back and it's a move Hardwick is keen to "lock away".
"They're the guys we expected to take the next step. They're in that age bracket where they're at their best," he said.
"We've challenged those guys in some different positions and we're looking to force them to take the next step.
"If they can, it will lessen the reliance on (Trent) Cotchin, (Dustin) Martin and these types of players and we become a better club as a result."
Reece Conca and Brandon Ellis are aiming to take a step up in 2017. Picture: AFL Photos