MELBOURNE forward Jeremy Howe believes teammate Jack Watts is ready to turn his undoubted potential into consistently strong performances in 2014.
Howe nominated Watts, as well as young midfielder Jimmy Toumpas, as the club's most impressive performers over the pre-season.
Due to weather conditions, each club will be able to use eight interchange players, with no interchange cap in place.
Howe told AFL.com.au Paul Roos' ability to nurture and encourage his players was a key factor behind Watts' improvement.
"The way Wattsy's gone about his pre-season is the best I've seen from him and that's just through pure confidence," Howe said at the club's Australia Post Community Camp in Alice Springs.
"A lot of guys get more out of that than others – some guys don't need a lot of positive reinforcement – but 'Roosy' definitely dishes out his fair share.
"And it rubs off well on most guys."
Earlier this week, fellow teammate Jordie McKenzie said Watts was in "career best nick."
"[I'm] looking forward to getting out there with Wattsy, who is in career best nick. He's fit and strong and has been training the house down," McKenzie told Dee TV.
Watts was famously thrown to the wolves when he made his AFL debut, while still at school, against a physical Collingwood team in Queens Birthday, 2009. The Pies' intent to intimidate the then 18-year-old was obvious.
Roos said in a recent interview he was "appalled" by the processes laid out by the Demons when they allowed Watts – still a raw teenager – to be the star attraction in that game.
After an inauspicious start to his career, Watts, who was selected by the Demons with the first overall pick in the 2008 NAB AFL Draft, has shown steady improvement in the four years since.
Despite the dramas his team faced in 2013, Watts enjoyed perhaps his best season at the club. A return of 22 goals and an average of 15 disposals per game floating between half-forward and half-back was enough to suggest the Demons have a fair bit to work with.
After spending some time considering his future, Watts signed a three-year contract extension with the Demons late last year.
Roos' influence was said to be a decisive factor in Watts' decision to stay and Howe has noticed a change in atmosphere since the new coach took charge.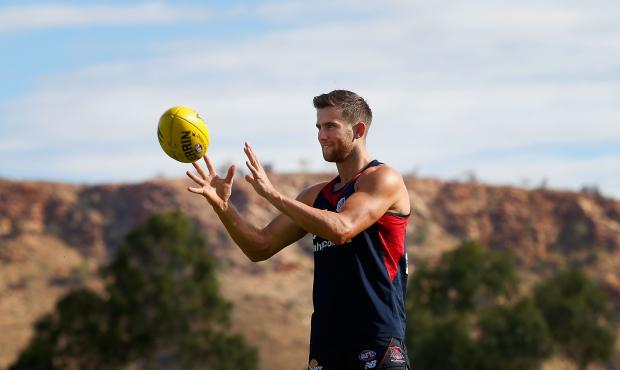 Jeremy Howe keeps his eye on the ball during Melbourne training at Alice Springs. Picture: AFL Media
With Roos' help and initiative, Howe believes Melbourne buried the horrors of 2013 when the club embarked on a three-day camp at Sorrento in December.
"It's got a fresh feeling about it. There's a lot of new faces – not just the coaching staff, but players as well," Howe said.
"Even though we got a mini win against Richmond (in the club's first NAB Challenge game), it was enough to give the guys a good feeling around the club and confidence that what we've been training for works."
Howe, who is signed up until the end of 2015, said the players could see the positive steps the club has taken to set itself up for some success in the near future.
"We haven't made drastic changes but I think everyone, not the majority – but everyone – has bought into what we're trying to do now," he said.
"I think we can all see we're moving forward as a group and no one wants to get left behind.
"We're looking forward and it all starts now."