What happened?
THIS was the roar that will be remembered. Midway through the third term, with the game already sewn up, Marlion Pickett trotted down the wing of the MCG. Pickett, as we came to find in Saturday's Grand Final, glides but few can catch him.
This time, with a Giant on either side, the 27-year-old Richmond debutant chipped a ball the way of champion teammate Dustin Martin. He had already supplied a goal to Martin earlier in the game, as Richmond set up its win in the second term.
TWO OUT OF THREE AIN'T BAD FOR TIGERS Full match coverage and stats
Martin was 40 metres out and only on a slight angle, well within his rights to have a shot at goal. But Pickett had kept running. He had found space directly in front of goal, a little closer than Martin. Martin sensed the occasion, spotted Pickett and found him with a quick pass. The MCG crowd rose to its feet before the first-gamer had even gotten back to the end of his mark.
People at Richmond spoke of Pickett's demeanour this week, saying he wouldn't be daunted by the occasion, the expectation, the story. He certainly wasn't at this moment, as he calmly walked into goal and converted his shot. The dominant Richmond crowd lifted, aware this was the cherry on top of a brilliant story.
PLAYER RATINGS Every Tiger rated from the Grand Final
As Pickett's kick sailed through, and he lifted his right arm to celebrate, his low-key reaction was swamped by that of his exuberant teammates, with every single Tiger running to join in the fun. Pickett's tale will forever be entwined with Richmond's 2019 glory.
Richmond players swamp Marlion Pickett after kicking his first goal in the Grand Final.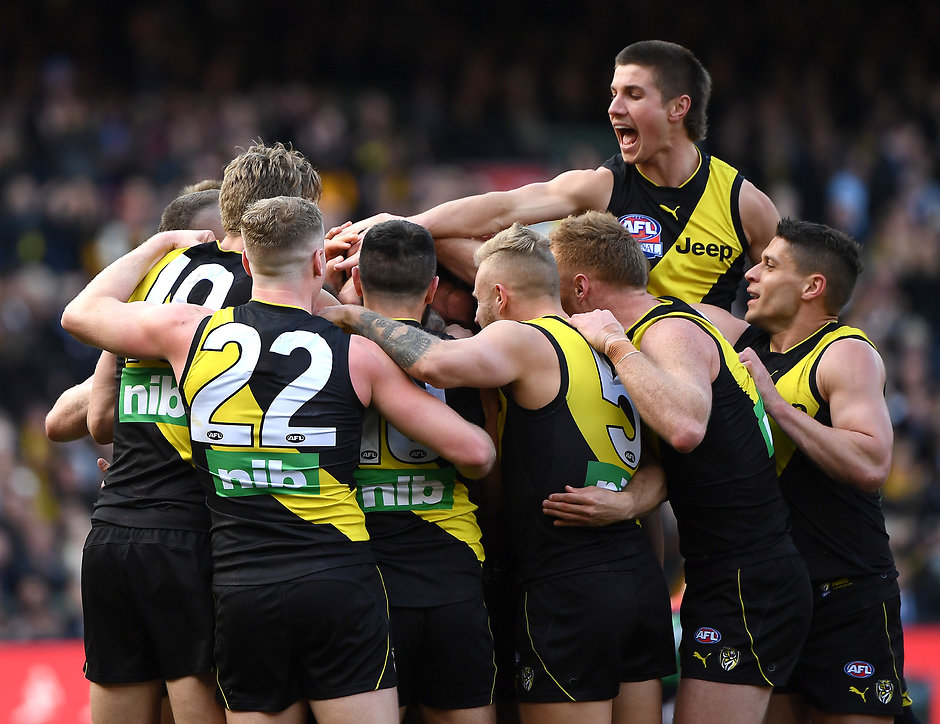 Who made it happen?
Pickett was the central figure. His place in football folklore was etched even before the game, when the Tigers made him the first Grand Final debutant since 1952. Even if he didn't have a kick, his story would have been remarkable. That Pickett was superb adds to the legend.
In his first game – let that never be forgotten – Pickett excelled. He started on the bench, but quickly found the pace of the clash and by quarter-time had gathered five disposals. He was up to 11 by half-time, before exploding in the third term with several bursting runs. He made the Members' wing his own, and didn't waste a possession. Pickett finished with 22 disposals – the equal-second highest of any Tiger.
NORM SMITH MEDAL Dusty's double: Martin in elite company with second win
Pickett's story is well told but deserves another rendition. He was plucked by Richmond in this year's resuscitated mid-season draft. A week before that, he had suffered a finger injury, meaning the Tigers recruiters knew he wouldn't be fit to play until late in the season, if at all.
Marlion Pickett, you're welcome tiger army

— Shaun Grigg (@ShaunGrigg6) September 28, 2019
They had decided to take him knowing his body of work over several years for South Fremantle in the WAFL. Most clubs had been turned off by his two-and-a-half-year jail sentence in his teens, even though many considered him at last year's NAB AFL Draft. But none were willing to take what they measured as too big a risk.
The Tigers were in a position to do so. They felt their culture was at a place where there was little to lose, and plenty to gain. His performance on Grand Final day vindicated not only coach Damien Hardwick and his panel for selecting Pickett for the clash, but also head recruiter Matt Clarke for the decision to pick him in the first place.
Martin, who passed it back to Pickett for the highlight of the win, had been instrumental in Pickett staying at Martin's house when he first arrived at Punt Road in May, and read the play well. 'Dusty' was again magnificent in the Grand Final, kicking four goals from 22 disposals as he played mainly forward and claimed his second Norm Smith Medal.

What did it mean?
In terms of the game, it didn't mean too much. The Tigers were home already, and the Giants had not fired a shot since midway through the first term. If the stakes were bigger, and the game tighter, Martin probably would have taken the responsibility on himself. But he didn't have to, such was the lack of pressure or intensity from Greater Western Sydney, and Pickett's goal extended their lead to 54 points.
Any cameo performers?
As usual, the Richmond goal came after a wave of momentum, as the Tigers swept the ball forward, eventually getting it into the hands of Pickett, who passed to Martin, who got it back to Pickett.
But it was actually Pickett who had provided his own cameos in the second quarter as Richmond made its charge. He had spun out of the centre and offered a blind turn, wrongfooting Giants star Lachie Whitfield, before passing to Jason Castagna deep in attack. Pickett had also set up a goal for Martin with a tumbling left-foot kick in the second quarter.
Marlion Pickett whips out the blind turn! #AFLGF pic.twitter.com/IJqRxGXbvI

— AFL (@AFL) September 28, 2019
How did they call it?
"That was a very kind gesture by Dusty. Now I'm telling you something, if he kicks this, it will be one of the great roars in Grand Final history. Forget about the scores, that don't matter. A debutant about to put the dagger in the heart on Grand Final day? Marlion Pickett lines up … look at them get around him!" – Brian Taylor, Channel Seven
THINGS WE LEARNED Giants' decision backfires, Tiger courage rewarded
And the fans went ...
…absolutely crazy. By Pickett's goal, Richmond's supporters knew they had secured another flag – the premiership they probably thought they should have taken out last season when their dominant campaign fell short. Pickett's goal was party time.
Will they play it in 20 years' time?
We should thank Pickett for his performance. Without it, and without his phenomenal redemption story, we would probably be talking about one of the least enthralling Grand Finals since the turn of the century. But Pickett provided the highlight of the afternoon, and it will be the goal they replay for decades to come. Heck, even Hollywood should be calling.
Playing debut in Grand Final

| | | | | | |
| --- | --- | --- | --- | --- | --- |
| Player | Club | Year | Result | Career games | Goals |
| Harry Prout | Ess | 1908 | Loss | 29 | 35 |
| Bill James | Rich | 1920 | Win | 1 | 1 |
| George Rawle | Ess | 1923 | Win | 19 | 4 |
| Frank Vine | Melb | 1926 | Win | 105 | 41 |
| Keith Batchelor | Coll | 1952 | Loss | 42 (21 for NM) | 17 |
| Marlion Pickett | Rich | 2019 | Win | 1* | 1* |
*current player
Recent players in VFL-AFL Grand Final double
2019 - Marlion Pickett - Richmond (W) & Richmond (W)
2014 – Cyril Rioli – Box Hill (L) & Hawthorn (W)
2013 – Jonathan Simpkin – Box Hill (W) & Hawthorn (W)
2007 – Steven King – Geelong (W) & Geelong (W)
2003 – Tristen Walker – Williamstown (W) & Collingwood (L)