WESTERN Bulldogs coach Brendan McCartney was surprised by the sandy surface dished up to his team and Greater Western Sydney at StarTrack Oval on Saturday.
StarTrack Oval was generously covered in sand all over its playing surface, with a couple of small patches that resembled sandpits.
Sand puffed up from the ground whenever players landed from marking contests and often when they went to kick.
AFL.com.au understands StarTrack Oval was in that condition as part of its maintenance following a busy period that saw it host the Sheffield Shield Final between New South Wales and Western Australia three weeks ago, and a regular Shield clash between the same two teams the previous week.
McCartney did not want to create "a headline" but strongly suggested StarTrack Oval was not in the condition you expect for AFL football.
"There's a lot of boys with bark off their knees and you don't play on many grounds like that," McCartney said after the match.
"There was not a lot of give in it, it was almost like a dull thud and it was pretty sandy. But it is AFL footy, you probably expect that you don't have that."
McCartney did not want to comment when asked whether the ground was below AFL standard, but did say: "It was a little surprising."
Giants coach Leon Cameron said the surface "wasn't ideal" but said both teams had to play on it.
"So it's no excuse from our point of view and our players have just got to make sure that they recover well from it with the cuts and bruises they might cop from that," Cameron said.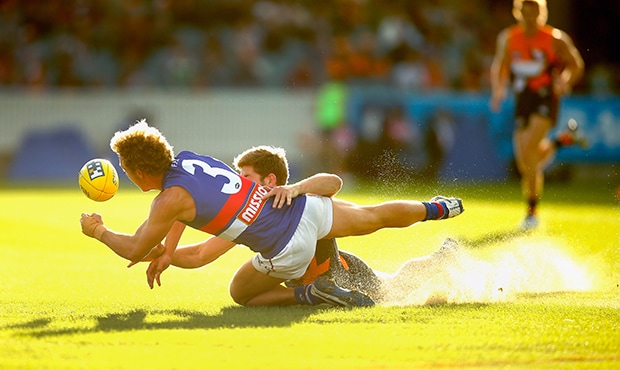 The surface of StarTrack Oval on Saturday. Picture: AFL Media