CHARLIE Curnow is mid-sentence when his mind trails off.
His older brother, Ed, has just run past in the foyer of Carlton's hotel in Mooloolaba, his face covered in zinc and a surfboard tucked under his arm.
"Go out to the beach, turn left and go down about 200 metres," Ed tells his younger sibling.
Charlie nods, before he returns to reality: "Sorry, what was the question?"
The Blues have the afternoon off during a gruelling pre-season training camp on the Sunshine Coast. The Curnow brothers plan to make the most it.
For Charlie, in particular, surfing has long been a means to help take his mind off footy.
An emerging star of the game who enjoyed a breakout season last year, the dynamic forward has been earmarked as one of the competition's next big things.
Capable of the extraordinary – from high, leaping marks, to goals from virtually anywhere within striking distance – Curnow is one of a number of young Blues charged with the task of helping to lead Carlton into a promising future.
That alone brings its own unique set of pressures. Not that you'd know from Curnow's performances on the field last season. Or his relaxed nature off it.
When the scrutiny builds, Curnow heads to the beach. It's a couple of hours every week where the youngster can clear his head, forget about football and simply unwind.
"You obviously think about the pressure every now and then, but you've just got to deal with it," Curnow tells AFL.com.au.
"People deal with it in different ways. I like doing stuff outside of footy because it takes my mind off things. For me, I like getting in the ocean. It's just really refreshing.
"You do stuff where you don't have to think about footy outside the club. But when you get here, you're all set on becoming a better football team.
"It's a really good group here at the moment because everyone is of the same mindset. There's no 'me' mentality going around, so it's good."
Charlie Curnow loves spending time in the ocean. Picture: Michael Willson, AFL Photos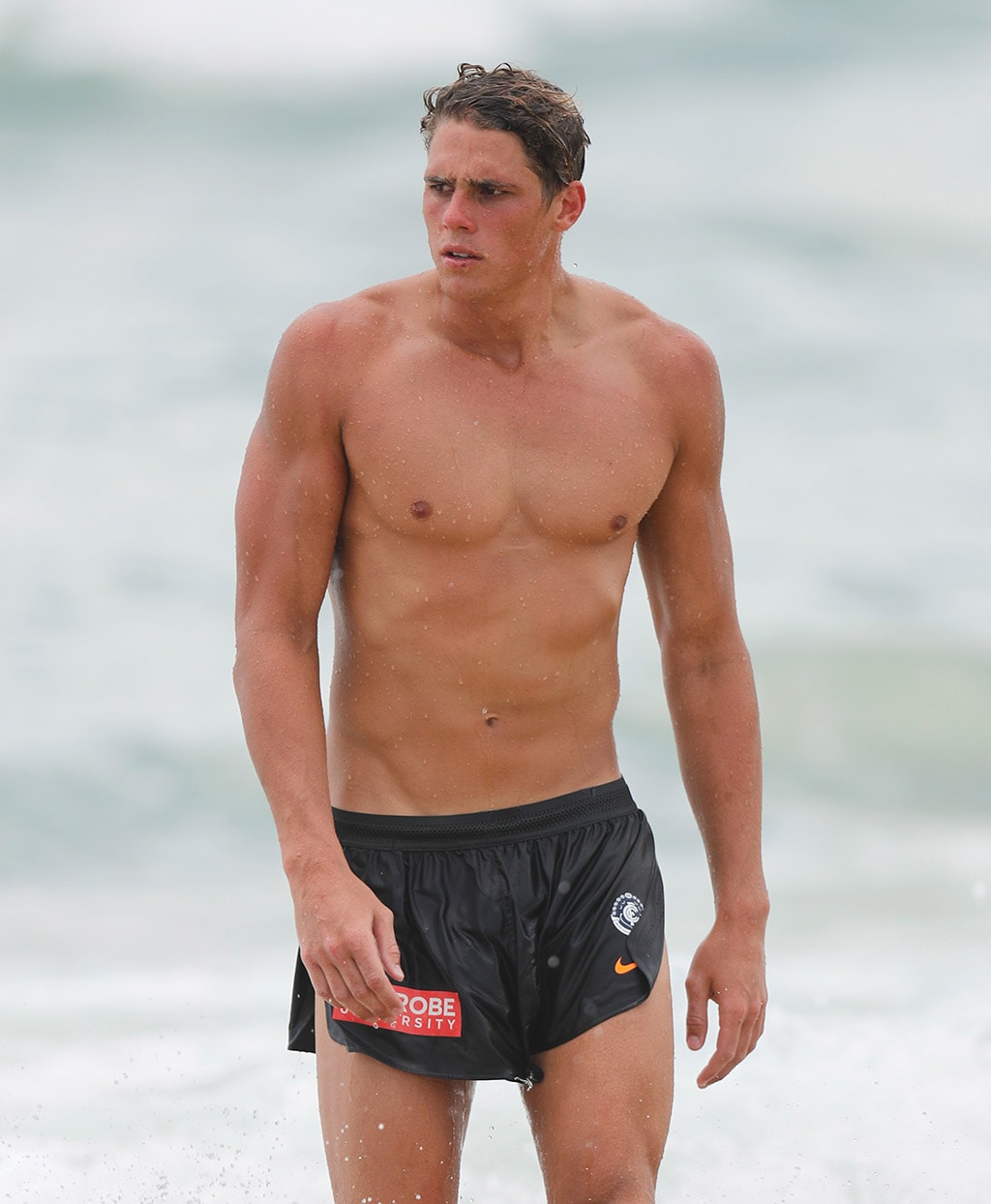 The hype surrounding Curnow crystallised following a five-goal performance against Richmond to start last year's campaign. It built rapidly after that.
A season full of highlights led to comparisons with a handful of the game's best.
Each pack mark drew parallels with Carlton great Anthony Koutoufides. Each goal bombed from beyond 50m had him mentioned in the same breath as Swans superstar Lance Franklin.
For players of any age, such talk can be destabilising. For a player just 47 games into his career, struggling to cope with that added attention might be considered natural.
But for Curnow, it's just another element of being a footballer to take in his stride.
"It's pretty hard not to take notice," he says.
"They're obviously superstars of the game, but you just have to listen to the people who know you best. They're my coaches and the people around me.
"I've still got heaps of learning to do. I learn off blokes like Paddy Kerr and Harry McKay every day. I look at stuff they're doing and think, 'I want to do what they're doing and bring parts of their game into my game'."

Carlton's promising, but still developing forward group is a tightknit bunch. However, it still consists of a host of different and unique personalities.
Fellow key forward Harry McKay is assured and mature, new recruit Mitch McGovern is loud and outgoing. Curnow, on the other hand, is calm and composed at all times.
Ask his teammates and it's clear to see how Curnow's tranquil nature can ease their tension both on game days and around the club throughout the week.
"Charlie's got a really bubbly personality," McKay says of his teammate.
"He's fun to play with and he's always got a smile on his face. Footy clubs can be really serious at times, but then you've got a guy like Charlie who always has a smile on his face and is having fun no matter the situation … it helps to relax you.
"You never know what he's going to do – he just does it out of nowhere – so it's fun to play alongside him."
But while Curnow is laidback, he's not laconic. Indeed, there should be no misconceptions about the star forward's intense work ethic.
Charlie Curnow and new teammate Michael Gibbons. Picture: Michael Willson, AFL Photos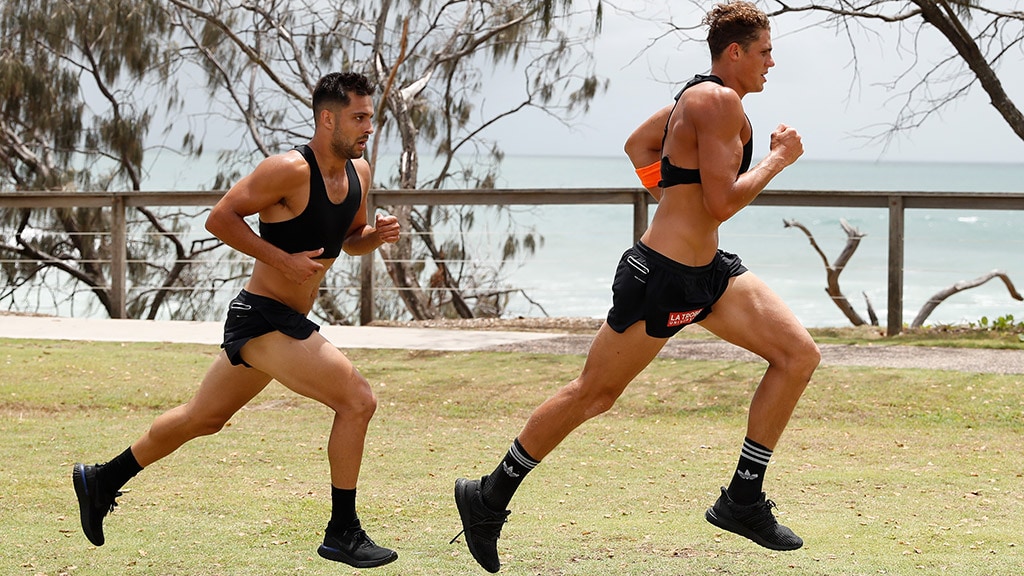 The carefree Curnow found in the surf is a completely different character to the fiercely determined and incredibly driven footballer who has left nothing to chance this summer.
Among the hardest trainers at Carlton, the 194cm and 91kg athletic beast has even challenged his older brother Ed as the club's best runner throughout pre-season.
He credits trips to Ed's property in Kennett River for his improved endurance base, with the two brothers going for runs – and surfs – along the Great Ocean Road throughout the summer.
Sourcing motivation is simple for the 22-year-old. All it takes is looking back on his junior career and the questions posed about whether he would be able to make it at AFL level to spark him into action.
"Some people didn't really see me as being a football player and didn't think I was going to make it," Curnow says.
"I definitely took it personally and use it as motivation. But I try not to let people see that and take it as it comes. Everyone's got something to prove."
For Carlton's forwards coach David Teague, it's that desire to constantly improve that he believes will ensure Curnow doesn't rest on his laurels as he enters his prime.
"He's a quality individual," Teague says.
"He works really hard, which – as a coach – is the most pleasing thing. He trains hard and he trains with real intensity. He's not going to leave any stone unturned in the sense of the intensity he brings to training. Plus he's just turned 22, so he's still got a lot of upside.
"What I'm enjoying right now is his ability to work with the other tall forwards. It's not about Charlie, it's about them as a group. That's the bit I'm loving and he's driving that as much as anyone."