• Who's leading your club's count? Check out AFL.com.au's Brownlow predictor
• Brownlow hub: news, numbers and the best of the red carpet
FREMANTLE'S recruiters rated Nat Fyfe in the top five players of his draft year, but they had an internal battle on their hands even to take him with their second-round pick at No.20.
Fyfe, who is tipped to become the Dockers' first Brownlow medallist on Monday night, has become one of the great draft swindles, but he was nearly passed over because of the club's need for a genuine midfielder.
Then recruiting manager Phil Smart, who had been tracking Fyfe for two seasons, was adamant Fyfe could become that player, but others – including coach Mark Harvey – weren't so sure.
Harvey pushed the case of Ryan Bastinac (who was eventually drafted by North Melbourne at pick No.21) and he wanted to know why the Dockers' recruiters rated Fyfe so much higher than rival clubs.

• Match preview: First preliminary final, Dockers v Hawks
"He was just doing his due diligence at the time by asking us the hard questions, and there were some people on the board who questioned whether he was going to be a midfielder," Smart told AFL.com.au.
"As the senior coach you've got to ask the hard questions and we've got to come up with the answers. I think Mark was quite comfortable in the end.
"We rated Nat five or six in the country as an overall ranking, where other clubs would have ranked him 15-20, so we had to argue why we ranked him so high."
Speaking to AFL.com.au earlier this year, Fremantle list manager Brad Lloyd said the Dockers had Fyfe well inside their top 10 before the 2009 NAB AFL Draft and "around that (No.5) mark".
It was inspired recruiting in hindsight, but it is a scary thought for Fremantle people to know how close the recruiting team was to being overruled.
"We had a football affairs group that had to ratify (the decision) and we had to fight pretty vigorously. It wasn't easy," Smart said.
"Football affairs included the senior coach and a couple of board members who didn't know a lot about Nat."
The Dockers' recruiters knew everything there was to know about Fyfe after first being tipped off about the young half-forward as a 16-year-old at Aquinas College.
Gerard McNeill, who was Fremantle's first football manager, and WA football great Percy Johnson were coaching at Aquinas College and recommended Smart and his team take a look.
• Fyfe ready for Hawks, but Grand Final another question
They tracked him for 18 months and made the decision he was the player they wanted in the second round some way out. They didn't dream he'd end up the player he is now.
"We knew the kid inside out, but to say he was going to be the champion he is … if we knew that we would have taken him with our first pick," Smart said.
Fyfe made his debut in round five, 2010, and Harvey was straight on the phone to Smart, who had finished in his role as draft manager.
There were signs of his unique abilities from the first pre-season games of 2010 when he glided across packs to take marks. His teammates were struck by the size of his hands when they first met him.
A boy among men - Fyfe (centre) in his debut year with the Dockers. Picture: AFL Media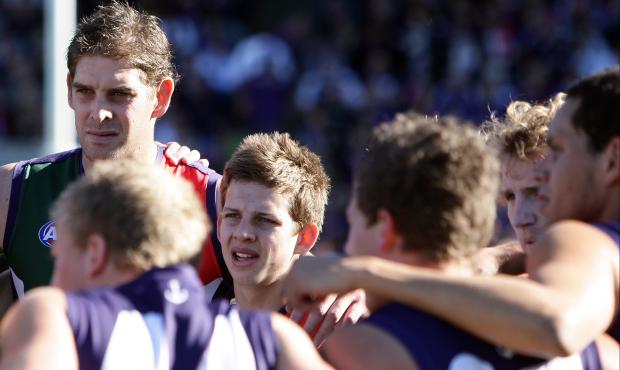 Early in his second season, when he was required to fill in for injured ball-winners Michael Barlow, David Mundy and Anthony Morabito, Fyfe identified the player he wanted to be. He started winning contested possessions and clearances and didn't look back.
"Once I got into the real inside midfield stuff I found that was my calling and where I wanted to play my footy, so I worked my body and developed my body around that," Fyfe told AFL.com.au in 2013.
"Naturally I started to gravitate to becoming an inside player and wanted to get the ball in my hands rather than be receiving it.
"I found that was my strength, winning the ball on the inside. I think it's my niche."
Once Fyfe knew the player he aspired to be, his physical transformation was rapid and he added 15kg to his slight frame. There is no athlete like him in the AFL in 2015, with his blend of agility, strength and aerial ability.

Nat Fyfe added size and strength to his body to complete the total football package. Picture: AFL Media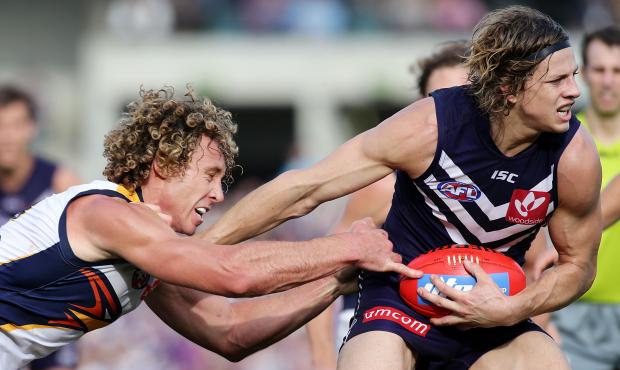 Collingwood star Scott Pendlebury and Essendon Brownlow medallist Jobe Watson were two players he modelled himself on through his development years, and he was compared to Essendon champion James Hird early on.
He was identified as one of the game's rising stars by 2013, largely based on his natural talent, but it is a now famous work ethic that has him recognised as the game's best player.
Fyfe's family owns and runs a small transport company out of Lake Grace, where his appetite for hard work was fostered and where he'll often return to help with the business.
"There's a real sense of achievement after a long week of work," he said as he approached star status back in 2013.
After another outstanding season built on hard work, Fyfe's reward should come on Monday night.
• Five raging Brownlow favourites who went home without the medal
• Every Brownlow winner