LAST October the AFL unveiled nine new rule and interpretation changes that will take effect this season.
The AFL Commission approved the changes, which were the result of more than a year's consultation by the League's game analysis team and the expert input of the Competition Committee.
What can we expect from these new rules?
Specifically, how will they affect team tactics? What impact will they have on on-field results? And what influence will they have on the overall spectacle?
What are the new rules you'll notice?
(1) Traditional playing positions at centre bounces
At the restart of play, each team must have:
Six players stationed in each of the 50m arcs and centre square zone, including

One player inside the goalsquare.
Four midfielders inside the centre square with the two wingmen stationed along the wing.
How will the change affect play? Most coaches believe the requirement that defenders and forwards start inside their 50m arcs – and can no longer station themselves on the edge of the centre square – will give midfielders an extra two to three seconds to clear the ball from centre bounces. This, the coaches reason, will lead to quicker, cleaner inside 50 entries and give forwards more one-on-one marking opportunities.
This new rule will also prevent teams from flooding their defensive 50m arcs with extra players at the restart of play. Teams clinging to narrow leads late in games almost always resort to this ploy, but they will now be more vulnerable against opposition attacks.
(2) Kick-ins from behinds
At kick-ins:
The man on the mark will be brought out to 10m from the top of the goalsquare, rather than the previous 5m.
A player will no longer need to kick to himself to play on from the goalsquare.
How will it affect play? Some teams have made an artform of locking the ball inside their forward halves in recent seasons, their ability to push defensive numbers up the ground making it tough for rivals to escape their defensive 50m arcs. By giving the designated kicker more space at kick-ins and by making it easier for him to play on, the AFL is hoping teams will find it easier to clear opposition zones. If this holds true, scoring chains launched from kick-ins and from the defensive 50m zone should be on the rise.
(3) Marks and free kicks in defence
When defenders mark or receive a free kick within nine metres of their own goal, the man on the mark will be brought back in line with the top of the goalsquare.
How will it affect play? Like the kick-in changes, the extra space defenders will have to take their kicks should make it easier for them to clear the ball from their defensive 50m arcs.
Master stopper Jeremy McGovern will have more room to work with this season. All pictures: AFL photos

(4) 50m penalties
The player with the ball:
Must be allowed to advance the mark by 50m without the infringing player delaying the game.
Will be able to play on while the 50m penalty is being measured out.
How will it affect play? Both changes here will allow teams to move the ball more quickly, which should produce more dangerous inside 50 entries and more scoring.
Fifty metre penalties will now present teams with more options.

GET 'EM IN Who'll get a Fantasy boost from the new rules?
(5) Kicking for goal after the siren
A player who has been awarded a mark or free kick once play has ended:
Will now be able to kick across their body using a snap or check-side kick;
BUT must kick the ball directly in line with the man on the mark and the goal.
How will it affect play? Players with shots on acute angles will have a better chance to convert. Again, clubs trying to protect narrow leads late in games will be a little more vulnerable.
(6) Marking contests
The 'hands in the back' rule interpretation has been repealed so a player can now place his hands on the back of his opponent to protect his position in a marking contest, PROVIDED he does not push his opponent in the back.
How will it affect play? A win for the traditional art of body-work in marking contests. Key forwards are the obvious beneficiaries, but defenders prepared to back themselves in the air – Jeremy McGovern is the obvious example – should also cash in.
(7) Ruck contests
A ruckman who takes direct possession of the ball from a bounce, throw-up or boundary throw-in will no longer be regarded as having had prior opportunity to dispose of the ball.
Where there is uncertainty over who is the designated ruckman, the ruckman for each team will still be required to nominate to the field umpire.
How will it affect play? Ruckmen are widely expected to be more influential in 2019. With more scope to take the ball directly out of ruck contests, they should win more clearances. And with the centre bounce starting points expected to afford them more time and space, dominant tap ruckmen such as Max Gawn, Aaron Sandilands and Brodie Grundy should find their targets more often. Some coaches believe these rule changes will influence teams to play two specialist ruckmen, and will mark the end of undersized support acts such as Shaun Grigg (190cm).
Stand by for All Australian ruckman Max Gawn to dominate even more under the new rules.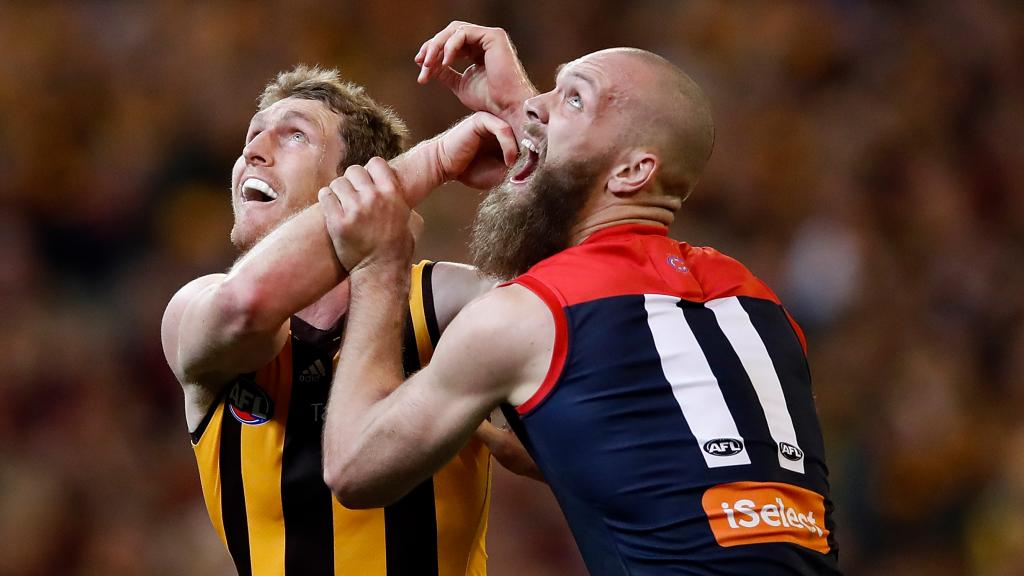 What are the new rules you probably won't notice?
(8) Runners and water carriers
Team runners may only enter the playing surface after a goal has been kicked and must exit before play restarts.
Water carriers are not permitted to enter the playing surface during live play.
How will it affect play? These changes stem from the AFL's determination to restrict the time club officials can spend on the ground during games. The near constant presence of runners and water carriers on the field was, at best, a bad look and, at worst, could interfere with the play. As much as these club officials have been an unwelcome distraction in recent years, these new rules should ensure you barely notice them as they go about their jobs.
RUNNING MAN The runner who worked for nine AFL clubs
(9) Umpire contact
Field umpires will pay free kicks for clear careless contact with an umpire.
Field umpires will vary their approach line to centre bounces when it is apparent players are favouring a certain side of the centre circle, and clearly signal their exit path.
A free kick may be awarded:

If a player from either team makes clear careless contact with the umpire and the infringing player is easily identifiable.
If a player pushes an opponent into the umpire's path and the infringing player is easily identifiable.
How will it affect play? Paying free kicks against players who make careless umpire contact should significantly reduce the spate of charges issued by Match Review Officer Michael Christian last year.
Why all these changes in the first place?
Congestion has become a dirty word in football. It has been used to describe the steady increase in player numbers around contests in recent years, something that's been most noticeable around stoppages and when one team repeatedly locks the ball inside its forward half.
Scoring has also steadily dried up. In 2000, the average score of a team was 103 points per game, but that figure fell to a 50-year low of 83.5 points last year.
Team defensive structures and some teams' preparedness to station extra players inside their defensive 50m arcs has meant forwards are enjoying fewer and fewer opportunities to win the ball in one-on-one contests.
The League hopes its package of changes will address these issues.
"We have listened to our fans, players, coaches, umpires and clubs. The rule changes and interpretations protect and respect the traditions of Australian football while progressing our game," AFL football operations manager Steve Hocking said last October.
"We all want more of what makes our game great – free-flowing passages of play, one-on-one contests, and players having space to play on instinct.
"These changes are about giving players the best chance to play the best game, and giving the fans more of what they love."
Read more