WE'RE unlikely to see the full impact of Thursday's NAB AFL Draft for a few years, with some players taking longer than others to settle into the AFL system.
Moreover, not all clubs will take the same approach to recruiting.
Here's a glance at how each club has performed since the first national draft in 1986, taking into account only the number of games played. The list does not include players picked by clubs as pre-draft selections.
ADELAIDE
Top five
Graham Johncock
227 games
Pick 67, 2000
Brent Reilly
203 games
Pick 12, 2001
Nathan van Berlo
182 games
Pick 24, 2004
Brett Burton
177 games
Pick 16, 1998
Richard Douglas
155 games
Pick 16, 2005
Bargains
Graham Johncock
227 games
Pick 67, 2000
Ken McGregor
152 games
Pick 75, 1998
Robert Shirley
128 games
Pick 56, 2002
Misses
Darren Pfeiffer
0 games (23 career games)
Pick 17, 2005
John Meesen
2 games (6 career games)
Pick 8, 2004
Fergus Watts
5 games (6 career games)
Pick 14, 2003
Laurence Angwin
0 games (4 career games)
Pick 7, 2000
BRISBANE BEARS/LIONS
Top five
Simon Black
322 games
Pick 31, 1997
Luke Power
282 games (302 career games)
Pick 5, 1997
Nigel Lappin
279 games
Pick 2, 1993
Shaun Hart
273 games
Pick 33, 1989
Jonathan Brown
256 games
Pick 30 (father-son), 1999
Bargains
Daniel Bradshaw
222 games (231 career games)
Pick 56, 1995
Joel Patfull
182 games
Pick 56, 2005
Misses
Billy Longer
9 games (25 career games)
Pick 8, 2011
Sam Docherty
13 games (29 career games)
Pick 12 2011
Jared Polec
16 games (38 career games)
Pick 5, 2010
Lachie Henderson
15 games (101 career games)
Pick 8, 2007
Llane Spaanderman
3 games
Pick 18, 2003
Scott Camporeale and Lance Whitnall were draft successes for the Blues. Picture: AFL Media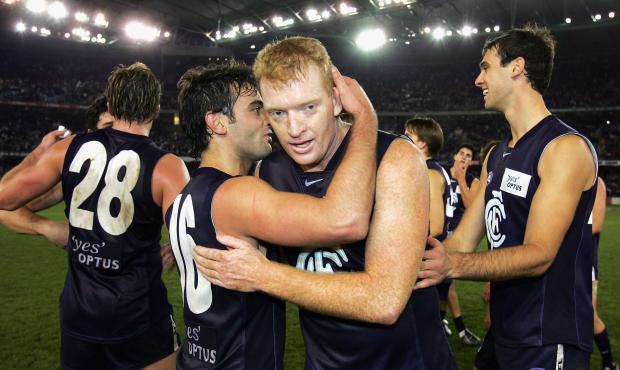 CARLTON
Top five
Andrew McKay
244 games
Pick 13, 1992
Scott Camporeale
233 games (252 career games)
Pick 15 1994
Kade Simpson
222 games
Pick 45, 2002
Lance Whitnall
216 games
Father-son pick, 1996
Ryan Houlihan
201 games
Pick 73, 1999
Bargains
Ryan Houlihan
201 games
Pick 73, 1999
Michael Sexton
200 games
Pick 54, 1988
Misses
Josh Bootsma
14 games
Pick 22, 2011
Murray Vance
5 games
Pick 6, 1998
Damian Hampson
0 games (6 career games)
Pick 7, 1990
Stephen Edgar
14 games
Pick 7, 1989
Peter Bubner
0 games
Pick 13, 1987
COLLINGWOOD
Top five
Scott Burns
264 games
Pick 90, 1992
Ben Johnson
235 games
Pick 62, 1999
Dane Swan
236 games
Pick 58, 2001
Simon Prestigiacomo
233 games
Pick 10, 1995
Leon Davis
225 games
Pick 34, 1999
Bargains
Scott Burns
264 games
Pick 90, 1992
Ben Johnson
235 games
Pick 62, 1999
Dane Swan
236 games
Pick 58, 2001
Misses
Billy Morrison
0 games
Pick 17, 2003
Danny Roach
1 game
Pick 7, 1999
Ben Wilson
2 games (6 career games)
Pick 9, 1994
ESSENDON
Top five
Dustin Fletcher
393 games
Father-son pick, 1992
Scott Lucas
270 games
Pick 4, 1994
James Hird
253 games
Pick 79, 1990
Mark McVeigh
232 games
Pick 9, 1998
Brent Stanton
226 games
Pick 13, 2003
Scott Lucas was a dual best-and-fairest winner with the Bombers. Picture: AFL Media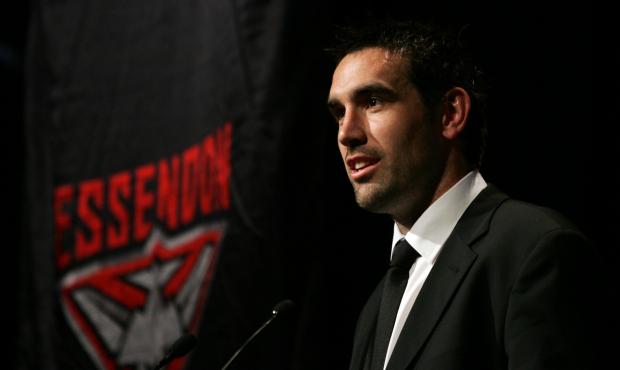 Bargain
James Hird
253 games
Pick 79, 1990
Misses
Shane Harvey
11 games (14 career games)
Pick 18, 2001
James Davies
3 games
Pick 17, 2000
Daniel McAlister
2 games (6 career games)
Pick 5, 1996
Robert Stevenson
11 games
Pick 19, 1993
FREMANTLE
Top five
Matthew Pavlich
313 games
Pick 4, 1999
Paul Hasleby
208 games
Pick 2, 1999
David Mundy
210 games
Pick 19, 2003
James Walker
151 games
Pick 6, 1997
Justin Longmuir
139 games
Pick 2 1998
Bargain
Chris Mayne
128 games
Pick 40, 2007
Misses
Marcus Drum
22 games
Pick 10, 2005
Ryley Dunn
5 games (8 career games)
Pick 10, 2003
Ben Edwards
0 games
Pick 7, 1995
GEELONG
Top five
Darren Milburn
292 games
Pick 48, 1995
Corey Enright
288 games
Pick 47, 1999
Matthew Scarlett
284 games
Pick 45 (father-son), 1997
Joel Corey
276 games
Pick 8, 1999
Jimmy Bartel
272 games
Pick 8, 2001
Jimmy Bartel and Mathew Stokes have both been hits for the Cats. Picture: AFL Media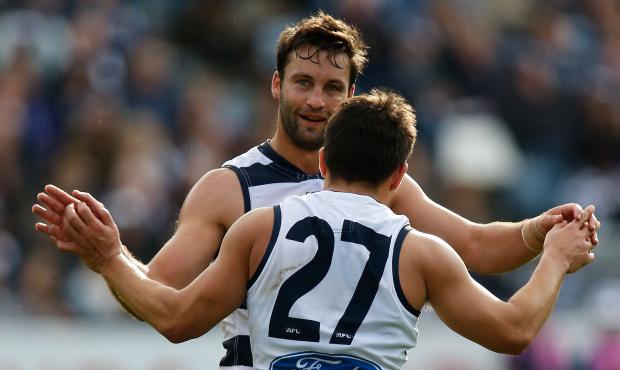 Bargain
Mathew Stokes
175 games
Pick 61, 2005
Misses
Ezra Bray
0 games
Pick 17, 1999
Joel McKay
4 games
Pick 15, 1997
Leigh Brockman
2 games (12 career games)
Pick 8, 1996
GOLD COAST
Top five
Dion Prestia
73 games
Pick 9, 2010
David Swallow
73 games
Pick 1, 2010
Harley Bennell
66 games
Pick 2, 2010
Sam Day
64 games
Pick 3, 2010
Tom Lynch
60 games
Pick 11, 2010
GREATER WESTERN SYDNEY
Top five
Devon Smith
59 games
Pick 14, 2011
Toby Greene
53 games
Pick 11, 2011
Adam Tomlinson
45 games
Pick 9, 2011
Stephen Coniglio
44 games
Pick 2, 2011
Will Hoskin-Elliot
39 games
Pick 4, 2011
HAWTHORN
Top five
Shane Crawford
305 games
Pick 13, 1991
Sam Mitchell
261 games
Pick 36, 2001
Luke Hodge
250 games
Pick 1, 2001
Jordan Lewis
217 games
Pick 7, 2004
Darrin Pritchard
211 games
Pick 26, 1986
Ben Dixon was a draft bargain for the Hawks in 1994. Picture: AFL Media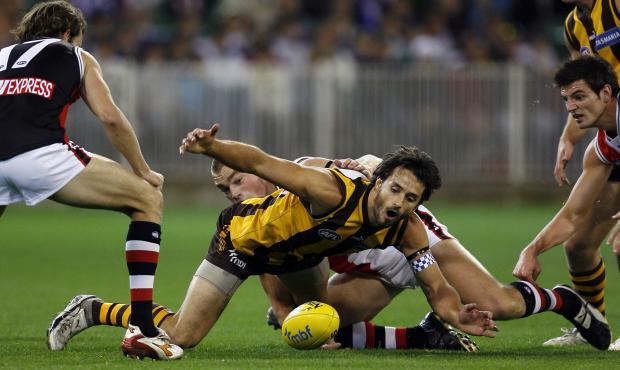 Bargains
Ben Dixon
203 games
Pick 77, 1994
Rayden Tallis
163 games
Pick 56, 1993
Jade Rawlings
116 games (148 career games)
Pick 94, 1994
Richie Vandenberg
145 games
Pick 78, 1997
Misses
Mitch Thorp
2 games
Pick 6, 2006
Beau Dowler
16 games
Pick 6, 2005
Kieran O'Dwyer
0 games
Pick 15, 1991
MELBOURNE
Top five
Adem Yze
271 games
Pick 16, 1994
Steven Febey
258 games
Pick 3, 1986
Brad Green
254 games
Pick 19, 1999
Cameron Bruce
224 games (234 career)
Pick 64, 1999
Nathan Jones
179 games
Pick 12, 2005
Bargains
Cameron Bruce
224 games
Pick 64, 1999
Nathan Brown
146 games
Pick 66, 1997
Misses
Luke Molan
0 games
Pick 9, 2001
Lucas Cook
0 games
Pick 12, 2010
Nicholas Smith
4 games
Pick 15, 2002
NORTH MELBOURNE
Top five
Brent Harvey
384 games
Pick 47, 1995
Adam Simpson
306 games
Pick 14, 1993
Anthony Stevens
292 games
Pick 18, 1988
Drew Petrie
269 games
Pick 23, 2000
Brady Rawlings
245 games
Pick 15, 1998
Boomer Harvey is closing in on 400 games after being taken at pick 47 in 1995. Picture: AFL Media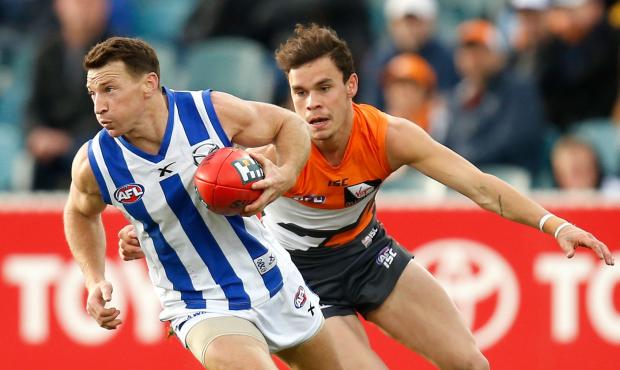 Bargains
Corey Jones
157 games
Pick 60, 2000
Troy Makepeace
139 games
Pick 81, 1999

Misses
David Trotter
7 games
Pick 7, 2003
Kris Shore
0 games
Pick 18, 2002
Dylan Smith
11 games (21 career games)
Pick 6, 2000
PORT ADELAIDE
Top five
Kane Cornes
293 games
Pick 20, 2000
Chad Cornes
239 games (255 career games)
Pick 9, 1997
Dom Cassisi
228 games
Pick 50, 2000
Adam Kingsley
170 games
Pick 37, 1996
Brett Ebert
166 games
Pick 42 (father-son), 2002
Bargain
Justin Westhoff
159 games
Pick 71, 2006
Misses
Barry Brooks
0 games (10 career games)
Pick 15, 2001
Stephen Gilham
1 game (114 career games)
Pick 16, 2002
Paul Kolouriotis
3 games (21 career games)
Pick 12, 1999
RICHMOND
Top five
Wayne Campbell
297 games
Pick 29, 1989
Matthew Richardson
282 games
Father-son pick, 1992
Joel Bowden
265 games
Father-son pick, 1995
Chris Newman
251 games
Pick 55, 2000
Brendon Gale
244 games
Pick 27, 1987
Bargains
Chris Newman
251 games
Pick 55, 2000
Shane Tuck
173 games
Pick 73, 2003
Misses
Jarrad Oakley-Nicholls
13 games
Pick 8, 2005
Pat Steinfort
0 games
Pick 16, 1996

Lenny Hayes' magnificent career ended in 2014. Picture: AFL Media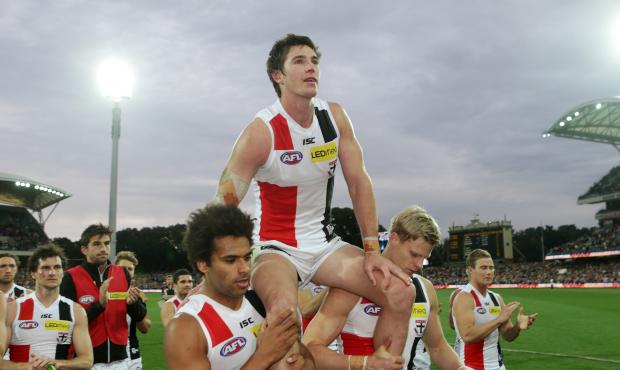 ST KILDA
Top five
Lenny Hayes
297 games
Pick 11, 1998
Nick Riewoldt
281 games
Pick 1, 2000
Nick Dal Santo
260 games (283 career games)
Pick 13, 2001
Max Hudghton
234 games
Pick 15, 1996
Leigh Montagna
232 games
Pick 37, 2001
Bargains
Andrew Thompson
221 games
Pick 62, 1996
Sam Fisher
198 games
Pick 55, 2003
Misses
Tom Lynch
6 games (37 career games)
Pick 13, 2008
Michael Frost
11 games (24 career games)
Pick 8, 1993
Brodie Atkinson
2 games (7 career games)
Pick 16, 1992
Rob Malone
0 games
Pick 12, 1991
SYDNEY SWANS
Top five
Adam Goodes
351 games
Pick 43, 1997
Jude Bolton
325 games
Pick 8, 1998
Michael O'Loughlin
303 games
Pick 40, 1994
Ryan O'Keefe
286 games
Pick 56, 1999
Jarrad McVeigh
244 games
Pick 5, 2002
Bargains
Andrew Dunkley
217 games
Pick 56, 1991
Nick Malceski
176 games
Pick 64, 2002
Ryan O'Keefe
286 games
Pick 56, 1999
Troy Luff
155 games
Pick 74, 1994
Misses
Lewis Johnston
2 games (8 career games)
Pick 12, 2008
Patrick Veszpremi
11 games (23 career games)
Pick 11, 2007
Daniel O'Keefe
0 games
Pick 15, 2006
WEST COAST EAGLES
Top five
Darren Glass
270 games
Pick 11, 1999
Drew Banfield
265 games
Pick 1, 1992
Peter Matera
253 games
Pick 4, 1989
Andrew Embley
250 games
Pick 57, 1998
Ashley McIntosh
242 games
Pick 106 (father-son), 1989
Bargains
Ashley McIntosh
242 games
Pick 106 (father-son), 1989
Andrew Embley
250 games
Pick 57, 1989
Brett Heady
156 games
Pick 92, 1989
Misses
Tony Notte
2 games
Pick 20, 2007
Brandon Hill
0 games
Pick 10, 1998
Luke Trew
0 games
Pick 14, 1995
Western Bulldogs
Top five
Brad Johnson
364 games
Pick 11, 1993
Chris Grant
341 games
Pick 105, 1988
Robert Murphy
271 games
Pick 13, 1999
Daniel Giansiracusa
265 games
Pick 32, 1999
Luke Darcy
226 games
Father-son pick, 1992
Bargains
Chris Grant
341 games
Pick 105, 1988
Daniel Cross
210 games (227 career games)
Pick 56, 2000
Ryan Hargrave
203 games
Pick 66, 1999
Brian Lake
197 games (227 career games)
Pick 71, 2001
Misses
Tim Walsh
1 game
Pick 4, 2002
Allen Jakovich
7 games (54 career games)
Pick 9, 1995