RICHMOND has long known it would be without Alex Rance in its pursuit of a premiership this season.
Collingwood has now had two days to absorb the fact it will be minus Jordan De Goey in the same pursuit.
It is line-ball whose absence most affects his team.
FIVE THINGS WE LEARNED Dusty powers Tigers to flag favouritism
Collingwood has publicly conceded only that De Goey would be unavailable for the preliminary final. But he is now too great a risk to be considered for the Grand Final, should it win against Brisbane or Greater Western Sydney, for before re-injuring his hamstring in Friday's win against Geelong, he had not played since round 19.
In a dream potential Grand Final match-up, the Tigers and Pies kept themselves on opposite sides of finals possibilities when they both won qualifying finals at the weekend.
A dejected Jordan De Goey might not see any more action in 2019. Picture: AFL Photos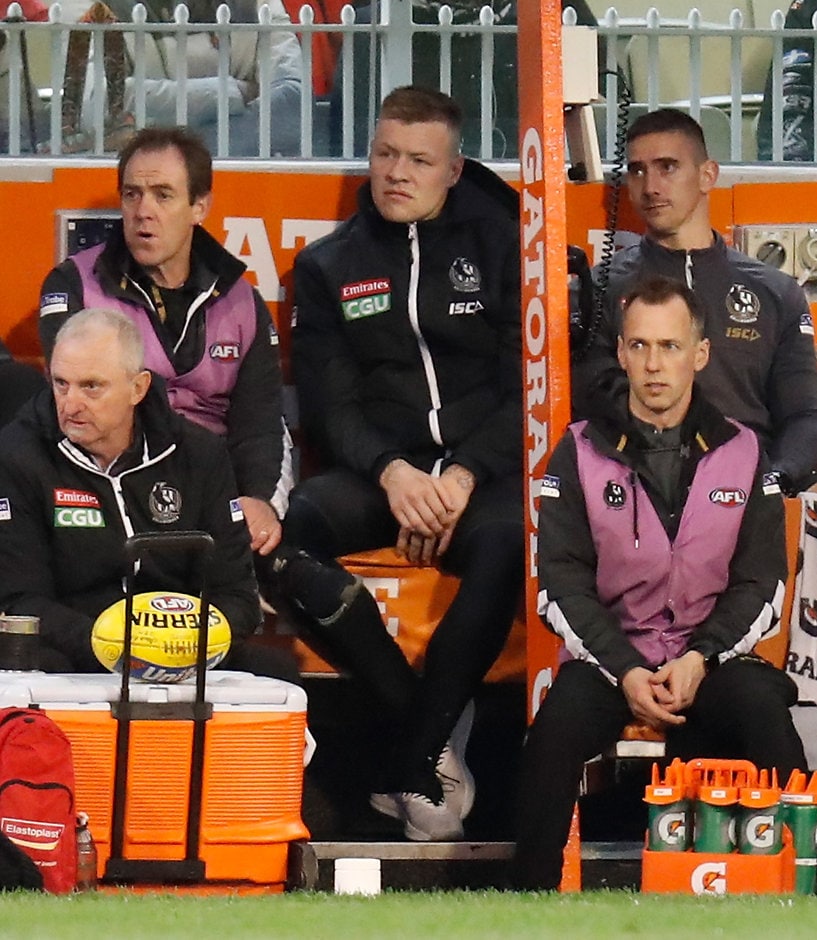 Last year, their seasons collided in a preliminary final, a game which some Richmond people bemoan simply for the outcome they never saw coming.
To have their year ended at that stage was something the Tigers hadn't considered after backing up the 2017 premiership with a home and away season that saw them finish two matches and a heap of percentage ahead of all comers.
Then, in its next 'real' match, this season's opener, the club was equally rocked when Rance broke down.
That left the Tigers vulnerable, but they regrouped with authority to cover the five-time All Australian defender, and also for extended patches their captain Trent Cotchin and Jack Riewoldt.
Alex Rance has been helped from the ground and is receiving treatment in the rooms.#AFLBluesTigers pic.twitter.com/lZPElxc6W2

— AFL (@AFL) March 21, 2019
Richmond chief executive Brendon Gale earlier this year said hindsight had taught him that the club was attempting to manage players for a flag tilt in 2018, in contrast to 2017 where "we were hell for leather".
"Our KPIs (key performance indicators) were coming off, we weren't sharpening the saw," he told AFL.com.au in March.
"I went to the room post-game (2018 preliminary final loss to Collingwood) with (coach) Damien (Hardwick) and said, 'credit to Collingwood', but we have to be accountable for what happened'."
They certainly have been that, and haven't lost since round 13. Their win against Brisbane at the Gabba on Saturday night was sparked by six goals from Dustin Martin, whose close to the home and away season and first final has been 2017-like. Which makes it all-time great material.
Collingwood hasn't lost since round 19, when the Tigers beat them by 32 points.
No Rance, no De Goey. And because of the professionalism with which both clubs now carry themselves, no worries.
Operation stop Bont helps spark Giant turnaround
There were mitigating circumstances, but GWS embarrassed itself in round 22 against Western Bulldogs.
It was beaten up on field and the scoreboard got ugly.
Just before half-time of that match, Bulldog Marcus Bontempelli clashed with Nick Haynes, leaving the Giant with a fractured larynx. The Giants were not happy, and then became enraged when Bontempelli escaped serious match review sanction.
Nick Haynes is set to miss multiple weeks with a fractured larynx after this clash with Marcus Bontempelli.

The Bont was offered a $2000 fine by the MRO yesterday. Details: https://t.co/0cRoMGwAAp pic.twitter.com/4TAqBKaVXG

— AFL.com.au (@AFLcomau) August 20, 2019
Don't underestimate the power of that Bontempelli-Haynes clash when you analyse how the Giants managed to turn around a 61-point loss in round 22 into a 58-point elimination final win at Giants Stadium on Saturday.
Bontempelli was targeted in team preparations for the match, then mauled for its duration.
RELIEF FOR DOGS Star forward cleared of ACL damage
Matt De Boer, like his team in the round 22-elimination final contrast, turned around his personal battle with Bontempelli on Saturday. His cause was greatly assisted by Toby Greene and Shane Mumford, who both took every opportunity to rough up the Bulldogs superstar.
The challenge for the Giants is to maintain the ferocious game style against Brisbane at the Gabba next Saturday. They will benefit greatly from the hamstring injury to Lion Mitch Robinson, a player who would have welcomed the type of physical harassment in which Mumford and Greene specialise in.
After their 8-3 win-loss scoreline in the back half of the home and away season, everyone at the Bulldogs got caught up in the big picture possibilities.
FIVE THINGS WE LEARNED Taggers work, GWS midfield can do the job
But ultimately, they were proven to be a long way short of the year's best teams. A 10-goal loss in an elimination final is both a reality check and an ugly starting point to the 2020 pre-season.
The Dogs had all the momentum heading into finals but were beaten up on the scoreboard by GWS. Picture: AFL Photos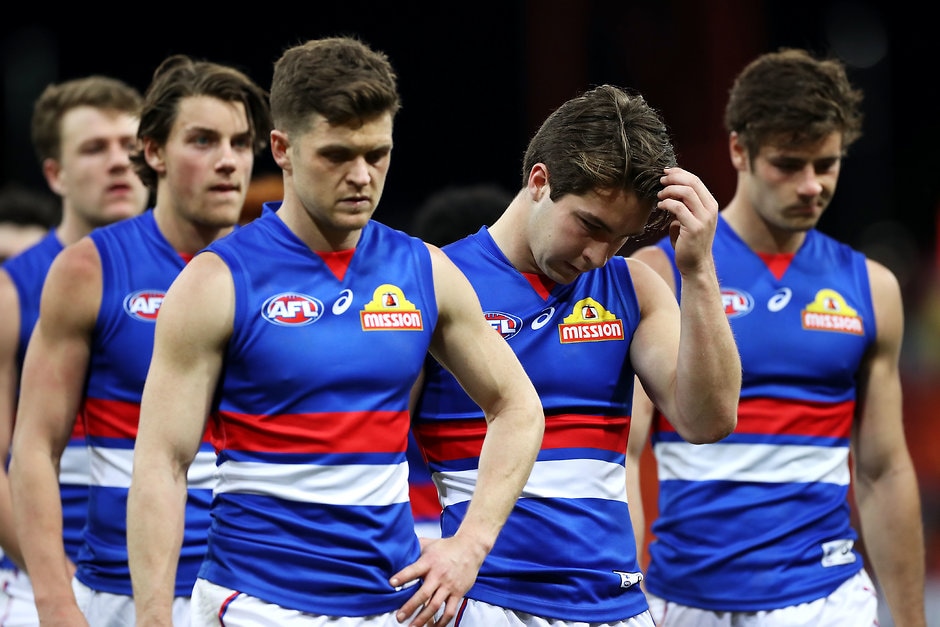 AFL must force Pies' hand in colour clash debacle
It's 2019, and we are still being subjected to matches of football between teams in guernseys which clash.
Collingwood has hijacked this issue, and the AFL needs to do what it long should have done – tell it what jumper it is to wear in a match in which there is a clash, not let it decide, and certainly not let it go and strike supposed gentlemen's agreements with certain clubs, as claimed by club president Eddie McGuire.
FIVE THINGS WE LEARNED Perfect storm of curses sinks Cats
The Pies-Cats qualifying final at the MCG on Friday was a colour mess, causing problems even for players.
Who's who? Even the players admitted they were confused at times. Picture: AFL Photos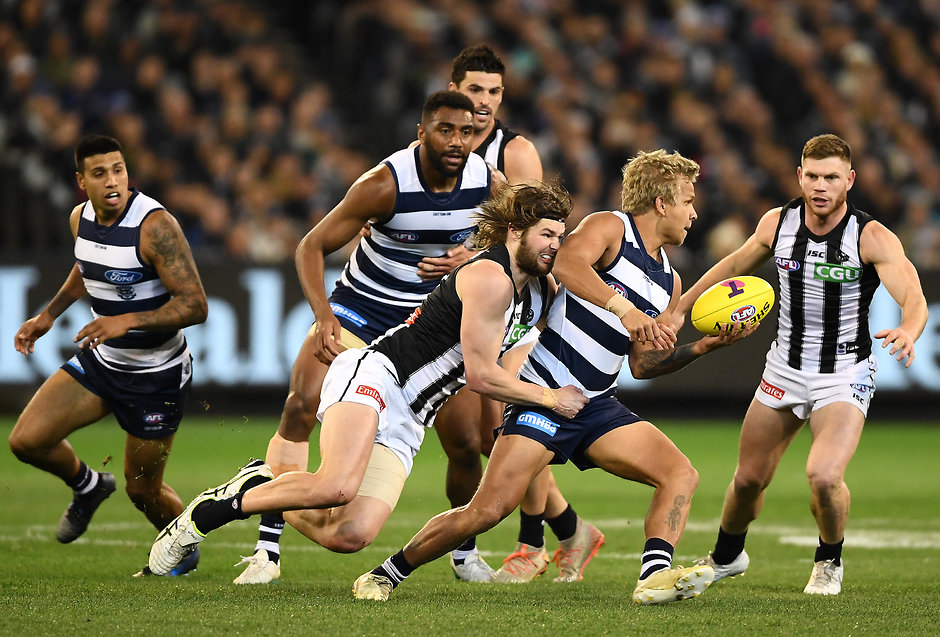 Tradition is an important part of the AFL, and the guernsey is rightly placed at the top of the tradition list. But ordering a club to have a very different guernsey to its most traditional one for use on 'away-match' occasions when there is guaranteed to be a clash is not eroding tradition.
Clubs are happy to sell advertising space on their jumpers to the point of making their players walking billboards, so the argument that the jumper is sacred is a hypocritical one at its very starting point.
FINALS FIXTURE Who plays who in weeks two and three
Manchester United is one of the most "traditional" sports clubs in the world, and is prepared to play in five different jerseys for no loss of tradition.
The next time Collingwood is the "away" or "lesser-ranked" team in a game against Geelong, the AFL needs to order it to wear something markedly different. And to not care one bit for what McGuire says in response.
Nic Nat's return makes Eagles walk taller
With consecutive losses to close its home and away season, West Coast looked to have made its premiership defence too difficult.
But with Nic Naitanui back for the finals, clearly the dream has remained alive.
If Chris Scott had nightmares and got himself all caught up in how best to combat the AFL's best ruckman Brodie Grundy last Friday night, eventually omitting his own big man Rhys Stanley in a ploy which failed, he actually may not sleep this week knowing Naitanui is awaiting his team at the MCG on Friday.
FIVE THINGS WE LEARNED Eagles' finals X-factor fires on return
Naitanui was outstanding in the Eagles' win against Essendon in Perth on Thursday. If he stays fit, West Coast will very much like its chances of reaching a preliminary final, where Richmond awaits.
The reigning premiers are very much in the frame for another flag with Nic Nat back. Picture: AFL Photos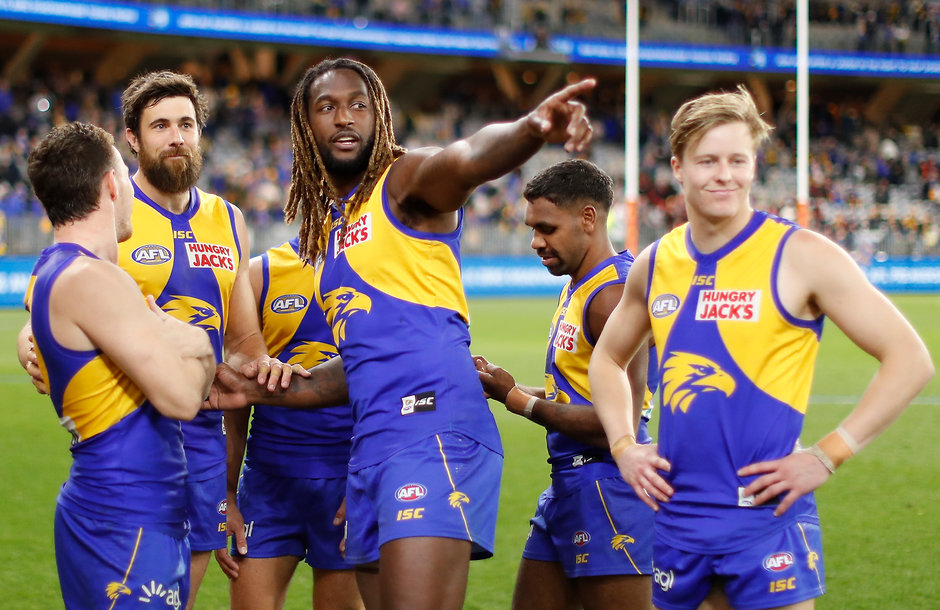 Another finals disappointment and Cats need to lift quickly
In no particular order, Gary Ablett, Chris Scott, Tom Hawkins and Joel Selwood had poor games against Collingwood on Friday.
FINALS PREDICTOR Who will win the 2019 premiership?
If Ablett repeats his ineffectual match this Friday, the decision yet to be made by and for him about the 2020 season will become obvious.
Yes, that may be harsh, but the Cats keep falling short in finals – just three finals wins from 13 matches since the 2011 premiership.
Gary Ablett had a quiet night against the Pies. Is the end nigh? Picture: AFL Photos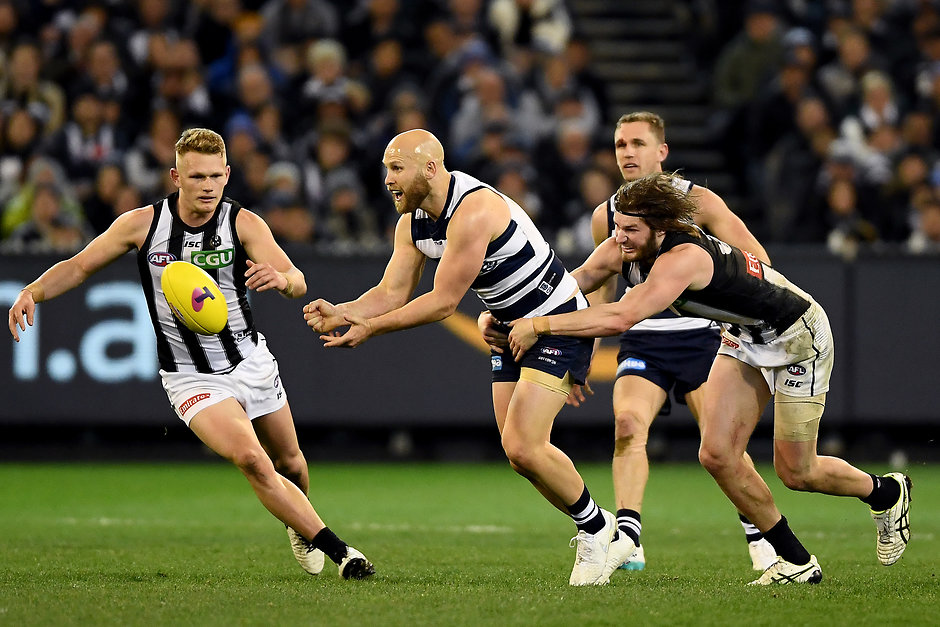 Hawkins hasn't kicked a goal in his past three games. Selwood's quiet season (by his lofty standards) continued, and Scott's decision and explanation of the Rhys Stanley axing was confusing.
There is so much at stake for everyone associated with the Cats on Friday against the Eagles.
Find In the Game on Apple Podcasts, Google Podcasts or Spotify
Twitter: @barrettdamian