FRANCIS Kinthari's year from hell started in January, when a close friend – riding in an overflowing Troopy – was one of three people drowned trying to cross treacherous floodwaters.
There were 20 men and women "inside and outside" the vehicle, many of them drunk, returning to remote Northern Territory town Wadeye from nearby Peppimenarti.
Wadeye (pronounced wod-air), also known as Port Keats and located 420km south-west of Darwin, is the NT's largest Aboriginal community with a population of almost 3000.
It is also home to Kinthari, the latest remote indigenous footballer to pique AFL recruiters' interest and the newest test case for whether the industry is ready to take the plunge again.
The 24-year-old's potential shot at the big league has come amid personal turmoil this year, including the heart-attack death of his aunty, a long-time Wadeye educator and highly respected figure.
Kinthari has even been caught in the middle of bitter in-fighting between family members that threatened to turn nasty.
But there was a recent silver lining: he and his partner, Marjorie, welcomed their second child into the world right before he attended the AFL's new Rookie Me Combine in early October.
"The community was in a bit of unrest and it all got too much for him, so he shut down there for a while," AFLNT high performance manager Wally Gallio told AFL.com.au.
"Then when he came in for the Rookie Me, he spoke from the heart for about an hour and was quite emotional about his community and people and partner and his new baby.
"It wasn't that he went off the rails; the whole community was going off the rails."
NT thunders into VFL Women's competition
Drugs and alcohol remain an "enormous" problem in Wadeye, according to one regular visitor, while gang and tribal culture, violence and low school attendance are other ongoing issues.
The town is largely locked away from everywhere else by road from November to March – and sometimes longer – in the wet season.
A one-hour flight to and from Darwin is the most common mode of transport during that period.
But in Kinthari there is hope the Wadeye people can clear even greater hurdles, and it goes much deeper than football.
He was a high achiever from a young age, earning a scholarship through the Thathangathay Foundation, which saw him spend two years off and on in north-east Victorian town Bright.
Chief executive Justin Crawley said the foundation's goal was to develop future leaders for Wadeye who could "take the good from the western world and not be afraid of it".
Kinthari attended Bright P-12 College and worked in a training café, where his engaging personality and enthusiasm – despite limited English – quickly made him popular with customers.
One of those customers became an English tutor for him, such was his thirst for knowledge. And, of course, Kinthari played and excelled at football.
"Because of the type of person he is, he would be fine in terms of playing for an AFL club and living in a city, and he's done a lot of travel on planes," Crawley said.
"But he's got a partner and two little babies and he's got a family that lives in a remote community, so whenever there's a death, there's a cultural pull that brings him home.
"It's very hard for him to break that cycle and say, 'No, I can't come home' and then once he's home, it's very hard to avoid all the pressures that come with family."
Kinthari unlocked his football future last year through unorthodox measures, urging St Mary's premiership coach Ricky Nolan via Facebook to give him a chance.
The 180cm small forward quickly opened his trick bag, slotting six goals in just his second senior game for the Saints, the Territory's most successful club.
Kinthari led the NT Football League goalkicking for several rounds and finished the 2016-17 season with 47 majors in 15 games, as well as playing in the winning Grand Final side.
Hundreds of Wadeye residents made the trip to Darwin to watch him on NT football's biggest stage.
"It's been amazing. I saw my cousins play when I was a kid and just wanted to follow in their footsteps," Kinthari told AFL.com.au.
"I got picked in the NTFL and was a bit nervous, because I hadn't played in a league like that before, but I started kicking some goals and people started supporting me on the side.
"You never know, I might get drafted to the AFL … my footy dream might come true."
He went on to play for NT Thunder in the NEAFL – coolly nailing a post-siren match-winner over Greater Western Sydney's reserves – and kicked eight goals in a game for Goulburn Valley Football League club Euroa.
That all came during Kinthari's home-life dramas, which complicated his on-field accomplishments and left even Nolan doubting if he could make the transition to AFL ranks.
"I've never seen someone like him," Nolan said, in rich praise for Kinthari.
"But he'd certainly be coming from a long way back and it is pretty high risk – it's a long way from Wadeye to Melbourne."
Geelong and Fremantle are the keenest on Kinthari, with Dockers forward Matt Taberner a high school mate of his from their Bright days. They remain in contact.
The Cats have enjoyed success with NT footballers in recent times, from Mathew Stokes to Steven Motlop and currently Brandan Parfitt and Nakia Cockatoo. Nathan Djerrkura also played there.
"I say to the clubs, 'The first year will be a learning curve, but he'll hit his straps the second year'," Gallio said.
"(The savviest clubs) will sit down with someone like Francis and say, 'Here's your first 12 months; we're going to send you home here, here and here'.
"He'd know then that he'd be down there for six weeks at a time … the clubs are starting to do a lot better."
But still lingering in the background are the sniggers about former Tiger Relton Roberts.
Ngukurr-born Roberts played two games for Richmond in 2010, but his ill-fated AFL career is best known for him eating a hamburger before a VFL match among other faux pas.
There were also Liam Jurrah, Liam Patrick, Austin Wonaeamirri and Zephaniah Skinner, each of whom showcased exceptional talent at the highest level all too briefly before the call from home grew too great.
Jurrah, Aussie reunite with their brothers at Melbourne
Relton Roberts in action for the Tigers in round three, 2010. Picture: AFL Photos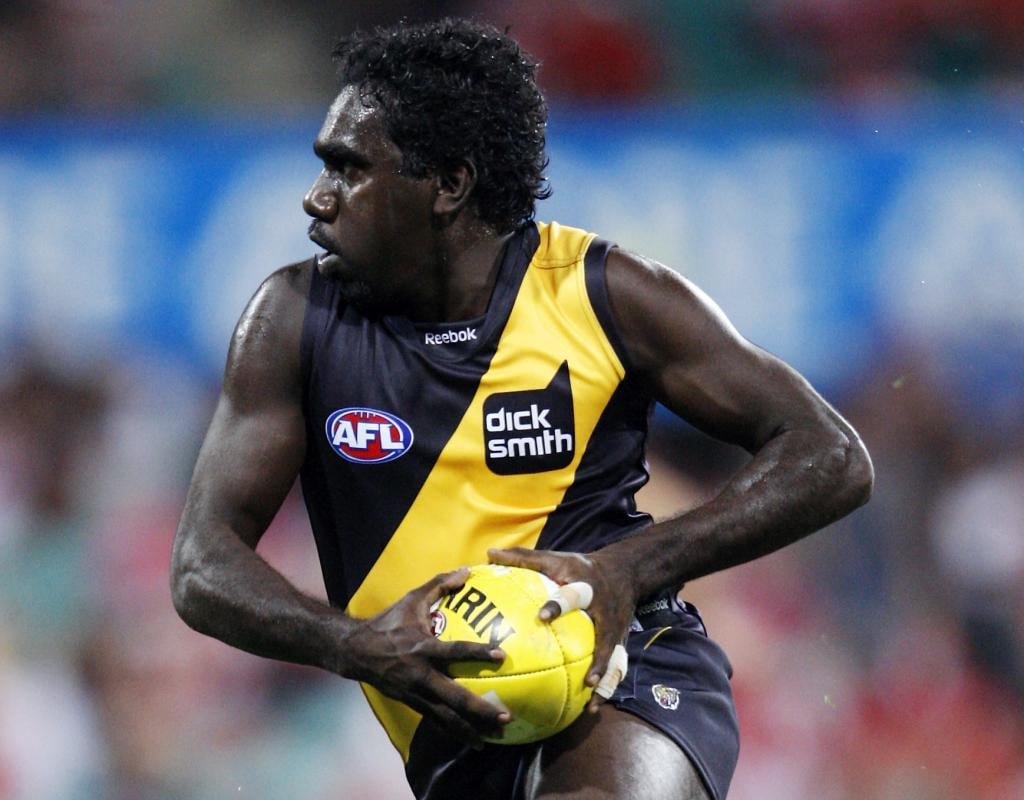 Crawley's theory is that managing and appeasing the player's family – the source of the pressure – is the best remedy.
Whether Kinthari will be any different if he gets a chance is anyone's guess, but he is already making a positive difference regardless.
Other Wadeye-based footballers are attempting to make the grade in Darwin, and Kinthari is also helping put wayward peers back on track through his work with the Thathangathay Foundation.
Mark Tunmuck-Smith, a youth services co-ordinator making constructive change in Wadeye, has seen first-hand the impact Kinthari is having.
"To get drafted would mean a lot for his family and also the community and the people that work with him and us, and he might inspire others to do the same," Tunmuck-Smith said.
"Every time we go to the shop it's like, 'I want to be like Francis' or 'Francis, give me five' – he's a bit of a hero in town."