CHRIS Judd has almost certainly graced an AFL field for the last time but Carlton refused to call time on his career after Saturday's loss to Adelaide, saying it would leave the decision up to the modern great.
And the 31-year-old said on Sunday he would take a couple of days to think before deciding on any future plans.
"I'll take a deep breath, have a chat with the club and with my family and then make a call some time this week," Judd told Channel Nine.
"I haven't met with the surgeon yet. I'll probably meet with the surgeon later this week and probably have the surgery next week.
"There is not really a sense of urgency, I think it's almost better to wait seven or 10 days before you actually operate so the swelling has gone down a bit."
Judd said he would only consider a LARS procedure if the surgeon told him that would provide "the best outcome".
"I've done a medial ligament before and the feeling was just a bit different to that.
"It was a really sharp pain at the start and after the first 20 seconds, not incredibly painful after that."
He ruptured his left anterior cruciate ligament after out-marking Crows star Patrick Dangerfield at the 21-minute mark of the first quarter, his knee buckling as he landed awkwardly.

The two-time Brownlow medallist seemed to acknowledge his career was over when he was placed on a stretcher and taken from the MCG on a motorised cart, acknowledging bipartisan applause from the crowd with an understated wave.

Judd left the MCG at half-time to have scans. As he left the hospital – but before the scan results had confirmed a ruptured ACL – he was asked by Channel Seven: "Are you worried that this could be the last game you play?"

Judd answered simply: "Yep."

Carlton understandably was more circumspect immediately after Saturday's game.

"I don't think we need or want to be too rash with the decisions we make about Chris at the moment," interim coach John Barker said.

"We'll get the full information from the doctors and they'll go through that. He's a champion, he'll make his decision on what he wants to do.

"We love him and we'll make all those decisions in the right time."

Teammate Zach Tuohy told AFL.com.au that the club was not about to write Judd off prematurely.

"We don't know Juddy's mindset or where he's at," Tuohy said.

"It's a really bad injury, it's the bane of any footballer's life, but knowing the calibre of person Chris is I wouldn't write him off just yet."

The reality, however, is that Judd is at ridiculously long odds to play on.

At 31, he would face 12 months on the sidelines if he opted for a traditional knee reconstruction.

He could, of course, opt for a LARS reconstruction that would potentially have him back before the end of the season, but Judd has always had a pragmatic approach to football that suggests he would resist grasping at such a short-term straw.
Not what we want to see - @CarltonFC star Chris Judd has been helped from the field after this incident. http://t.co/ZZxAGh5yLb

— AFL (@AFL) June 6, 2015

He had intended to retire at the end of last season before an individual and team form revival convinced him to play on, so you suspect he won't need too much soul-searching to decide to hang up the boots now.

Especially when the Blues have embarked on a self-declared rebuild.

Barker seemed to know as much during his post-match press conference.

The interim coach was understandably flat when repeatedly quizzed about Judd.

"What do you say? My heart goes out to him, the club's heart goes out to him," Barker said.
Be such a sad way for a champion to go out if Chris Judd has in fact done an acl. Let's hope it looked worse than it is... #AFLBluesCrows

— Nick Maxwell (@maxy_5) June 6, 2015

Carlton's players were not told about the extent of Judd's injury until after the game. Tuohy said the news had come as a shock to Judd's teammates.

"There was kind of a collective groan in the room," he said.

"He isn't just a top player, for anyone who knows him he's just a quality person."

Chris Judd grimaces in pain after hurting his knee against Adelaide. Picture: Getty Images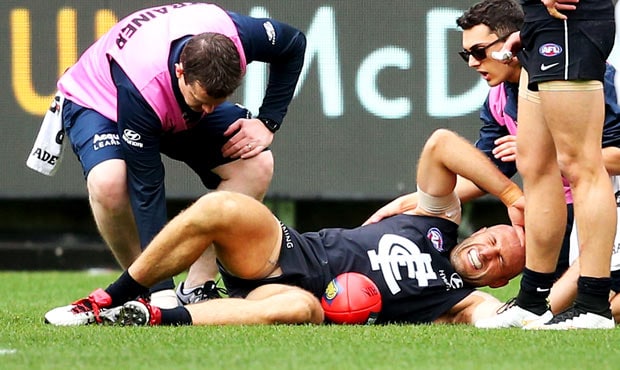 Barker had no idea what Judd's mindset was but said he would try to speak to him on Saturday night, while Tuohy said he would give the champion some space but expected the playing group would see him next week and "certainly do our best to try and get him through it."

Dangerfield told AFL.com.au he felt for Judd.

"I don't remember anything, to be honest. (I was) just trying to spoil the ball and then he just came down awkwardly," the star Crow said.

"He looked in a fair bit of pain and I gave him a tap on the leg.

"The game doesn't really wait for too many, you've got to get back and reset so unfortunately that's what happens in our competition at times.

"It's really unfortunate for Chris, he's someone I admire hugely and he's been an ornament to the game."
Hope that's not the last time we see the great Jman #AFLBluesCrows

— Mitch Robinson (@MitchRobinson05) June 6, 2015

Judd's list of achievements speaks volumes about the legacy he will leave on the game and on the two clubs he called home; West Coast for 134 matches from 2002-07 and Carlton for 145 games from 2008.

At West Coast, he was one of the most explosive midfielders the game has seen, regularly leaving opponents grasping at air as he put the afterburners on.

His individual honours included two club best and fairest awards and All Australian selections (2004 and 2006), the 2004 Brownlow Medal and the 2005 Norm Smith Medal, while he captained the Eagles to the 2006 premiership.

At Carlton, he never seemed quite as quick as his body started to show signs of wear and tear, but he reinvented himself as a contested bull at stoppages and made handball one of his most damaging weapons.

The individual awards continued to flow his way – three consecutive Carlton best and fairest awards (2008-2010), four consecutive All Australian selections (2008-11) and the 2010 Brownlow Medal.

But Judd could not lead the Blues to a premiership and, in fact, only played in two winning finals in his time at Princes Park.

This despite costing the Blues picks No.3 and 20 in the 2007 national draft and spearhead Josh Kennedy.

Still, Judd will leave a lasting legacy at Carlton. Barker praised the "amazing standard in terms of professionalism" that Judd had set.

"The champions I've played with or known through coaching are the guys that do the little things really well and they add up," he said.

"(He was) professional to the nine.

"His ability in situations, when required, to will himself into contests, to will himself to run and work … he's a champion of the game."

Tuohy said Judd's impact on Carlton had been "immeasurable".

"It's not just his on-field stuff or his best and fairests and Brownlows, the impact he's had on the younger players has been amazing," he said.

"I think you'll see Juddy's biggest benefit this year coming in the form of guys like (Patrick) Cripps and (Nick) Graham and the way that they've come on, because they'll be the first to tell you that their form and their growth has come as a result of some of Juddy's leadership.

"So his impact on the club has been immense and I'm sure it will be in the future."
Really hope that wasn't what it looked like.. All the best Juddy!! Fingers crossed it's not to serious

— pearce hanley (@pearcehanley) June 6, 2015

If it is the end, fittingly, Judd departed with a bit of his old flair. A contested mark over Dangerfield was no mean feat.

He also helped set up the Blues' opening goal to Cripps through a clever handball earlier in the scoring chain.

After 21 minutes, he had six possessions (four contested), two centre clearances, one mark, one rebound 50 and one score assist to his name.

Barker felt Judd had been re-energised after being rested from last Friday night's loss to the Sydney Swans with knee soreness.

"There was a little bit of spark there," he said.

Sadly, only 32,035 were at the MCG to see it.

Sadly, we're highly unlikely to ever see it again.
Flattening sight seeing juddy carried off. Lets hope with the form he has shown this year he has a quick recovery in time for rd1 next year.

— Luke Hodge (@LHodge15) June 6, 2015