ADAM Simpson might live to regret his advice to Luke Hodge if West Coast meets Hawthorn in a final this season.

With the teams seemingly on a collision course for a qualifying final, Hodge told AFL.com.au how a chat with the former Hawks assistant coach in 2012 helped him rejuvenate his body after a decade of bash and crash football.

"(Simpson) said once you get to 30 … it helped him if he dropped a kilo every year," Hodge recalled.

"And I thought 28 was close enough and coming off a knee injury I thought I better start then. So I went from about 91kg or 92kg down to about the 87kg I play at now.

"With the speed of the game, if you're carrying excess weight, then by late in the season it's going to hurt you because the game's that quick with the amount of whippets we've got running around.

"It's definitely helped the last couple of years."

While he's now in the midst of a vintage season, Hodge's football future appeared to be at the crossroads after a heartbreaking 2012 Grand Final loss to the Sydney Swans.

The Hawks skipper's head was mummified and his left knee held together by strapping as he hunched to his knees in the middle of the MCG.

He had limped through the season, playing only 10 games after cannoning into St Kilda midfielder David Armitage in a marking contest in round six.

Although Hodge was booked for post-season surgery and medical advice suggested he would make a full recovery, he feared his best might be behind him.

"The physios and doctors and (head of fitness) Andrew Russell just said, 'Once you get that right, there'll be no issues'," Hodge said.

"I obviously had doubts. When you get to late 20s and you've got to go through a PCL (posterior cruciate ligament) reco it obviously puts a bit of doubt in your mind.

"But once I went through it, I could automatically feel as soon as I had the operation it felt really good.

"Touch wood that it keeps going, because the body's feeling great at this stage and the last three years it's been getting better and better."

Over the past three seasons, the Hawks skipper has led his side into battle in 61 of a possible 69 games, having missed three due to suspension earlier this year.

And while many over-30s are managing their training workloads during the week, Hodge has bucked the trend.

"If anything I've probably been doing more. Rather than wait until later in the week to start training, no matter how I feel, I always get out and try and do a recovery run with the boys on a Monday.

"Three or four years ago I'd probably wait until Wednesday or Thursday to get the body up and going. I've felt that's helped.

"The quicker you can recover from a game, get the body moving, I guess it gets you feeling better."

Just as dropping weight worked for Simpson, the now West Coast mentor who played 306 games for North Melbourne before retiring at the age of 33, the new regime has revitalised Hodge.

Hodge produced a career-defining performance in last year's Grand Final, again rising to the big occasion and picking up 35 touches, booting two goals and inspiring the underdog Hawks to a thumping upset of the Sydney Swans.

It earned him a second Norm Smith Medal – with Hodge joining an elite club of three with Gary Ayres and Andrew McLeod – and he's kept that momentum rolling.

Luke Hodge with his Grand Final bling from 2014. Picture: AFL Media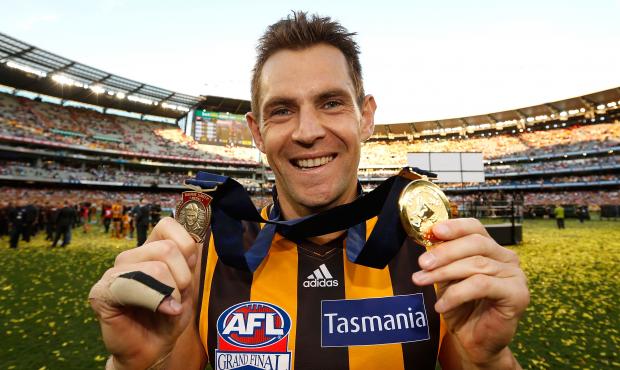 Heading into a sixth-straight finals campaign under Alastair Clarkson, he is ranked first at Hawthorn for average kicks (17), third in disposals (27), and is also in the top five at the club for clearances (four) and tackles (four).

In April, Hodge inked a contract extension and he's left the door open to continue beyond 2016 – potentially taking the boy from Colac past the 300-game milestone early in 2017.

"I guess the time when you pull the pin is when the coach taps you on the shoulder, or you feel like your body can't keep up with the game, or you're not having an impact on the footy field or helping your team," Hodge said.

"At this stage I've been able to back up week-in, week-out, I've been able to train, the body's feeling really good and I've still been able to help the guys on field.

"So unless Clarko comes to me at the end of next year, or I have an injury, or I'm in some shocking form then I guess we'll wait and see.

"But 12 months is a long way away in football terms when you get over 30."