ROSS Lyon insists he has never questioned his coaching or commitment to Fremantle during a workplace harassment storm, and holds no fears over further investigations.
After receiving the Dockers board's full backing amid rumours his position was in jeopardy, Lyon sat alongside president Dale Alcock and CEO Steve Rosich on Friday afternoon to address a packed media conference.
The besieged senior coach spoke about the "hurt" inflicted on the club, supporters, his family and a former junior staff member, who he allegedly made an inappropriate comment to several years ago.
Lyon was "really sorry" about the impact the allegations had on everyone involved, and – in the wake of a second matter being reported and subsequently withdrawn - encouraged any people with other issues to come forward to relevant authorities.
"I hold no fears," Lyon said as he read a prepared statement.
"This is important as I've built a strong reputation over 22 years of coaching in the AFL that I'm proud of and I'll continue to protect it."
Asked about how he was coping, Lyon said he felt more for "everyone that's been drawn in".
"It's a really difficult situation but at no stage have I questioned my coaching, my commitment to this club," the 51-year-old said.
"Fremantle has been amazing to me. I think I've paid that back in spades and currently it's a harmonious an environment with our coaching and player group.
"That's certainly an indicator of success around the corner for us."
When asked if he was confident no further allegations from his past would surface, Lyon replied: "I can only talk to the issues and allegations at hand. I can't extrapolate out to the future.
"I don't think it's appropriate. As I said, my reputation over 22 years has been hard-fought, hard-earned."
Alcock staunchly declared Lyon's position had not been under review recently.
"Ross is our coach," he said.
Fremantle staff and players watch on during Friday's media conference. Picture: Getty Images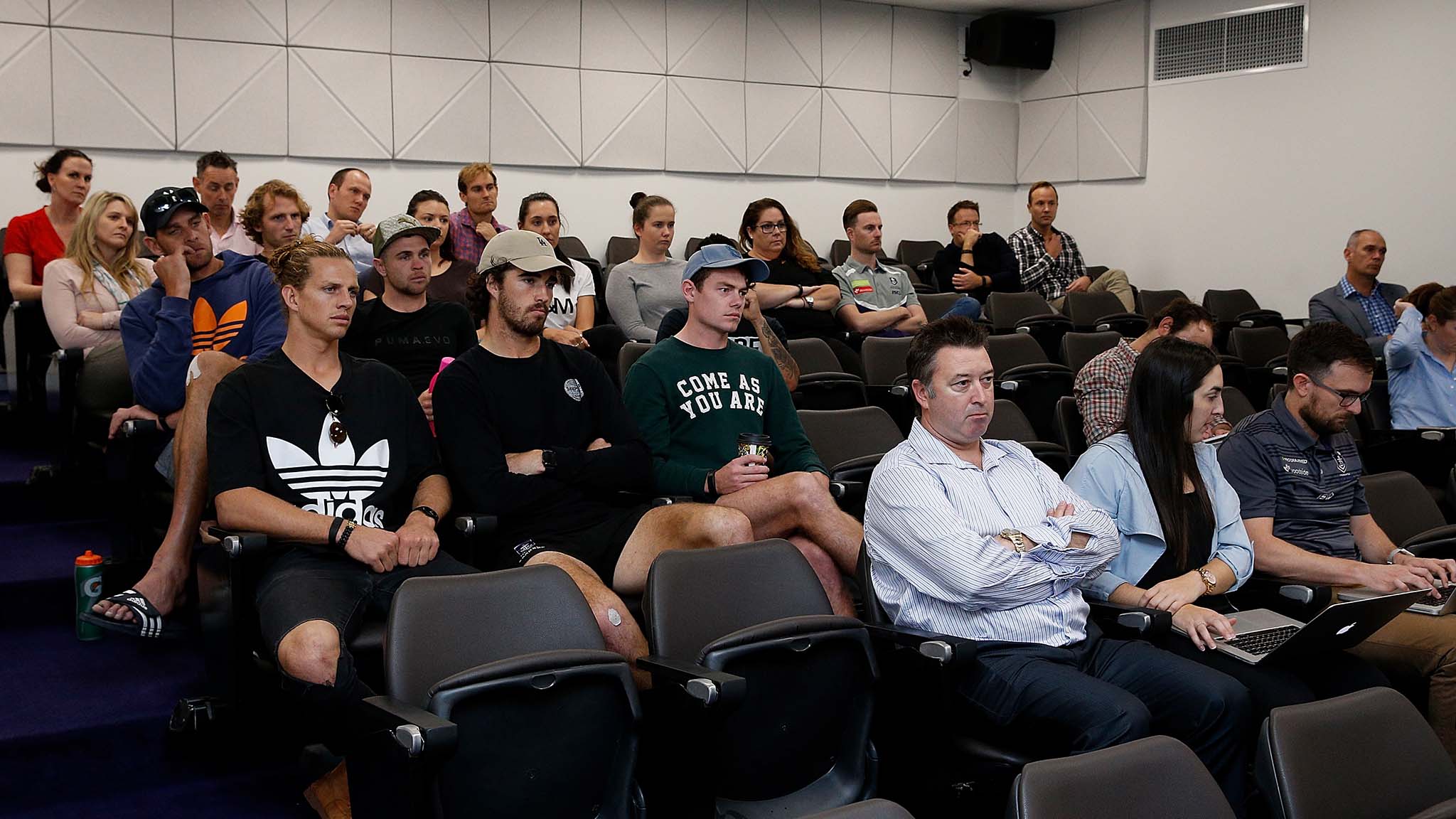 None of the three Dockers officials provided further details about the initial harassment allegation, again citing confidentiality, although Alcock apologised to the complainant.
"As a very proud club, this is not where we want to be," he said.
"I apologise to our former employee, who is the subject of the matter currently in the media.
"I'm sorry for the stress and duress this matter and subsequent media attention has caused her, and the people closest to her."
Rosich said Freo has not spoken to the woman in question directly since reports came to light, but the club has been in contact through the AFL Integrity Unit and via lawyers.
He has been in regular dialogue with Programmed and Woodside this week and said the major sponsors backed the Dockers' handling of the issue.
"Certainly from my discussions as recently as today, that's the case," he said.
While the workplace harassment issue has engulfed the club, the Dockers are facing a fresh scandal with leadership group member Bradley Hill in hot water.
Hill allegedly breached a police move on notice and gave a false name after trying to jump a barrier when he was refused entry to a Scarborough nightspot on Sunday evening.
It was the latest in several alcohol-related incidents involving players, and has piled more pressure on Fremantle.
"Clearly, we do not condone it (Hill's actions) and it certainly couldn't be worse timing with other matters in the media," Alcock said.
Hill is facing a club sanction and was absent as the Dockers' leadership group, including skipper Nat Fyfe, and about 30 staff – most notably football boss Chris Bond – watched Friday afternoon's media conference at Cockburn.