• Around the state leagues: Big Don back, young Dee presses case
• Nine things we learned from round five
• Fantasy round review: Big guns feast on Easter choccies
LET'S START by discussing Chris Judd.
Did he come on too early? Too late? Should he have played at all? Will he play again?
They were the buzz issues on Sunday night
after the Carlton champion's comeback from a pre-season Achilles strain lasted all of 360 seconds
. Watching him clutch the hammy after getting a quick kick away was devastating. The clock is ticking on Judd's magnificent career and we want to be able to watch him play for as long as he can.
The main question about Judd is whether he was rushed back prematurely by a Carlton side which was 0-4 entering Sunday's game against the Western Bulldogs a question made more pointed when he was named as the sub.
What the Blues needed to decide was whether at age 30 a game of bruise-free VFL footy is better was a better way back for Judd than a quarter and a bit at AFL level.
It was unusual to see the great man sporting the green vest, but it looked a sound move to ease him back into competitive football some time in the second half, hopefully with the sting out of the game and to provide a cool head and some quality touches with the outcome of the match in doubt.
Chris Judd's long-awaited return ends after 360 seconds at Etihad Stadium on Sunday. Picture: AFL Media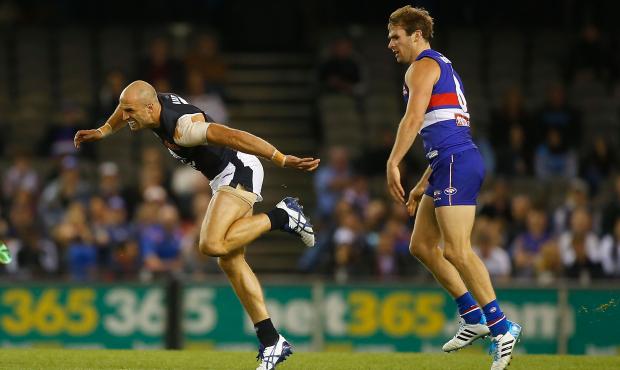 Some clubs will do it differently. Luke Hodge and Lenny Hayes are two veterans who have returned from injury through the VFL in recent years. Brian Lake has now played two games for Box Hill as he regains match fitness. The Sydney Swans will need to determine soon whether to bring Adam Goodes back through the NEAFL.
In terms of when Judd came on, five minutes before the end of the third quarter was ideal, and the amount of second-guessing around that decision is surprising. For starters, late in the third quarter is the time many coaches choose to activate their sub, and in the case of Judd, who would have been blowing hard within minutes, the looming three-quarter time break would have provided some respite.
And at the time
the Blues were struggling to put the Bulldogs away after their brilliant start
. When better to introduce their champion to steer them home to an important win?
Some of Carlton's personnel and positional moves in recent times have raised eyebrows. But not this time. The Blues were just plain stiff to lose Judd in the manner they did.
Geelong better and tougher for longer against Hawks
By the standards of the last few years, what we witnessed at the MCG on Monday was a veritable thrashing.
Geelong's 19-point defeat of the Hawks
was the second-biggest winning margin of all by the Cats since the rivalry with the Hawks stepped up a notch in 2009.
Geelong's big names stood up at the end. Steve Johnson was class all day but Joel Selwood, Jimmy Bartel and Tom Hawkins were immense.
Hawkins kicked five and was probably the difference between the sides in the end. The undersized Kyle Cheney has been brave for the Hawks throughout the season and even through the first three quarters on Monday but the extra 10cm and 15kg sported by Hawkins over Cheney eventually counted in the final stanza.
Not for nothing did the Hawks bring Brian Lake to the club and the hope for Alastair Clarkson is that the the big defender will be back next time around. And Ryan Schoenmakers, to swing forward and back as required, would be handy as against the Cats.
But to talk about those who didn't play would be to carp. Geelong's best players lifted wonderfully in the last 15 minutes. They were better and tougher for longer, qualities Clarkson has always maintained have given the Cats the edge over his men in recent times.
Power are the real deal
If you haven't yet factored Port Adelaide into your final four calculations, then perhaps you best reconsider. Ken Hinkley's men are the real deal.
Saturday night's grinding 14-point win over West Coast at Patersons Stadium
spoke volumes about the type of side Port Adelaide is becoming. They run hard and are super fit, and the first two goals that gave them the ascendancy in the final quarter demonstrated precisely why.
The first came after a dodgy mark paid to Hamish Hartlett and he showed a cool head to convert it. But it was the daring run through the wing and half-forward from Matt White that got the ball to Hartlett that has become Port's trademark this year. How the stodgy Tigers could still do with some of what White provides.
Hinkley warned the competition that if you want to play Port you had better be fit and be prepared to run for four quarters
, and a 22-6 edge in inside 50s in the final quarter was proof of this once again.
And then there was Chad Wingard's difficult goal from a tight angle after being cleaned up and clearly injured by Darren Glass. Once again, clutch and poise from this budding superstar. By season's end, we might no longer need the adjective.
QUESTION TIMEHow's the score review system tracking this week?
We can 'officially' say not very well
after the debacle that was the goal credited to James Frawley at the MCG on Sunday despite pretty clear evidence that it was touched by Suns defenders Steven May and Rory Thompson
. How the video sleuths are supposed to make the correct call in just a few moments with four SD pictures to analyse at the same time in anyone's guess. Another inconsistency is that depending on the match broadcaster, we get different angles to choose from. Fox Footy's cameras and those of Seven (the broadcaster on Sunday) are in different locations and right now, you'd have to say Fox gives us the better view. Apparently the new goal-line cameras are on their way to the MCG and Etihad, but until then, let's scrap the review system entirely. What we have right now does not work, so until the foolproof system is implemented and working satisfactorily, let's go with the goal umpire and if there is a mistake, blame human error.
Are the pieces coming together for Collingwood?
Slowly but surely. It most assuredly helps when Collingwood's top flight midfield is in great touch and
the stats sheet by half-time (when the game was already decided) showed Alex Fasolo with 22 disposals, Steele Sidebottom 21, Dane Swan with 20 and Scott Pendlebury with 18
. Oh, and Travis Cloke had already kicked four goals. That sort of output on a weekly basis and the Pies will be contending for the top four. Also pleasing is that the backline has held up well. Lachie Keefe and Jack Frost are improving by the week in the key positions and Nick Maxwell is playing his best footy for years. With Nathan Brown and Ben Reid due to return, Pies coach Nathan Buckley will have some pleasant selection dilemmas on his plate.
.@afl_hashbrowne Which is the real St Kilda? The one that beat Essendon or was smashed by the Crows? #afterthesiren

— Liam Getreu (@liamget) April 19, 2014
Ashley Browne:
At the risk of being called a "fence-sitter" I'd say somewhere in the middle.
The Saints were fortunate to catch the Bombers off a short week
having come back from playing in the furnace that was Patersons Stadium. What the Saints are enjoying is a great season from their leaders and what was notable on Saturday night was that Nick Riewoldt, Lenny Hayes and Leigh Montagna were all key factors in the win. Riewoldt's year to date reminds me so much of Matthew Richardson's second-to-last season in 2008 in which he polled 22 votes and finished equal third in the Brownlow. What the Saints must do from here is continue to win games while relying less on brilliance from their skipper as they do so. Otherwise it could be something of a false dawn.
@afl_hashbrowne what do you make of Sydney? One week insipid, the next fantastic determination. #afterthesiren

— Matt Lowe (@MattLowe23) April 19, 2014
AB:
It has been hard to get a read on the Swans, but that was more like what we've been accustomed to on Saturday against Fremantle,
a win grafted by a hard-working midfield (Josh Kennedy, brilliant) and some polish close to goal
. At 2-3 they're back in the mix and with Melbourne and the Brisbane Lions to come, can start to mount their assault on the top four. Kurt Tippett will return this week while Lance Franklin will be back at the MCG – his field of dreams. The notable omission this week was Ryan O'Keefe. Is there still a place for him in Sydney's best 22?
@AFL @afl_hashbrowne how many games is going to be enough to make finals. 11 might get you in the way its going #afterthesiren

— brycebear33 (@brycebear33) April 19, 2014
AB:
Eleven and healthy percentage might be enough this year because the signs are that from third or fourth through to 15th might only be separated by a handful of games. At this stage, you can rule out the Brisbane Lions, Melbourne and GWS from finals contention, but the rest have some sort of chance, even Carlton. Teams that can string together bursts of three or wins while not be on the receiving end of too many thrashings could find themselves in finals contention come late August.
@AFL @afl_hashbrowne can you see the Lions turning it around #afterthesiren

— Sean (@seanmorgen) April 19, 2014
AB:
Matthew Lloyd
made himself few fans north of the Tweed River with his "world of pain" comments about the Lions
, but he might have been right. The Lions just don't have the depth to carry the loss of Daniel Rich, Matthew Leuenberger, Brent Staker, Pearce Hanley, Daniel Merrett (even though foolishly suspended), Matt Maguire and Claye Beams. A look at their draw suggests that there might not be a win on the horizon until the end of May, when they start a three-match stretch that includes home games against Carlton and GWS and an away game to the Bulldogs at Etihad. In an 18-team competition there is always one team dragging the chain and this year it shapes to be the Brisbane Lions. Expect strong pressure to be brought to bear for the club to receive a priority draft selection come the end of the season.
@afl_hashbrowne should it be concern for pies inability to put sides away? Dominated both rich & nth but scores dont reflect #afterthesiren

— Paul Hare (@PaulPaul_H) April 19, 2014
AB:
Relax. Neither the Richmond nor North Melbourne games were in any doubt from the second quarter. It is a long season and the Pies are right now taking care of business. If the wins keep coming, the percentage will mount and a top four finish will come into consideration.
@afl_hashbrowne #afterthesiren is there a role for Ty Vickery or is the Tiger forward line-up better balanced without him?

— Humphrey Buanas (@HumphreyBuanas) April 17, 2014
AB:
An in-form Vickery has a place in the Richmond forward line but when he's battling, leave him in the twos and find other ways to kick a winning score.
Jack Riewoldt was great against the Lions
and Ben Griffiths did enough. If they could find a way to structure up so that Dustin Martin could play primarily up forward then the Tigers could cause some damage. The player the Tigers need back is Alex Rance to bolster the backline. He was best-on-ground against Hawthorn last year.
@afl_hashbrowne @AFL If names on guernseys are illegible at the ground and on TV, why have them at all? Dump it, a dud idea #afterthesiren

— Record Spinna (@recordspinna) April 17, 2014
AB:
This was
a trending topic during Thursday night's Brisbane Lions-Richmond clash
and certainly more interesting than the game. The idea of the names is right, but the execution was shoddy. There is already so much real estate on the backs of jumpers including numbers, sponsors and in some cases nods to history (SMFC and BBFFC as just two examples) that names only add to the clutter. I know clubs in developing markets such as GWS are all for the idea and anything that helps introduce the game to new supporters merits our support. I think they should be mandatory in the pre-season for all clubs as they show off their new players, and optional in season, which is the case in US sports such as college football.
@afl_hashbrowne Why the hell did Trent West and Luke McGuane chair off Browny? Terrible effort by the Brisbane Lions side. #afterthesiren

— Paige Cardona (@paigecardona) April 17, 2014
AB:
Perhaps they were the only two players strong enough to lift the big fella. But if they, with six games for the club between them, were the only two with the idea to do so then shame on the rest of their teammates.
@afl_hashbrowne if that was the case, give the game to the Bulldogs or to the Kangas. Don't give it to Essendon or Collingwood!

— Thomas Bennetts (@ThomasBennetts) April 18, 2014
AB:
The other trending topic of the weekend
. I loved how Eddie McGuire said Collingwood wasn't interested in playing on Good Friday but then outlined the terms and conditions for the clubs that should play, with the clear inference being that it should be Collingwood. I agree with Ed that the match-up needs to be between two clubs who will fill a stadium, be that Etihad or the MCG, which rules out, say, a Kangaroos-Bulldogs clash. Essendon has two blockbusters already (Anzac Day and Dreamtime) and under no circumstances should be awarded Good Friday football as well. Due to their close proximity to the Royal Children's Hospital and because they've been requesting this for a time, I'd give North Melbourne and Carlton the first opportunity to play next year, which would mean the Blues giving up the traditional MCG opener against Richmond. As for whom the Tigers would instead play in a season opening blockbuster, sadly, we are left with just one club that would fill the joint close to capacity, which is Collingwood. Perhaps that's Ed's plan all along!
@afl_hashbrowne #afterthesiren Umpires call for Ablett for a block killing MFC momentum. Was it correct or wrong? Will Evens admit a mistake

— Gordon Brown (@AFLGbrown) April 20, 2014
AB:
Technically, the free kick was there – there was some obstruction. But McKenzie was awfully stiff because those sorts of holds take place all day every day and don't get whistled by the men in grey and green, although I'm not sure if it was a momentum killer for Melbourne
given Gold Coast pretty much led all day
. New umpires coach Hayden Kennedy seems to be the front man these days, not Mark Evans, and it will be interesting to see whether he gets on the front foot with his explanation for this one. Let's hope he does.