THE SMILE on Taylor Garner's face after North Melbourne's victory on Sunday owed to much more than just the Roos banking four points.
Those familiar with the 25-year-old's story know a wretched injury run jam-packed with infuriating setbacks has effectively robbed him of an AFL career to date.
So it's understandable that for Garner, one of the Kangaroos' most gifted footballers, to play his first AFL game in 623 days against Carlton was personally satisfying.
FULL MATCH COVERAGE Roos put Blues to the sword
However, he insisted this moment wasn't just about him.
The dedicated group of North medicos who've been there with Garner every step of the way were also firmly in his thoughts after the 58-point win.
"I'm sure they're as proud as I am about playing out here again," Garner told AFL.com.au.
"It's just as hard for them sometimes. If I get knocked down, they get knocked down a bit, too.
"I think the physios, medical staff and even the coaches are probably just as thrilled as I am."
Operation: Fix Taylor has long been a priority at Arden St, given he was a first-round draft pick way back in 2012 but played only his 35th match at the weekend.
Incredibly, Garner and another 2012 draft pick who has experienced significant injury misfortune – Mason Wood – played together for just the 10th time on Sunday out of a possible 146 matches.
OUT OF THE WOODS? Mason won't dwell on injury woes
"We get on each other's case a bit, for good and for bad, but I think that's our relationship," Garner said of Wood.
"We do lean on each other a bit but he's had a good run now and he's started the year very well, so hopefully we stay in the side longer together now and get a few wins."
Garner and Wood celebrate a goal with each other during the big win. Picture: AFL Photos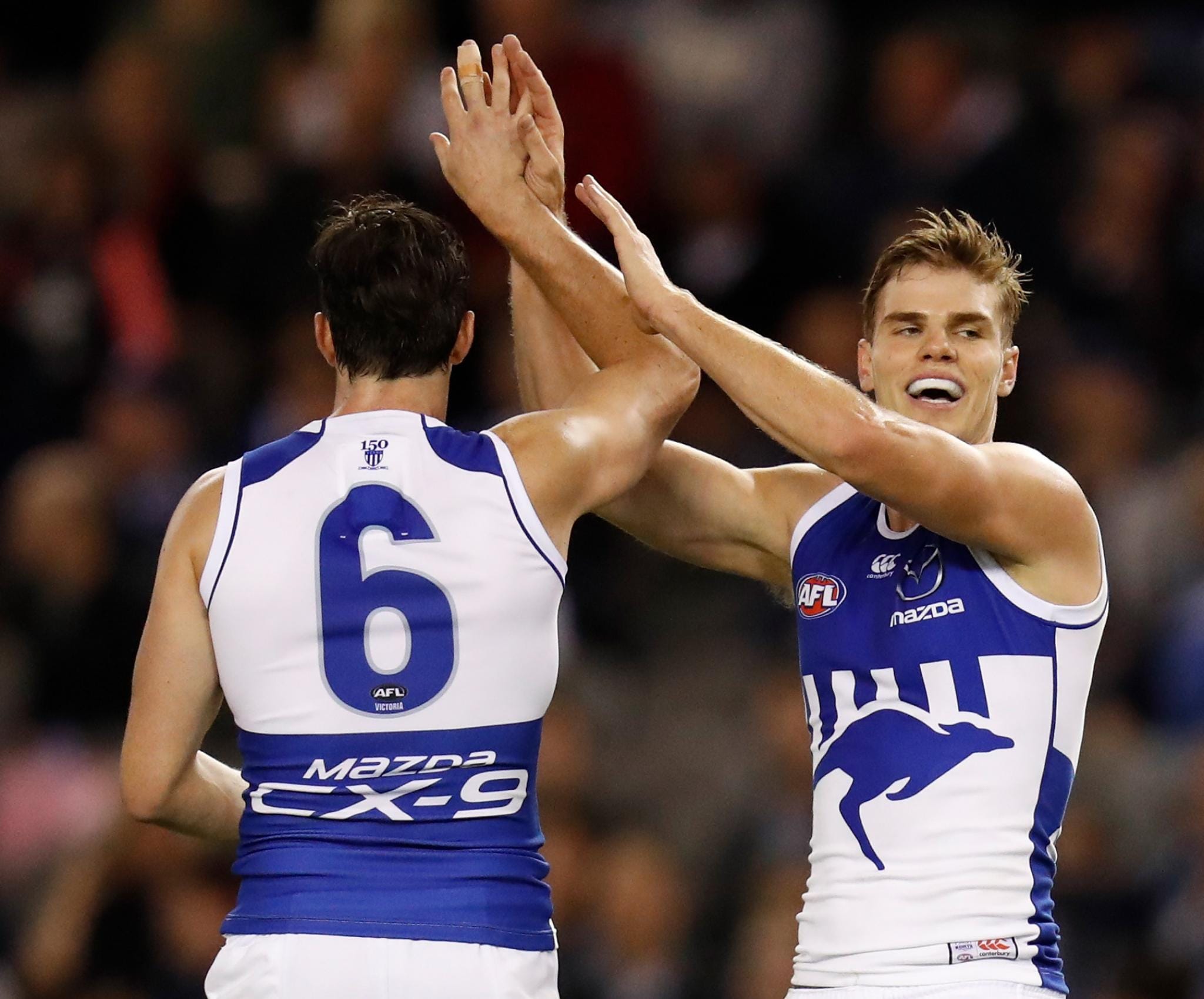 Garner's glimpses, particularly in the 2017 season, when he played what was comfortably a personal-high 18 matches, were exhilarating at times and hugely promising at others.
At a club admired most for its blue-collar approach, his marking ability, high talent and general flair stand out like one of Caleb Daniel's duels with the competition giants.
The former Dandenong Stingray thought he had basically beaten his injury curse when he spoke to AFL.com.au at the start of the 2018 pre-season.
Instead, there were repeat setbacks.
Hip and groin problems bothered Garner throughout that pre-season and he regularly either missed sessions or trained inside away from his teammates.
He had a delayed start to the season, then his troublesome hamstrings almost immediately cut his return short in another tough blow.
The unfortunate tone was set for Garner's campaign, and he failed to add to his AFL games tally despite none of his injuries being considered serious.
"It was frustrating, because I did try to get back and I probably played half a game and three quarters of a game in the VFL, then I'd hurt myself (again)," he said.
"Hindsight is a beautiful thing and you could probably just wait an extra week, but I didn't do that back then."
Garner marks strongly against the Blues. Picture: AFL Photos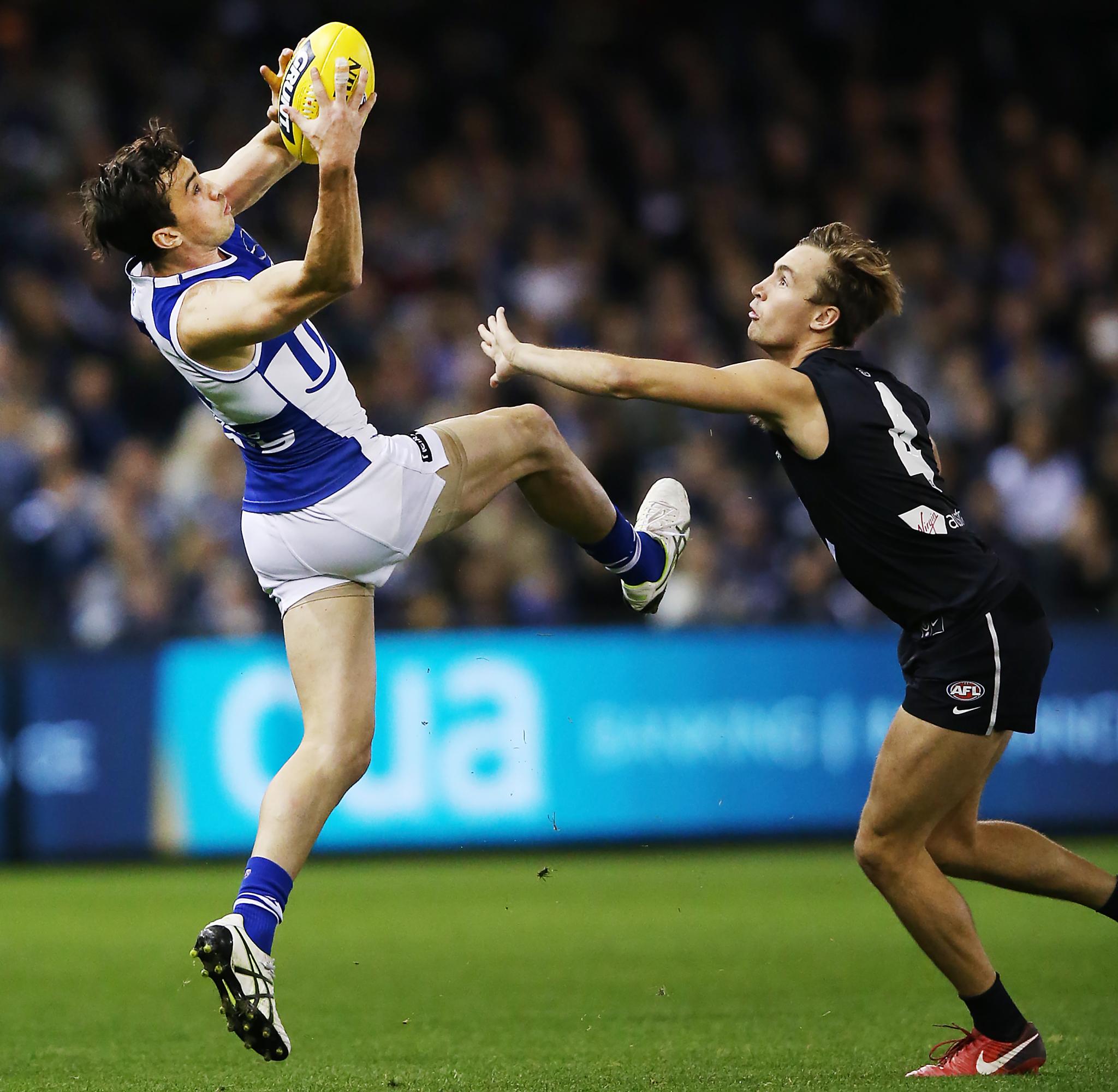 North's head physiotherapist Matthew Turnbull, rehabilitation manager Daniel Jones and another physiotherapist, Kristian Waller, accompanied Garner on a fact-finding mission to Canberra late last year.
The purpose was to meet with Craig Purdham, considered the 'godfather' of sports physiotherapy in Australia.
Garner has new hamstring exercises built into his training schedule and it's by design that he has a lighter training load than most others – even if the shackles frustrate him on occasion.
"I obviously still had a few little hiccups in the pre-season but I've come good now and I think it's going to work well for me for the future," he said.
"Certainly for now (I have a reduced training program), but hopefully not too long into the future.
Garner didn't waste any time making his presence felt against the Blues, reminding everyone of his worth.
Two moments, in particular, in the second quarter demonstrated what he will add to the Roos' line-up, accounting for two of his seven score involvements.
In the first of them he gathered the ball at ground level near the goal line, danced around Liam Jones then – perhaps fortunately – found Tarryn Thomas with a worm-burner pass.
Better was to come, with Garner putting Jacob Weitering off balance, scooping up the loose Sherrin one-handed, tucking it into his left arm, fending Tom Williamson off with his right hand then dishing a handball to Kayne Turner.
For all of his aerial feats, he is perhaps even more impressive in the contest.
"He's someone I suspect is rated higher internally than he is externally and that's probably just a function because he's missed so much footy," coach Brad Scott said of Garner post-match.
"There are guys who miss long periods of the game, with ACLs and different sorts of injuries, but they know they're going to be out for long periods.
"That certainly is a mental battle but when it's setback, after setback, after setback, it all adds up.
"Taylor hasn't played since round 22, 2017. That's true resilience, and I couldn't be more pleased for him."