BOOING at the footy.
In some ways, it is the game's most relatable topic, as anyone with a pulse has either done it, or felt the urge to do it.
And, two people may boo at the same time, at the same person or incident, but for entirely different reasons.
There's aggressive booing, gamesmanship booing, ironic booing, mob mentality booing, and as we unfortunately witnessed in 2015 with the embarrassing and hurtful noise directed at Adam Goodes, racist booing.
The more a troll is asked to stop his or her ways, the more they will seek to do it in increasingly different ways
I loathe booing. The only type I can tolerate is the one where a supporter group reacts to a player who has deliberately and playfully gone out of his way to get inside minds. Think Dermott Brereton at his peak.
Essendon supporters' post-match booing on Anzac Day was pathetic. And selfish.
BUCKLEY SLAMS FANS Shame on anyone who boos a champ
Spare me the reasons why. Don't care for attempts at justifications which will no doubt centre on perceived umpire bias, and perceived views that Scott Pendlebury, the standout best-afield, ducked his head and got a free.
That you, even amid the obvious stress and frustration of losing an important match by four points, couldn't control yourselves enough to realise that your booing was disrespectful of Anzac Day itself says all that needs to be said.
"Shame on anyone that booed a champion."#AFLDonsPies pic.twitter.com/3RiVXlaxDY

— AFL.com.au (@AFLcomau) April 25, 2019
This from the same supporter group which moralised and sooked it up big-time when opposition fans booed Jobe Watson in 2013.
Hawthorn supporters were only marginally better with what they subjected Gary Ablett to on Easter Monday. That came a week after Ablett had liked, and then instantly unliked, on social media a controversial religious post from Israel Folau.
Cheers and jeers: Gary Ablett turned it on during Geelong's clash with Hawthorn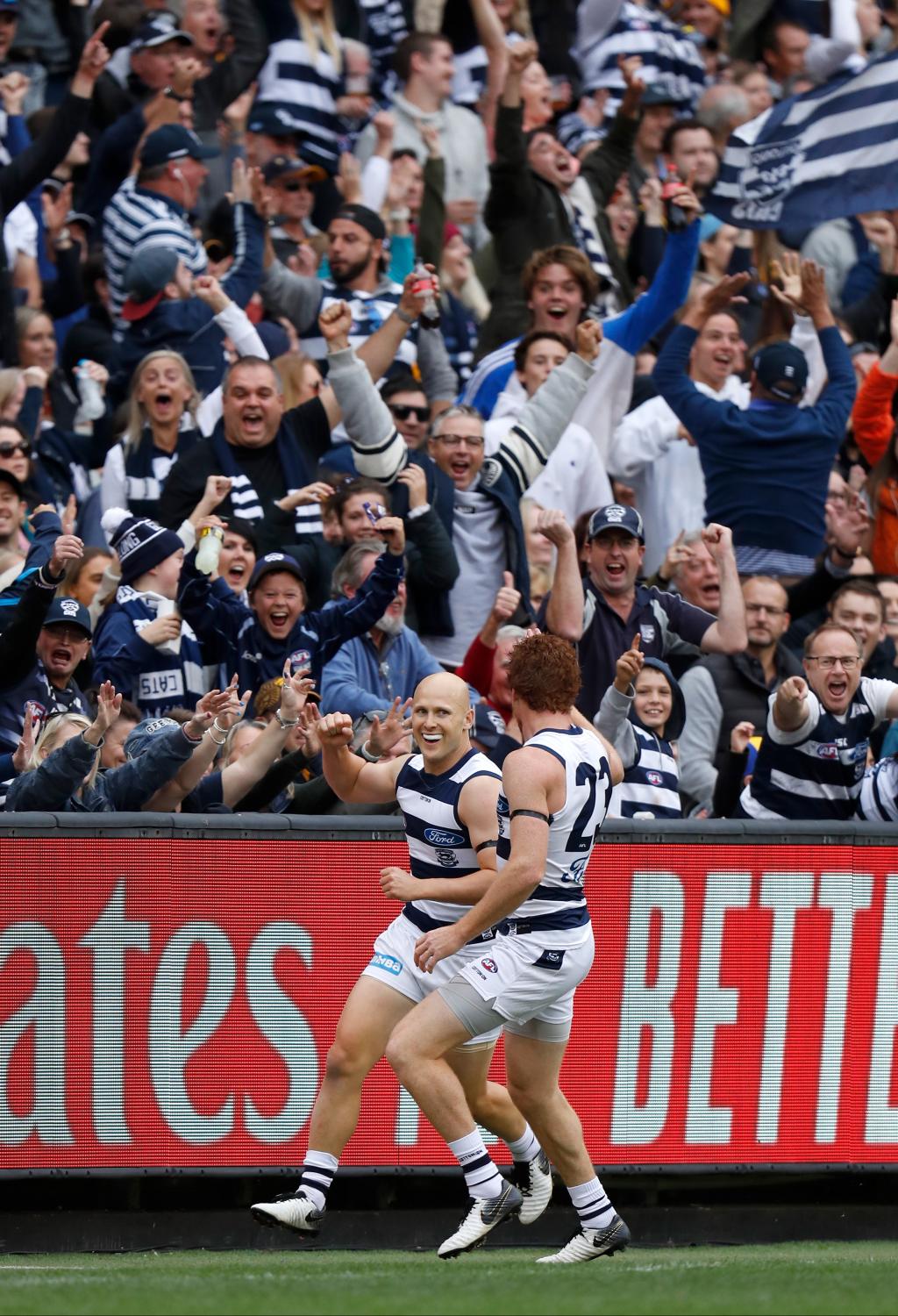 Ablett had publicly explained his actions. Agree or disagree with him, he provided a plausible reason for his actions. Surely it was enough for everyone to move on.
'I LOVE ALL PEOPLE' Ablett explains why he 'liked' Folau Insta post
The booing of 2019 could be seen as another version of trolling on social media.
Unfortunately, football's administrators can forget asking fans to stop. In true troll style, the more a troll is asked to stop his or her ways, the more they will seek to do it in increasingly different ways.
AFL SAYS Ablett booing 'very different' to Goodes
Ablett will be playing in Geelong this weekend, and thankfully will get a reprieve from the booing.
Hopefully, there are no issues with booing in his following game.
But that next match, round seven, is also Essendon's very next, also at the MCG.
Bombers fans, I won't dare tell you what you should and shouldn't do, but might you ponder the situation this time before your actions may lead to another game of football being remembered for the wrong reasons?
Find In the Game on Apple Podcasts, Google Podcasts or Spotify