IT'S THE late 1990s, and Sydney coach Rodney Eade decides to deliver a rare rebuke to his superstar full-forward, man-mountain Tony 'Plugger' Lockett.
Eade gets on the phone to team runner Brendan Riseley on the interchange bench.
"Go out and tell Tony that if he doesn't chase, I'm going to take him off the ground!" Eade barks. "I'll be watching, so make sure you tell him."
This places Riseley, an experienced runner and a mate of Eade's, squarely between a rock and a hard place. The runner is aware of the coach's volatility, particularly when his demands aren't met. But fresh in his memory is Lockett's searing response to an Eade directive a few weeks earlier.
On that occasion, the legendary spearhead had given away several free kicks after crashing into opponents who courageously stood in 'the hole' in front of him, and in one contest the casualties had included teammates Dale Lewis and Michael O'Loughlin (an Eade favourite), so Riseley was sent out to tell Lockett to be more judicious.
"F***ing free kicks?!" Lockett thundered. "If they want to f***ing stand there they'll cop it every f***ing time! You tell him that's just the f***ing way it is!"
When Eade had inquired about Lockett's reaction, Riseley employed some judiciousness of his own, casually saying, "Yeah, Plugger's okay with that."
Erm, Plugger, a quick word? Picture: AFL Photos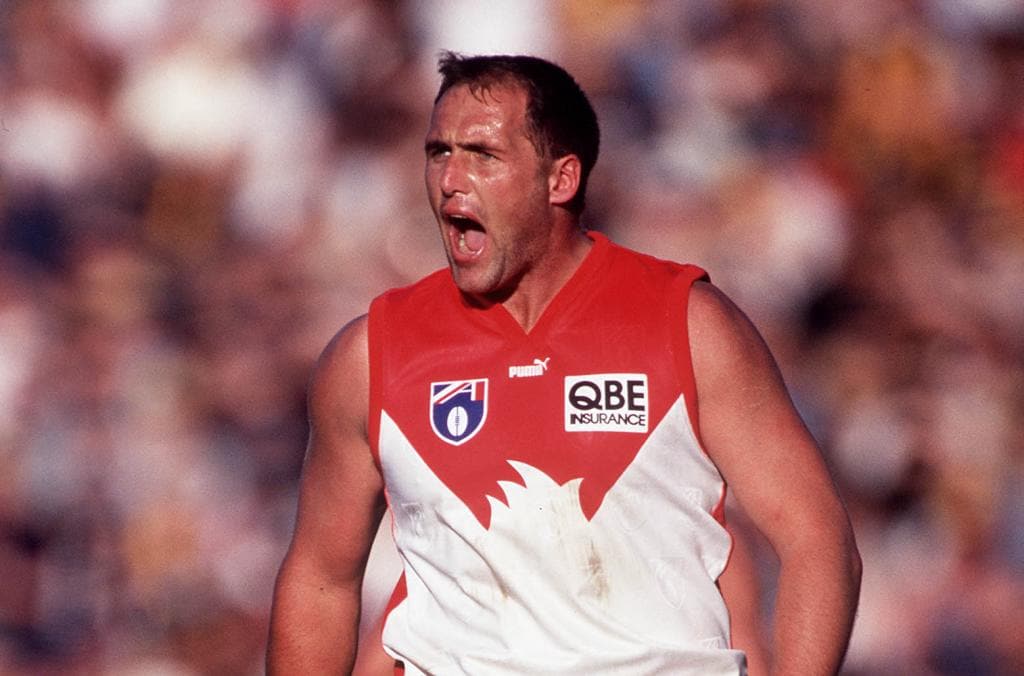 So the runner will use more creative license in this interaction with Lockett. Instead of ordering him to chase his opponent, Riseley pats the big man on the backside and urges: "Keep it going, mate – you're going all right."
***
Now 56, the affable Riseley recalls: "There was no way known I was going to tell Plugger to chase. I knew what was good for me."
That was when Riseley was working for his fourth AFL club.
He would finish up running for nine clubs from four states, tallying more than 400 games in 24 seasons. It's a set of numbers which still stand as League records.
Running man: Brendan Riseley's career as a team runner

| | | | |
| --- | --- | --- | --- |
| Club | Seasons | Coach | Finals campaigns |
| Brisbane Bears | 1991-94 | Robert Walls (seniors), Rodney Eade (reserves) | 1 (reserves premiership) |
| Fitzroy | 1995 | Bernie Quinlan | 0 |
| North Melbourne | 1996 | Tony Elshaug (reserves) | 1 (reserves premiership) |
| Sydney | 1997-2002 | Rodney Eade | 4 |
| Carlton | 2003-07 | Denis Pagan | 0 |
| Western Bulldogs | 2008-10 | Rodney Eade | 3 |
| Melbourne | 2011 | Dean Bailey | 0 |
| Collingwood | 2013 | Nathan Buckley | 1 |
| Gold Coast | 2015-16 | Rodney Eade | 0 |
What does it take to be an AFL runner?
Shuttling in-game messages between the coach and players, runners were footy's answer for decades to the unique communication challenge posed by the game's speed and sprawling grounds.
If I got to quarter-time and I hadn't copped a spray, I thought I was going okay.
Among Riseley's prerequisites for a runner are fitness, a knack for message interpretation and delivery, relationships with players and the coach, and even memory (a co-runner lasted only two games because he kept forgetting messages).
"You don't need to be super-quick – I was never quick – because it's not just a matter of running out and running back," he said.
"In that two-minute period lots of things can happen, and the coach might change his mind. It's never straightforward.
"If I got to quarter-time and I hadn't copped a spray, I thought I was going okay. Something went wrong most quarters."
Riseley ran for an incredible 400+ games across 24 seasons. Picture: Wayne Ludbey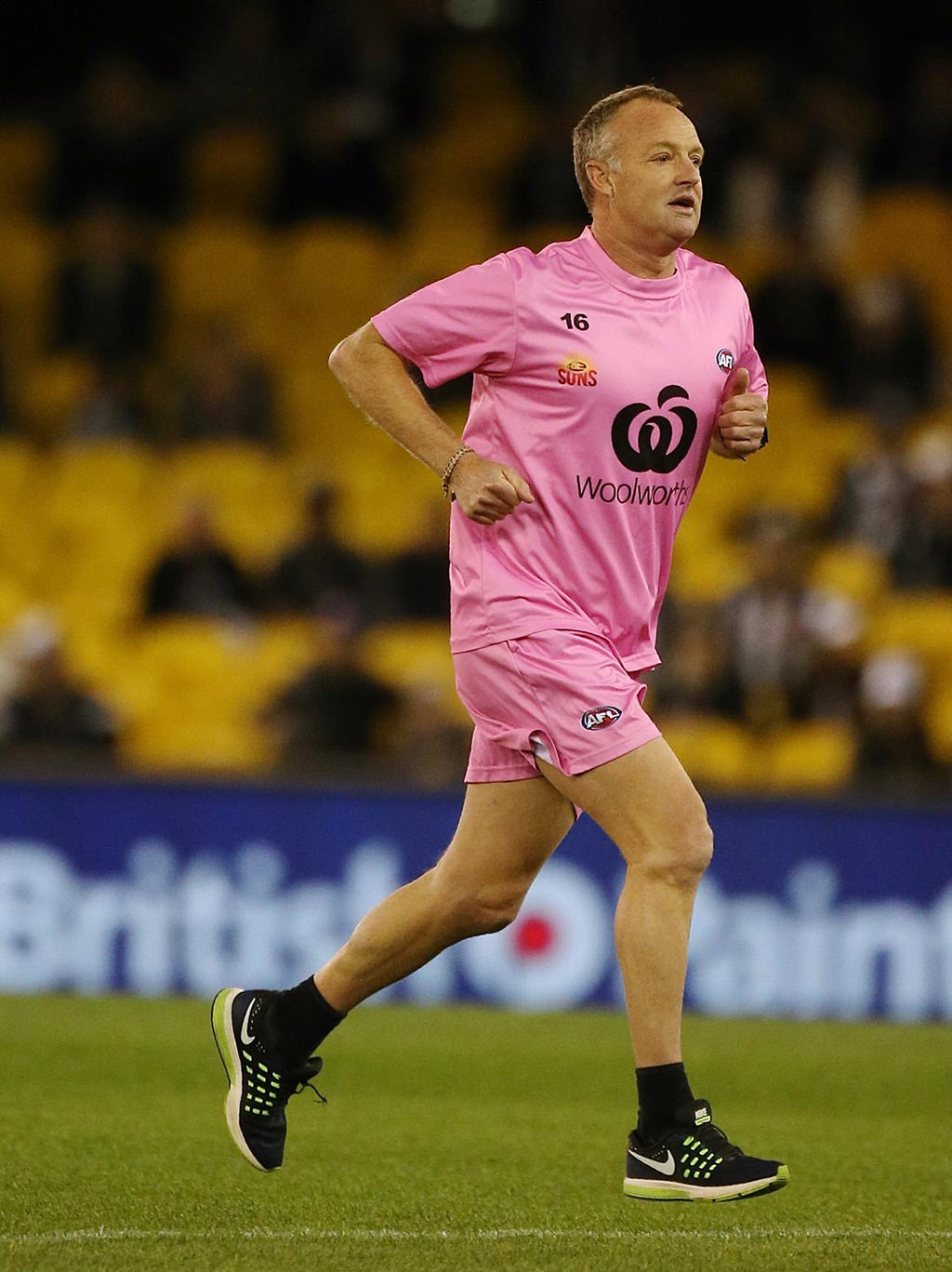 Never have a go at umpires or the opposition
Riseley became a runner by accident.
Originally from Beaumaris in Melbourne's south-eastern suburbs, the St Bede's College student played for then VFA club Mordialloc and spent two seasons with St Kilda's under-19s before returning to local level.
"I was a half-forward, a left-footer, who played very carefully," Riseley said.
Along the way he picked up the nickname 'Drugsy'. It came after he was knocked out in a St Kilda under-19s game. When he regained consciousness, someone said he looked like he was on drugs.
Through mutual friends he became mates with Fitzroy duo Matt Rendell and Scott Clayton, later sharing a house with them. He was soon introduced to Eade, an old mate of fellow Tasmanian Clayton, and they clicked.
Riseley (r) with Rodney Eade, for whom he ran at four clubs. Picture: supplied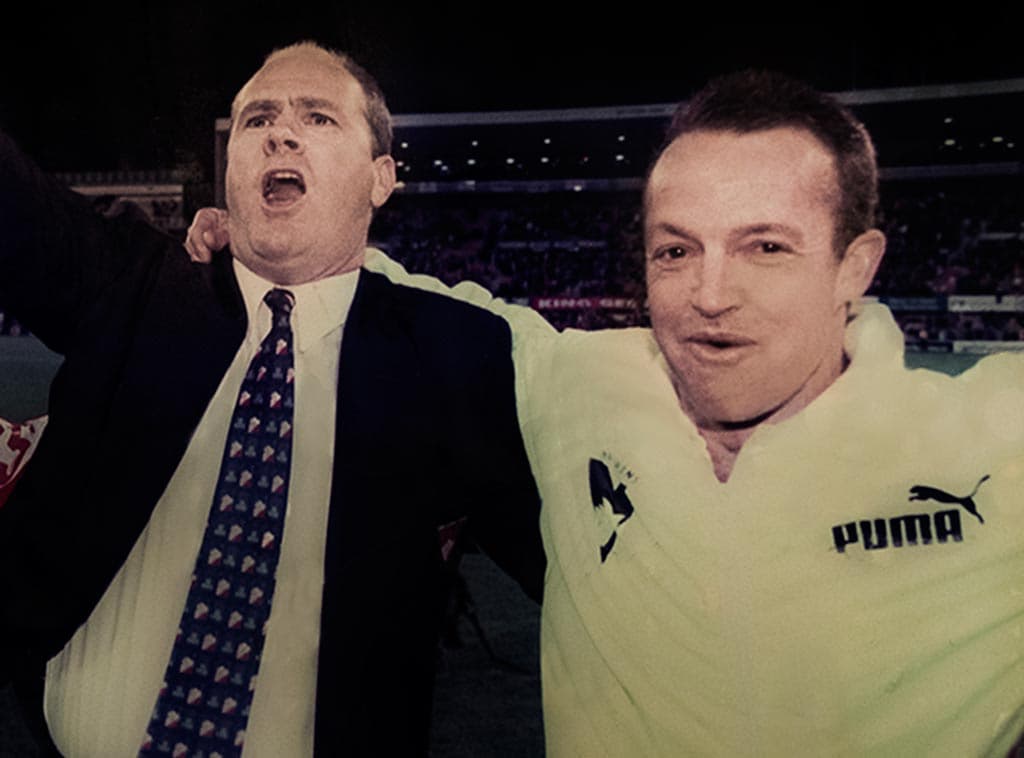 Eade, who played in premierships with Hawthorn before joining the fledgling Brisbane Bears, hung up his boots in 1990 and was promptly appointed coach of the Bears' reserves. He needed a runner so he enlisted his mate Drugsy.
Riseley was thrown in the deep end. The away-game runner for the Bears' seniors, Jim Christo (now commercial manager of A-League soccer franchise Melbourne Victory), copped an 11-month suspension for verballing an umpire. Newcomer Riseley gained both a cautionary lesson ("I made sure I never had a go at umpires or opposition players") and a swift promotion.
At season's end, with the 'Bad News Bears' finishing on the bottom, he would run for Eade's reserves team, which won the flag. But in the meantime, and for the next four years, he served as the on-the-road messenger for the formidable Robert Walls, who'd won premierships at Carlton as both a player and coach. (The Bears' home-game runner was the late Rob Dickson, a former Hawthorn and Brisbane player who later became a decorated filmmaker.)
When the coach is sacked, the runner goes too
A sobering memory was a 1992 game at Geelong. Cats star Ken Hinkley was dominating in defence so Walls sent Riseley to tell Hinkley's opponent Peter Worsfold to "slow him down". Soon after, Worsfold knocked out Hinkley – an act that resulted in a six-game suspension, and another point to ponder for Riseley.
"I thought, 'Is this my fault?' The message was completely misinterpreted, but it got me thinking about how players might interpret certain messages," he said.
The record-breaking runner remains a fitness fanatic. Picture: Adam Trafford, AFL Photos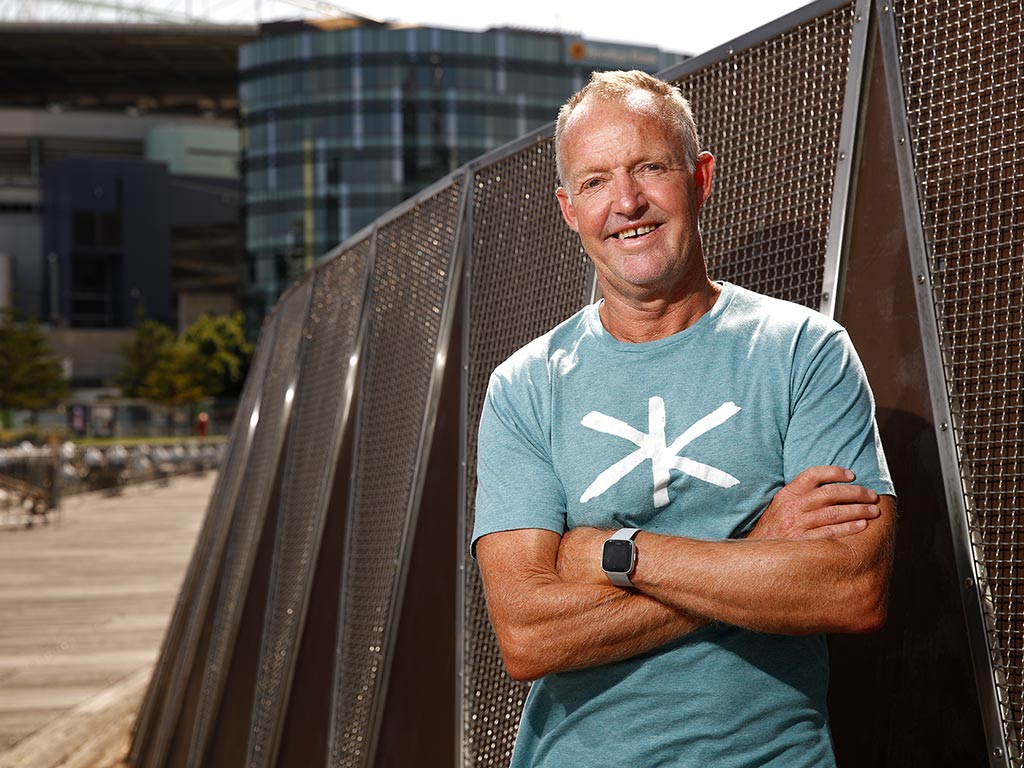 A friendship with Brownlow medallist Bernie Quinlan, a neighbour and cycling partner of Riseley's, led to him joining Quinlan for his 19-game coaching stint at Fitzroy in 1995. As would always be the case, once the coach was sacked, the runner left too.
"I was loyal to coaches, and sometimes the new coach wanted his own people anyway," he said. It seems Riseley's services were always wanted somewhere.
Great mate Alex Ishchenko, then a ruckman at North Melbourne, helped him get his next gig as the Kangaroos' reserves runner and another premiership followed.
Eade, who had just taken Sydney to a grand final appearance against North, then offered Riseley the senior running job.
The Swans' previous runner had been Craig Holden, who also juggled the roles of fitness coach and selector. When Riseley arrived for his first game he was expected to take the team for the warm-up – a first for him. All they got was a few minutes of basic stretches and exercises.
"It was the first and last time they got me to do the warm-up," he said. Thereafter, Riseley would help Lockett get into game mode by kicking a ball at him as hard as he could in the rooms.
It gets heated with the players, but never personal
Eade said of Riseley: "He was a very good runner who understood the personality of the coach and he had a great rapport with the players, and still does. Runners need a thick hide at times and he certainly had that, along with being upbeat and positive and smart enough to interpret messages the right way while keeping those strong relationships."
The pair still had their moments. There was the game where Riseley twice told key forward Jason Mooney to go to the bench, but Mooney refused on both occasions. Eade told Riseley: "Either he comes off or you're sacked," which didn't bother Riseley, who joked he received such threats every second week. In any case, Eade ultimately directed his anger towards the insubordinate Mooney.
It could get heated but was never personal. "The players knew it wasn't me saying it – it was straight from the coach," Riseley said.
Don't telegraph your messages like a traffic cop
Riseley reunited with former North Melbourne mentor Denis Pagan at Carlton. The runner was a Blues fan but the romance soon fizzled as the club endured one of its darkest periods.
At his previous clubs Riseley was only expected to attend on match day, but more was required at Carlton.
"After we got smashed, which happened quite often, Denis would want me at training just for a laugh because they were copping it," he said.
Very poor running, Brendan. Like a crippled duck.
Pagan revealed Riseley's importance to club culture: "He played such a significant role with us at Carlton when the whole joint was toxic. He really held the place together for a little bit, I reckon. I really enjoyed my time with him – he's a very, very funny man."
Riseley was also amused by Pagan, at his own expense.
The two-time premiership coach regularly highlighted the runner's lack of pace on game day, once offering the following critique: "Very poor running, Brendan. Very slow. Like a crippled duck."
'Do you think you're a traffic cop?', Denis Pagan once asked Riseley. Picture: Wayne Ludbey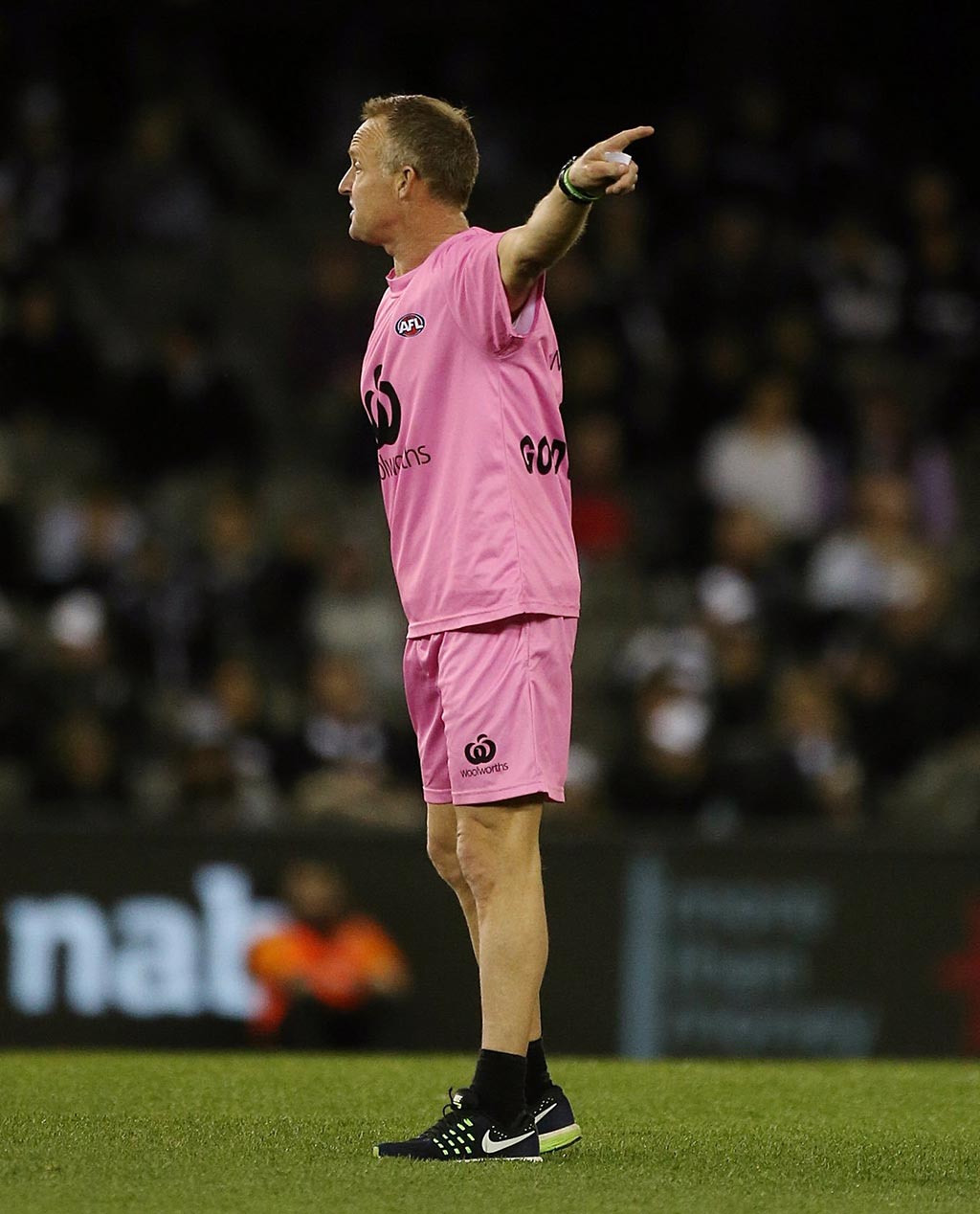 Another time Pagan declared: "I'm gonna ring [then-MCG chief] Stephen Gough on Monday and tell him there's quicksand in the middle of the ground. There must be, the way you're moving."
In a game against Collingwood, Riseley was instructed to quickly swap the full-back and the full-forward, but he wasn't subtle enough for the coach's liking.
"Do you think you're a traffic cop?" Pagan raged. "You telegraphed it to everyone! We should just walk up to the Collingwood coaches' box and tell Mick Malthouse direct! It'd be a lot quicker too!"
After a miscommunication early in a game, which Riseley still insists wasn't his fault, Pagan fumed: "It's gonna to be a long day today, Brendan, isn't it? Is this amateur hour? If you continue on like this you're gonna cost people their jobs, son."
In 2007 Pagan also taunted him in jest: "I can't wait for Rodney Eade to get the Bulldogs job because it'll mean you won't terrorise me any more." Eade did get the Bulldogs job and, given Pagan had lost his by then, Riseley once again worked with 'Rocket'.
The players train hard and they don't need you to muck it up
Despite successive preliminary final appearances from 2009-10, Riseley left the Bulldogs because he felt Eade was being undermined. The next year, when Eade was sacked, Riseley ran for Melbourne until Dean Bailey was axed, and had another single-season stint at Collingwood.
He noted that he never copped a spray from Bailey or Magpies boss Nathan Buckley.
After leaving Collingwood, Riseley underwent life-saving open-heart surgery at 52 and spent a year out of the game. But that didn't stop him from joining Eade at a fourth club, Gold Coast, the very next year.
"Well, you can't stay idle for too long; you've gotta get yourself moving," fitness fanatic Riseley explained.
At half-time Rocket said: 'I'm gonna have to sack you'.
Riseley's running odyssey, along with Eade's AFL coaching career, ended at the Suns in 2016. But not before coming to attention for the wrong reasons, giving away free kicks in successive games for walking across the mark in the first instance and then being too close to the play.
"I got booed off Metricon Stadium, and Foxtel were all over it. At half-time 'Rocket' said: 'I'm gonna have to sack you.' That night I had 50 messages from all sort of characters – Shaun Higgins (Bulldogs), Alex Ishchenko, Adrian Gleeson (Carlton) – saying: 'You're past it now' and 'They only kicked five goals and you kicked one of them.'
"I felt bad – not for myself but for the team. They train hard and they don't need an official to muck up. Just like the Collingwood runner (Alex Woodward) in the (2018) Grand Final – that's the worst thing that can happen."
Magpie runner Alex Woodward with Mason Cox during the Grand Final. Picture: AFL Photos

HE CAN'T BLAME HIMSELF Buckley consoles Grand Final runner
Is time running out for footy's messenger men?
Though he found his largely thankless job rewarding, Riseley never took running too seriously, knowing his involvement in footy could end at any time.
"It wasn't my career," he said. "My livelihood was always my cleaning business."
"I've always loved my footy and being a runner was a way to be involved at the elite level. I was just lucky to be part of it.
Now we might as well not have runners at all.
"I was at a few losing clubs and others that had some success. Big clubs, battling clubs, new clubs, you name it. But at every club you meet great people and you form relationships with professional athletes, and you realise how normal everyone is.
"It's no different to being the runner for your local footy club – except for the bigger crowd, the atmosphere and the higher stakes. Riseley no longer has any football involvement but remains fit. And he no longer does triathlons as he once did in pre-season ("Denis would've flipped if you rolled up fat!") but still surfs, swims, cycles and runs. "(Fitness) is a lifestyle," he said.
He estimated he'd run for about 75 per cent of game time and cover up to 15km – as much as some players. Such a workload will become a thing of the past given the reduced role of runners in the modern game, but Riseley isn't protective of his old craft.
"On average they'll go out there only about 25 times (after goals), so we might as well not have them at all," he said.
"I'm just glad I was fortunate enough to do it for so long."
BROWNLOW AND OUT Why five medallists missed the following season