HAWTHORN captain Ben Stratton will miss the next two matches, after he was suspended a game each for pinching Orazio Fantasia and stomping on Shaun McKernan.
He will subsequently miss Hawthorn's blockbuster fixtures against Sydney at the SCG on Friday night and against reigning premier West Coast at the MCG the following week.
'HE LET THE CLUB DOWN' Hawks CEO condemns skipper's behaviour
A "remorseful and embarrassed" Stratton pleaded guilty to both charges, essentially throwing himself at the mercy of the AFL Tribunal during Tuesday night's hearing.
Having heard both cases concurrently throughout the evening, the Tribunal deliberated for just 10 minutes before handing Stratton a one-match sanction for each charge.
FULL FIXTURE Every round, every game
"As captain of the footy club and as a player of the AFL, I understand it's not a good look for the game," Stratton said after the hearing.
"Especially for the kids who watch at home … I'm extremely remorseful for my actions.
"I never meant to go out there and hurt my opponent. I just want to play in the hardest manner possible.
"I accept the two weeks that the Tribunal has come up with. I'll just be head down, bum up … there's no point complaining about it because we've got a match on Friday night to win."

The hearing began with footage being shown of Stratton repeatedly pinching and prodding Fantasia on six separate occasions throughout Friday night's fiery encounter.
A medical report from Essendon was then read, with the club saying neither Fantasia nor McKernan were treated for any reason as a result of Stratton's actions.
Find AFL Exchange on Apple Podcasts, Google Podcasts and Spotify.
It ended up being the only evidence heard throughout the night, with the Hawthorn defender surprisingly not called to provide evidence despite the unusual nature of both of his misdemeanours.
The AFL's legal counsel, Jeff Gleeson QC, labelled Stratton's actions in pinching Fantasia as "deliberate, calculated, considered and sly" and argued for a one-match suspension.
He suggested that a ban should be delivered based on the harm it has caused to the game, given the immense focus and spotlight put on the incident in the match's aftermath.
However, Stratton's representative, Peter O'Farrell, said pinching was on the lower end of the spectrum for 'serious misconduct' charges. In doing so, he argued that his actions were more "annoying" than anything that could have caused his opponent a serious injury.
He subsequently argued for a fine of between $3000-5000 for pinching.
Fantasia was left with bruising and welts on the back of his left arm. Picture: Channel Seven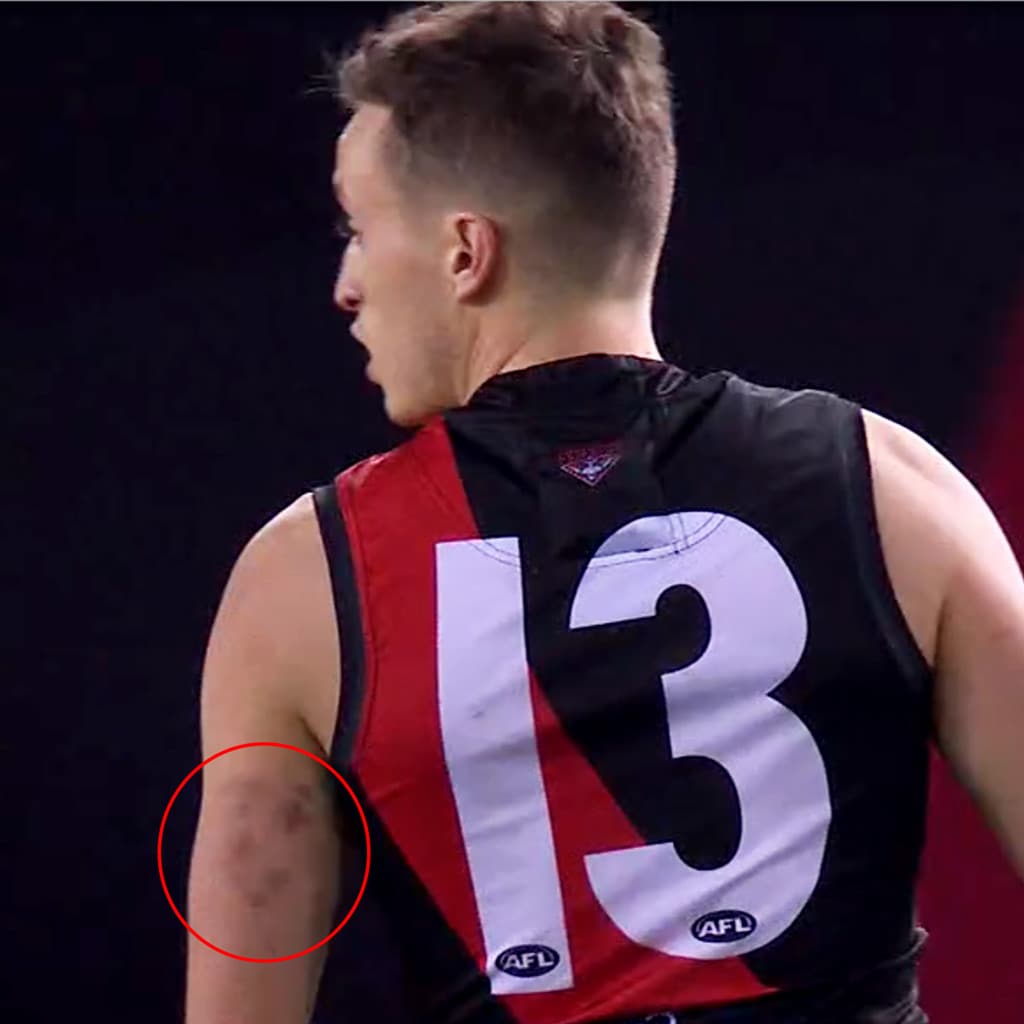 Gleeson later agreed that Stratton's stomp on McKernan was a "spur of the moment" decision, saying that it was in retaliation to contact made by his opponent.
But he again argued that Stratton should serve a one-match ban for his actions, suggesting the stomp had the potential of causing the Essendon ruckman a serious injury.
O'Farrell countered by saying the reaction of McKernan and Essendon's medical report demonstrated that it was a low-level stomp, again submitting for a financial sanction.
However, the Tribunal deliberated for only a short period on both incidents, before agreeing upon handing Stratton a one-match suspension for each charge.