IN 2017, it was sheer jubilation for the Richmond faithful. The feeling was a little different this time.
The feeling among the 15,000-odd people in attendance at Punt Road Oval, just minutes away from where the Tigers won their 12th flag on Saturday, was a sense of satisfaction and pride.
Hello, Tiger Army! pic.twitter.com/L3PAUyzXNL

— Richmond FC (@Richmond_FC) September 29, 2019
Two years ago, no one expected it. Chastened by the experience of last season, when they were favourites to storm to the flag, then having dealt with a stuttering start to this campaign that saw them sit 7-6 amid a run of injuries that severely tested the club's depth, this premiership didn't come easy.
That's why chief executive officer Brendon Gale felt the way he did.
"One of the great things about premierships, I've discovered, is it's this feeling of absolute contentment," Gale said.
GRAND FINAL MATCH REPORT Orange crushed as Tigers roar again
"In our lives, whether it's business or relationships, you're always saying 'Could we have done something a bit better?' or 'Could we have done something a bit differently?'.
"It's full stop, there's nothing else. We've won. We're the premiers. It's a rare feeling of contentment, and peace."
Happy days for two-time Norm Smith medallist Dustin Martin.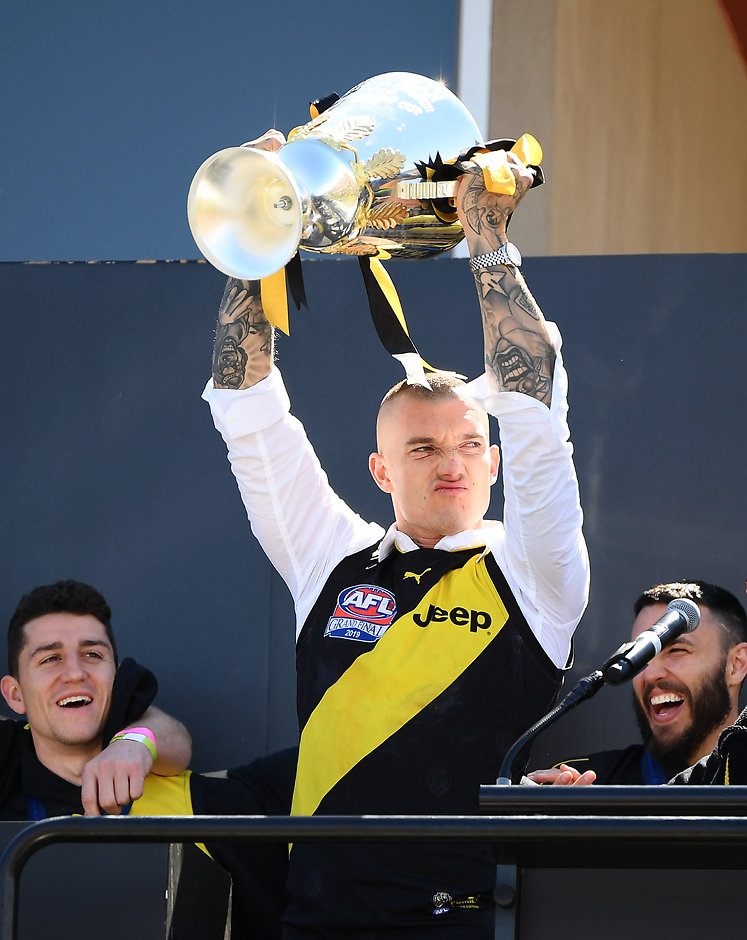 THE MOMENT How the Tigers got their Hollywood ending
There were celebrations all round for the yellow and black, with the successful VFL side presented first before the AFL team came out later.
Marlion Pickett appeared twice, having featured of course in both deciders in a story that will go down in footy folklore.
The debutant was without his premiership medal, but it was in a safe place.
"Left it with my old man," Pickett said.
WHO TORE IT APART? Every Tiger rated from their record Grand Final win
When presented to the adoring crowd, he barely showed any emotion, consistent with the no-frills attitude that has been evident throughout his (very) short career.
Superstar Dustin Martin was the opposite, hamming it up with the crowd (plenty of whom sported haircuts akin to that of the man who became a dual Norm Smith medallist) when he came out, still wearing the shirt he had on when he left the MCG on Saturday night.

When interviewed, he stuck to his line about how the great thing about Richmond is no one cares who gets the disposals or wins the plaudits, but then cheekily pointed out he booted four goals against Greater Western Sydney.
Even the most optimistic of supporters couldn't have dreamed of this scenario at the end of 2016, when the Tigers followed a triple-peat of finals failures with an abysmal season that saw all at the club placed under intense scrutiny.
Changes to the board were mooted, and president Peggy O'Neal admitted as much when she said "there were a few groups" looking to take charge.
Instead, Richmond held firm, and under the guidance of dual premiership coach Damien Hardwick, have set themselves up to become a dynasty.
A colourful Jack Riewoldt waves to the crowd.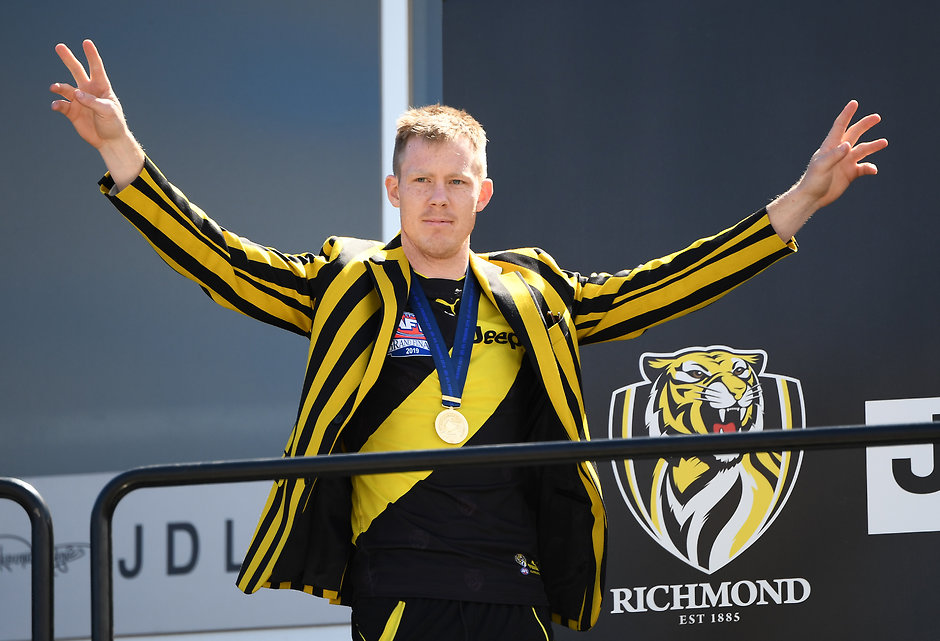 Gale didn't want to entertain any talk of the "D-word" but acknowledged further success could be on the horizon.
As he knows too well, though, nothing is guaranteed.
"Our list is well placed, it's the right age profile, we found some really exciting youth this year, out of adversity," Gale said.
ODD COUPLE How the Tigers' rucks orchestrated the Grand Final win
"Does that guarantee anything? No, it doesn't. We learnt that last year."
The Tigers don't have to worry about that for a while, though. They can relax and enjoy the absolute contentment that can only be achieved in football by winning the grandest prize.
Yellow and black!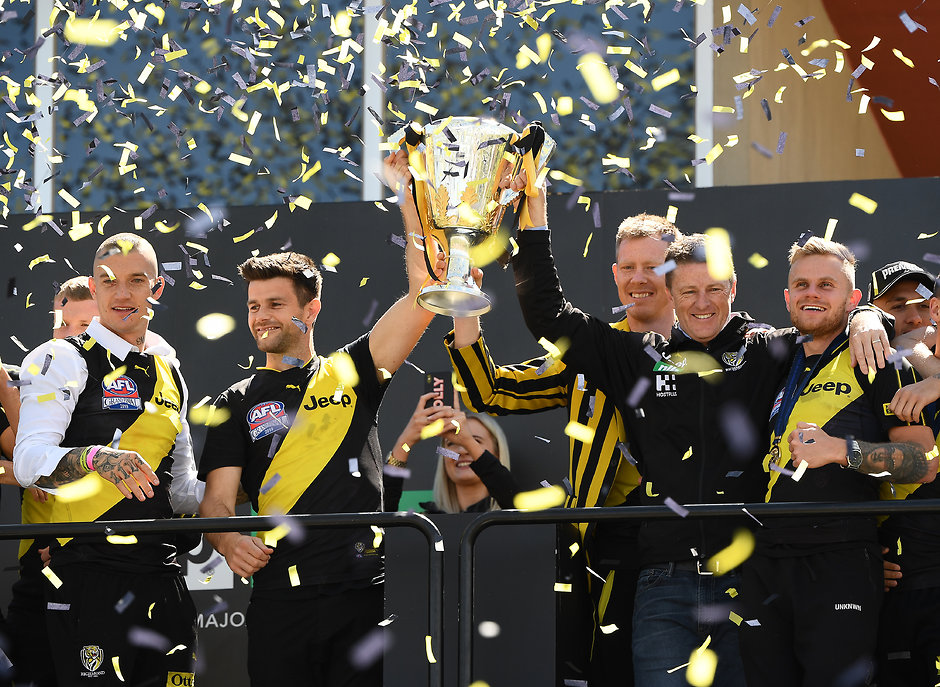 Tiger fans are loving life after a second premiership in three seasons.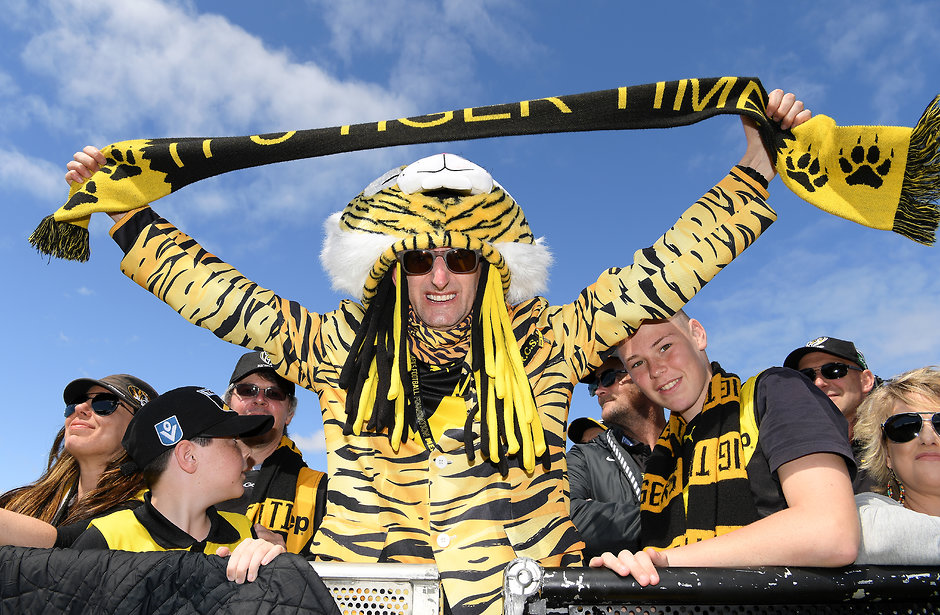 Richmond's 12 VFL/AFL premierships, ranked by winning margin

| | | | |
| --- | --- | --- | --- |
| Season | Grand Final | Margin | Norm Smith medallist |
| 2019 | Richmond 17.12 (114) d Greater Western Sydney 3.7 (25) | 89 points | Dustin Martin (Rich) |
| 1980 | Richmond 23.21 (159) d Collingwood 9.24 (78) | 81 points | Kevin Bartlett (Rich) |
| 2017 | Richmond 16.12 (108) d Adelaide 8.12 (60) | 48 points | Dustin Martin (Rich) |
| 1974 | Richmond 18.20 (128) d North Melbourne 13.9 (87) | 41 points | Kevin Sheedy (Rich)* |
| 1934 | Richmond 19.14 (128) d South Melbourne 12.17 (89) | 39 points | - |
| 1969 | Richmond 12.13 (85) d Carlton 8.12 (60) | 25 points | Michael Green (Rich)* |
| 1973 | Richmond 16.20 (106) d Carlton 12.14 (86) | 20 points | Kevin Bartlett (Rich)* |
| 1920 | Richmond 7.10 (52) d Collingwood 5.5 (35) | 17 points | - |
| 1932 | Richmond 13.14 (92) d Carlton 12.11 (83) | 9 points | - |
| 1967 | Richmond 16.18 (114) d Geelong 15.15 (105) | 9 points | Bill Goggin (Geel)* |
| 1943 | Richmond 12.14 (86) d Essendon 11.15 (81) | 5 points | - |
| 1921 | Richmond 5.6 (36) d Carlton 4.8 (32) | 4 points | - |
*Voted best and fairest before the Norm Smith Medal was presented from 1979