WEST Coast coach Adam Simpson has doubled down on criticism of Optus Stadium's hard surface, declaring the Eagles might have to stop training at the venue after key backman Tom Barrass became their last "victim" to a foot injury.
Simpson, who held reservations about the stadium surface before round one, fears Barrass could be sidelined for a significant period of time with a "stress-related" foot problem.
PORT THE 'RAINING CHAMPS' Full match coverage and stats
"He's another victim we have at the moment – the list is pretty healthy – but whenever we lose a player it seems to be a lower leg injury," Simpson said after the 42-point Good Friday loss to Port Adelaide.
"His foot, he's pulled up sore yesterday, so we're assessing whether it's another stress-related injury, which will be probably our seventh in the last 20 games.
"We're trying to work out why.
"We're going to have to stop training here (Optus Stadium), and that's pretty obvious.
Tom Barrass has become West Coast's latest 'victim' to a foot injury. Picture: AFL Photos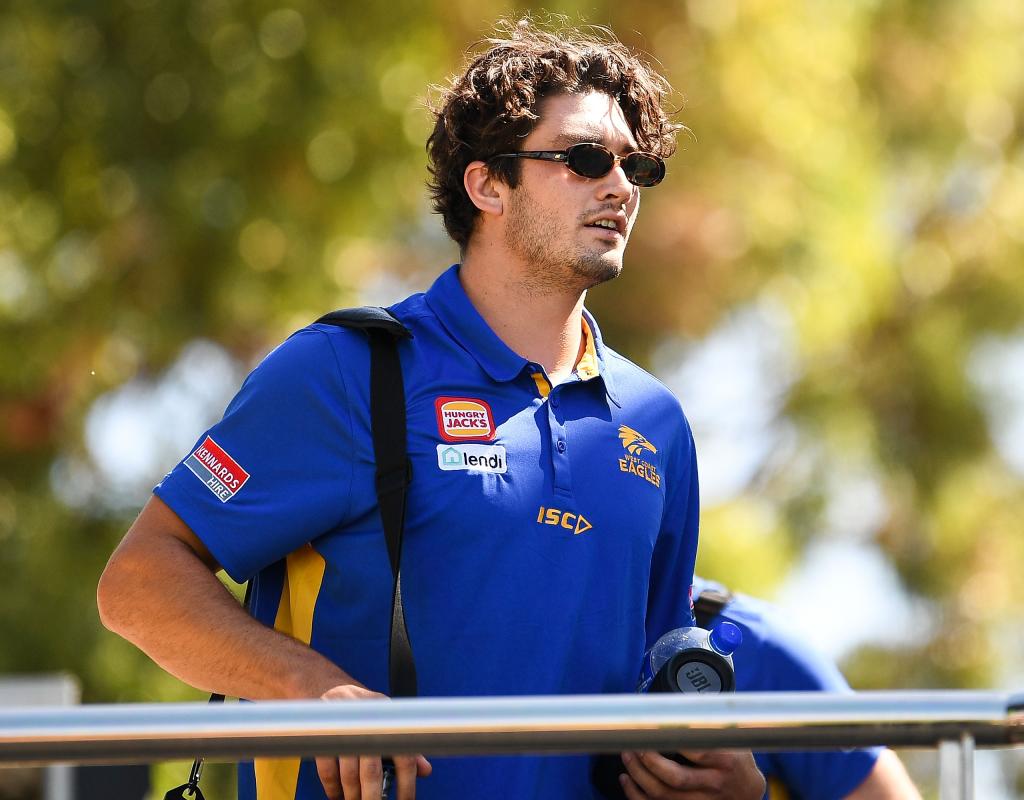 "It's a bit like when you get asked 'do you want to train at the 'G?'. Of course you do.
"But we're losing players so until that ground becomes better for both us and Fremantle, we might have to avoid training here."
Barrass battled foot soreness throughout last season and over summer, and West Coast has endured a spate of lower-leg problems over the past 18 months.
POWER BECOME EAGLE TAMERS Port finds chink in champion's armour
Premiership goalsneak Willie Rioli is currently sidelined with a foot problem, while Elliot Yeo and Jamie Cripps both underwent toe surgery during pre-season.
The Dockers haven't had similar issues, but have battled a plague of soft-tissue dramas.
"We train here a little bit more (than Fremantle), so we've just got to stop doing that," Simpson said.
"We think it's an advantage when we train here, we train here at night and try to get used to the conditions.
"It's a question we get every week now, 'are we going to train or is the ground a bit hard?'."
WATCH Adam Simpson's full post-match media conference
The Eagles generally train early in the week at Subiaco Oval before moving to Optus Stadium for main sessions and their final run.
During pre-season the club often holds sessions at its soon-to-be Lathlain Park headquarters, and could return there despite the two ovals also being firm surfaces.
"We can work on that. We can control that. We can't control this," Simpson said.
"Let's not take away what happened tonight, we got touched up and beaten by a better side who outhunted us and it had nothing to do with how hard the ground is.
"Let's park that, but Barrass is an issue.
"We're working really hard behind the scenes, but unless I get up here and talk about it nothing happens."
Find Trends on Apple Podcasts, Google Podcasts and Spotify