THE NORTHERN Territory will no longer have senior men's and women's teams playing in an interstate competition.
The AFLNT confirmed the decision on Thursday night to end NT Thunder's involvement in the NEAFL and VFL Women's competitions.
Thunder was established a decade ago "to utilise the power of Australian Rules Football in tackling anti-social behaviour, deliver educational outcomes and provide employment opportunities for Territorians".
The news blindsided the Territory community, including team sponsors and even the NT Government, which tips in almost $300,000 annually to help Thunder meet costs.
NT Thunder coach Heidi Thompson addresses her players.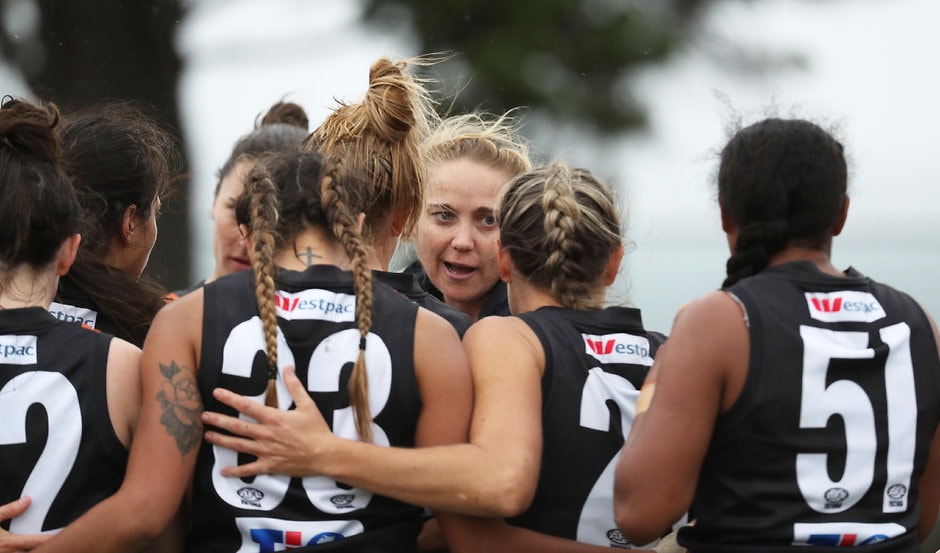 It is believed the financial demands played a role in AFLNT electing in recent weeks to wind up the Thunder program, which won two NEAFL premierships, but struggled on-field in recent seasons.
Another significant problem was the dwindling Northern Territory representatives in the AFL, with the number plummeting from 27 in 2010 to just 13 this season.
AFLNT chief executive Stuart Totham announced his five-year vision for Territory football in May, with one of the goals being to increase the number of NT players on AFL and AFLW lists.
They've been in negotiations with fledgling AFL club Gold Coast about a working relationship for the past year, and an announcement is imminent.
The Suns are set to gain access to Darwin as a Next Generation Academy zone as part of that, while an AFLW partnership with AFLNT is also in the works since the latter parted ways with Adelaide.
Find Trends on Apple Podcasts, Google Podcasts and Spotify
The AFLNT's statement said that its new talent pathway strategy would include:
An AFL club alignment (referring to Gold Coast)
Increased investment in talent programs
Investment in community football, club sustainability and coaching
Remote player access into programs
Totham said the AFLNT's decision on Thunder was a "difficult" one.
"I was part of the original team to set it up and over my three-year tenure saw plenty of hard work go into the club, and plenty of quality people have invested a lot of time and effort into the teams," Totham said.
"However, the evidence shows that we can't keep doing the same things and expect different results, so the time is right to pivot and to get more NT talent on AFL and AFLW lists, as per our strategic plan.
"To do that, we need to increase our commitment to NT football across all levels and across the whole of the Territory."
AFL.com.au understands Melbourne will continue to play home matches in the Northern Territory, but AFLNT officials ideally want a longer-term agreement than two-year deals.