FREMANTLE has sacked coach Ross Lyon and chief executive Steve Rosich has exited the club.
Lyon was contracted to coach Fremantle into 2020, but has failed to make the finals since 2015.
The Dockers become the fourth club to sack a coach in 2019, following North Melbourne, Carlton and St Kilda.
Steve Rosich addresses the media with president Dale Alcock. Picture: Getty Images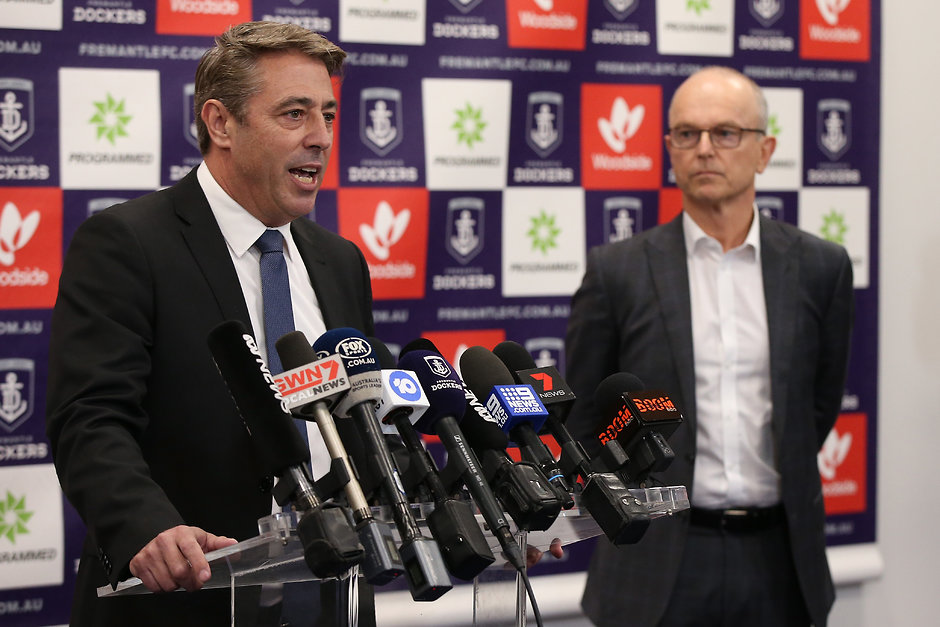 Lyon said he wanted to see out the final year of his contract.
"I would have liked to have finished next year," Lyon said.
"When we've had our best available, we've beaten six of the top eight. We've beaten Geelong last week with eight of our best 16 players out.
"That's why I probably don't agree with the decision, but I certainly respect the decision.
"For the reasons that there was no way that the club would extend me beyond 2020, with the noise around that, it was a lot for them. They wanted some clean air.
"They've made some big decisions that I don't agree with, but I certainly respect it." - Ross Lyon
The former Dockers coach said he wouldn't have been extended even if 2020 was deemed a success for the club.
"It was just really simple," Lyon said.
"They made the decision and from there, a lot of it are moot points.
"They understood the challenges with injury, they acknowledged that.
"They probably weren't prepared to go through next year knowing they wouldn't extend me, even if they were successful. That was a lot of pressure for the club to bear.
"There are a lot of threads that get wrapped into that, so I certainly understand that."
Ross Lyon coaching his final game as Dockers boss against the Bombers. Picture: AFL Photos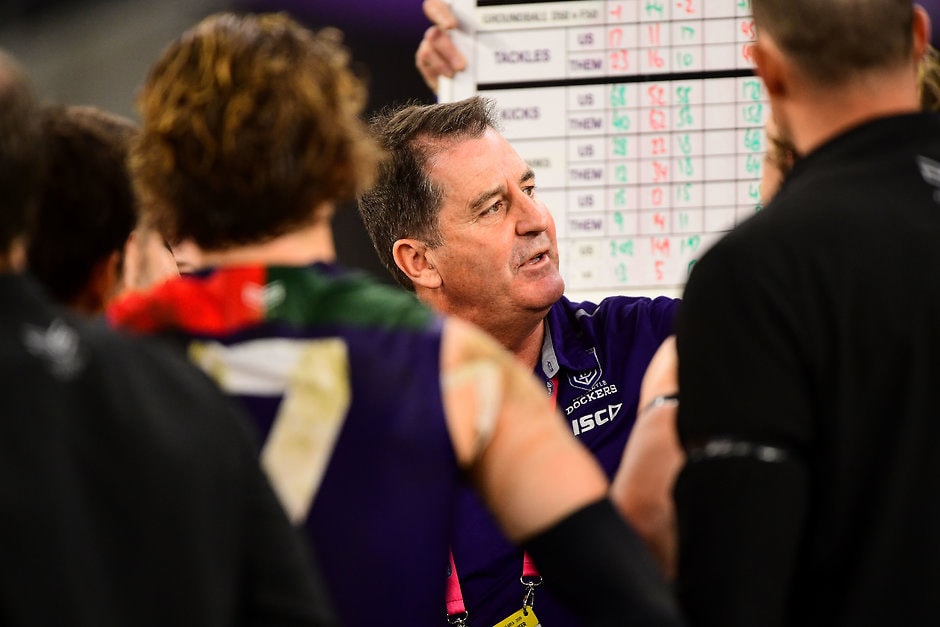 Lyon said he needs to gather himself first before thinking about continuing on as a coach elsewhere.
"It's not something I've thought about," Lyon said.
"I've loved the ride. I see it as three Grand Finals, having opportunities in three. We got smacked in the replay, but I've had great groups and driven them.
"I've been stretched. When I first got the job, (former St Kilda president) Rod Butterss said 'senior AFL coaching takes grown men to places they should never go'. At the time, I thought 'what are you talking about?' But now I understand that.
"I just want to keep trying to grow. It's a short ride, we're not here forever, so if I can keep improving then I've got something to offer somewhere. But I need to go gather myself."
Dockers president Dale Alcock said the board's decisions were in the best interests of the club.
"This isn't about one decision," Alcock said.
"It's not about particular wins and losses. This has been something that we have deliberated over the past months. Having arrived at a decision, we're now presenting it today.
"This is about the future of the club.
"As I've highlighted, both Steve and Ross leave a very strong legacy at this club."
Freo president Dale Alcock. Picture: Getty Images
Alcock said the club would be "treading water" next year if it did not terminate Lyon's deal now.
"The decision that we have made today in relation to our senior coach comes from us not being in a position to take our senior coach forward post-2020," Alcock said.
"We are concerned that if we did not make this decision today, we would be, in a sense, treading water for 12 months. We brought that forward and made that decision today."
Assistant coach David Hale will act as senior coach for the Dockers against Port Adelaide on Sunday, while chief operating officer Graeme Parker will act as interim CEO.
The search for a new senior coach will begin immediately and the selection panel includes Alcock, football boss Peter Bell, board members Peter Mann and Sue Murphy, as well as an external panel member.
AFL.com.au understands former Docker and current Collingwood assistant coach Justin Longmuir is the front runner to replace Lyon.
A separate panel to select the new CEO will include Alcock, Murphy, fellow board member Craig Carter and an independent fourth member.
"We are not counting anyone in or out of consideration," Alcock said.
"I've indicated that we're setting up these two panels, one for the selection of CEO and one for our senior coach. No one is counted in. No one is counted out. No one is anointed."
Ex-Docker Shane Kersten took to social media to post a "LOL" message following Lyon's sacking, after AFL.com.au revealed his exit from the club in July due to a fractured relationship with the former coach.
ROSS LYON TIMELINE
1985-95 – Played 129 games (127 with Fitzroy and two with Brisbane) and kicked 112 goals as a tough onballer and half-forward before succumbing to injuries at 28.
1996-99 – Assistant coach at Richmond under Robert Walls, his first coach at Fitzroy, and then Jeff Gieschen.
2000-2003 – Served as an assistant coach at Carlton under David Parkin, Wayne Brittain and Denis Pagan, and coached the Blues' VFL team, leading them to the finals in 2000 and 2001 and just missing out on percentage in 2002.
2004-2006 – Assistant coach at Sydney under Paul Roos overseeing an uncompromising midfield brigade that drove the Swans to their drought-breaking 2005 premiership and came within a whisker of back-to-back-triumphs.
2007-11 – Coached St Kilda to four finals series in five years and twice came agonisingly close to lifting the Saints to their second premiership: going down to Geelong by 12 points in the 2009 Grand Final, and drawing with Collingwood the next year before being hammered in the replay.
September 2011 – Lyon still had a year to run on his contract with the Saints when, without the knowledge of his management, which also managed Fremantle coach Mark Harvey, Lyon privately negotiated with the Dockers to replace Harvey before exercising an exit clause in his deal with St Kilda.
2012-2019 – Lyon immediately lifted Freo back into the finals, making the top eight in his first four seasons at the club. The high point was when he guided the Dockers to their first Grand Final, resulting in another narrow defeat for Lyon. After being minor premiers in 2015, Freo missed the finals in each of the next four seasons – the most barren stretch in Lyon's coaching career.
August 20, 2019 – Despite being contracted to 2020, Lyon is sacked.