BRETT Deledio says he has no regrets about his frustrating stint at Greater Western Sydney after the veteran announced his decision to retire at the end of the season.
Deledio's time at the Giants has been dogged by a host of calf, Achilles and hamstring injuries.
He had hoped to play on next year after a promising run of games in 2019, but the 32-year-old said on Thursday that knew he couldn't continue into his 16th season after he suffered another setback in last week's loss to Hawthorn.
His decision was finalised after a meeting with GWS coach Leon Cameron and footy manager and close friend Wayne Campbell this week.
Brett Deledio at training on Tuesday. Picture: Getty Images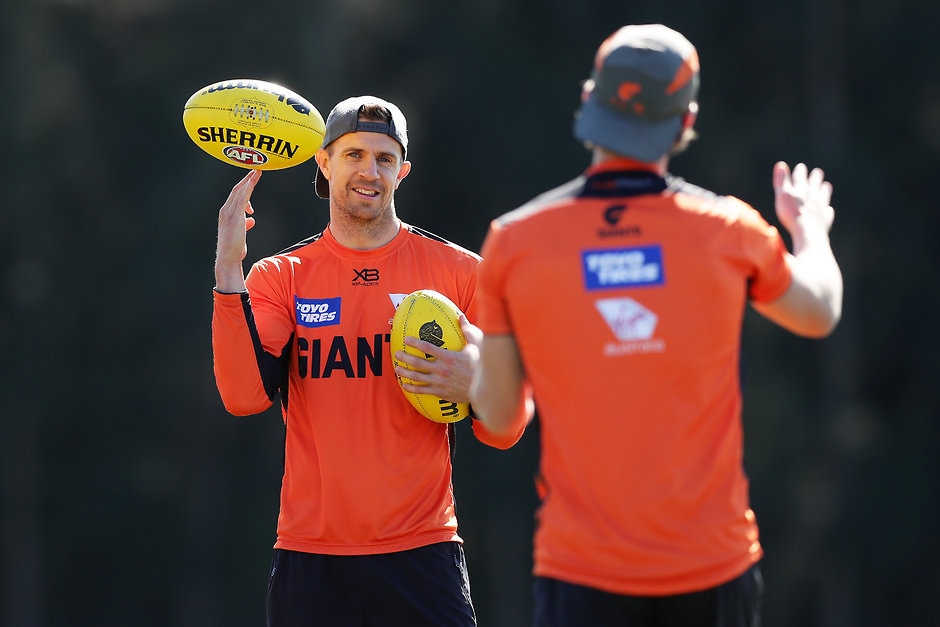 "As a professional athlete you trick yourself to think that everything is OK, and I tricked myself into thinking I could play this weekend," he said.
"Once the scan showed another tendon issue I had to come to terms that it was it for me.
"I was a bit down in the mouth because I wanted to play until I was 36 or 37 like Shaun Burgoyne, but it wasn't to be.
"I've left no stone unturned to get my calf injuries right, but I think I've had close to 30 recurring issues and nothing I've tried has worked.
"I had an honest conversation with Leon and Wayne that trying to scratch out another year just for the sake of it wasn't worth it."
I'm not giving up on this year, I'm hell-bent on getting back to play in the first final, and whatever will be, will be after that - Brett Deledio
Deledio is expected to be sidelined for at least a month with his latest calf tendon problem, and could need the Giants to play at least a couple of finals to have any chance of a farewell match.
"Let me stress, I'm not giving up on this year, I'm hell-bent on getting back to play in the first final, and whatever will be, will be after that," he said.
Brett Deledio in his 2015 All Australian year with former teammates Jack Riewoldt and Alex Rance. Picture: AFL Photos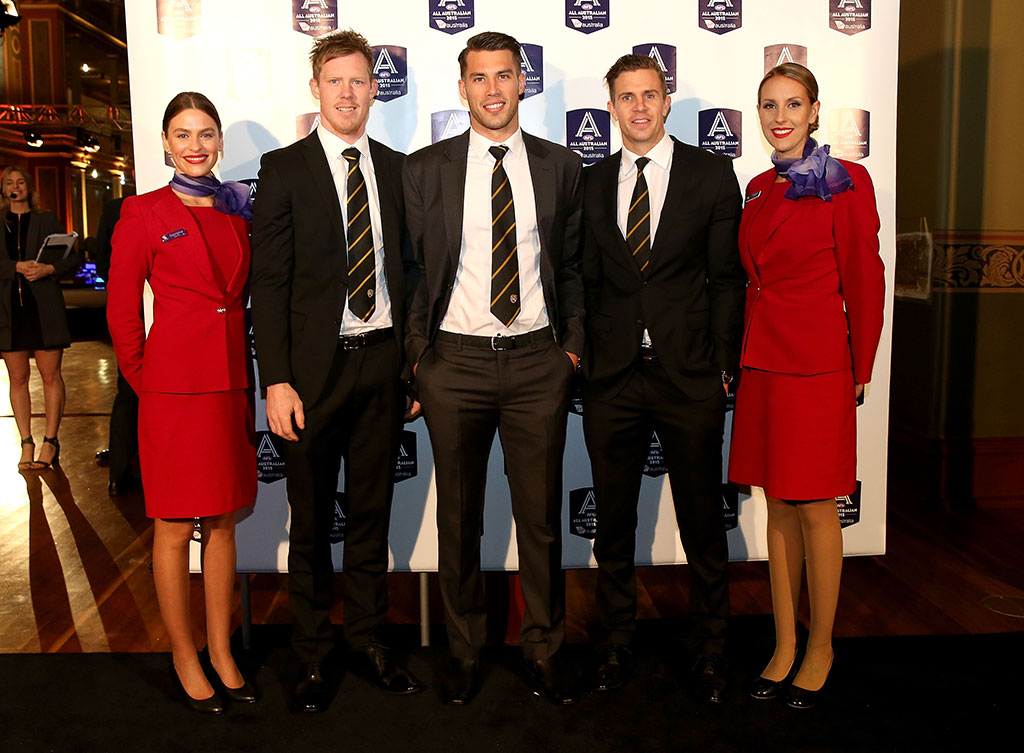 At his best, Deledio was an elite kick who was damaging on the wing and through the midfield at Richmond, and regularly found the scoreboard.
In 2012, he averaged 27.5 disposals per game and kicked 17 goals to earn his first All Australian blazer and earned himself a career-best 13 votes in the Brownlow medal.
A dual club champion and two-time All Australian as a Tiger, Deledio played 18-plus games in his first 12 years at Richmond and was a durable star of the competition, but the last four years have been extremely tough for the highly-skilled 32-year-old.
He managed just 11 matches in his final year at Punt Road because of a nagging Achilles problem, but his move to Sydney at the end of 2016 was expected to revitalise his premiership dreams.
However, persistent soft tissue problems limited the No.1 selection at the 2004 NAB AFL Draft to just seven matches in 2017.
Even more heartbreaking for Deledio, the Tigers defeated his Giants in the preliminary final on their way to a famous flag.
"It was hard, it was a day full of emotion," he said.
"My Achilles was giving me no love at the time and I think that was the hardest thing, you really pride yourself on playing well against your old team and it wasn't to be.
"It's really hard to concentrate when there's 95,000 people (at the game) and 94,500 of them are going for your old club.
"But that's in the past and I've moved on from all that."
Brett Deledio and Jordan Lewis in 2004 at the national draft camp. Picture: AFL Photos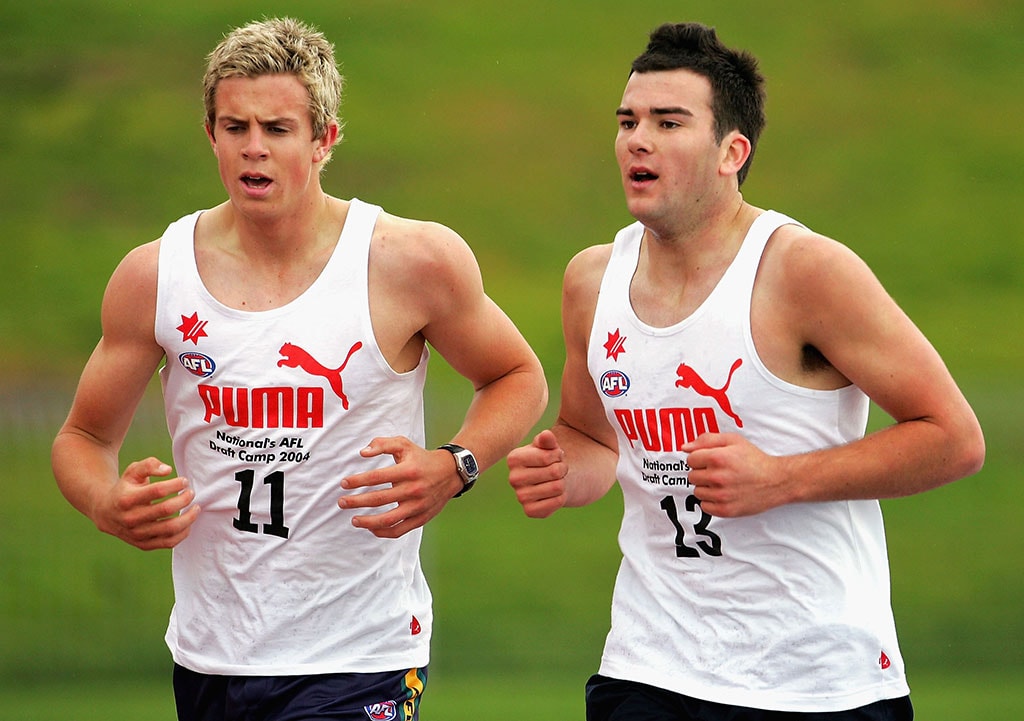 While his move north away from Richmond hasn't been everything Deledio or the Giants had hoped for, he said he doesn't regard the decision to switch clubs.
"I have absolutely no regrets because I was nearly beaten at the end of 2016, and I could quite easily have finished up then," he said.
"I'm incredible grateful to the Giants for giving me the opportunity to further my career."
Deledio's resilience in Sydney has been remarkable, and not just because of his constant spells in the rehabilitation group.
The death of his sister-in-law Sara and his nephew, Sara's infant son Alfie, in 2018 also severely tested Deledio's mental strength.
Even he's not sure where he found the will to persevere with his footy.
"It's a good question, I don't know," he said.
"I've been knocked to the floor a few times and not just with injuries, we've had a couple of things happen in the family that have really rocked our boat.
"I just never gave up hope or my dream of one day experiencing that ultimate success.
"I also wanted to set a good example for whoever was watching."
Find Trends on Apple Podcasts, Google Podcasts and Spotify