THE AFL has conceded the morning after that Josh Thomas' controversial goal in Saturday's preliminary final should have been ruled a behind.
Greater Western Sydney led by 33 points early in the final term before Collingwood mounted a stirring comeback that began with a Jaidyn Stephenson major.
However, it was Thomas' snapped goal out of the pack shortly after, which reduced the margin to 20 points with only nine minutes gone, that became the talking point.
Slow-motion replays of Thomas' shot appeared to show the ball was touched by defender Lachie Keeffe, but play resumed in the middle after a short delay, meaning the Pies were awarded maximum points.
The AFL's score reviewers in the ARC followed the correct process – after the umpire did not call for a review – in conducting a 'silent review' of the vision before the ball was bounced.
GIANTS REACH FIRST GF Full match coverage and stats
They decided there was insufficient evidence to declare beyond reasonable doubt the ball was touched.
The AFL extensively reviewed the footage on Sunday morning and confirmed the wrong call was made on Thomas' shot at goal.
PLAYER RATINGS Every Magpie rated from the preliminary final
Fortunately, the Giants hung on for a four-point victory and advanced to their maiden Grand Final despite the error.
An AFL spokesperson said it was important to note that the new ARC score review system was designed to be "complementary" rather than serve as the umpire.
"The AFL acknowledges that upon review the ball was touched by GWS Giants player Lachie Keeffe," an AFL statement read.
"In determining a decision, the reviewer must be clearly satisfied that there is sufficient evidence beyond reasonable doubt to overturn a decision.
"On this occasion, the reviewer at the time was not convinced the ball was touched beyond reasonable doubt to intervene and overturn the decision of the umpire.
"This is in line with the correct process for a silent review."
Thomas (obscured) celebrates his goal with Brody Mihocek and Jamie Elliott. Picture: AFL Photos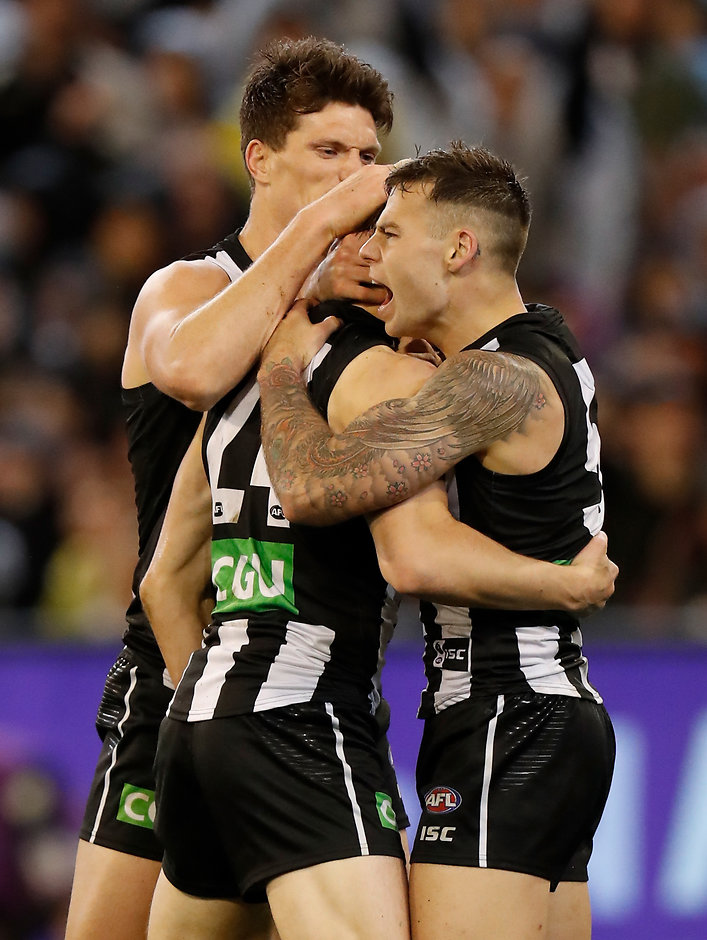 Earlier, Collingwood captain Scott Pendlebury appeared to snap an important goal late in the second term, but the video review showed Daniel Lloyd touched it off the boot.
Chris Mayne had a set shot to tie the scores late in the last quarter, but the video review showed the ball was touched on the goal line.
"You have to trust the system. I know it's pretty controversial at times, but as a player you just get on with it because the rub of the green will eventually go your way," Pendlebury said.
"I thought it (his snap) was a goal, but obviously they have the vision."