ST KILDA needs to get creative.
And it involves trading out players with currency and flipping draft picks to even entertain achieving this year's wish list.
After multiple seasons of underspending on their salary cap, the Saints have the room to offer healthy contracts to targets, however it doesn't match up with what they possess on the trade floor.
Right now, thanks to a busy 2018 NAB AFL Trade Period it's picks five, 55 and 71 – plus a full complement of selections for 2020.
And as they eye moves for wantaway Fremantle midfielder Bradley Hill, Swan Zak Jones, a readymade ruckman and Giant free agent Adam Tomlinson, they need to be active themselves. Now.
Docker Hill could be on the move back to Victoria. Picture: AFL Photos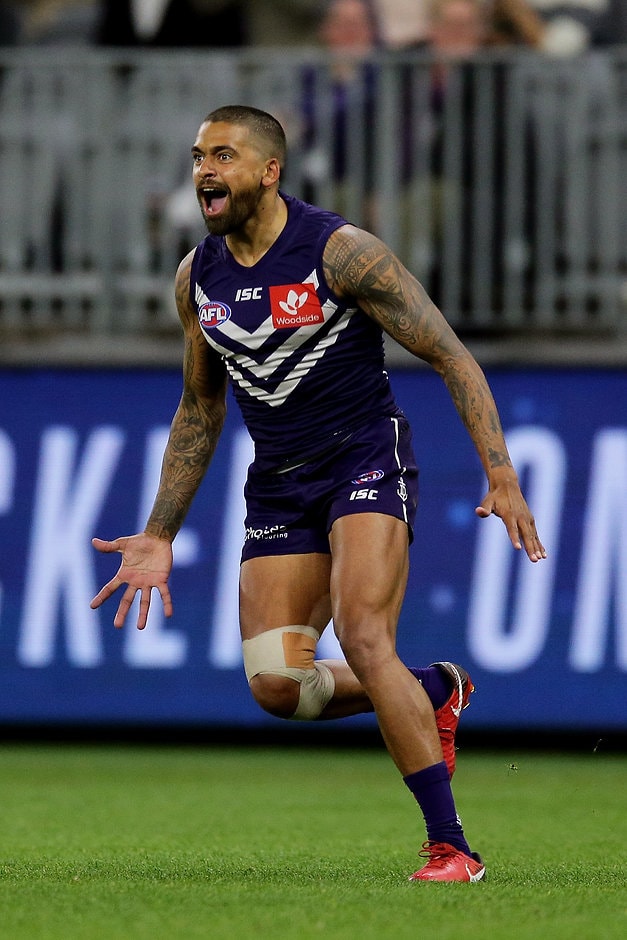 Preliminary conversations have already commenced with rival clubs about what October will hold and those talks went up a notch on Thursday afternoon.
One of close to 10 clubs to sit down for 'speed dating' with recruiters at popular Docklands eatery 90 Secondi, the Saints had more to digest than the capricciosa pizza.
In an ideal world, the Saints will take a pick in the first round of this year's draft – but not necessarily at five.
Bullish on the future around last year's No.4 selection Max King, acquiring another top-end talent to complement the core of exciting 21-to-24-year-olds is a large part of their thinking.
All hail the King. Picture: AFL Photos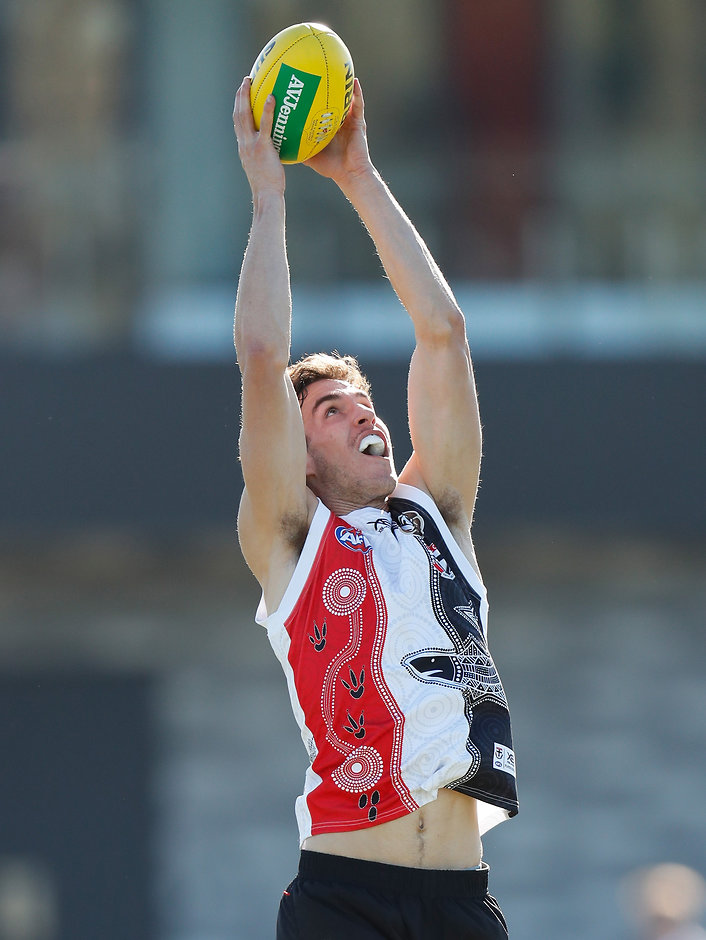 But what opposition clubs have become increasingly aware of is the potential for the Saints to split five and branch it out into multiple later selections.
The Giants – who currently own picks 12 (via Essendon) and 14 – could be left with an additional two first-round selections should Tomlinson and Stephen Coniglio fly the coop.
By dealing with the Saints and getting into the draft early it may allow the Giants to take a young gun before matching a bid for Academy prospect Tom Green – who Callum Twomey rated at No.5 on Wednesday.


Two later first-round picks from the Giants for the Saints' pick five is in the ballpark for value in the AFL Draft Value Index.
Pick five would be too much to offload for Bradley Hill, who is being chased by the Saints hardest of all Victorian clubs, but pick 12 would be a starting point.
The second first-round pick could then be used at November's NAB AFL Draft.
FULL FIXTURE Every round, every game
The Saints are also backing themselves for a 2020 top-eight push – as outlined by CEO Matt Finnis on the day of sacking Alan Richardson – which would mean next year's first-round pick could be pick 9-14.
That too would be a starting point for Hill.
Jack Steven appears destined to request a trade again to Geelong and as a contracted four-time best and fairest, the Saints will demand more than a third-round pick for his services.

Free agent Jack Newnes is fielding interest from elsewhere with a call on his next move to come at season's end when a full-time coach is appointed.

Any compensation for his likely departure would be cancelled out should Tomlinson arrive, the eight-year Giant with close links to his first football boss turned Saints advisor, Graeme Allan.
While Coniglio's signature was once sought by the Saints, Victorian counterparts Hawthorn and Carlton are well ahead in the race.
And nuggety midfielder Luke Dunstan appears set to stay on a two-year contract, with the rest of the Saints' out-of-contract players holding little to no value on the open market.
By relying on what's coming in from predicted trades would leave Allan, head of football Simon Lethlean and list boss James Gallagher with little addition to their current draft hand.
(L-R) Allan and Lethlean watch on at Saints training. Picture: AFL Photos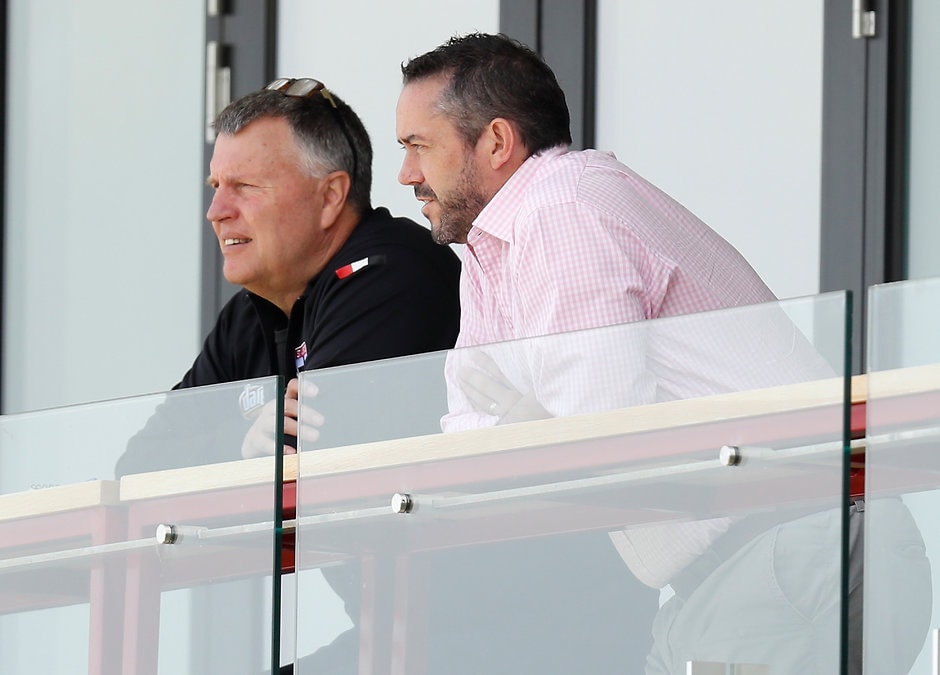 And as has been the case since 2015, clubs can only trade a future first-round selection by not trading any other future picks from that same draft. Or by keeping the future first-round selection then it unlocks the ability to trade future selections from following rounds.
It means the push for Jones and a ruckman such as Geelong pair Zac Smith or Ryan Abbott, Power star Paddy Ryder, Hawk Jon Ceglar, Crow Sam Jacobs or Lion Archie Smith may need to be subsidised by current Saints.
Big man Rowan Marshall, recently re-signed pair Jade Gresham, Jack Billings and rising defenders Hunter Clark and Josh Battle are among the untouchables.
Find Road to the Draft on Apple Podcasts, Google Podcasts and Spotify.
But names like 23-year-old West Australian Blake Acres and fellow contracted youngster Jack Lonie are beginning to make their way onto rival clubs' whiteboards as they learn more of the Saints' predicament.
To get something in the Trade Period you've got to give something – and often more than what's expected.
But to start the giving process you've got to have something are your disposal in the first place.
It's what makes the next eight weeks before the start of Trade Period on October 7 must-watch at the Saints.