SYDNEY has doubled its Irish playing stocks, signing Colin O'Riordan's 193cm countryman Barry O'Connor.
AFL.com.au understands the Swans committed to O'Connor, who turns 21 in three weeks, in recent days on a two-year contract, as is normal with Irish recruits.
The key-position prospect hails from Wexford, in south-east Ireland, and was tipped to have a bright Gaelic football future, after his father, George, enjoyed a legendary hurling career.
Sydney list manager Kinnear Beatson spotted O'Connor at the AFL Europe Combine in late November and invited him to train with the Swans for a fortnight in April.
He stayed with injured Sydney ruckman Sam Naismith during the trip to the Harbour City.
"I just want to learn as much as I can about the game, try to improve and try to make an impression so the Swans want to pick me up," O'Connor told Sydney's website at the time.
"That'd be the dream scenario, but I also just want to enjoy the experience, take in as much as possible and learn."
Find Road to the Draft on Apple Podcasts, Google Podcasts and Spotify.
O'Connor was one of just three Irish AFL hopefuls to measure more than 190cm at that combine, with many of the success stories being shorter, half-back types, such as O'Riordan, Pearce Hanley and Zach Tuohy.
However, the best of the Swans' Irish recruits was 190cm defender Tadhg Kennelly, while 195cm Tommy Walsh played five games for the club between 2012 and 2013.
Tadhg Kennelly became a much-loved figure at the Swans. Picture: AFL Photos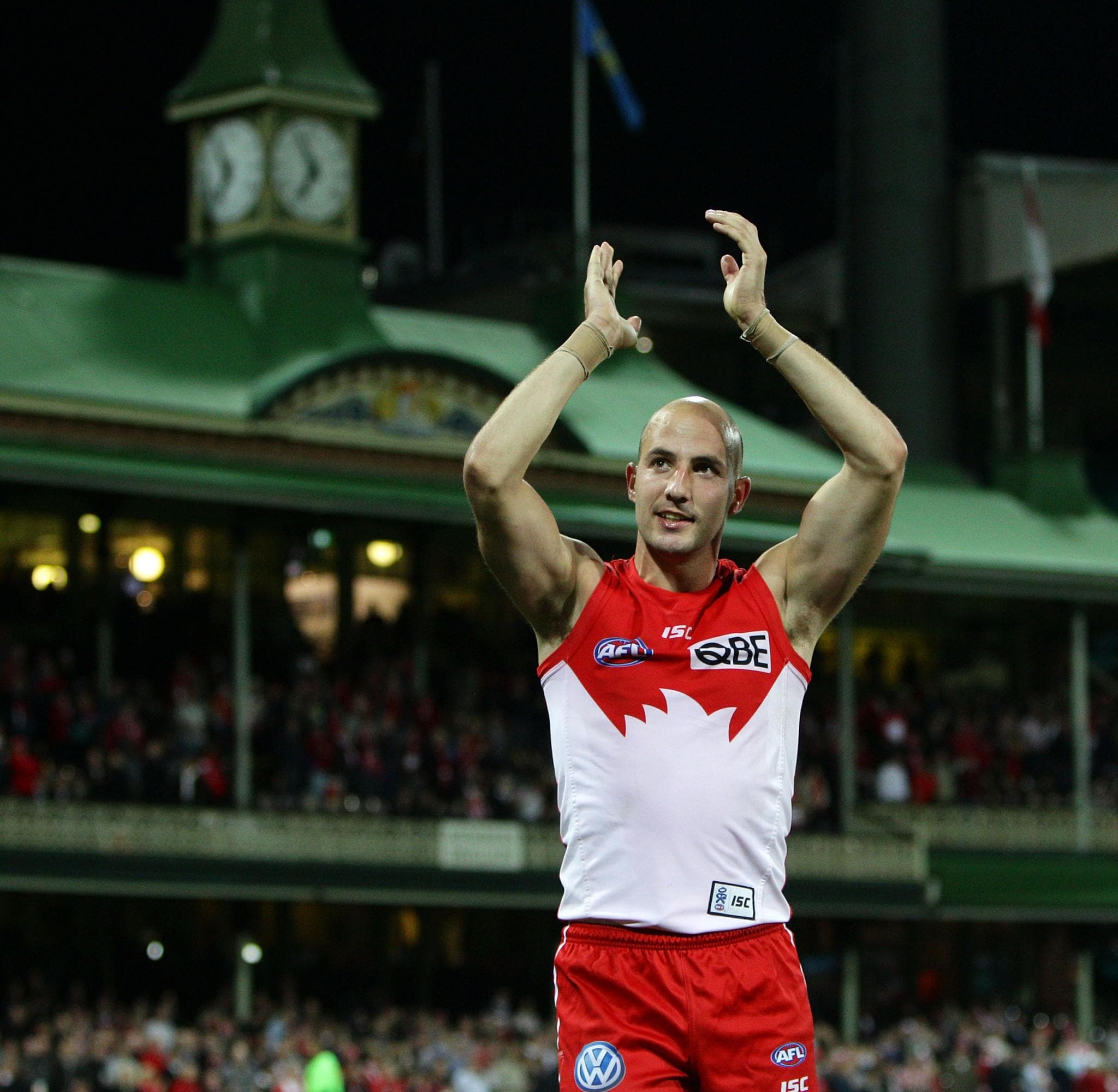 Walsh remains the highest-profile Gaelic footballer to leave to pursue AFL football, but various factors, including injury, combined to cut his Australian journey short despite crossing to St Kilda.
Kennelly returned to the Swans last year as a development coach and is now serving as their defence coach after Rhyce Shaw departed for North Melbourne at the end of the 2018 season.
He previously helped run the annual AFL Europe Combine and develop Irish talent, a role now held by former Magpie Marty Clarke.
REMOTE RECRUITING How technology helps AFL clubs keep an eye on Ireland
Kennelly is the sole Irish export to win an AFL premiership, performing a key role in Sydney's 2005 flag-winning side under Paul Roos and going on to play 197 matches in total.
There is an increasing willingness to look beyond the half-back prototype with Irish targets, including 197cm Hawk Conor Nash and Collingwood pair Mark Keane (194cm) and Anton Tohill (191cm).
A record 14 Irishmen are on AFL lists this season across 10 of the 18 clubs.
Ronan Devereux, Ross McQuillan, Peadar Mogan and Luke Towey trialled in front of recruiters during a whirlwind visit in May, with Towey believed to be on the radar of at least one club.
Find Trends on Apple Podcasts, Google Podcasts and Spotify