THE BOMBERS on Thursday, North and the Bulldogs on Saturday night, the Blues in Perth on Sunday evening.
'Any Given Sunday' has arrived in the AFL. Finally.
MARC MURPHY YOU STAR!

The @gatorade Game Changer comes up clutch!#AFLFreoBlues pic.twitter.com/DLUj5blDNf

— AFL (@AFL) June 30, 2019
The NFL phrase used to describe the ability of any side to beat another, no matter the odds, every single weekend, is one which the AFL world has aspired to for decades.
But due to financial inequities, historical sufferings, rich-get-richer ideologies, compromised player drafts, archaic player movement mechanisms and the introduction of expansion teams, the underdog team on any given weekend has mostly never stood a proper chance.
The AFL has long desired the 'Any Given Sunday' feel. In 2019, it has got it.
NINE THINGS WE LEARNED Star Crow's fall defies belief
Dons players celebrate Cale Hooker's match-winning goal. Picture: Dylan Burns, AFL Photos

Teams placed second and fourth lost in round 15. The top-placed Cats lost the week before to a team currently sitting outside the top eight.
The seventh-placed Fremantle, at home, lost to the last-placed Carlton, which was without Patrick Cripps and Harry McKay for the whole game, and star forward Charlie Curnow after half-time.
With eight matches remaining, teams down to 14th place on the ladder can make finals.
THE RUN HOME Is Port too unreliable to make the top eight?
Give Rhyce a chance
Even before North Melbourne's stunning win against Collingwood on Saturday night, Roos powerbrokers were beginning to contemplate a future with Rhyce Shaw as permanent senior coach.
No matter what happens from here for Shaw and the club, the past five matches have been one of the more extraordinary periods in North Melbourne's history.
Brad Scott was exited in the days before a round 10 game against Western Bulldogs, but coached that game, and went out with a win.
Brad Scott departs his final game as North Melbourne coach. Picture: AFL Photos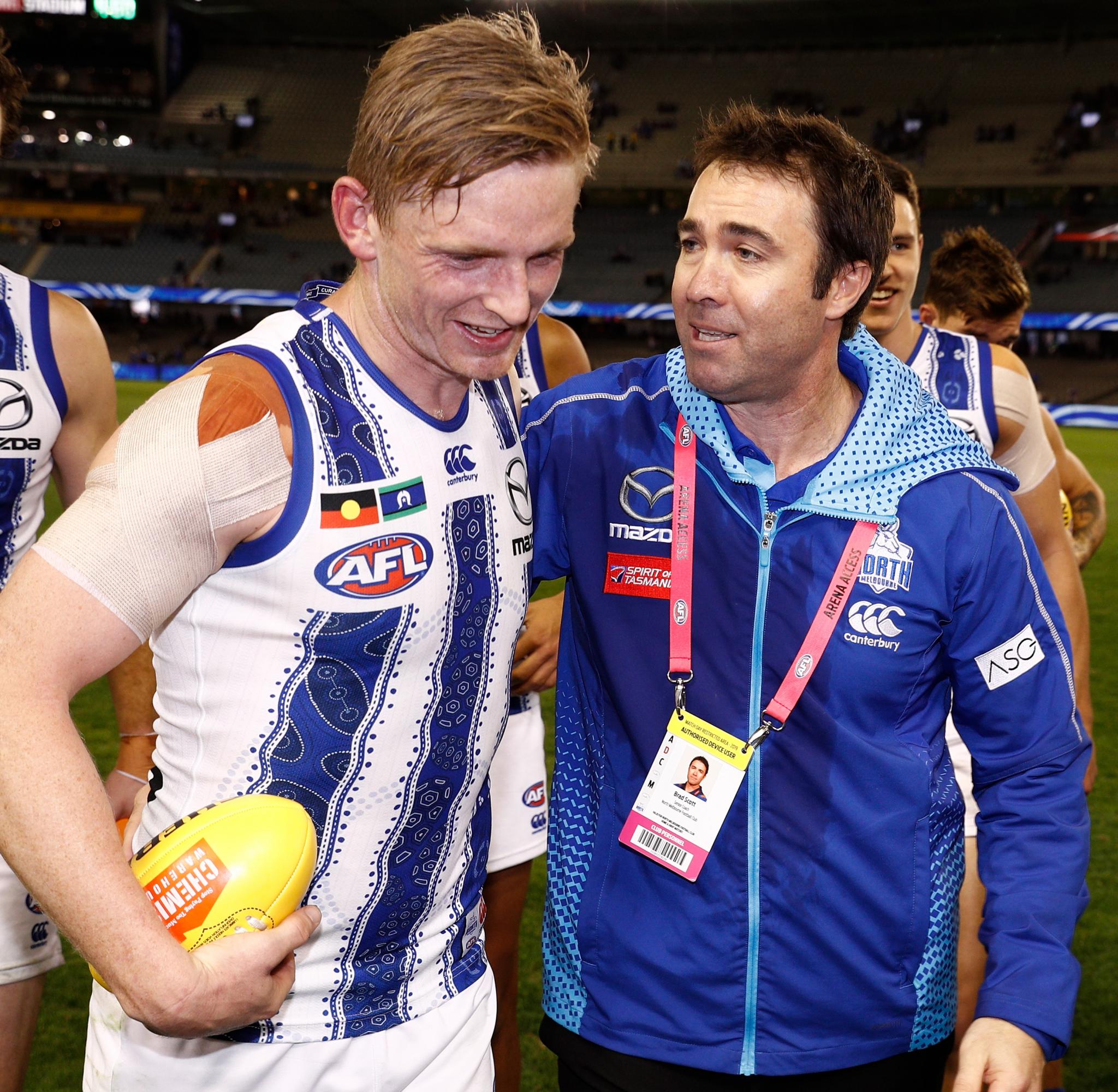 Shaw was installed as the caretaker, and won his first two matches (against Richmond and Gold Coast), then pushed the Giants in a loss in round 13.
North played with controlled hardness at Marvel Stadium, cruising to a win against the second placed Pies which incredibly put them back into conversations about potential finalists.
WATCH Brutal Kangas leave Pies sore and sorry
Jack Ziebell collides with Collingwood's Brayden Sier. Picture: AFL Photos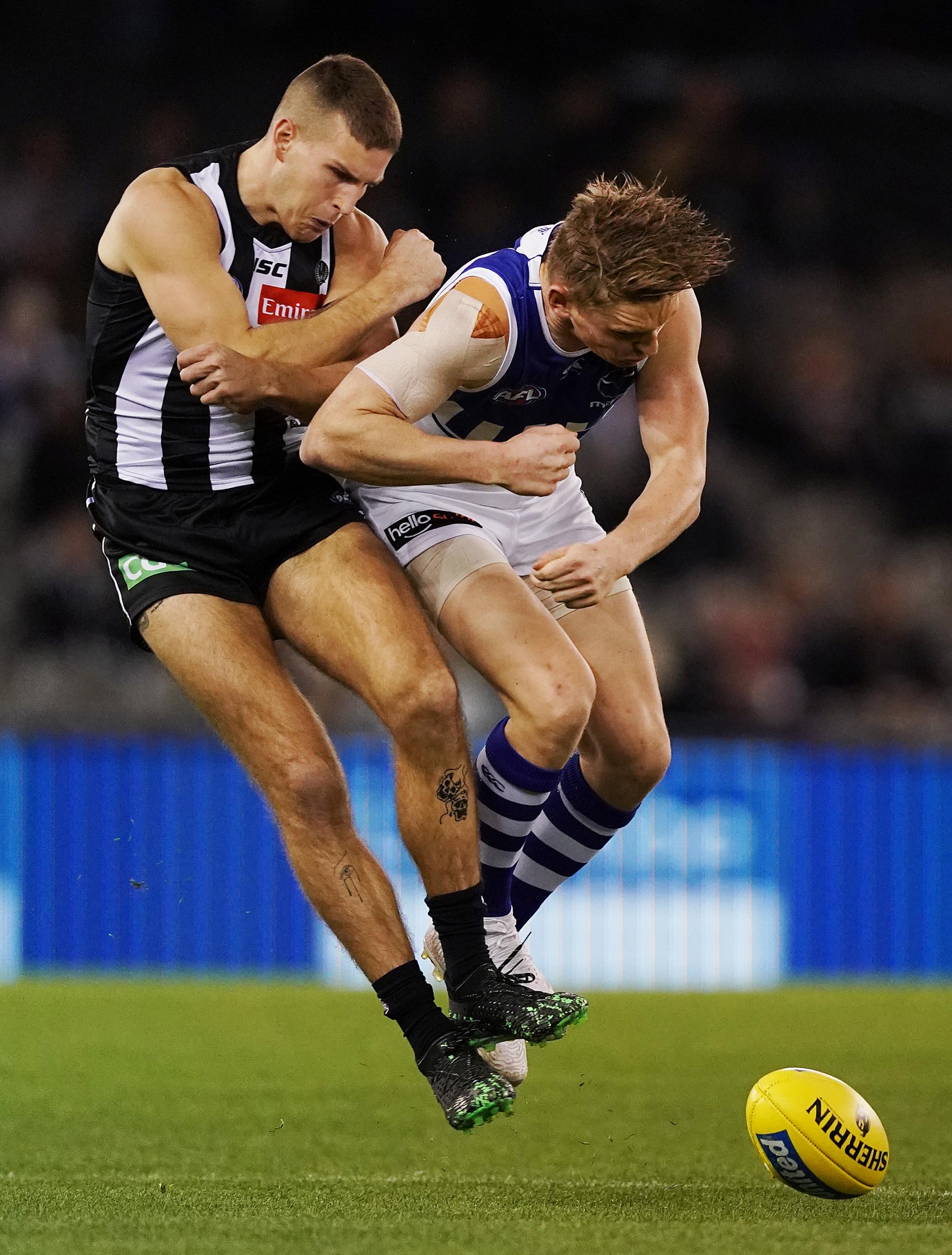 The problem for Shaw may be that he doesn't have North origins. The officials who moved on Scott are hellbent on getting the North band back together, hence the official approaches to Alastair Clarkson, Adam Simpson and John Longmire, and the confirmation that Brady Rawlings will be football department boss.
Longmire is playing a strange game at the moment. He's contracted to Sydney for 2020, but until this time, has yet to actually look down the barrel of a camera and say that there is no circumstance that will sway him from doing so.
AROUND THE STATE LEAGUES Veteran Dog returns, Port stars dominate
Clearly, he wants the Swans to add at least three more years to his deal, and that is totally understandable.
But to hear his manager Liam Pickering last week actually publicly volunteer – repeat, volunteer – the fact that North had contacted him about Longmire is confirmation that the North offer is financially mind-boggling.
TALKS RAMP UP Swans in Longmire talks as North approach confirmed
Remember, Pickering in 2013 negotiated Lance Franklin's shock transfer to Sydney without one outsider getting wind of the story. He has never before even hinted at something newsworthy about one of his clients, let alone volunteered a news fact on one of them.
Six weeks ago, Shaw would have been 1000-1 to be a permanent senior coach in 2020. He only retired as a player for the Swans at the end of 2015. In 2016-17, he coached the Swans' NEAFL team, last year was backline coach at that club, before assuming that post at North for the first 10 matches of 2019.
Rhyce Shaw has put together an impressive audition for the North coaching position. Picture: AFL Photos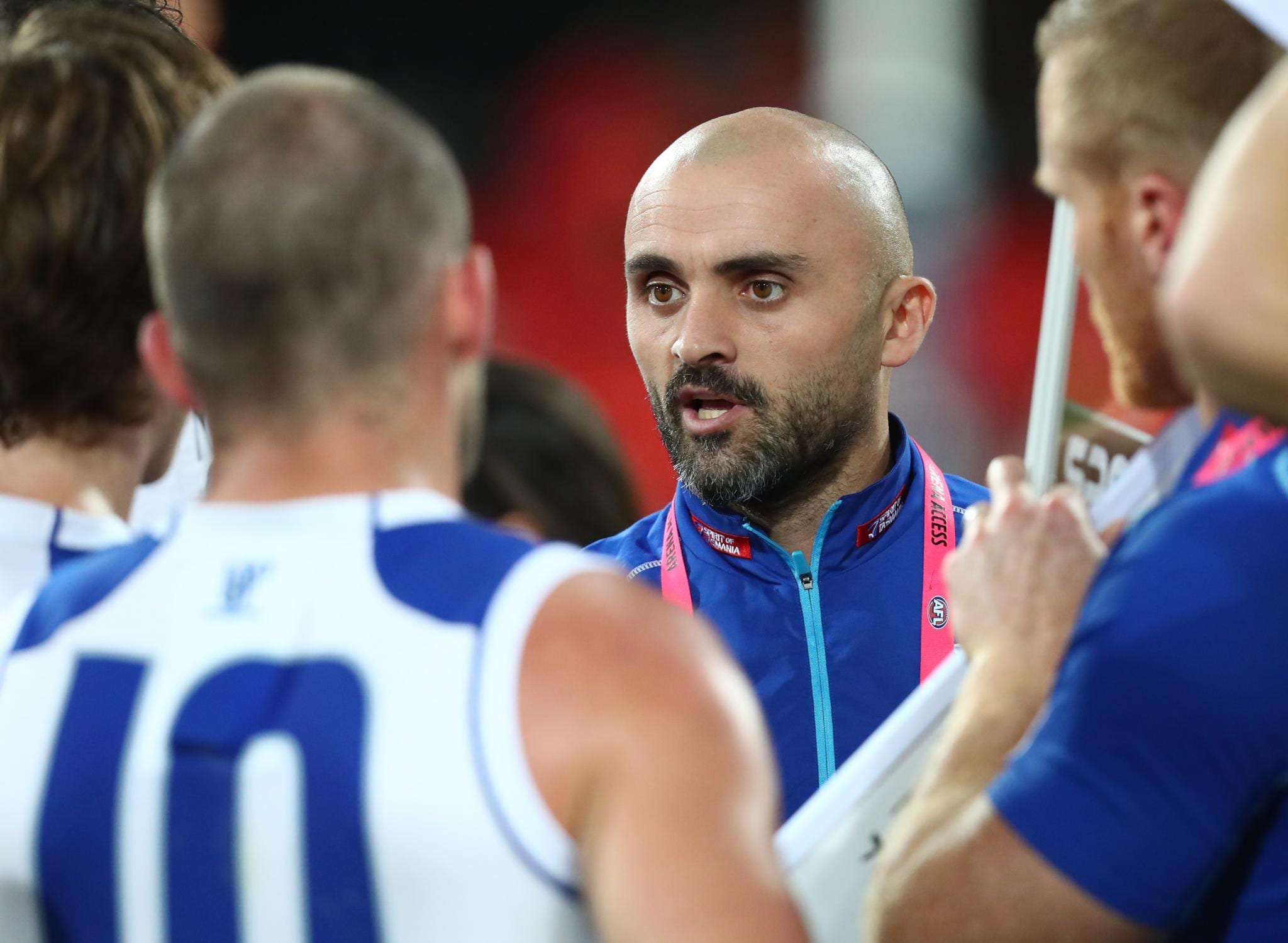 And North had no intention of sticking to a "process" in finding its post-Scott coach. It simply became desperate to remove Scott and replace him with one of Clarkson, Simpson or Longmire.
As appealing as Shaw has become right now, the club needs to take a breath, and at least devise a proper set of criteria.
Even Shaw would endorse that.
On Jeff Kennett's apology
Hawthorn is 15th on the ladder after round 15 and its president, Jeff Kennett, recently embarrassed and disgraced himself with a comment which racially stereotyped a group of people.
So what does Kennett do? What he always does – deflects his own flaws and problems.
CROWD CONCERNS McLachlan says 'behavioural officers' should go, speaks to Jeff
Kennett didn't want to apologise for those comments, and did so only when he was told that he would be publicly called out. When you read back his apology – which came in a weak-worded Tweet and then an equally weak final paragraph of a rambling email sent to Hawks members – he really didn't have his heart in it.
Hawthorn president Jeff Kennett. Picture: AFL Photos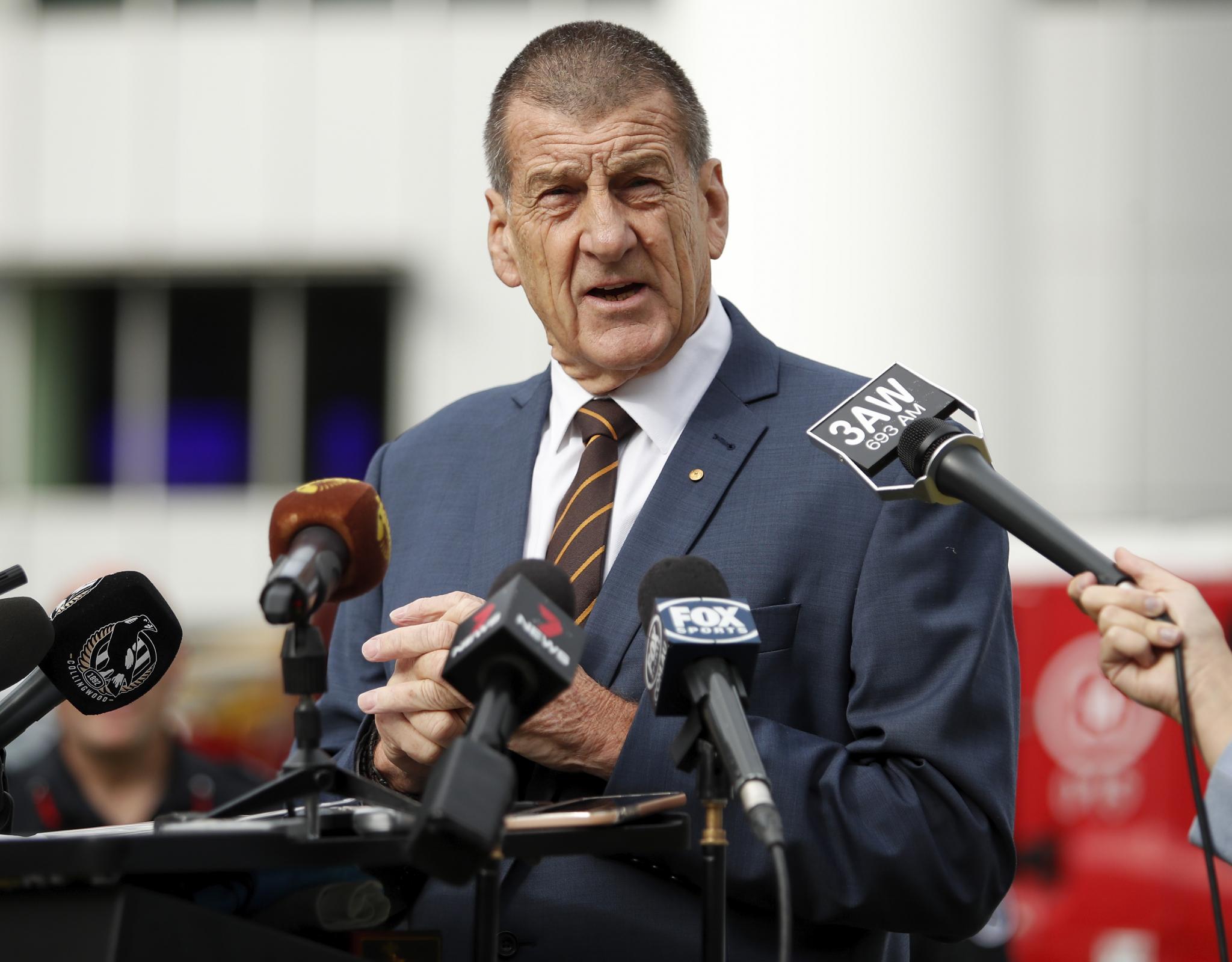 And in an interview on 3AW on Saturday, he revealed he only apologised because "I felt sorry for Gillon (McLachlan) because of the way the (media) pack went after him and continue to go after him."
As well as being factually incorrect, it is actual grounds for the AFL to revisit his racial stereotype comments, and actually officially sanction him.
Remember, and as we are being rightly told via the learnings from the two just-released documentaries about Adam Goodes, such behaviour needs to be called out at the time, not years later.
FANTASY FORM WATCH Lion king reigns with bye rounds over
AFL CEO Gillon McLachlan addresses a media conference. Picture: AFL Photos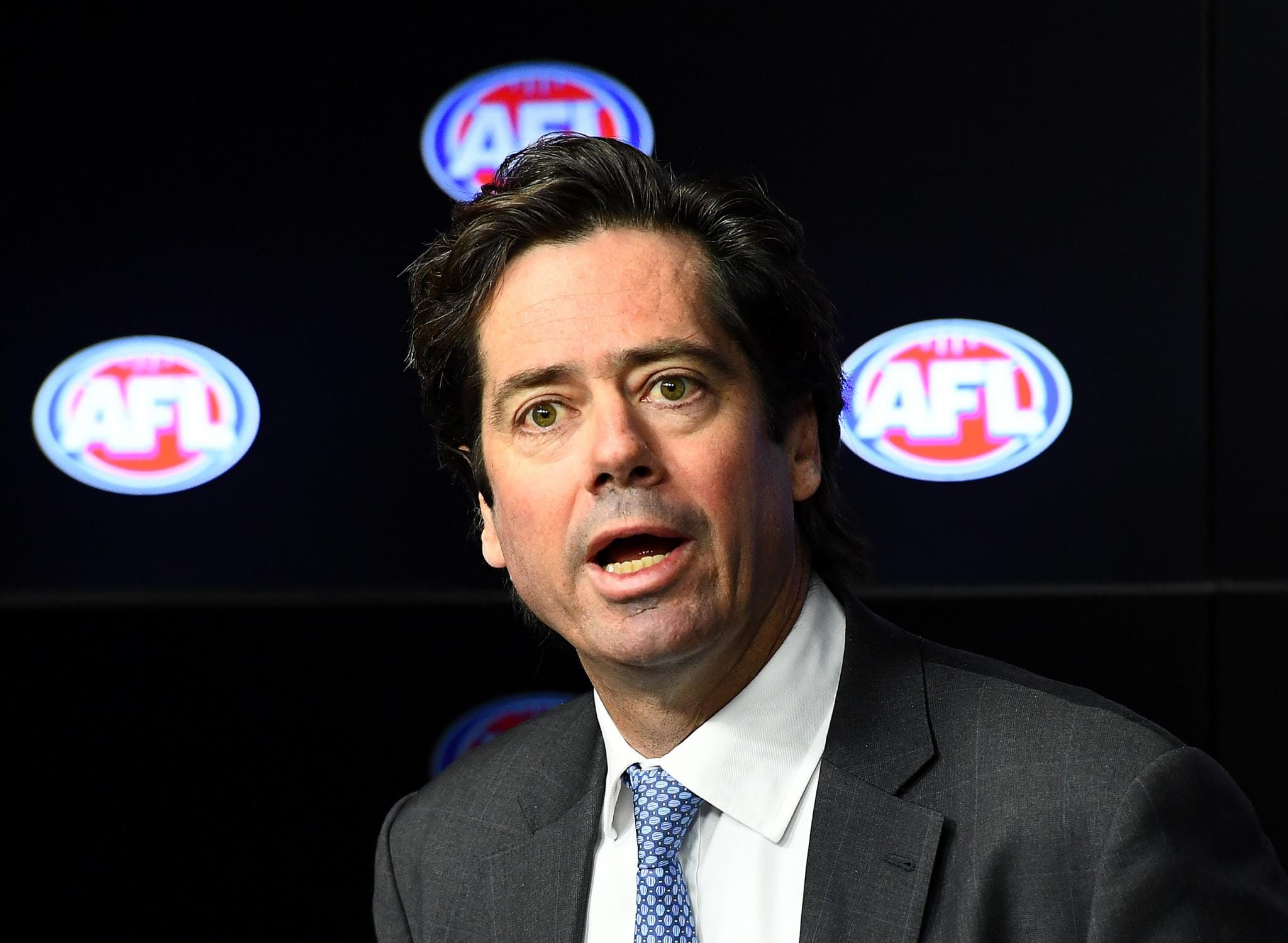 Here's what Kennett said about security officers at Marvel Stadium: "I'm not being racist when I say this, but when I saw some of the footage, the people who are making judgements while they wear these authoritative coats are not people who appear to have a great knowledge of our game."
He also used the phrase, "new arrivals".
As it stands, the AFL has a club president who thinks it is OK to racially stereotype. And won't properly and meaningfully apologise for it.
Find In the Game on Apple Podcasts, Google Podcasts or Spotify
No numbers game for Naitanui
It's never been about stats for Nic Nat.
And it wasn't on Saturday (five kicks, one handball, 41 hitouts – 13 to advantage), in his return to the AFL after a second knee reconstruction.
What it has been, always, for Naitanui, is presence. And he's still got that.
Having sadly missed last year's premiership, he is now the single biggest reason his team is beautifully placed to defend its title.
Nic Naitanui embraces Jackson Nelson after the Eagles' win on Saturday. Picture: AFL Photos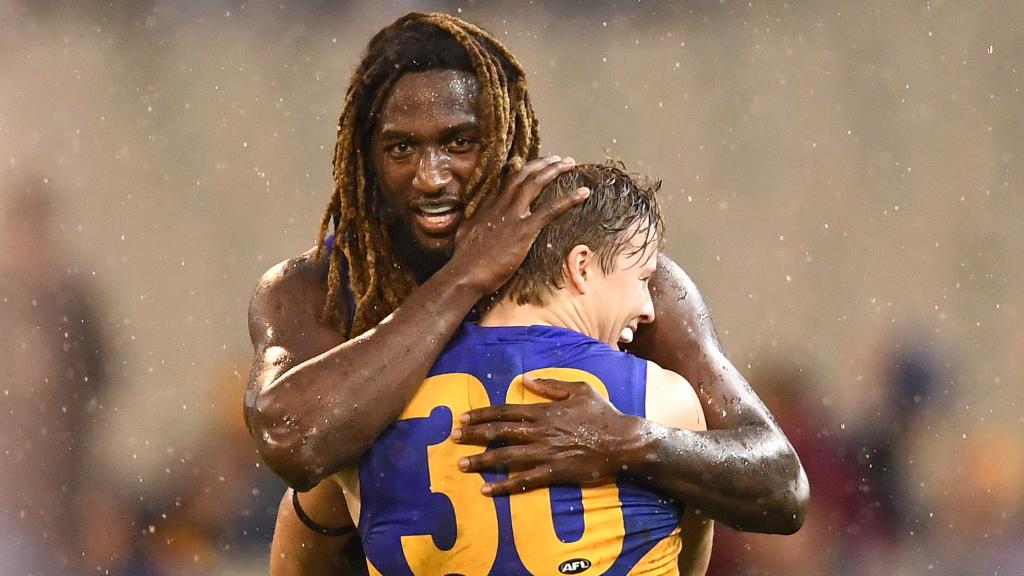 Cats' Mr Fix-It could go to a new level
While on ruckmen, Geelong may just have one of the very best, despite that player not being used as one for two seasons.
Mark Blicavs had been the Cats' full-back for a season and a half, before he was swung into the centre against the Crows on Friday night and turned the match on its head.
Mark Blicavs' move into the middle was the catalyst for the Cats' win against the Crows. Picture: AFL Photos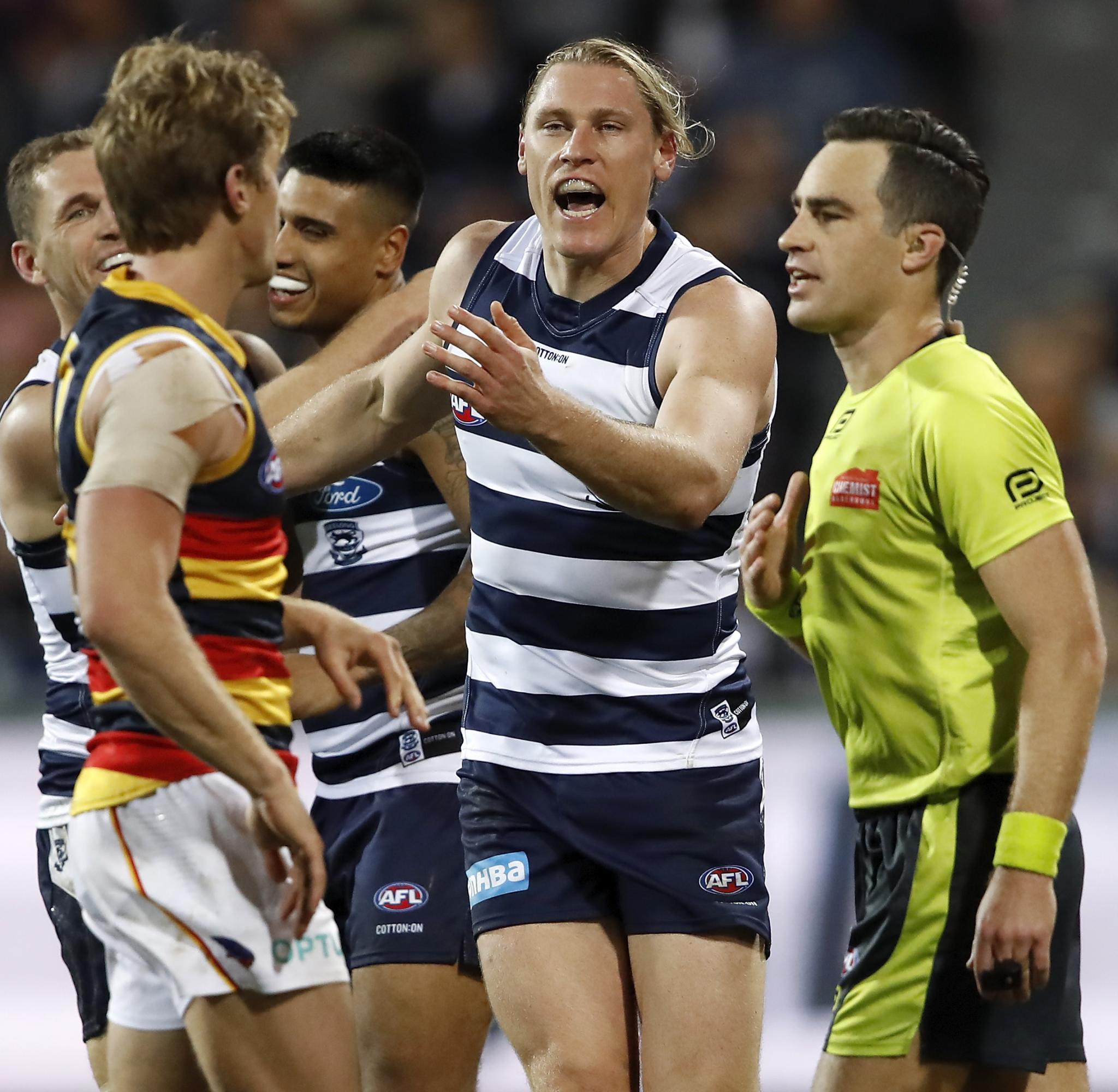 Blicavs' story is already incredible. Two best-and-fairests in six AFL seasons in roles as a tagger, back-up ruckman and wingman.
In 2019, 'incredible' could become 'all-time great'.
The men of the moment(s)
Games were "won" by moments in round 15.
Oscar Allen provided the Eagles' moment at the MCG on Saturday against Hawthorn, when he took a mark in the last quarter that was Nick Riewoldt-esque. It stopped a Hawks surge, and in the resultant play, Jack Darling marked and then goaled.
Courage. #AFLHawksEagles pic.twitter.com/ShdMiq9SLo

— AFL (@AFL) June 29, 2019
In North's shock win against Collingwood, the moment came late in the third quarter, when extreme, full-Roos team pressure saw the ball spill after a Nick Larkey tackle on Scott Pendlebury to Mason Wood, who handballed to captain Jack Ziebell, who kicked a goal.
That play, and the build up to it, fully illustrated the new North, and the Pies weren't coming back after that moment.
Step up, skipper!

Jack Ziebell nails one.#AFLPiesNorth pic.twitter.com/uwBgPPwrni

— AFL (@AFL) June 29, 2019
In Essendon's keep-the-season-alive win against the GWS on Thursday, it was the stepping up of Cale Hooker in the final quarter which proved the difference, particularly his leadership in marking and composing himself to kick the winning goal with 19 seconds remaining.
THE DONS HIT THE LEAD!#AFLDonsGiants pic.twitter.com/qmV2AV0gVZ

— AFL (@AFL) June 27, 2019
Twitter: @barrettdamian