THE FOOTBALL world is mourning the death of the game's greatest ruckman and perhaps its greatest indigenous player, Graham 'Polly' Farmer.
The revolutionary exponent of handball, who piloted Geelong and WAFL clubs East Perth and West Perth to premierships, died in his native Western Australia after a long period of poor health, aged 84.
In 1996, Farmer was one of the original Legends inducted into the Australian Football Hall of Fame, and that same year was named the No.1 ruckman – ahead of his great Carlton and interstate rival John Nicholls – in the AFL's Team of the Century.
Current Geelong No.5 Nakia Cockatoo poses with a mural of Polly Farmer in 2018. Picture: AFL Photos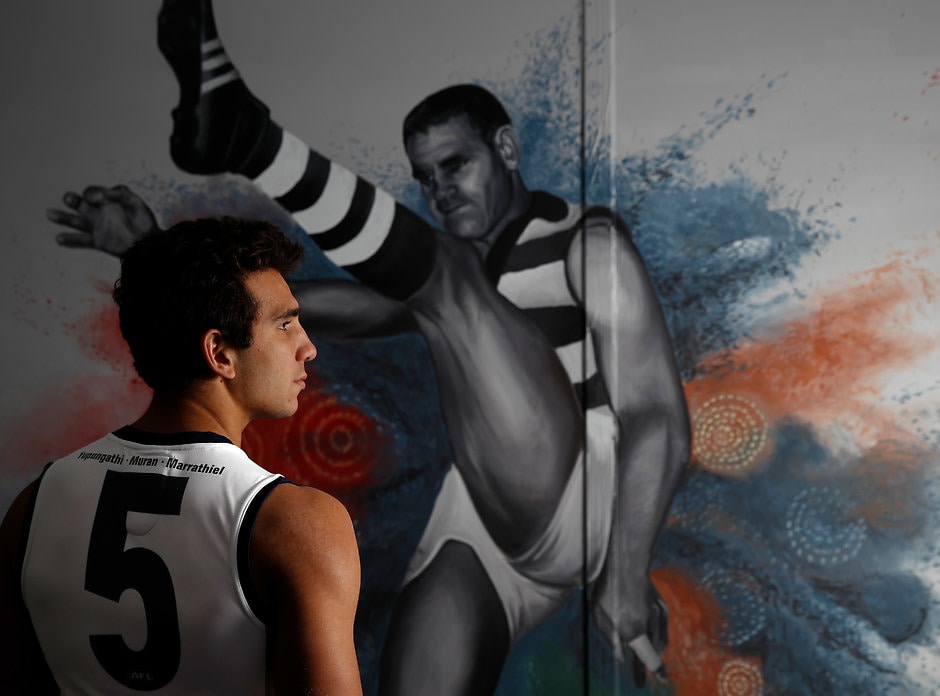 AFL CEO Gillon McLachlan said Farmer's legacy stretched beyond his significant deeds on the football field.
"Beyond football, as a proud Noongar man, he was a leader for the Aboriginal community and his standing in the game and in society enabled his people to believe that they too could reach the peaks and achieve their best potential," McLachlan said.

"He laid the path for so many great footballers from Aboriginal and Torres Strait Islander communities to come into the elite levels of the game and showcase their skills.

"At every point of his career, his teams found success on the field, thanks largely to his dominance that built a record that few players could ever hope to match."
GREATEST BIG MAN OF ALL Read the full AFL statement on 'Polly' Farmer
Sad to hear of the passing of Polly Farmer arguably the greatest player of his era and the games greatest ever ruckman . Changed the game of VFL football with his handball skills . How lucky was I as a young player to share a room with him in Ireland on the 68 Galahs tour. RIP Kb

— Kevin Bartlett (@KevinBartlett29) August 14, 2019
The story of Graham Vivian Farmer is simply remarkable given his humble origins.
Farmer grew up at Sister Kate's orphanage for Aboriginal children in the Perth suburb of Queen's Park, and was always adamant that this upbringing gave him a chance of making something of himself.
This was also where he received his famous nickname – he was originally called 'Polly the Parrot' because he talked so much. Ironically, one of his traits as a footballer was that he rarely spoke on the field.
As a boy Farmer also suffered from polio, which left his dominant left leg slightly shorter than his right leg.
By the age of 18, when he made his debut for East Perth, Farmer had already set himself on the path to greatness.
A fitness fanatic who would complete daily running and weights sessions, he later told the AFL Record: "I prepared myself to suffer the consequences of 100 minutes of football."
Farmer also consciously compensated for his lack of pace by using handball as an offensive weapon, often after gaining clean possession in the ruck, at a time when handball was rarely used.
And in those ruck duels, the high-leaping Farmer learned to jump early into his opponent to gain the advantage – a spectacularly successful tactic.
WA captain Farmer joins Victoria skipper John Nicholls for the coin toss at an interstate game at the MCG in 1970. Picture: AFL Photos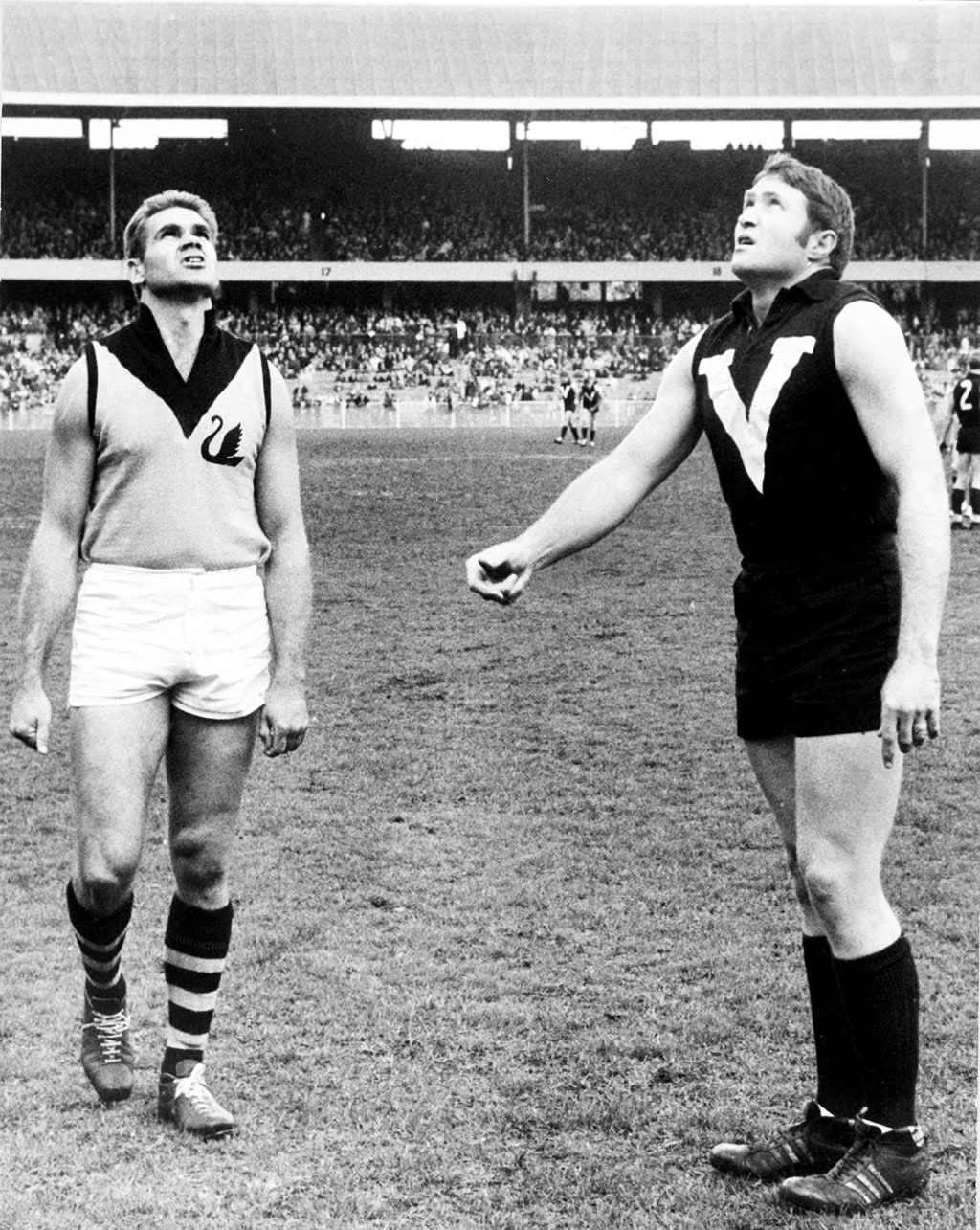 At the end of 1955, at just 20, Farmer signed with Richmond and even relocated to Melbourne, and was frustrated when East Perth blocked the move.
Six years later – with three Sandover Medals, seven club best and fairests and three WAFL premierships to his name – Farmer decided it was "now or never" in terms of a move to Victoria.
He chose Geelong over St Kilda because of his friendship with Cats coach Bob Davis, who would recall that snaring Farmer was "like all our Christmases had come at once".
Geelong paid an unprecedented £2000 ($4000) transfer fee to East Perth, but he was worth every penny.
Farmer poses for the camera during his Geelong days. Picture: AFL Photos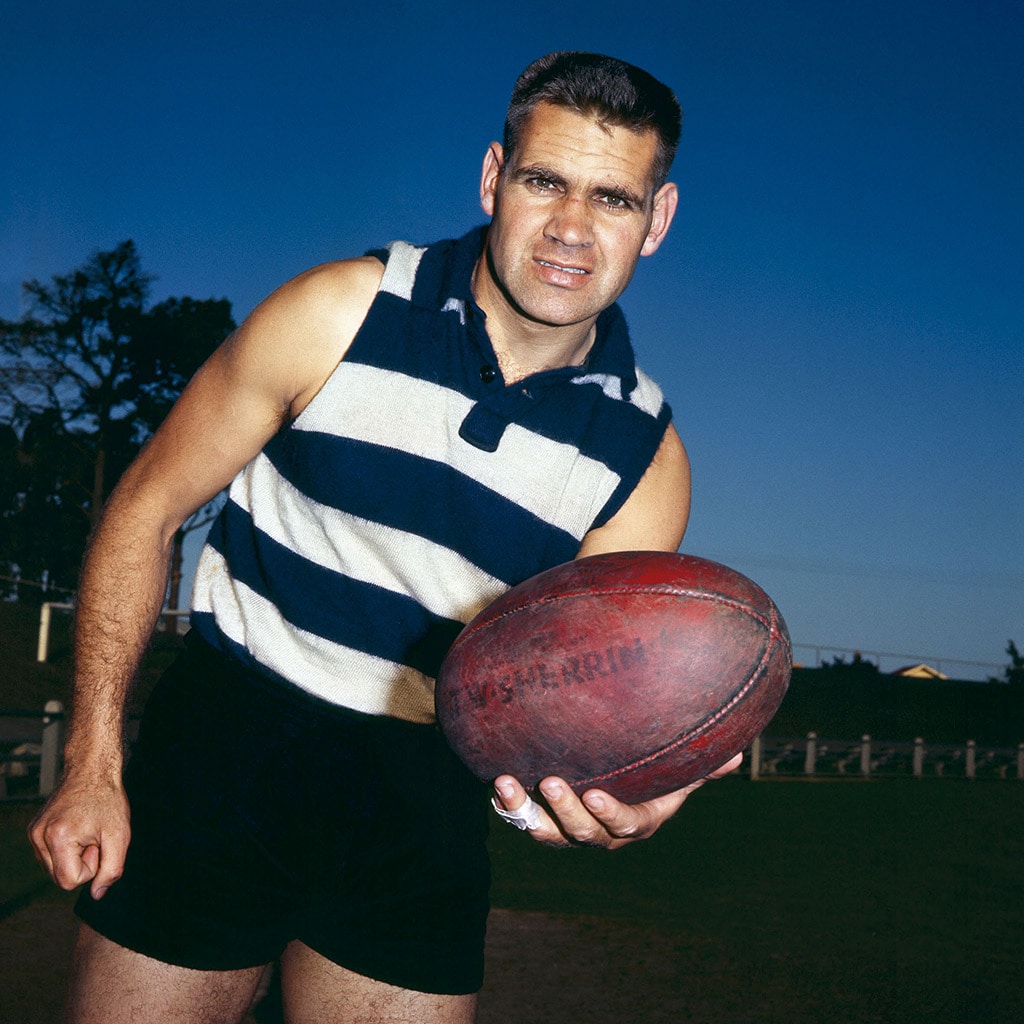 There were some initial doubts though when Farmer suffered what would become a chronic left knee injury early in his first game for the Cats in 1962, restricting him to just six games in that first season.
The next year Farmer, who formed a lethal combination with rover Bill Goggin, repaid Geelong by lifting them to the premiership.
Davis would later declare: "With due respect to our (other) players, Polly was the team. He made all the others … The whole team improved around him. We wouldn't have won the '63 flag without him."
Farmer's last game with Geelong would also provide the most bitter memory of his glittering career, with the then skipper believing his team had been crucified by the umpires in its narrow loss to Richmond in the 1967 Grand Final.
Sam Newman, Farmer's ruck understudy for four years at Geelong and one of his greatest fans, once told the Geelong Advertiser: "Without speaking one word, he (Farmer) taught me everything I know. I watched how a man overcomes not the physical, not the mental, but the spiritual – that's the most important."
Farmer, who also overcame regular racial abuse, returned to Western Australia to captain-coach West Perth to two flags, before enduring three barren seasons as Geelong coach.
In 2012, Farmer's wife Marlene revealed her husband had been battling dementia for some years.
Farmer at the 2002 Brownlow Medal count. Picture: AFL Photos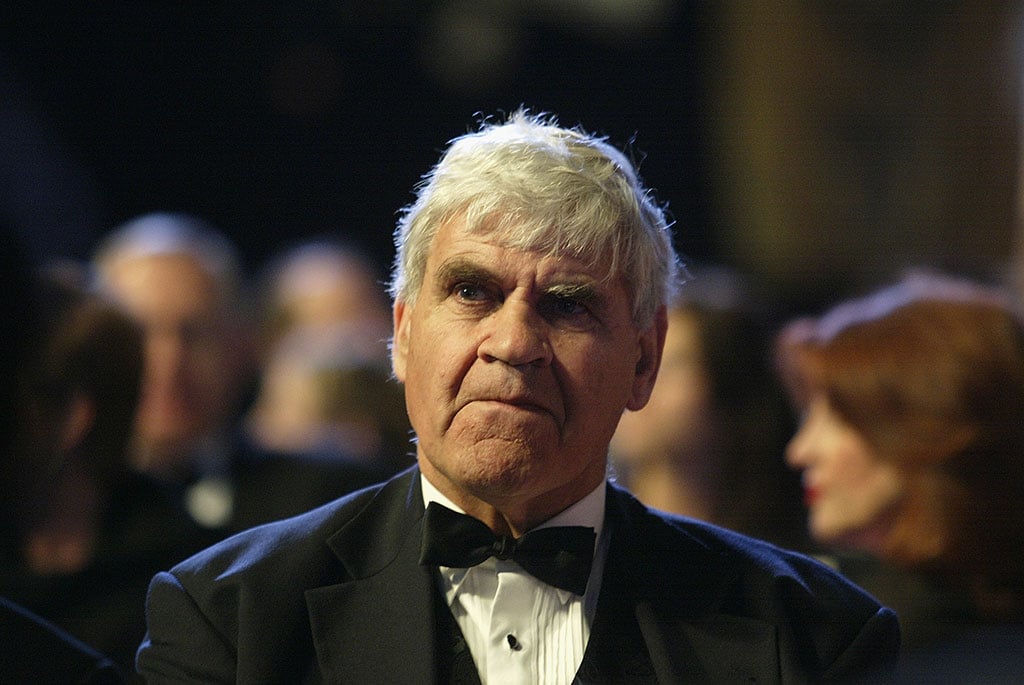 Graham 'Polly' Farmer
Born: March 10, 1935
Recruited from: East Perth
PLAYING CAREER
East Perth 1953-61: 176 games, 157 goals
Geelong 1962-67: 101 games, 65 goals
West Perth 1968-71: 79 games, 55 goals
Western Australia 31 games, 17 goals
Victoria six games, six goals
Total: 393 games, 301 goals
PLAYING HONOURS
Australian Football Hall of Fame inductee (Legend) 1996
AFL Team of the Century 1996 (ruck)
Western Australia Team of the Century
Geelong Team of the Century
West Perth Team of the Century
East Perth Post-War Team of the Century
Indigenous Team of the Century
2nd Brownlow Medal (equal) 1963
Sandover Medal 1956, 1957 (retrospective), 1960
Simpson Medal (WAFL Grand Final) 1959, 1969
Simpson Medal (interstate) 1956, 1961
All Australian (carnival) 1956, 1958, 1961
Geelong best and fairest 1963, 1964
East Perth best and fairest 1954, 1955, 1956, 1957, 1959, 1960, 1961
West Perth best and fairest 1969
Geelong premiership 1963
East Perth premierships 1956, 1958, 1959|
West Perth premierships 1969, 1971
Geelong captain 1965-67
COACHING CAREER
West Perth 1968-71
Geelong 1973-75
East Perth 1976-77
Western Australia 1970-71, 1977