AFL SCOUTS in Australia are remotely watching Irish prospects train as international recruiting becomes increasingly sophisticated.
The preference is for them to use Gaelic footballs in 'small-sided' games, which involve four players against four, with recruiters most interested in everything but how they kick a Sherrin.
Ex-Magpie Marty Clarke, who accepted a part-time role with the AFL last year, spearheads Ireland's development program, which sees about 30 young Gaelic footballers meet monthly.
All sessions are filmed, with battle-hardened former Irish AFL products such as Colm Begley, Caolan Mooney and Daniel Flynn invited into the fold to train alongside the younger prospects.
Former Saint Colm Begley. Picture: AFL Photos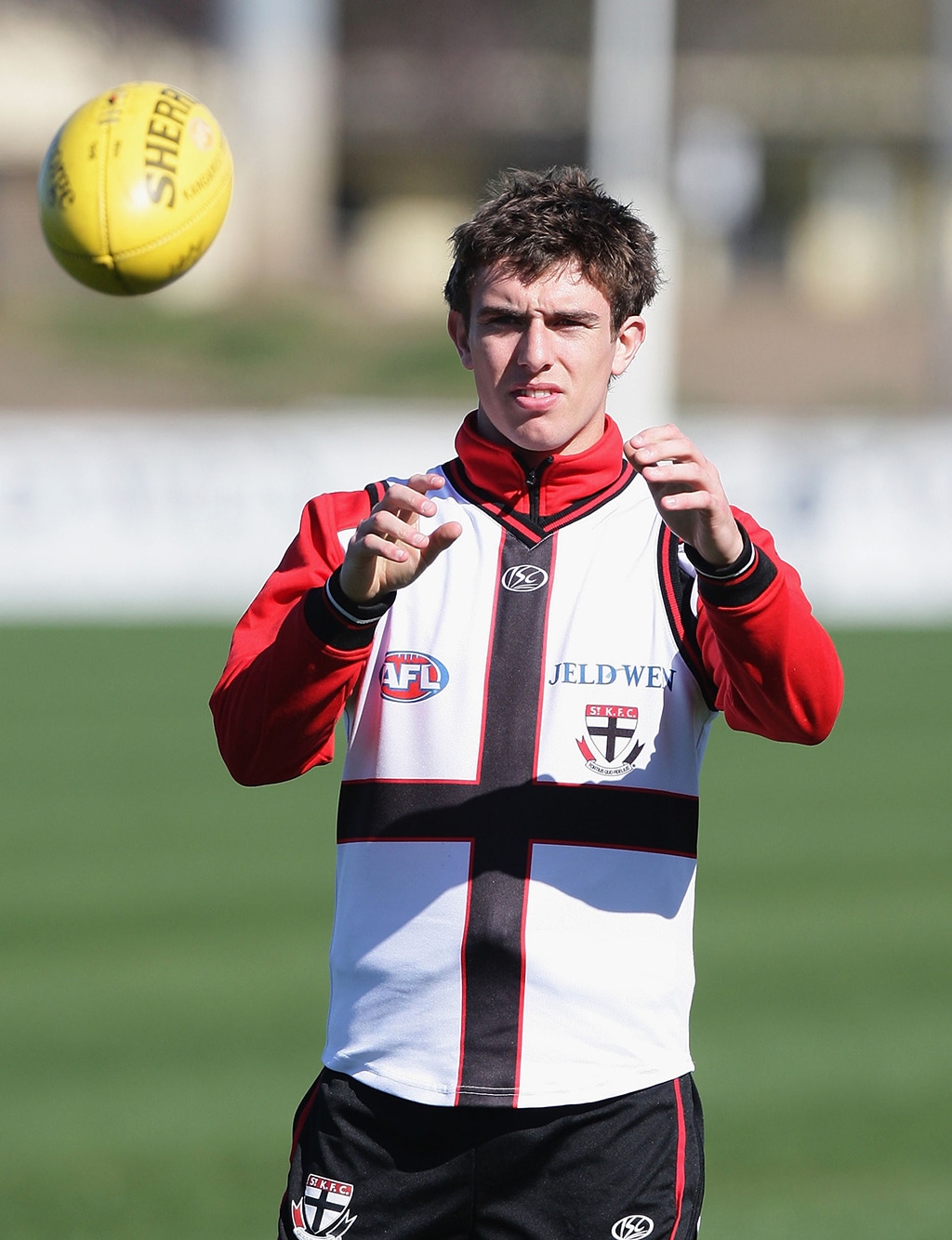 World-leading sports data technology STATSports, where Clarke works full-time, also tracks all the Irishmen throughout their training, and the information is fed to interested AFL clubs.
The technology is used in many leading sports competitions, including the English Premier League and the NBA, as well as major clubs such as Manchester United, Paris Saint-Germain and Juventus.
"The sessions themselves go for 70 or 80 minutes and are not particularly taxing, because they're still in the middle of a season, so we're looking for athleticism and smart play," Clarke told AFL.com.au.
"Of course, we do some work with Sherrins, but in any of the small-sided games … we generally do them with the round ball, because their skills are good and the ball moves properly, rather than balls hitting the ground regularly.
"We head in for lunch at the end of sessions, which generally coincide with a Friday or Saturday night AFL game, and we have it on the screen and talk players through the rules and game patterns.
"Some of them have never watched an AFL game before."
Find Trends on Apple Podcasts, Google Podcasts and Spotify
Underneath Clarke are two Australians and two Irishmen – their identities are low profile – who are responsible for finding prospects in each of Ireland's four provinces: Connacht, Leinster, Munster and Ulster.
Some clubs, such as Hawthorn, operate with their own Irish scouts.
Only one of the six Irishmen who joined AFL clubs last year – Geelong's Stefan Okunbor – wasn't part of Clarke's program in 2018, although Okunbor went through a similar process 12 months earlier.
Clarke just returned home after accompanying AFL hopefuls Ronan Devereux, Ross McQuillan, Peadar Mogan and Luke Towey on a whirlwind 11-day recruiting trip to Melbourne.
The quartet were the cream of the crop out of 20 Irishmen who tested in front of recruiters at the AFL Europe Combine in Dublin in December.
Among the clubs they visited were Richmond, Essendon, Collingwood and Geelong, and they served as waterboys in the NAB AFL Academy under-18 and under-17 games against Casey and New Zealand, respectively.
"The four guys didn't stand out too much in training sessions – and that's the biggest compliment you could give," Clarke said.
"There are so many Irish guys in the system now that everyone knows someone who's been there or could potentially go over, so they put their best foot forward while they were at the club.
"I'm confident all four would be able to slot into an AFL list.
"The feedback we got was that their range of talents, athleticism and speed was appealing, and their skills are developing, so clubs are happy to take that on."
It was Clarke's first time in Australia since his AFL career ended for good, following 73 games across two stints for Collingwood almost five years ago.
The 31-year-old was diagnosed with and battled an energy-sapping condition, Addison's disease, in the second half of his final season.
Clarke said getting to experience another Anzac Day game, this time as a spectator, was a reminder of how privileged he was to play Australian Football at the highest level.
"We think about Australia every day. The people we met, the lifestyle we had – we lived in Hawthorn. It was fantastic and very difficult to leave behind," he said.
"The game at the MCG, where the Academy under-18s played against Casey; the stadium was empty for an 11am bounce.
"For me to walk back in there; the smell of the stadium, walking on the surface again and seeing the changerooms – that brought back a lot of emotion. I personally found it humbling."
Clarke (right) takes on Brent Stanton on Anzac Day in 2012. Picture: AFL Photos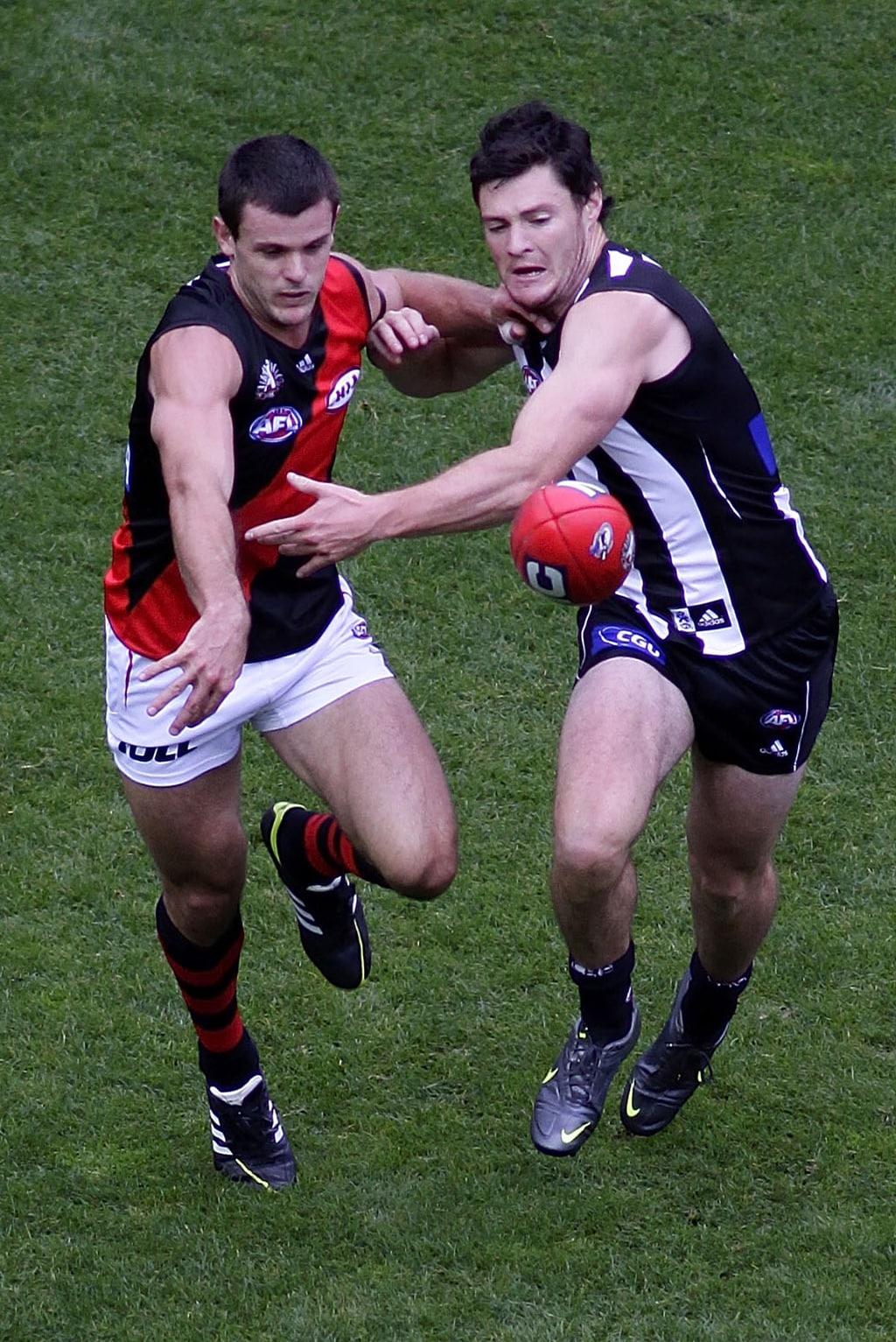 Clarke made a point of highlighting Anzac Day's importance – well beyond just football – to Devereux, McQuillan, Mogan and Towey, after Mick Malthouse did the same for him 11 years ago.
A record 14 Irishmen are on AFL lists this season and the number is set to increase, with more time devoted to a project that first enjoyed success in the 1980s via Melbourne's Jim Stynes and Sean Wight.
Oddly, the Demons are one of the few clubs these days not taking the Irish plunge despite that rich history.
"I think there's kind of an acceptance that, for individuals, the opportunity to come across is massive," Clarke said.
"The professional sports lifestyle is unfortunately not available in Ireland, so boys and girls have to go and work during the week, on top of playing sport.
"No individual is ever called out and berated for taking on the opportunity. Of course, certain quarters in the clubs and counties say it's unjust (after developing athletes from a young age).
"But statistics show it is only a very small number who go to the AFL, and many of which, including myself, come back greater athletes, with better experiences under their belt."