TOBY Greene will not play in the Giants' preliminary final on Saturday.
Greene failed in his final bid to overturn a one-match suspension on Thursday night, with an AFL Appeals Board rejecting his last-ditch attempts to clear his name ahead of the blockbuster clash with Collingwood.
Giants CEO Dave Matthews said he was "stunned" by the decision, but that the club would take no further legal action in order to make him available to play.
APPEAL RECAP All the key moments from the marathon hearing
"As disappointed as we are, we won't do anything further," Matthews said after the hearing.
"We've put forward two very good arguments this week. We obviously felt that the evidence was all in Toby's favour and we're stunned, as a lot of people would be, by the decision tonight.
"But, in the end, that's where we'll leave it. We've got Saturday to focus on and we'll now move on."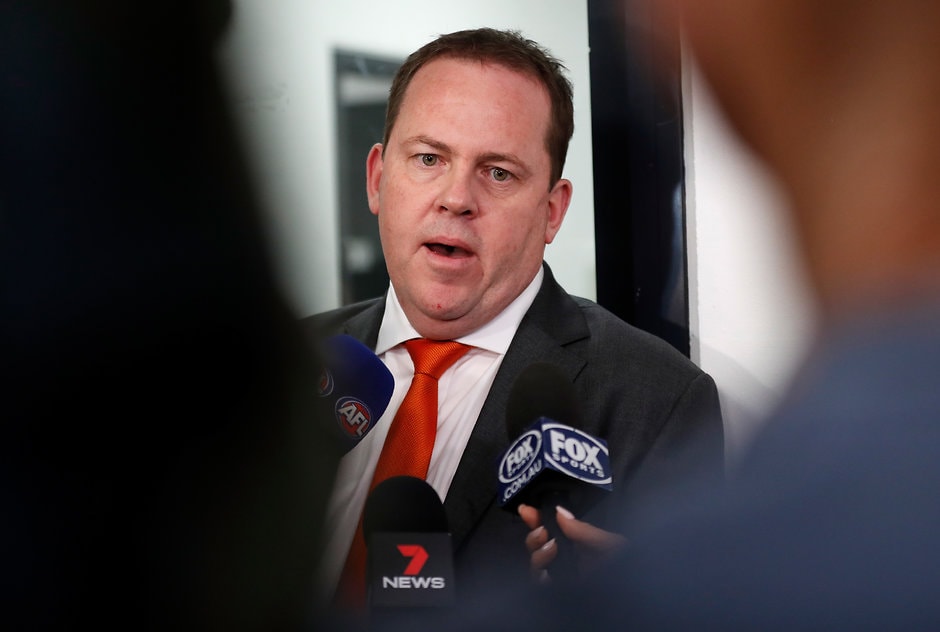 Greene's legal representative, Ross Gillies QC, had argued that Tuesday night's Tribunal jury got a "trilogy" of decisions "perversely incorrect" in upholding his one-match ban.
He claimed that no contact was made to the eye region of Brisbane midfielder Lachie Neale, that any contact that may have been made was negligible and that any contact that may have been made was not intentional.
However, after another marathon hearing that lasted exactly two hours, an AFL Appeals Board rejected such claims, ruling once and for all that Greene will be unavailable for Saturday's crucial final.
"I'm bitterly disappointed," Greene said afterwards.
"We thought we had a strong case, but I'm looking forward to Saturday and supporting my teammates."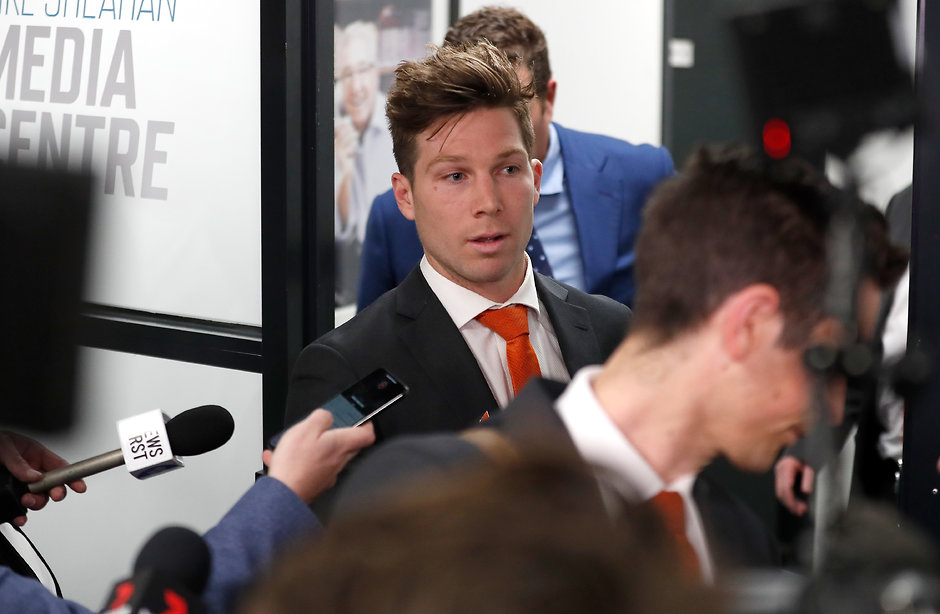 Gillies, in beginning a laborious hour-long defence of his client, referred to the footage of the incident at length, saying that it "disproved the AFL's case, as opposed to advancing it".
He also claimed that the vision of Neale holding his face afterwards was testament to that fact, arguing that Neale continuously checking his nose for blood supported the evidence that he provided to the Tribunal on Tuesday night.
Greene's legal representative then referred to Neale's evidence on Tuesday evening, which he described as "good and fairly given".
In doing so, Gillies argued that the challenge of Neale's evidence by AFL legal counsel Nick Pane QC on Tuesday night – where he described it as "vague" and suggested little weight should be put towards it – was unfair, as that wasn't put to Neale himself.
Toby Greene jumps into the pack (inset of Greene's hand near Lachie Neale's face). Picture: Screen shots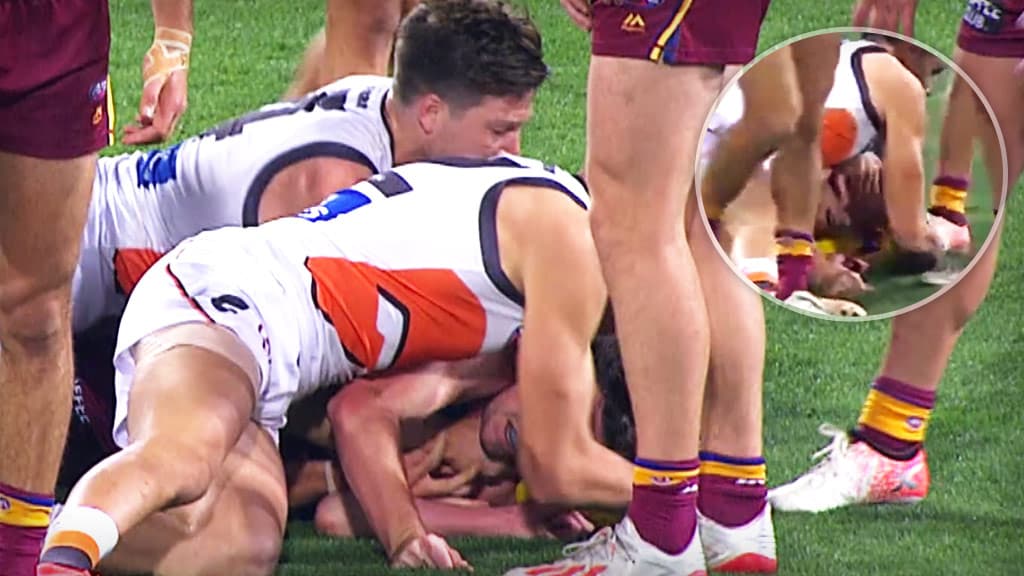 He then strenuously referred to Greene's own evidence provided on Tuesday night, reiterating the points his client made throughout his gruelling 28-minute period on the witness stand.
Gillies, in summing up, said: "There is nothing there to support the three major conclusions. If any one of them is wrong, we win. And they're all wrong.
"There is an avalanche of evidence that is completely contradictory to the assertion that Toby Greene made illegal contact to the eye region of Lachie Neale.
"We don't know what the Match Review Officer was doing, we don't know what the Tribunal was doing. This was patently a hopeless prosecution against an innocent player."
Having bided his time for more than an hour, the AFL's legal counsel was then given his opportunity to respond with his own submission.
Pane told the Appeals Board that Greene must find that there were "no other options to the Tribunal" but to reverse his ban. He then pointed to the evidence of the footage, saying it showed that the Giants forward made a raking movement in the vicinity of Neale's head.
He painstakingly then married several references from both the transcripts of Neale and Greene from Tuesday night to footage of the incident, saying each example backed up the case he made barely 48 hours ago.
In his own summation, Pane said: "Having not accepted Greene's version of events ... the issue of why his hand appeared across Neale's face with that raking movement was such that it was open for the Tribunal to find that his actions were intentional."
After nearly two hours of listening to the cases put forward by each party, the Appeals Board then deliberated for 15 minutes before ruling Greene ineligible to take part in his side's preliminary final.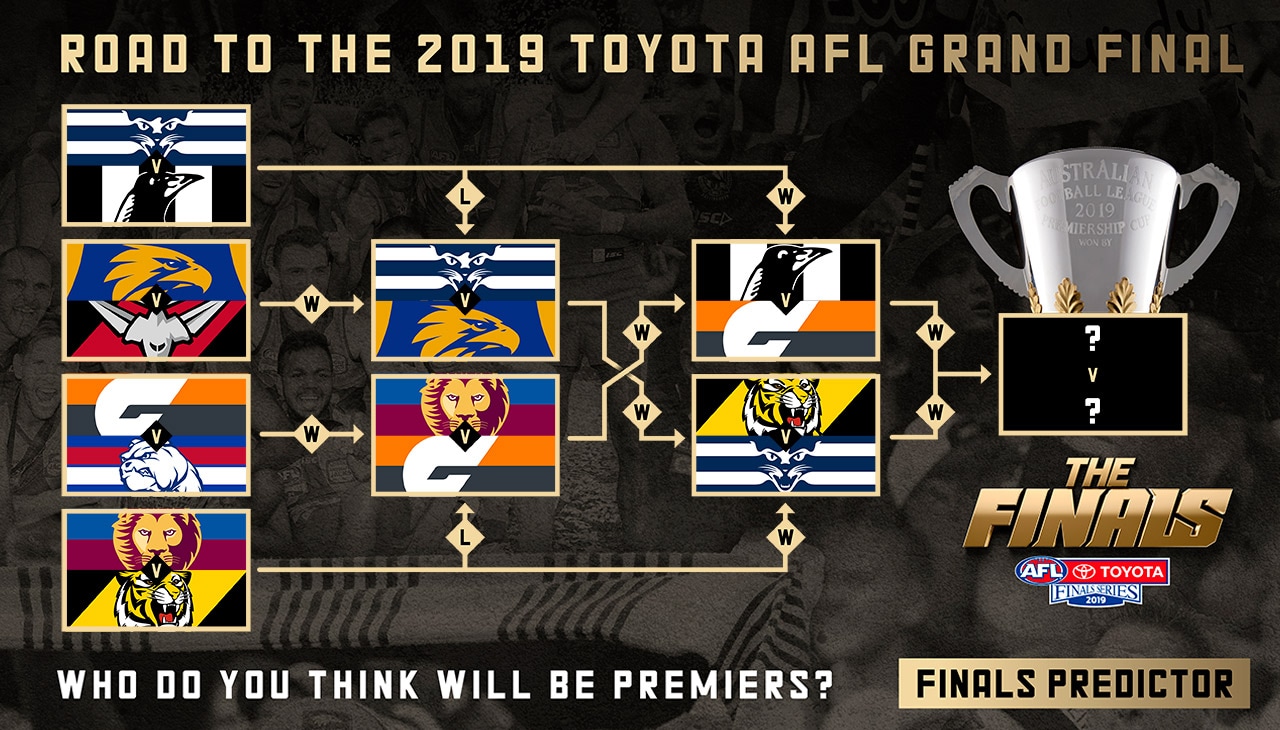 Toby's track record
Total: 18 charges
Suspensions: 7 matches
Fines: $26,350
2012: Made ineligible for the NAB AFL Rising Star after he was suspended for one-match for an ugly bump on Brisbane veteran Jed Adcock.
2012: Fined $1200 for his role in a melee during GWS' clash with Melbourne.
2013: Cops a $1950 fine for making reckless contact with an umpire a game against Gold Coast.
2014: Was fortunate to walk away with a one-match suspension for striking Adelaide midfielder Richard Douglas, with the offence classified as a 'level-three' sanction.
2014: Fined another $1200 for engaging in a melee, this time against the Western Bulldogs.
2015: Hit with a $1500 fine for spitting in the direction of Richmond midfielder Anthony Miles.
2015: Another year, another $1500 fine for engaging in a melee, this time against Fremantle.
2016: Fined $1000 for misconduct, having pushed Port Adelaide youngster Brendon Ah Chee into a fence.
2017: Hit with a $1000 misconduct fine in pre-season, having given Sam Wright a slap to the face late in the game.
2017: Fined $1000 for striking Port Adelaide midfielder Dan Houston, with the charge graded as low impact to the head.
2017: Hit with a two-match striking suspension after clipping Western Bulldogs midfielder Caleb Daniel with an extremely late spoil attempt.
2017: Forced to serve another two-match suspension after striking Richmond defender Alex Rance to the jaw with a jumper-punch.
2017: Controversially offered a $1500 misconduct fine for his 'Jackie Chan' kick to the face of Western Bulldogs forward Luke Dahlhaus.
2018: Fined $2500 for misconduct, having appeared to drop his knee into Sydney midfielder Isaac Heeney during their elimination final.
2018: Fined another $2500 for misconduct the very next week during a semi-final against Collingwood, where he was involved in a back-and-forth with midfielder Taylor Adams.
2019: Slapped with a $2000 fine for striking, having handed Melbourne midfielder Clayton Oliver a tummy tap in an off-the-ball incident.
2019: Handed a $7500 fine for serious misconduct, having appeared to make contact with the face and hair of Western Bulldogs star Marcus Bontempelli during a lengthy scuffle.
2019: Given a one-match ban for making unnecessary contact to the eye region of Brisbane star Lachie Neale, having also been cited for a very similar incident the week prior. Failed at the Tribunal and AFL Appeals Board to have the ban overturned.