LIAM Baker was gutted after he was overlooked for the 2016 NAB AFL Draft.
The pint-sized runner felt he'd deserved an opportunity after performing strongly in averaging 18 disposals for Western Australia in that year's NAB AFL Under-18 Championships, while also starring for WAFL club West Perth's colts team and finishing equal-second in the goalkicking test and seventh in the beep test at the NAB AFL Draft Combine.
AROUND THE STATE LEAGUES Dons mid fires, Harley roars on return
However, Baker, who hails from the small WA town of Lake Grace – Nat Fyfe country – where his family runs a wheat and cattle farm, understood that his lack of size, lack of speed and hit-and-miss kicking had counted against him.
Two-and-a-half years later, and with 10 AFL games under his belt with Richmond, he now regards his draft setback as a blessing in disguise.
BARRETT The 40-year drought Dogs don't want to break
"It was probably a good thing for me because the next year I got to taste a bit of senior footy in the WAFL (with Subiaco, including a Grand Final) and matured a bit more before I got picked up by Richmond (at No.18 in the rookie draft the next year)," the 21-year-old told AFL.com.au on Monday after receiving the round 10 nomination for the NAB AFL Rising Star award.
"An AFL career doesn't get gifted to you, which is good because it makes you work even harder on areas of your game that need improvement. I definitely don't take anything for granted."
THINGS WE LEARNED 'Walla' needs to get better against the best
When the small forward joined Richmond at the end of 2017 he knew it was going to be tough for him to break into a such a formidable team, particularly given the Tigers had just won the flag with a gameplan based around the pressure applied by a bevy of pacy opportunists.
It took some time for Baker to find his place, but all the while he was learning from the best in an ultra-professional, winning environment.
FANTASY FORM WATCH How to prepare for the bye rounds
Baker made his AFL debut in the round 19 win over eventual grand finalist Collingwood and also played in other high-pressure wins over Geelong and Essendon. He adapted quickly to the tempo and fitted in well with the Tigers' swarming style and averaged four score involvements.
A one-game VFL suspension ruled him out of contention for the AFL side's first final and a VFL semi-final, but he continued to train with the senior squad and rated it as a great experience.

"Hopefully there's another (finals) opportunity this year," he said after the Tigers improved their standing to 7-3 after a 23-point win over Essendon at the MCG on Saturday night.
On that wet night Baker produced his best performance at AFL level to date, thriving in a forward/midfield role to gather career-high tallies of possessions (24), contested possessions (12) and tackles (nine – which was also a game-high effort), and also kicked a goal.
Find In the Game on Apple Podcasts, Google Podcasts or Spotify
Since earning a recall in round four, Baker has played the past seven games, averaging 19 possessions (seven contested) and four tackles, while tallying 8.6 and six goal assists.
He was also nominated for the JLT Mark of the Year after a courageous, diving attempt with the flight of the ball. With the cricket World Cup to start on Thursday, it didn't escape the attention of teammates.
"We talk about cricket a fair bit around the club and it was mentioned after the game that it was like an outfield catch. I was actually surprised it stuck in the mitts," he said.
Baker said he was benefiting from his increasing knowledge of how to play "Richmond footy" and had reaped the rewards of having small focuses on things such as running to the right spots and being clean with his skills.
Another later developer in teammate Kane Lambert has had a great influence on the youngster, as have fellow small forwards Daniel Rioli, Jason Castagna, Dan Butler and Jack Higgins.
Baker is rated highly for his pressure skills, but that wasn't always the case.
"It's something the club does especially well but when I got to the club it was an area I had to improve in. That's where watching Rioli, Butler and Castagna every week, watching their tapes, and learning from (VFL and forwards development coach) Craig McRae and (forwards coach) Andrew McQualter has been great," he said.
Liam Baker has taken his game to another level in 2019. Picture: AFL Photos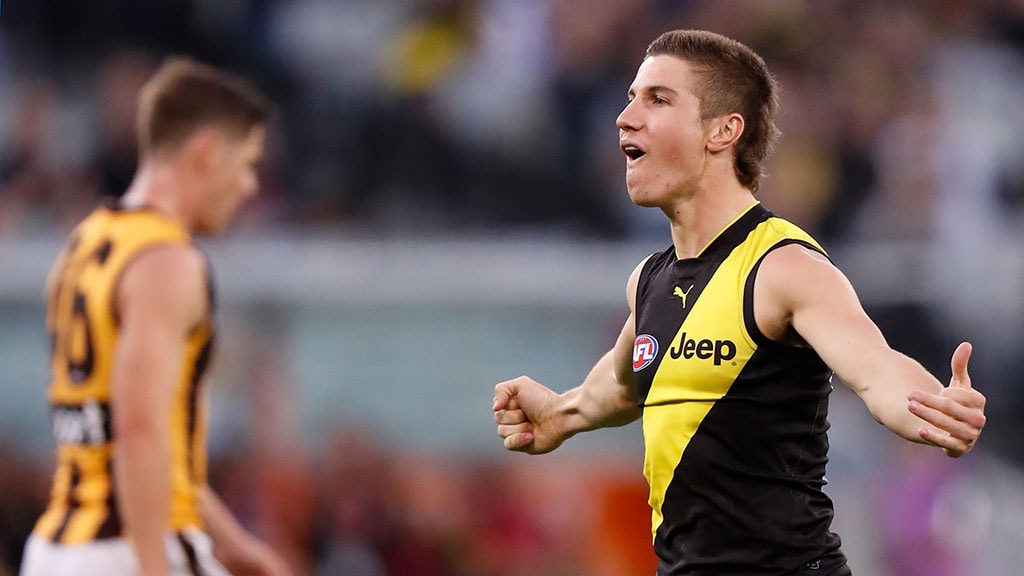 Baker is accruing some impressive statistics. He has hit the scoreboard in each of his 10 AFL games, and scored a goal in his past eight appearances – a sequence he'd love to keep intact. He also has a 9-1 win-loss record, the only blemish being the 47-point loss to the Western Bulldogs in round seven.
"I felt a bit flat that night because it was the first time I hadn't sung the song. It was all a bit foreign to me," he said.
"It just shows how lucky I am to be at a club like Richmond at this time. You can't take it for granted because there are teams that are struggling. You've just got to ride the wave while you can, and hopefully it lasts a while yet."
Baker, who cuts his own hair and cultivates a mullet style he calls "the footy cut", was an apprentice carpenter before he joined Richmond. He now studies carpentry at TAFE with teammates Toby Nankervis and Jack Graham. However, he hopes he won't be forced to make a living from the trade for some time yet.
He is optimistic about earning a fulltime promotion to the Tigers' primary list for next season.
"We haven't really spoken about it too much just yet. I had a deal with my manager that if I had a good first half of the year he'll try to work that out for me. I'm sure it will all pan out in time," he said.