HE WAS the hero on Friday night.
But it's hard to see a situation where Tom Hawkins is playing next week.
On an evening when the footy world should have been celebrating Hawkins' four-goal haul to inspire Geelong's 20-point semi-final victory over West Coast, a lot of the headlines will instead focus on his off-the-ball strike to the jaw of defender Will Schofield.
Will Tom Hawkins face scrutiny from the MRO for this incident with Will Schofield? pic.twitter.com/mFcZHc5Uid

— AFL.com.au (@AFLcomau) September 13, 2019
It was the one regrettable moment in an otherwise herculean Hawkins performance.
Having gone three weeks without a goal heading into the MCG clash, there was no questioning his impact on Friday night. His four goals came from clunking four contested grabs, helping the Cats dominate an Eagles defence that has come under scrutiny recently.
CATS ELIMINATE EAGLES Full match coverage and stats
But the only 'impact' Hawkins will be waiting on now is the grading of Michael Christian.
The Match Review hasn't looked kindly on off-the-ball hits when assessing the conduct of certain blows under Christian's watch. It means Hawkins' strike, given its lack of proximity to the live play, will almost certainly be graded as intentional on Saturday morning.
There are no question marks over the contact, either. Hawkins hit Schofield high.
It leaves impact as the defining grading for Christian and the Match Review team, who would have undoubtedly already taken numerous looks at the incident from inside the ARC.

Hawkins' best – and perhaps his only hope – is that the incident is graded as insufficient force. However, given Schofield stayed down for some time, then looked groggy and dazed as he was eventually helped to his feet by Hawkins himself, that is a distant possibility.

Tom Hawkins might not be standing next to Esava Ratugolea this time next week. Picture: AFL Photos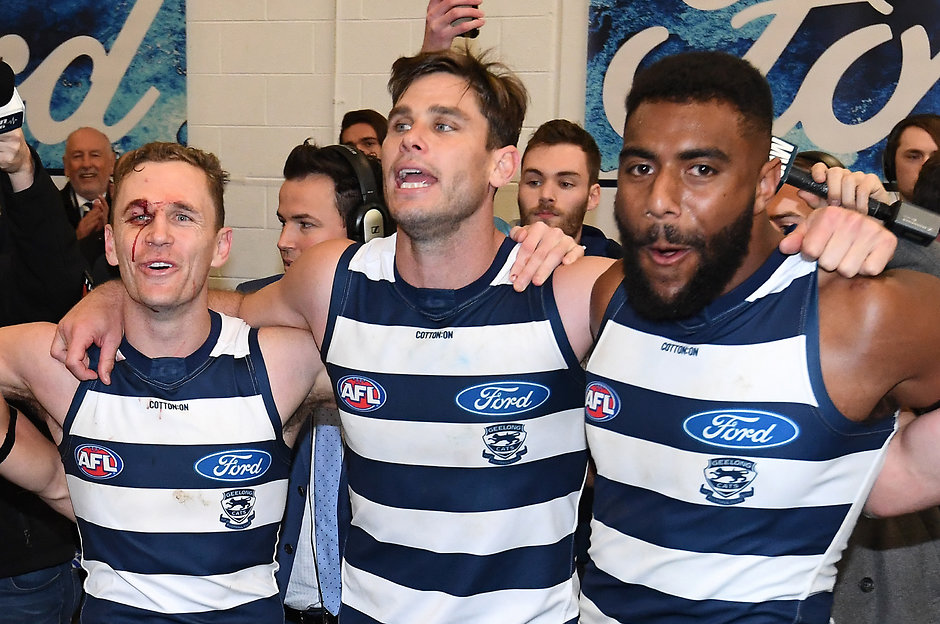 Instead, a more likely scenario is the round-arm strike being graded low or medium impact.
That has Hawkins looking at either a one- or a two-match ban.
Schofield wasn't assessed by a West Coast medic as a result of the blow. He also never spent any time off the field due to the nature of Hawkins' hit. That bodes well for the big Cat.
But if Hawkins is to play again this season, it will likely be if Geelong makes the Grand Final.

Off-the-ball strikes of this manner, especially to the head, never tend to escape at least a low-impact grading. You only have to ask Brisbane defender Harris Andrews, who served a one-match ban for a similar hit on North Melbourne forward Nick Larkey earlier in the year.
Although Larkey never lost his feet, unlike Schofield, and recovered far quicker – both key indicators of the impact of a particular blow – Andrews still received a low grading.
A number of other players this season – including teammate Gary Ablett, as well as James Cousins and Ivan Soldo – can also attest to that, following off-the-ball strikes this year.
>> We give the top 10 players a score out of 10. Swipe across
Hawkins is facing something similar, if not worse.
A medium-impact grading – a very real possibility – will have Hawkins staring at a potential two-match ban. It would mean his year is over, even if Geelong makes the Grand Final.
Another couple of players will be watching this week's events unfold just as closely.
Notably, David Astbury and Dylan Grimes.
Hawkins manhandled Geelong's preliminary final opponents Richmond the last time these sides met, feasting on an undersized opposition on a Friday night back in June.
Although the Tigers were without Astbury, Hawkins kicked four goals from 13 disposals and four marks as the Cats responded from a slow start to ease to a 67-point victory.
Geelong isn't without forward options, especially given the emergence of Esava Ratugolea on Friday night – he kicked three goals from five strong marks against West Coast.
However, there's no doubt the already unenviable task of trying to stop Richmond at the MCG will be made all the more difficult in the likely event Hawkins is unavailable.