FOR EVERY one of Finn Maginness' games at his school Scotch College, his grandmother Pammy sat in the same place: under the oak tree, in the forward pocket.
Whenever the ball was on that side of the ground, Maginness would try catch her eye, give her a wink or a thumbs up.
"She loved that," he said.
Maginness, who is eligible to join Hawthorn as a father-son pick at this year's NAB AFL Draft and follow his dad Scott to the club, did that again in May, when Scotch was playing Melbourne Grammar.
Finn Maginness has been in hot form for Sandringham Dragons in the NAB League. Picture: AFL Photos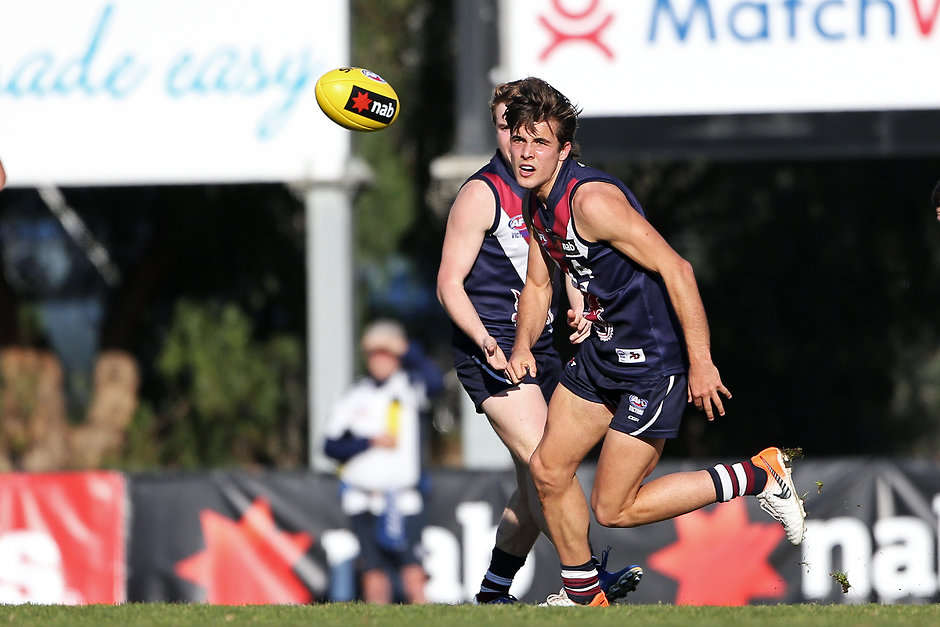 It was the biggest game of his life. The Cordner-Egglestone Cup is played between the prestigious Victorian schools annually, an historic match celebrating the first ever Australian Football match dating back to 1858.
The College main oval was bathed in sun, with AFL stars, chief executives, scouts and former alumni among the couple of thousand strong crowd. Boisterous schoolmates behind both goals chanted throughout the afternoon.
Maginness was captain, and kicked four goals in the second quarter, something he'd never done before.
"It's probably my favourite footballing memory that quarter in front of the whole Scotch army. I felt like it was just falling my way. There was quite a bit of luck, but I'll take it," he said.
INDICATIVE DRAFT ORDER Did the Blues win that live trade?
At half-time, he led his team into the changerooms as a section of families and friends headed for a coffee and cake break inside the staff room at school.
When the third quarter resumed, he noticed Pammy wasn't in her usual spot.
"I thought maybe she was getting a bit nervous because it was a tight game," he said.
"I saw an ambulance at the school but I thought a couple of players had gone off injured and maybe people were getting rushed off to hospital.
"We won the game which was awesome, and I celebrated with the team. But after the game people kept coming up to me and saying they were sorry and asking if I was OK. I was confused."
The reality was more devastating than Maginness could have imagined.
PICK NO.2 ON THE TABLE Dees looking to 'split' their top selection
During the half-time break, Pammy had collapsed inside. The room, full of supporters and even some AFL recruiters, was evacuated as Scott – with his wife Anna – stayed by his mother's side.
In the meantime, Finn had captained his side to a win. He was best afield, and celebrating with his teammates. But he was starting to get the sense something was not right.
"I sang the song with the team and then Dad pulled me out of the rooms and he couldn't really get his words out. I'd never really seen him like that before and I was confused about what could be going on," he said.
Find Road to the Draft on Apple Podcasts, Google Podcasts and Spotify.
"He was tearing up and he told me what happened and that's when it all clicked."
Pammy, who was 84, had not had any health issues to forewarn the family of trouble, and they thought it was a problem with her heart. They hoped that once the ambulance got to the Epworth Hospital, a short trip away, her condition would be stabilised.
But soon after they were notified she had suffered a significant brain aneurism and was unlikely to survive. Finn made it to the hospital that night to say goodbye, and Pammy died the next day.
"It was a really weird night. I'd come off a massive high into this massive low. Dad was incredibly upset, like we all were. We were pretty distraught," he said.
Finn Maginness with his grandparents Pammy and Norm.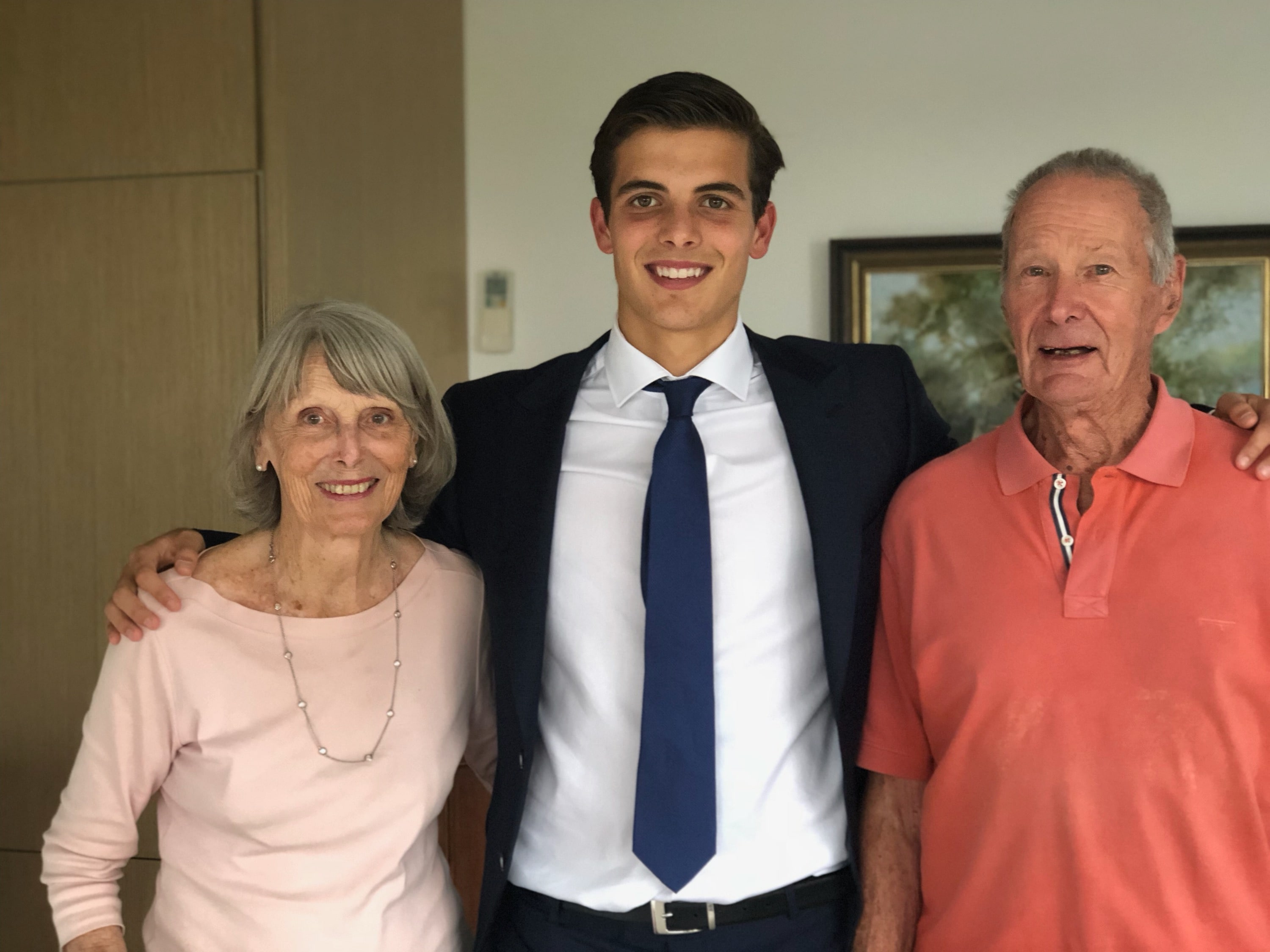 Pammy was a dedicated footy fan. Her husband of more than 60 years, Norm, played 64 games for the Hawks. He was at Scotch that day as well.
Their son Scott played in two premierships and 131 games for the club, and Finn is desperate to be the third generation of his family to line up in the brown and gold.
Maginness had a close bond with his grandmother. As he said when he spoke at her funeral, in her eyes none of her grandchildren could do any wrong.
One day, she watched Maginness' under-14s representative team get beaten by 160 points and Finn have about six touches for the game.
"In the car on the way home, Dad was driving home gripping the wheel really tightly, just biting his tongue," he recalled.
"Then Pammy goes 'Well Finn, it's clear to say you were a class above today, I'd honestly have you best on ground'. I knew full well that I'd had a shocker but that's how she was."
Scott Maginness played 131 games for the Hawks between 1988 and 1996. Picture: AFL Photos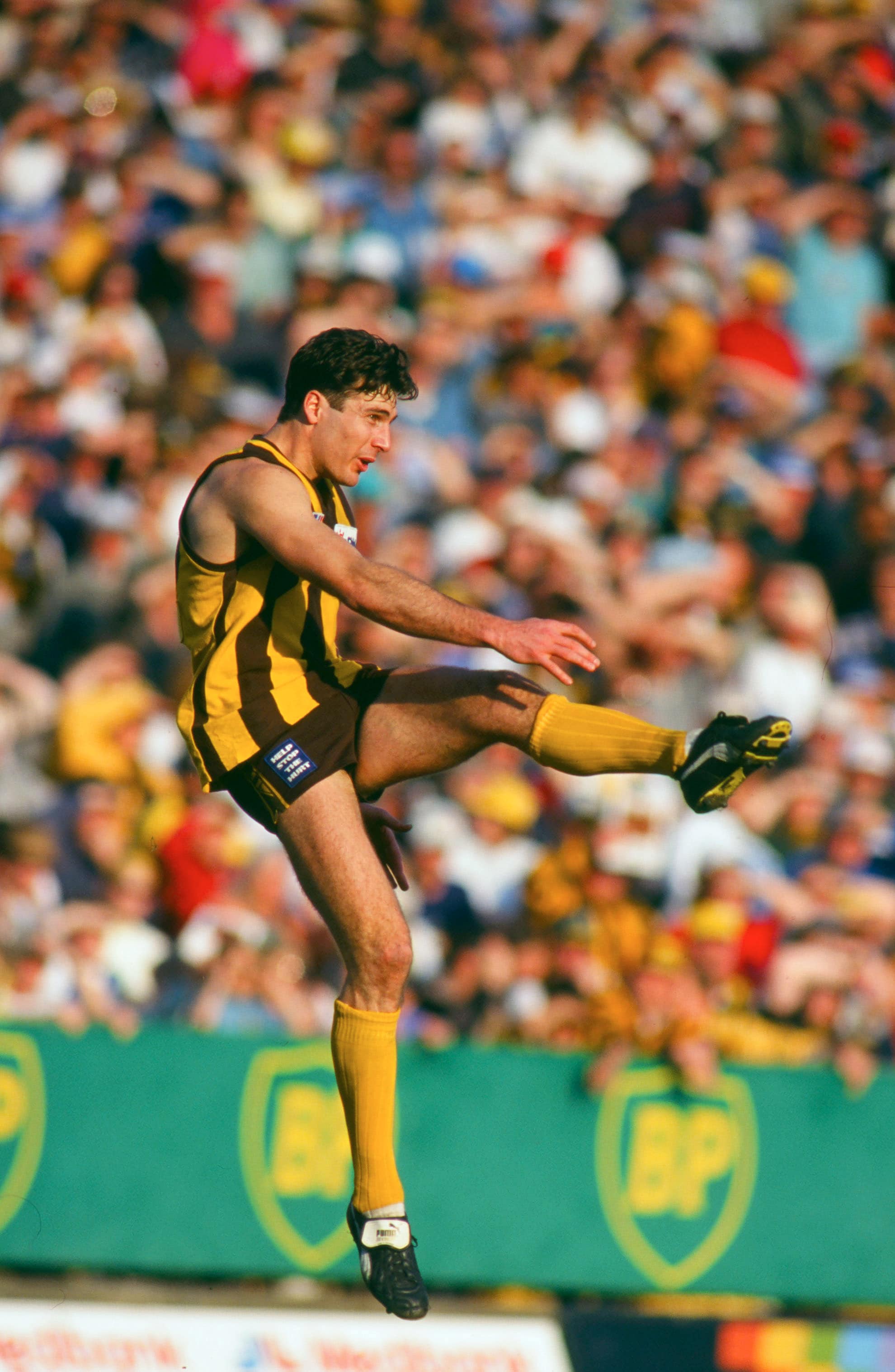 The Scotch and Melbourne clash has held an importance to the Maginness family well before this year. Scott also attended Scotch and played in the contests, while Finn had grown up watching the Cordner-Egglestone game when he first attended the school in Year 7.
His younger brother Ned is in Year 8, has helped run the boundary at some of Finn's games this year and is also a keen footballer. Ned, having skipped class to watch the game that day, was sitting with Pammy in the first half when a teacher told him to go back inside. Pammy put a stop to that.
"It was almost a good way for Pammy to go. She was surrounded by all her family, she'd played golf that morning and beaten Norm for the first time in a while, and she'd just seen me play the best quarter of my life. It was fitting in a way," Finn said.
It sits as the dark time of a bright year for Maginness, whose form could see him attract a top-25 bid on draft night.
Having missed out on Vic Metro's original squad, the hard-working midfielder set himself for a strong start to this season with the Sandringham Dragons. He achieved that, and broke into the Metro line-up for the national carnival.
He is tough, consistent and a strong runner, and has been exceptional the past two weeks for the Dragons. It would be a surprise not to see him land at the Hawks.
Potential Hawthorn father-son recruit Finn Maginness relaxes at home. Picture: Michael Willson, AFL Photos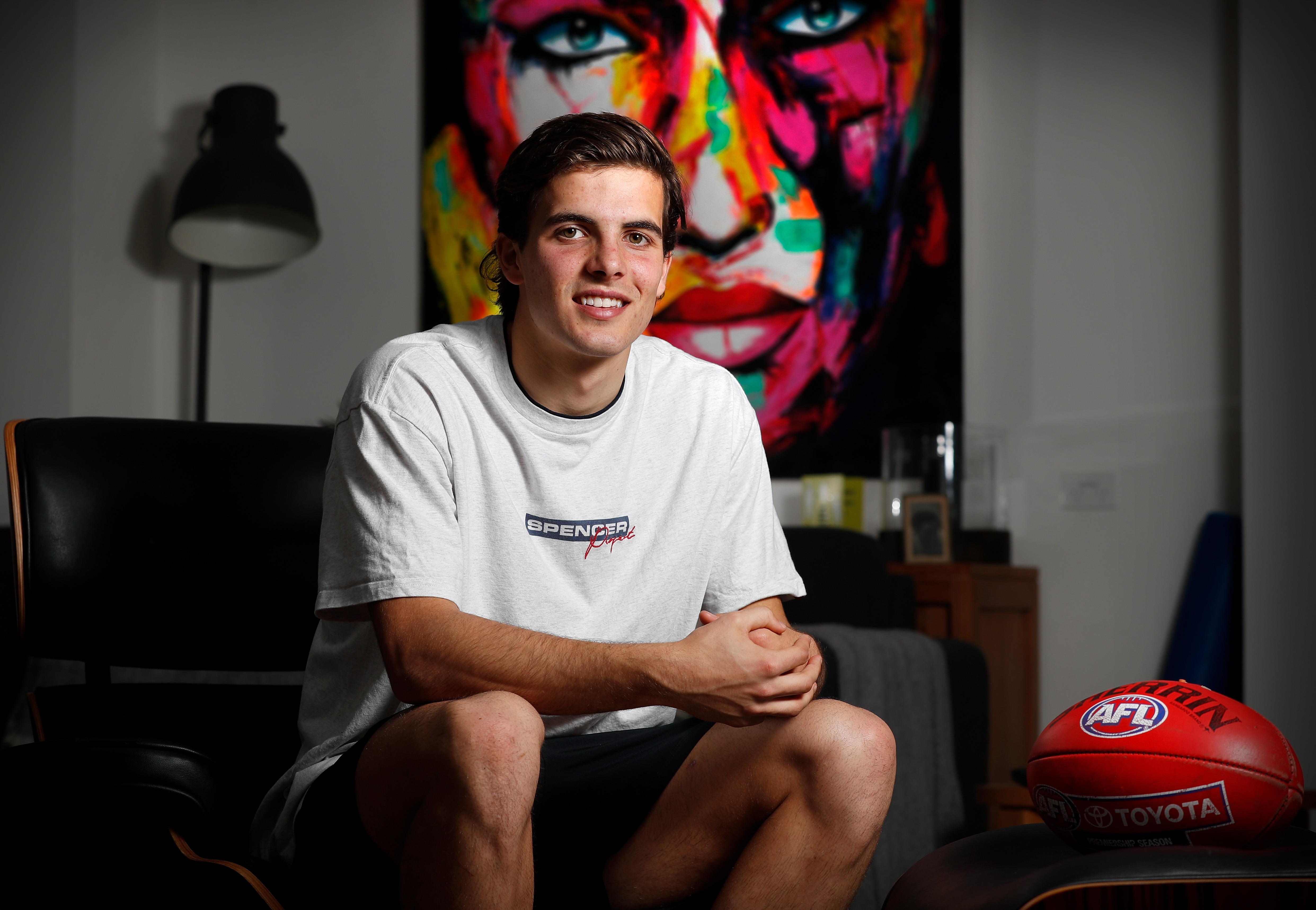 The 18-year-old's Hawthorn memories are strong. He went to the 2008 Grand Final win over Geelong – "It's still one of the best days of my life" – and also the 2013 Grand Final victory over Fremantle, when Scott marked one of Jack Gunston's goals and had the Hawks cheer squad chanting his name.
Maginness spent 10 days with the Hawks over summer at their training camp in Mooloolaba, rooming with champion veteran Shaun Burgoyne, and he wants to join the club at the draft.
"It'd be a dream come true. They've said they like the way I'm developing, but they'll have a meeting with me at the end of the season once they've got all their picks ahead of them after the trade period," he said.
"It consumes my thoughts quite a lot. Often in class I'll be trying to pay attention to the teacher but will be thinking about the draft. I think about where I could go and think about players at Hawthorn and whether they have a spot for me on their list. And then I'll think about the game coming up and what I want to do. I think about everything."
Three months on from Pammy's passing, Maginness has had to face reminders of her loss. The family console themselves by thinking about how happy Pammy was in her final day, but there are elements to confront.
FINALS FIXTURE REVEALED Who plays who in week one
"It was tough because it was so public how it all unfolded. The fact that everyone at the ground knew what had happened except for me. Looking back on it now it makes sense why people were looking at me funny before I found out," he said.
"And even on the Monday all the teachers knowing what had happened and all the students as well. It was good in a way because everyone was very supportive. Just walking by that room where it happened, I think about it sometimes."
Maginness has also thought about what draft night would've been like with her at his family's house, waiting for his name to be called – be it by the Hawks, or another club. He's sure of how it would've gone.
"There'd be a positive spin no matter what. If I didn't go to Hawthorn it'd probably be the only chance she'd ever stop barracking for Hawthorn," Maginness said with a grin. "She'd drop them in an instant."