ON THURSDAY night The Final Quarter aired on Channel 10 in Australia, chronicling the tumultuous end to Adam Goodes' AFL career.
We invited you to share your reactions to the documentary. Here are a selection of your responses.
BATTLE CRY How Adam Goodes' whoop became the core of a whirlwind
Not easy to watch, nor should it be
What an incredible, important film. Every Australian should watch this. None of it is easy to watch, nor should it be. Experiencing discomfort is the natural response when one realises they've wronged. The way Goodes was treated was shameful. I felt so angry for how an absolute champion of the game was disrespected during his final years. We're all to blame for what happened to Goodes, fans and media alike. Our apathy, hypocrisy and ignorance is what allowed this travesty to occur. I just wonder: what has the story of Adam Goodes actually taught us, as a sporting community and a nation?
- Aaron Richards, Perth WA
I've been crying for hours
I have been crying for hours. I'm a Swans fan living in Melbourne who travelled to be there at the game he missed. I have no words and I'm a writer. I hope some people understand now it wasn't just 'booing a flog', whatever excuse that was.
- Kate Crofts, Melbourne Vic
Heart. broken.
Two words: heart. broken. I've often read that shame is not a helpful emotion to feel, but I can't see any other appropriate response. Maybe it's like grieving, it's a part that needs to happen. Maybe we need to hang our heads in shame for a time, so when we stand up again to help contribute to moving forward, we can bring some humility to the table. Compassion, humility and a willingness to listen and try to understand.
- Kate McIntosh, Surrey Hills Vic
We failed as a country and a supporter base
It was brutally poignant to watch Goodes' face physically tire across those years, while a few bad eggs in the media deliberately misconstrued his words and turned an opportunity for growth into a cacophony of racist, and naive, booooooooos. We failed as a country and a supporter base, and that's why Indigenous players in 2019 are still getting called apes by the odd numpty, or why the Uluru statement from the heart is so 'controversial' to some Australians.
- James Matcott, Heathmont Vic
Goodes ended his 372-game career at the end of 2015, but did not participate in the traditional Grand Final lap of honour.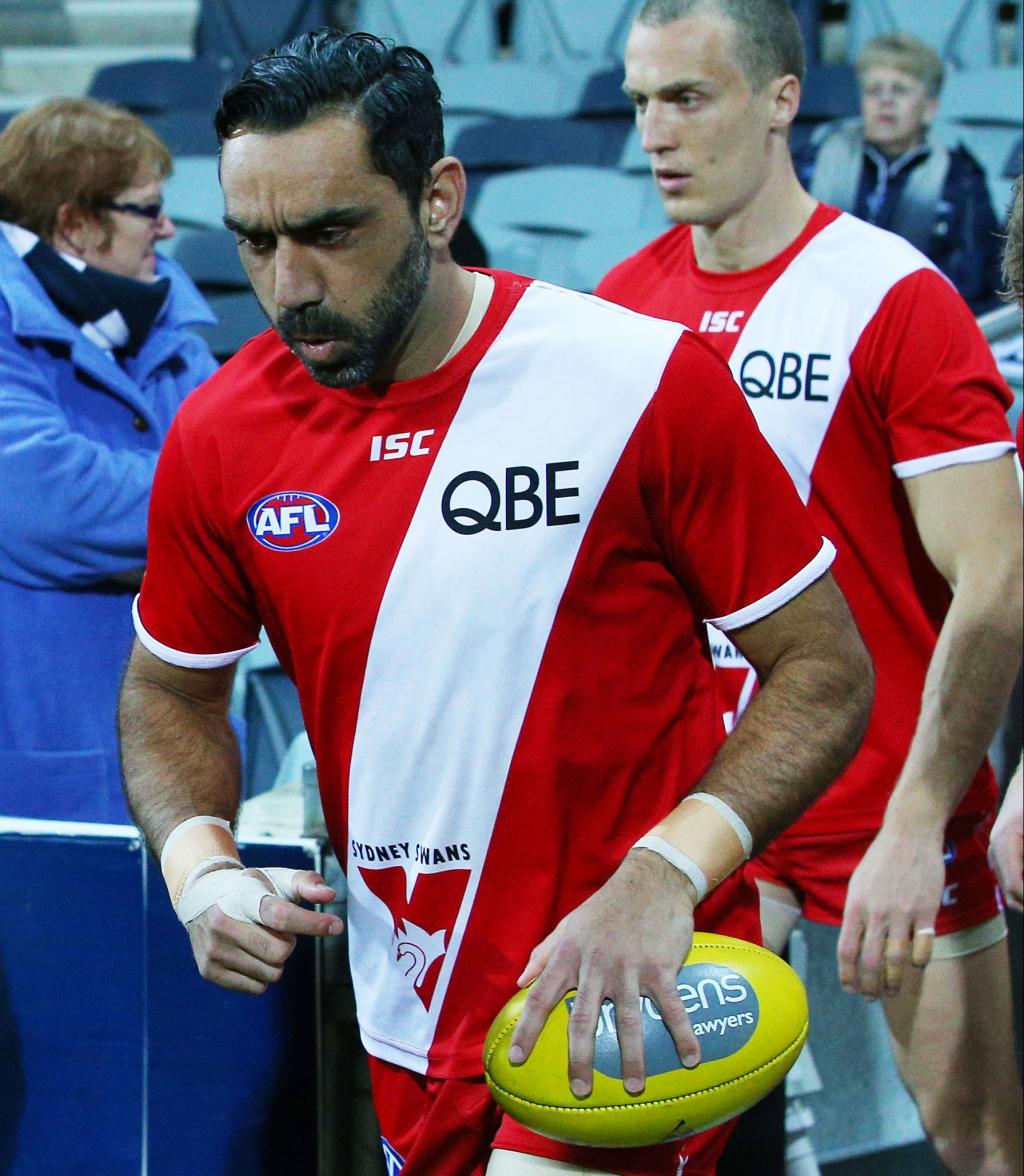 Better late than never: let's have a discussion
It was a powerful film, and I am glad I watched. Goodes was not only a champion on the field but off it, too. He had to deal with ignorant people who unfortunately had too much reach, publicly fuelling the hatred towards him. Although it's not good that it happened, as Goodes said in summary, "now it's happened, let's start a discussion". Here we are today, better late than never, having this discussion. I hope we have learned from this.
- Wassim Rafihi, Broadmeadows Vic
We need a mature conversation involving Indigenous voices
Watching The Final Quarter evoked so many feelings, the strongest being anger and shame at how not only the AFL community, but Australia as a whole let Adam Goodes down, as well as all Indigenous Australians. We need to have a mature discussion about racism in Australia – one that involves the voices of Indigenous Australians and not just middle-aged white men telling us what is and isn't racism.
- Christina Matthews, Geelong Vic
Four family members, four different perspectives
The Final Quarter created a lot of debate within the family as we all watched. It's amazing how four family members all had such differing perspectives of the topic. It also highlights that people in general really have different understandings of racism and associated terminologies of this dividing topic. Starting the conversation, though, is what makes documentaries like this so important.
- Amanda Kennedy, Quindalup WA
My only defence is ignorance, but that changes now
I'm glad I watched this with an open mind. I was blown away to realise that I am racist. My only defence is ignorance, but that changes now. I feel deeply ashamed of my original opinions, and very sad for what Adam Goodes has had to endure. I want to always remember this documentary, and the commentary that hit me the hardest. In one discussion it was said that we (white Australians) are happy to co-exist with Aboriginals so long as they remember their place, and "stay in their box". For me, this was very powerful and completely true.
- Rachel Carr, Berriedale Tas
So few people were willing to put themselves in Adam's shoes
What was clear was that so few people were willing to put themselves in Adam's shoes. Focusing on what they didn't like about him and what he did, and never getting to a point where they could look at the bigger picture, so evident to indigenous Australians, that they were becoming bullies. Adam really tried to bring Australians together, and despite being in the middle of it all, he still showed such dignity and maturity. Adam being booed right 'til the end was very, very sad. Definitely cause for us to reflect on where we truly are as a society.
- Stuart Crosbie, Brisbane Qld
Regardless of whether you call it racist, it was a terrible way to treat someone
As a Swans supporter, it was awful to re-live this disgraceful time. I was again sad for a great man and a champion of the game and Australian sport in general. It highlighted to me how much work still has to be done on stamping out that type of behaviour at sporting events in this country. Regardless of whether you call it racist, it was a terrible way to treat someone. The fact it happened to a sporting icon, who now feels the way he does about the game, just makes it worse.
- Adrian Woodbury, Richmond NSW
A dark stain over the AFL's history
A powerful and important piece. It made me angry about how football fans behaved, victimising and abusing a man for being an advocate for his people. It highlighted how inept and inadequate the AFL's response was at the time. Their inability to take control of the situation and their seeming unwillingness to counter the abusive and racist narrative from media personalities and pundits are the reason Adam left the game. This incident remains a dark stain over the AFL's history.
- James Bayard, Geelong Vic
ADAM, WE'RE SORRY AFL, clubs unreservedly apologise to Goodes
Middle-aged white men don't represent my views
I felt embarrassed about how the AFL community reacted. Goodes' comments were misrepresented time and again. Comments by Eddie, Sam, Dermott etc fell on the wrong side and I believe encouraged bad behaviour. Adam is a strong measured man who asked Australia to challenge what was happening. Instead we showcased our racism and now expect it all to be okay when we apologise, whilst continuing this behaviour. We need to change. The voice of Aboriginal people needs to be heard. The predominant voice in Australia is of middle-aged white men and they don't represent my views.
- Rachel Loffler, Ararat Vic
ANDREW KRAKOUER The media's treatment of Adam Goodes shows we need more Indigenous voices
That panel of four old white men telling us what Goodes' dance 'meant' was like watching a panel of four old white men tell us pads are better than tampons. Diversity matters.
- Patricia Callan, Geelong Vic
Who doesn't like a war dance?
I am brown skinned and though not born or raised in Australia, I now call Australia home. While I have not experienced racism, there is no doubt in my mind that it is prevalent in contemporary Australian society. The significance of Adam Goodes' stance will be felt in the years to come, just like Nicky Winmar's. Educate children about Australia's heritage, both good and bad, so they learn from it and create a more tolerant Australia which celebrates its diversity. Also, who doesn't like a war dance?
- Lakmal Abeysekera, Wantirna South Vic
The Final Quarter documentary is available to watch in Australia on Channel 10's catch-up service (geo restrictions apply)