A ROUND of football which opened with one of the worst-ever Friday night spectacles somehow crescendoed into the most memorable of weekends.
The 1 v 2 and 3 v 4 match-ups lived up to every piece of the pre-weekend hype, where even the losers were winners in the big picture.
NINE THINGS WE LEARNED Never-say-die Lions bring the Gabbatoir back
Charlie Cameron officially became the next Eddie Betts, Dusty Martin reminded us he's still the best when he wants to be, Marcus Bontempelli continued an extraordinary career and even more extraordinary season, and then Jarryd Roughead capped it with the feelgood moment of the year.
We can't get enough of the Rough! #AFLHawksSuns pic.twitter.com/1KLpwXJzhf

— AFL (@AFL) August 18, 2019
The Melbourne-Sydney debacle of Friday night didn't matter in the end, after Brisbane and Geelong, then Richmond and West Coast contested the two best matches of the season.
Incredibly, the team that won five matches in each of the past two seasons has finished the second-last round of 2019 on top of the ladder, one game clear of the field.
THE RUN HOME Is another Clarko miracle on the cards?
Brisbane's win against Geelong was proof it belonged in the 2019 elite, and set up the most appealing of match-ups next Sunday against Richmond at the MCG.
Richmond had to retrieve a four-goal deficit against the reigning premier West Coast, and did so largely on the back of Martin.
Dusty's having a big day!#AFLTigersEagles pic.twitter.com/kjVuhKhrrs

— AFL (@AFL) August 18, 2019
Bontempelli blitzed for the Dogs as they kicked the final 12 goals of their game against GWS.
Make that 11 straight goals! #AFLGiantsDogs pic.twitter.com/EHOI1iQmL9

— AFL (@AFL) August 18, 2019
Then, Roughead, rightly became the go-to forward in Hawthorn's match against the hapless Gold Coast.
The last of his six goals in that win was one of those great footy moments.
Bevo's pups are growing up
A finals berth now, incredibly, is the Western Bulldogs' to lose.
The team which never looked likely has courageously hung in there, found team rhythm as well as a functioning forward line and registered six wins from its past eight matches, the latest coming via a second-half mauling of GWS in Sydney on Sunday.
FANTASY FORM WATCH 'Pure piggery' could result in another snouting
Josh Dunkley has played himself into Virgin Australia AFL All Australian team conversations, and hopefully for his sake, the selectors, who met last week, hadn't signed off on a 22 without him.
Six in a row for the Bulldogs! #AFLGiantsDogs pic.twitter.com/JVOzWk01yv

— AFL (@AFL) August 18, 2019
Bontempelli surely was a lock in that 22. Few players in the competition come with the aura and class of this unflappable, brilliant 23-year-old who has already won two best-and-fairests and is tracking for a third, and who yesterday set up his team's win with controlled aggression that allowed him to break the tag of Matt de Boer.
Losses by the Dogs to the Suns, Blues and Saints in 2019 still don't make sense, but those defeats now don't matter, for the 2019 finals will be reached with a win (and quite possibly even a narrow loss) next Sunday against Adelaide in Ballarat.

A difference of opinion on a Lions star
"Did I misread that, was he the difference?"
Yes, Chris Scott, Charlie Cameron was just that.
With five of his team's 10 goals, including two in a dramatic final quarter, Cameron continued an extraordinary season.
Charlie Cameron is hyped!#AFLLionsCats pic.twitter.com/hwtX83KhQb

— AFL (@AFL) August 17, 2019
That the Cats coach failed in his post-match conference to realise his team lost this game because it failed to adequately quell Cameron's impact was either a strange and unusual misreading of the match, or misplaced arrogance.
While Geelong's form has been patchy and at times ugly since the bye (round 13), it has put itself in the beautiful position of only needing to defeat Carlton at the Cattery in the final round in order to qualify for a home qualifying final.
In the entire history of the VFL/AFL, every single club would accept that scenario if offered it upfront.
Find In the Game on Apple Podcasts, Google Podcasts or Spotify
If you wrote the Pies off, think again
Think about it.
Jordan De Goey, Darcy Moore and Jaidyn Stephenson will all be available for Collingwood for the first week of finals.
The Magpies might just make it back to the Grand Final.
AROUND THE STATE LEAGUES Port ruck shines, new Tiger pushes his case
They've won three in a row, including a mauling of the Crows at Adelaide Oval on Saturday, and have clearly successfully endured the trauma of injury which threatened to derail any hope of success when they lost four of five in rounds 15-19.
Jamie Elliott's five-goal haul against Adelaide was his best performance of the season. Clearly, he has benefited from the unavailability of Mason Cox, and returned the Pies to the list of premiership possibilities.
Jamie Elliott kicks his third and the Pies are on fire in Adelaide!#AFLCrowsPies pic.twitter.com/yjebWGug32

— AFL (@AFL) August 17, 2019
Who put in the biggest shocker?
Difficult to rank the order of the most disappointing teams to emerge from round 22.
The box trifecta was Adelaide, Port Adelaide and GWS.
The two South Australian teams virtually played themselves out of the finals with horrendous losses to Collingwood and North Melbourne, and the Giants were embarrassingly woeful after half-time at home against the Bulldogs.
The pressure from the Dogs was immense and the finish from Bailey Smith was even better!#AFLGiantsDogs pic.twitter.com/c7tN0SUlvc

— AFL (@AFL) August 18, 2019
The Crows are headed for a cleanout of playing personnel, and quite possibly coaching staff, regardless of the outcome of their final home-and-away game against the Bulldogs on Sunday.
Rory Sloane is left in Will Hoskin-Elliott's wake on Saturday evening. Picture: AFL Photos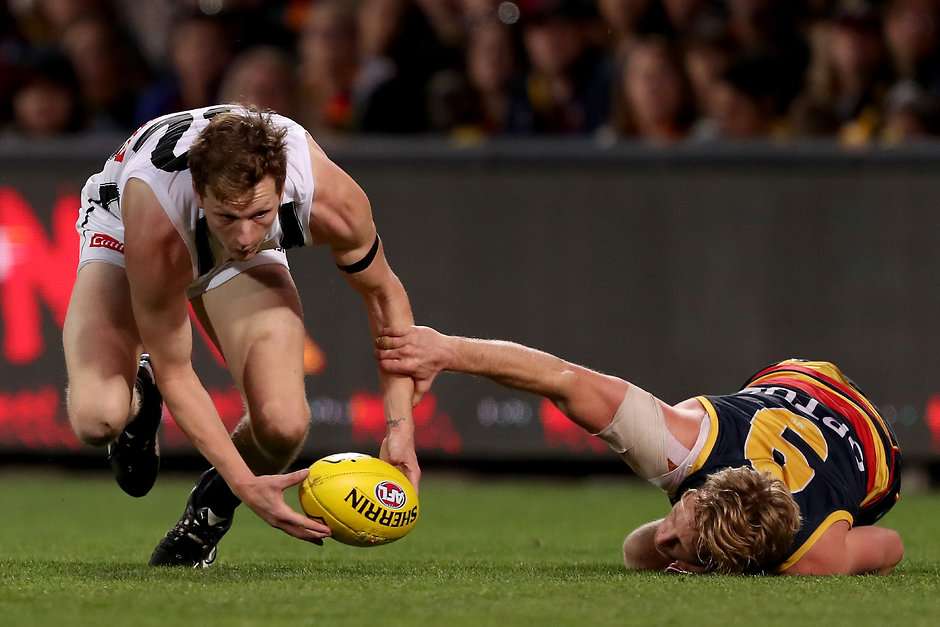 Port Adelaide is simply too inconsistent to be given a pass mark for the season, and the Giants are fortunate they banked 12 wins by round 20, for the past two weeks have revealed 10-goal losses.
Yes, there are injuries for the Giants. But there is a distinct lack of willpower too.
How to respond to adversity, part one
John Worsfold won't ever be told how to act.
A two-time premiership captain and premiership coach, he rightly doesn't feel the need to listen to people who think he should do things differently, such as display raw emotion in matches where his team is being thrashed.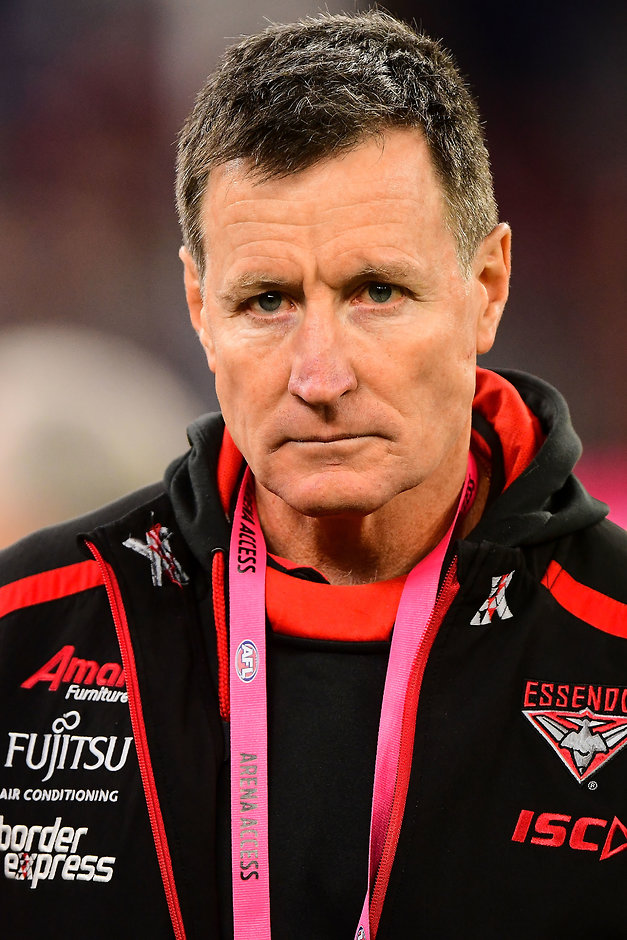 Having endured 59 and 104-point losses in rounds 20 and 21, Worsfold fired up at critics in a mid-week media conference, and then, as calm as ever, took his Bombers to Perth on Saturday night to score an unexpected, finals-securing win against Fremantle.
To stem the flow... Kyle Langford! #AFLFreoDons pic.twitter.com/Xf1RF66JVJ

— AFL (@AFL) August 17, 2019
Worsfold has never deviated from his set, mostly successful ways, and no matter what happens when Essendon plays its elimination final, simply qualifying for top-eight action is a significant achievement given the extended unavailability of Tom Bellchambers, Joe Daniher, Devon Smith and Michael Hurley.
The combined 163-point losses to Port Adelaide and Western Bulldogs were embarrassing. The win against Fremantle squared the ledger.
In context, Essendon's 2019 season right now stands as a significant success, and Worsfold's ability to endure the setbacks and scrutiny guarantee him the right to coach into 2020.
Merrett on the trusty left!#AFLFreoDons pic.twitter.com/NhFgHoEwR4

— AFL (@AFL) August 17, 2019
How to respond to adversity, part two
North Melbourne was equally impressive as Essendon in the manner in which it responded after a disastrous round 21 performance, where it managed just one goal in a drubbing by Geelong.
Have a look at this! #AFLNorthPower pic.twitter.com/yBm82l02bv

— AFL (@AFL) August 17, 2019
The two biggest players on the Roos' list, Ben Brown and Todd Goldstein, were dominant, Brown bolting to a near-unassailable lead in the Coleman Medal race with 10 goals in a hammering of Port Adelaide, and Goldstein producing perhaps his best game of the past four seasons.
The trauma inflicted on new coach Rhyce Shaw from the one-goal performance of round 21 can now be forgotten.
Ben Brown's magnificent 10 goals in one minute #AFLNorthPower pic.twitter.com/MzLOATTf11

— AFL (@AFL) August 17, 2019
Twitter: @barrettdamian